Sergio Perez says he has no regrets about his failed overtaking attempt on Alex Albon in Formula 1's Styrian Grand Prix – believing he was lucky to lose only one place.
The Racing Point driver had a superb race from 17th on the grid, setting several fastest laps along the way, and in the closing stages was pressing the Red Bull of Albon for fourth place.
However when he made his move at Turn 4 three laps from the end he clipped the back of the Red Bull and damaged his front wing.
He lost performance and had to cede a place to McLaren's Lando Norris on the final corner of the last lap, but just managed to get across the line in front of team-mate Lance Stroll to claim sixth (below).
"I think it was a great recovery, great pace from the car, the team did a fantastic strategy," said the Mexican to Sky.
"We managed to recover, we went all the way to P5, nearly P4 in the end.
"I was pushing really hard on Albon, and I didn't have any opportunity other than the one that I took, and unfortunately I touched at the wrong angle.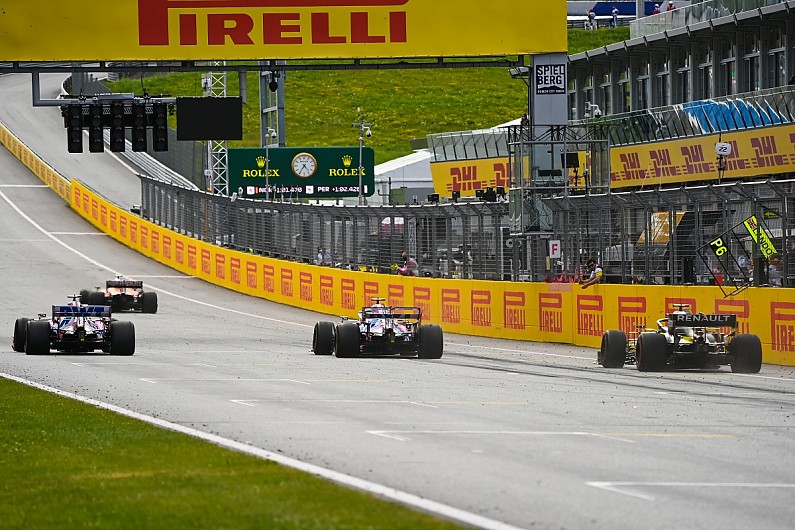 "Basically I understeered a bit towards the exit, I opened up the steering wheel and picked up the power, and then I broke the whole front wing, I was very lucky just to lose one position from that.
"I had to give it a go, especially as we were pushing flat out with all what we had. That was only the opportunity I was going to have, and unfortunately that didn't work, but in the end I'm lucky just to have lost one position."
Perez said the team hadn't expected the poor wet weather form that meant he only started 17th after a tricky Q1.
"I think that was a big surprise, we were so competitive in the dry, and normally we should be a lot better," he said.
"I think we did a pretty good step from last weekend to this one. And obviously the car is pretty new in a lot of areas. We changed the concept totally.
"So we're learning from it. And there is good understanding from it and we are already looking forward massively to Hungary."