OPINION: Lewis Hamilton's willingness to speak his mind has long been a credit to his character. In response to his calls for racial equality – and the part he is playing in the Black Lives Matter movement – his leadership deserves our full support at and away from Formula 1 races
Eighty-four times Lewis Hamilton has crossed the finish line of a Formula 1 grand prix victorious. Race wins, in all their chequered flag and champagne delight, are easy to quantify and recognise.
In the sporting world, it's harder to pin down when any person begins to show the sort of leadership qualities and convictions that make them worthy of respect away from the drama of competition. Some people arrive already acting in such ways, others take time to learn and grow into bigger roles, while others never make such developments.
For so long now, Hamilton has been F1's dominant voice – unafraid to speak his mind on complex issues. His words carry weight. And it's that forthrightness that means people listen.
Time and again since the waves of protest against the appalling killing of George Floyd have brought the Black Lives Matter campaign to new heights, Hamilton's statements have cut to the crux. His Instagram message on Monday was a good example of this.
"I'm appalled at the UK government on how they have handled COVID," he wrote. "You should have close[d] the borders months ago. How you can let people fly in from countries without being tested is baffling. You could have saved thousands of lives. We need better leaders!"
He continued, referencing the toppling of a statue depicting 17th century slave trader Edward Colston by protestors in Bristol: "Watching the news today regarding the statue torn down yesterday! If those people hadn't taken down that statue, honouring a racist slave trader, it would never have been removed.
"There's talks of it going into a museum. That man's statue should stay in the river just like the 20,000 African souls who died on the journey here and thrown into the sea, with no burial or memorial. He stole them from their families, country and he must not be celebrated! It should be replaced with a memorial for all those he sold, all those that lose their lives!"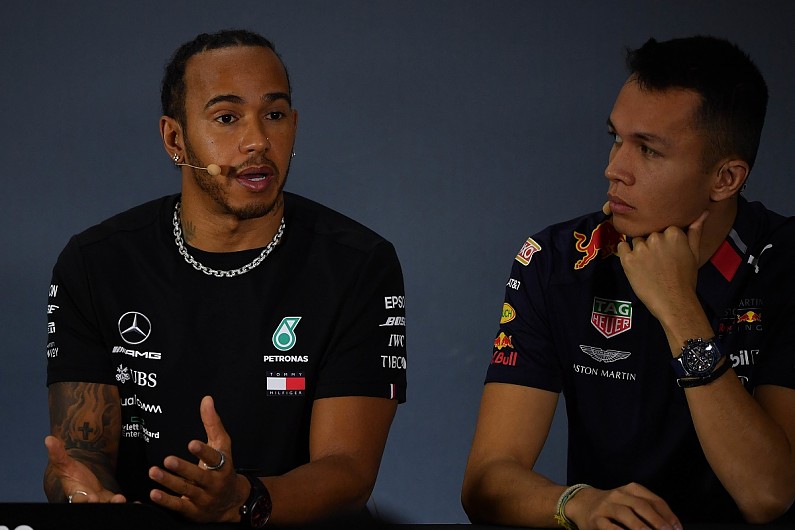 This isn't new territory for Hamilton – in recent years he's been vocal about diversity in motorsport and the urgent need to address the world's climate crisis.
At the aborted Australian Grand Prix in March, as the coronavirus pandemic was surging across the world, he went harder and further than any other F1 driver when it came to questioning the wisdom of holding a race in such circumstances.
But, going back to 2004, when Hamilton was racing in the Formula 3 Euro Series, he participated in an interview for an Autosport magazine feature regarding the lack of diversity in motorsport.
"Because I've come from nothing, I have a big drive," the then 19-year-old said. "Because of my colour I can probably have influence on other culture. That's a big bonus. I'd love to be able to do something for other people and have them say 'Oh yeah, that was him that sort of opened the gateway'. That would be great.
"I know a lot of people say they don't want to be anything special but everyone wants to be special in some way, whether it's good or bad. It's an opportunity for me to do something and I don't want to waste my life. I'm here for one thing now and I want to complete that.
"I'll be happy when we don't have to have conversations like this – when it won't be worth media attention. Until then, I understand that it's something I have to talk about but I'll be a lot happier to talk about my first race victory" Lewis Hamilton in 2004
"When I wake up every day I don't say 'Oh shoot I'm black'. I don't get treated as if I'm different, maybe occasionally by some people, but by most people I get treated normally, so it never really occurs to me unless someone mentions it somehow. I'm just here to do what I love doing.
"If I let myself get wrapped up in the colour issue it defeats the whole purpose of what it is I'm out here for. The fact of the matter is I know about my uniqueness: it's clear to me, it's brought to my attention all the time as soon as I walk into the garage area that I'm different. But if I'm tripping on the colour issue, it's counterproductive.
"I'll be happy when we don't have to have conversations like this – when it won't be worth media attention. Until then, I understand that it's something I have to talk about but I'll be a lot happier to talk about my first race victory."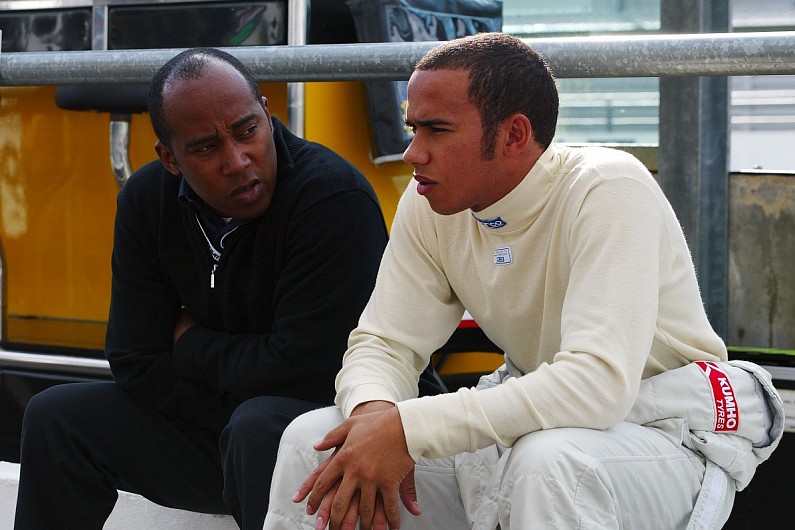 Sixteen years, an F3 Euro Series title, the GP2 crown and six F1 world championship victories for Hamilton later, those conversations are still depressingly necessary and have arguably become more vitriolic in the social media age. Even a subject as clear cut as racism – there is only one correct stance – is endlessly debated by the two sides of a seemingly endless culture war.
Hamilton's comments on the government's actions in the UK, which has the highest death toll so far of the coronavirus crisis in Europe and is second globally in such grim statistics, will chime with many people.
His position on the forcible removal of Colston's statue also went where other public figures felt they could not. The statue's existence had been the source of much-needed debate and controversy in Bristol in recent years, but even the decision of adding a second plaque detailing Colston's slave trading had seemingly been held up by objections. Hamilton deftly summed up the situation surrounding people feeling they have no choice but to take the law into their own hands when the law lets them down.
Last week, his direct criticism of his motorsport peers "staying silent" was effective, with many of his fellow F1 stars then moving to give their own response to racial injustice.
Hamilton is simply a fantastic leader. And after all his success – on and off the track – he commands an enormous audience, which he can talk to directly, with an estimated reach of one billion people on Instagram alone when considering his associations and friendships as well as his own followers.
PLUS: The big numbers behind Hamilton's off-track empire
If some of this sounds familiar, it is not a result of "your Hamilton sychopancy [sic]", as one particularly illiterate and disturbing message to the Autosport newsdesk's inbox put it last week. It's because despite everything Hamilton has achieved he is still attracting, frankly, unhinged and nefarious criticism.
And for what it's worth – he is not and should not be immune from criticism: nobody is. Taking a sporting example, if Hamilton makes an on-track error, such as his likely race-losing off in the 2019 German Grand Prix, or a wheel-to-wheel infringement, it would be called as such. It's just if you take his career as a whole, there really aren't that many…
Hamilton is everything a champion should be. Even if he stopped his career right now he would still be an F1 legend, and he yet has the chance to eclipse Michael Schumacher as statistically the greatest ever grand prix racer. Away from the paddock, his outside interests in fashion and music gather attention with non-motorsport audiences. He is a promoter's dream.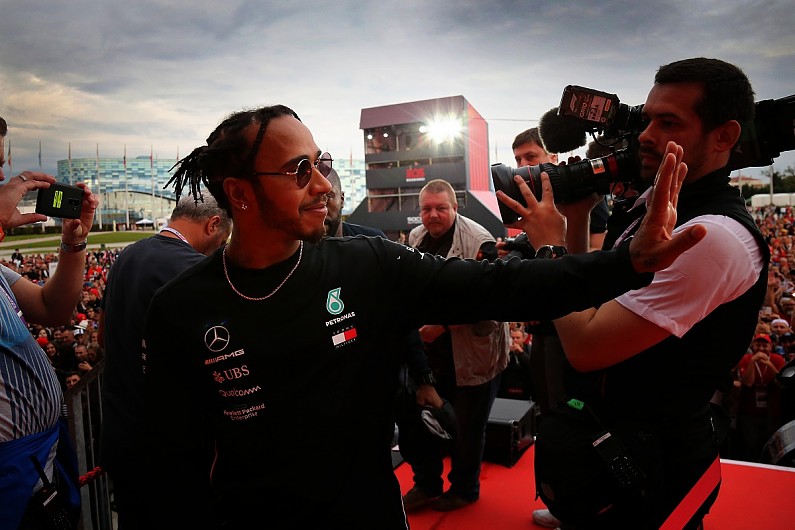 And with every passing year the old argument that his off-track 'antics' are a distraction becomes more and more wrong. Yes, he has driven for the best team with the best car since 2014, but then it is he, not Nico Rosberg or Valtteri Bottas, with six world titles.
Last week, Luke Smith explained precisely why those people who say Hamilton should "stick to racing" – or email Autosport with comments such as "I don't want politics in my sport as well" – are wrong.
Racing drivers are humans. That's what makes them interesting. Autonomous racing concepts such as Roborace, for all its clever technology, simply won't ever be as compelling as human sport.
Responding to Hamilton's views with questions regarding the historical Mercedes links to the Nazis (and those of its former sponsor, Hugo Boss) are pure and tiresome whataboutism. Yes, there are lots of problems that need fixing in the world, but highlighting one just doesn't diminish another.
As a teenager, Hamilton looked forward to the day when these topics don't need to be discussed. His pain that they are still – and how they translate in abhorrent acts out in the world – is there in his words today
That 2004 feature mentions the various past progress of motorsport initiatives – such as NASCAR's 'Drive for Diversity', or CART's African American Driver Development Programme. But F1 was noticeably absent in this regard.
So, it was good to hear F1 sporting boss Ross Brawn explain again how the championship is committed to improving diversity from motorsport's "grassroots" – and indeed F1's "Diversity and Inclusion" mission statement is easily accessible online. This needs to be revisited and explained time and time again in the coming weeks, months and races.
As a teenager, Hamilton looked forward to the day when these topics don't need to be discussed. His pain that they are still – and how they translate in abhorrent acts out in the world – is there in his words today.
Hamilton's leadership qualities have been clear for decades. Everyone – from fans to future F1 champions – needs to recognise that and play whatever part they can in making his hopes a reality.