As Autosport launches the latest Race of My Life podcast, we revisit the late Henry Hope-Front's interview with Ian Titchmarsh detailing the commentator's favourite race – the 1957 Formula 1 European Grand Prix
Race: 1957 Formula 1 European Grand Prix, Aintree
I suppose that I must have watched, reported, commentated on and lap-charted more than 16,000 races over the years. To select one from so many, which include such classics as the 1959 Tourist Trophy at Goodwood and the 1968 Targa Florio, plus numerous British Grands Prix and Le Mans 24 Hours, might seem difficult but, for a variety of reasons, one stands out: the 1957 Grand Prix d'Europe at Aintree.
One of the many benefits of living in Liverpool then was the accessibility of Aintree. With my mother in tow we caught the bus to arrive in time for the only support race, for sportscars, and headed to Bechers Bend. It was raining steadily, with Archie Scott Brown's Lister winning from Roy Salvadori's Aston Martin DBR1/300.
The rain relented in time for the GP drivers' parade, each sitting on an Austin-Healey 100/6. This was my first glimpse of the great Juan Manuel Fangio. He had qualified his Maserati 250F on row two behind the Vanwalls of Stirling Moss and Tony Brooks, which sandwiched Jean Behra's 250F.
Although Behra led away, by the time the cars arrived at Bechers, Stirling was in front, greeted by a great cheer from the huge crowd. For 21 laps the Vanwall led. Then it came past misfiring, to a collective groan.
A lap later Stirling pitted, stopping again one lap later to take over the second Vanwall from Brooks, going well in fifth while suffering from his Le Mans injuries. Stirling resumed in ninth on lap 26 of 90.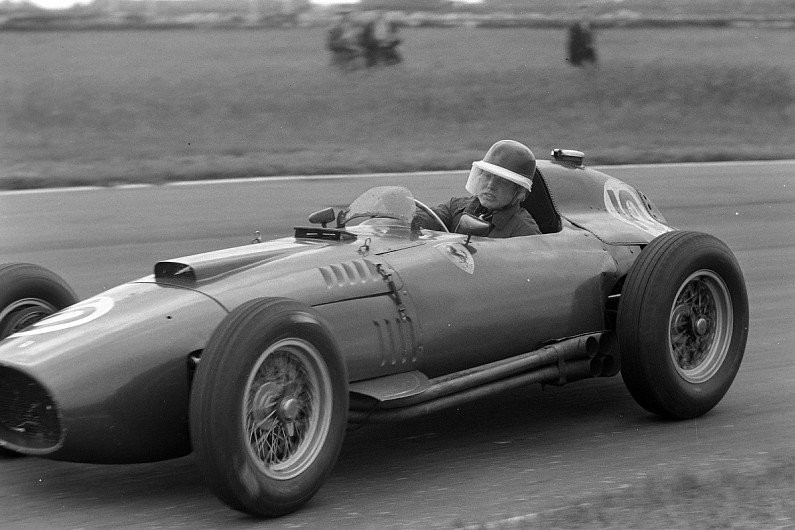 Up front Behra kept Mike Hawthorn's Lancia-Ferrari at bay but Mike was being reeled in by Stuart Lewis-Evans in the third Vanwall, who in turn was being caught by Moss. The commentators did a brilliant job of keeping everyone on their toes.
Despite breaking the lap record several times, it was touch and go whether Stirling could catch Behra.
Then in front of us at Bechers the Maserati slowed, followed by an equally slow Hawthorn, his tyre punctured by Maserati clutch pieces.
A British Vanwall driven by two British drivers had won a major grand prix, the first for a British car in the world championship era
The two Vanwalls swept past, Lewis-Evans ahead of Moss (as my mother's lap chart recorded!) although by the end of the lap Stirling was in front. Three laps later Stuart's throttle linkage fell apart. Soon Stirling headed for the pitlane, fortunately just for a 'splash and dash'.
Then it was all over: a British Vanwall driven by two British drivers had won a major grand prix, the first for a British car in the world championship era.
By then we were heading for the pits to join in the celebrations before catching the bus home.
Overlooked in all the excitement was the little Cooper-Climax that Salvadori pushed over the line to fifth place and the first world championship points for a rear-engined car.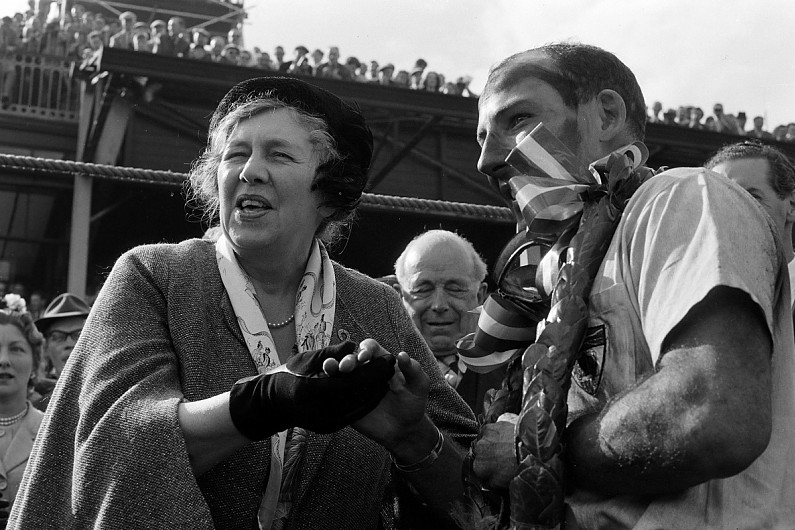 Little did I think that 30 years later I'd be privileged to commentate on another epic pursuit, by Nigel Mansell on Nelson Piquet to win the 1987 British GP at Silverstone.
Interview by Henry Hope-Frost, first published in Autosport magazine, 16 October 2014