As if being a goalkeeper wasn't hard enough, the underappreciated players who ply their trade between the sticks have been forced to wear some of the most ridiculous kits in football history over the years. Although there's a seemingly endless selection of ugly uniforms to choose from (especially in the '90s), we've narrowed down the list to 10 of the all-time worst.
Hungary, 2016
Gabor Kiraly wouldn't be anywhere near this list if he'd just thrown on a pair of shorts at Euro 2016. Thanks to Hungary's surprise run of success, which resulted in a trip to the knockout stage, Kiraly's track pants were unavoidable and attracted plenty of attention for all the wrong reasons.
Ugliness scale: ? (out of five)
Denmark, 1992
Along with Denmark's odds-defying triumph at Euro 1992, the national team stunned the football world with this ghastly uniform. Not even Peter Schmeichel's heroics between the sticks could make this strip look good.
Ugliness scale: ? ?
Sporting KC, 1999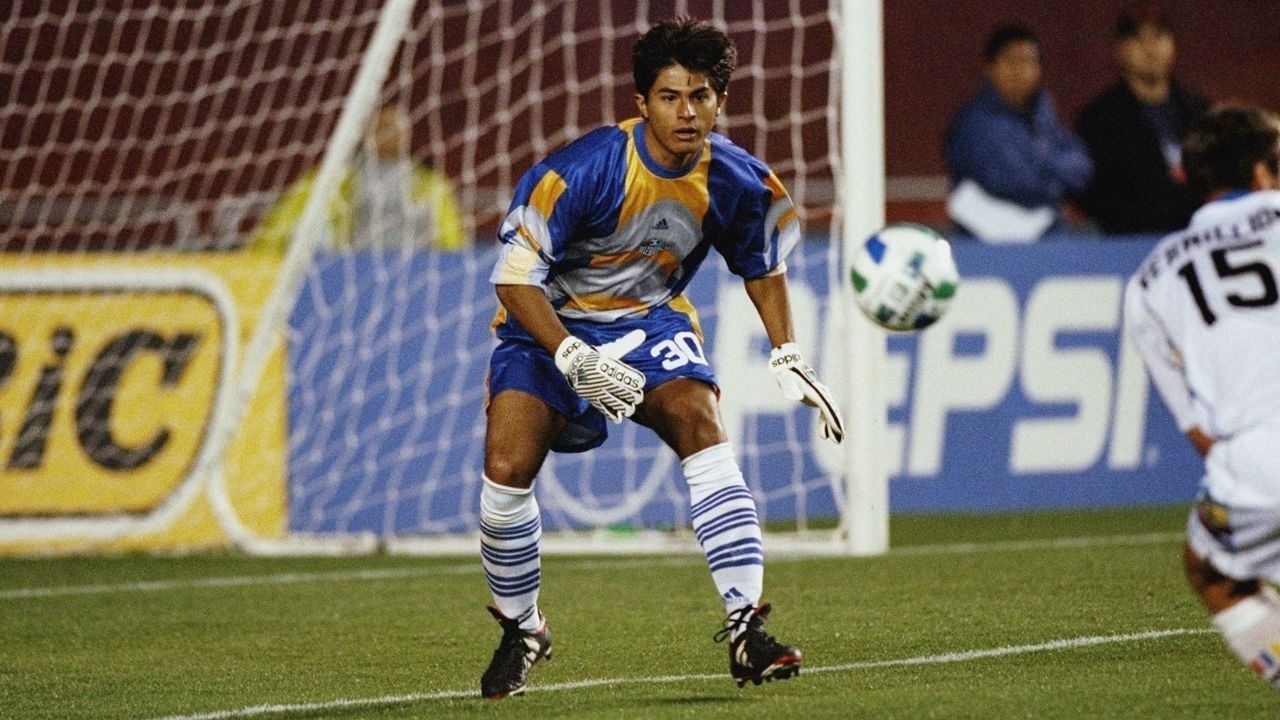 Sporting KC – formerly known as the Kansas City Wizards – were consistent in featuring both terrible uniforms and atrocious goalkeeper gear during the early days of Major League Soccer.
Ugliness scale: ? ?
FC Koln, 1990s
Even the imposing figure of Germany legend Bodo Illgner looked ridiculous in this getup, as FC Koln went against the grain by producing something that was far from stylish.
Ugliness scale: ? ? ?
Newcastle United, 1995-1996
Adidas threw out the playbook when it unveiled these horrendous uniforms that were worn by all 'keepers who played on teams sponsored by the sportswear company. Rather than sporting a cutting-edge look, former Newcastle United goalkeeper Shaka Hislop looked like he was playing in an oversized pajama top.
Ugliness scale: ? ? ? ?
Inter Milan, 1990s
Milan's reputation as a fashion capital of the world probably took a hit when Inter 'keeper Gianluca Pagliuca slipped into this eyesore. Like so many goalie tops of Pagliuca's era, Inter's kit design looked like it was just a jumble of shapes and colors.
Ugliness scale: ? ? ? ?
Chelsea, 1993-94
Chelsea's goalkeeper kit during the 1993-94 campaign was just as unsightly as the club's performance on the pitch. En route to finishing in 14th place, the uncomfortable-looking dog collar and disarray of colors and shapes must have made the season even more nauseating for Blues fans.
Ugliness scale: ? ? ? ?
England, 1996
Ugliness scale: ? ? ? ? ?
It wouldn't be that surprising if David Seaman's technicolor ensemble caused his opponents to experience partial blindness during England's impressive run at Euro 96. It's a shame that the Arsenal legend had to celebrate some of his most iconic moments on the international stage in one of the most hideous kits ever made.
Estonia, 1996
Ugliness scale: ? ? ? ? ?
When they weren't boycotting matches in 1996, Estonia paraded their 'keeper onto the pitch in this outrageous mess of a shirt.
Mexico, 1994
In hindsight, giving Jorge Campos creative control over Mexico's goalkeeper kit for the 1994 World Cup was a terrible idea, as the legendary goalie created a monstrosity that will go down in history as one of the worst uniforms ever.
Ugliness scale: ? ? ? ? ?