McLaren Formula 1 boss Andreas Seidl had stressed that the team's fight is not with Mercedes in the Italian GP, and says it must focus on the challenge from behind.
Carlos Sainz Jr starts the Monza race from third place after a qualifying lap that he later admitted left him "shaking", and McLaren's form off the line in 2020 suggests that he has a chance of mixing it with the Mercedes of front-row starters Lewis Hamilton and Valtteri Bottas on lap one.
However Seidl insists if Sainz does get ahead of a Mercedes at the start, McLaren won't compromise its battle for third place in the race and in its constructors' world championship with Racing Point, Ferrari and Renault.
McLaren has a two-point advantage over Racing Point and nine on Renault, whose lead drivers Sergio Perez and Daniel Ricciardo start fourth and seventh respectively.
Asked how McLaren would approach the race, Seidl said it "will not be different to any other race".
"We usually have good starts, and always go into lap one trying to overtake the cars in front of us," he said.
"I am sure we will try to do the same tomorrow, but even if that would happen and we could jump one of the Mercedes at the start, then you need to find the right balance on whether it actually makes sense to fight these guys, or try to keep them behind.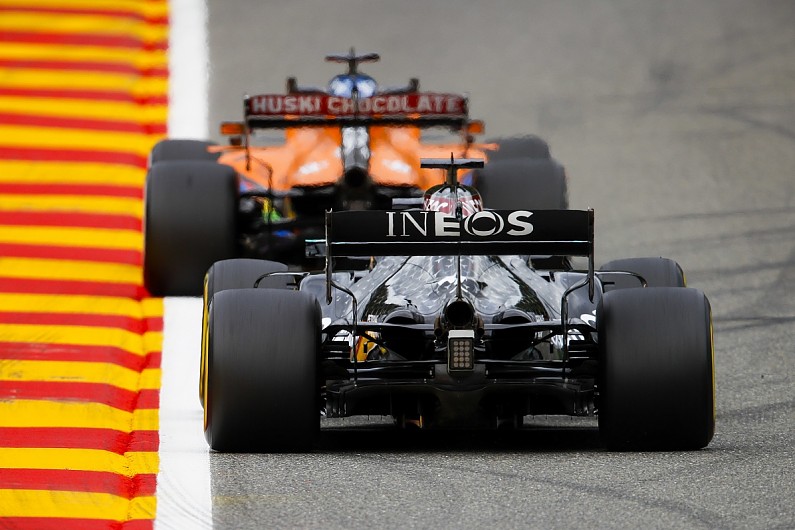 "In the end you may lose more performance by trying to do something that is simply not possible."
Sainz said that he would "still go on the attack" at the start, but conceded he was unlikely to be able to challenge in race trim.
"I think more than third would require Mercedes doing something wrong, and we don't normally see them getting anything wrong, or get reliability wrong," he said.
"But you know, never say never.
"We normally get good starts and I always think about going on the attack.
"I will still go on the attack independently of who I have in front, because that's the approach that's always worked for me, and I will not change it, depending on who I have in front.
"But the rest of the race could be a bit of a defending race. and we need to keep our eyes open and everything."
Seidl explained that fifth place starter Max Verstappen will be the biggest threat to Sainz in the race, despite an under par qualifying.
"If everything goes as normal, I think it will be difficult to keep Max behind," he said.
"But I think we can put up a good fight with the starting positions we have against the Racing Points and the Renaults. This is what we will try.
"But as I said we will try to keep whoever is behind us, behind us as long as we can.
"I think we have everything in our hands to score some good points again, and that is what we are aiming for."