Renault Formula 1 boss Cyril Abiteboul has defended the decision to allow Fernando Alonso to do the Abu Dhabi young driver test – and slammed criticism from Racing Point as "ironic".
The team has successfully lobbied the FIA for Alonso to be allowed to take part in what was originally agreed to be a test solely for young drivers.
The one-off rule defining the test, introduced as part of cost-saving measures at the height of the lockdown earlier in the year, reads that drivers "must be in possession of an International A Licence; and unless otherwise approved by the FIA, not have competed in more than two F1 world championship races during their career."
The FIA subsequently agreed that Alonso could take part, also giving the nod to Sebastien Buemi at Red Bull, and Robert Kubica at Alfa Romeo.
The decision has infuriated rivals, notably Racing Point, McLaren and Ferrari, with the Maranello squad pushing for Carlos Sainz Jr to be included but the other two are missing the test, mainly because at the planning stages they did not have young drivers that they wanted to run.
"I've got to understand the rules," said Racing Point boss Otmar Szafnauer.
"I was surprised to see Fernando being allowed to test, so we have got to have that discussion with the FIA. I think the rules are pretty clear – it's a young driver test and a two-time world champion almost in his forties or in his forties to me isn't a young driver.
"I've got to understand what the rules are first and foremost, and then see what we do thereafter."
Asked about Szafnauer's comments Abiteboul suggested that Racing Point should take up the matter with the FIA.
"There is an indication of young drivers, plus anyone that the FIA will give permission to," he said.
"And that's in the absolute right of the FIA to do that, so if Otmar wants to build a claim against the FIA, that would be quite rich, keeping in mind that we will know that they have an illegal car.
"We have accepted to settle that one. But if you want to have a go now at the FIA, I would find it quite ironic."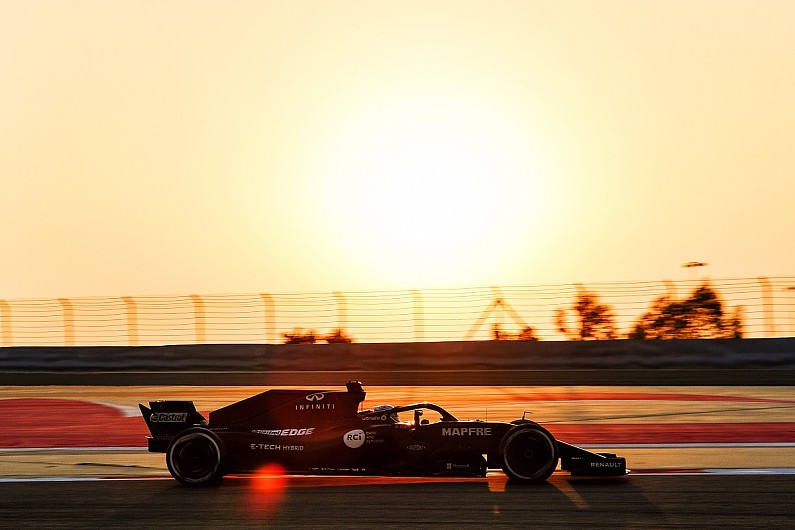 Teams are unhappy that Renault will gain a sporting advantage by running Alonso, as it will allow him to make a bigger contribution to winter development and Abiteboul made no secret about what the Enstone team stands to gain.
"Why is it necessary?" he said. "I mean, I'm going to be very straightforward. What's necessary is to give the team the absolute best possible platform to build upon for next year.
"No one is here for anything other than absolute performance, and when teams are not here for performance, they are doing things for commercial purpose, and when they are doing that for commercial purpose, there are all sorts of critics in relation to that.
"Clearly we are not doing that with Fernando for commercial purposes, we are doing that for the sport, for our own competitiveness. And again, that's the case of every single entity.
"So, we've been very straightforward, we've been clear with the FIA, clear with F1 about what we were doing."
Alonso will get his first run in 2020 machinery at the test having only used a 2018 Renault car since his planned return to F1, and will share the driving duties at the test with Renault Sport Academy driver Guanyu Zhou.
Autosport has produced a standalone special magazine to celebrate our 70th birthday. All current print subscribers will receive a copy for free. To order your copy of the 196-page Autosport 70th Anniversary issue, please go to: autosport.com/autosport70th