If there were any lingering doubts that Barcelona are in desperate need of a transformation, they were put to rest Friday when the Spanish side was clobbered by Bayern Munich in the Champions League.
The Bavarian behemoths ran roughshod over Barcelona in an 8-2 battering, suffocating a lethargic backline and flat-footed midfield with relentless pressure that made world-class players appear only a shadow of their former selves.
Barcelona manager Quique Setien's setup didn't help, either, with a 4-4-2 employed in the opening half that featured neither a playmaking No. 10 nor wide players to provide outlets for a team under constant threat.
Not even Lionel Messi could save the Blaugrana, and you could hardly fault the Argentine talisman if he decides to leave after this.
Barcelona require a significant overhaul, and there are no easy fixes.
Check the expiration date
The average age of Setien's starting XI for the one-sided affair in Lisbon was 29 years and 329 days. That's the oldest group Barcelona have fielded in the Champions League. Ever.
| Player | Position | Age |
| --- | --- | --- |
| Ter Stegen | GK | 28 |
| Semedo | RB | 26 |
| Pique | CB | 33 |
| Lenglet | CB | 25 |
| Alba | LB | 31 |
| Roberto | MF | 28 |
| Busquets | MF | 32 |
| De Jong | MF | 23 |
| Vidal | MF | 33 |
| Messi | FW | 33 |
| Suarez | FW | 33 |
It's inexplicable that the Catalans haven't replaced some of those aging stalwarts. Setien's insistence on beating Bayern's press by playing the ball from the back was catastrophic, exposing the frailties of players such as Gerard Pique and Jordi Alba, who, despite all their deserved plaudits, are past their best and incapable of navigating modern pressing football.
Sergio Busquets also failed to provide any cover from the base of the diamond. Once revered as one of the game's best defensive midfielders, the 32-year-old looked like a relic of a bygone era.
Even when Barcelona were afforded time in possession, attempts to play the ball over the top to the three forward-most players – all 33 years old – proved largely pointless after an early flurry.
This isn't to say that there's no place in football for players in their mid-30s. But, against a high-octane press that the continent's best sides – like Bayern and Liverpool – use to stellar results, there needs to be a way to weather such storms. Barcelona proved Friday that they're not even remotely capable of doing that.
Squad issues not limited to elders
None of the five starters who've yet to turn 30 were particularly good, either. You can excuse Marc-Andre ter Stegen's unusually poor performance between the pipes, given his excellent track record with the club, and the same goes for Frenkie de Jong, who is obviously talented and has proven during his young career that he can flourish when put in the right position.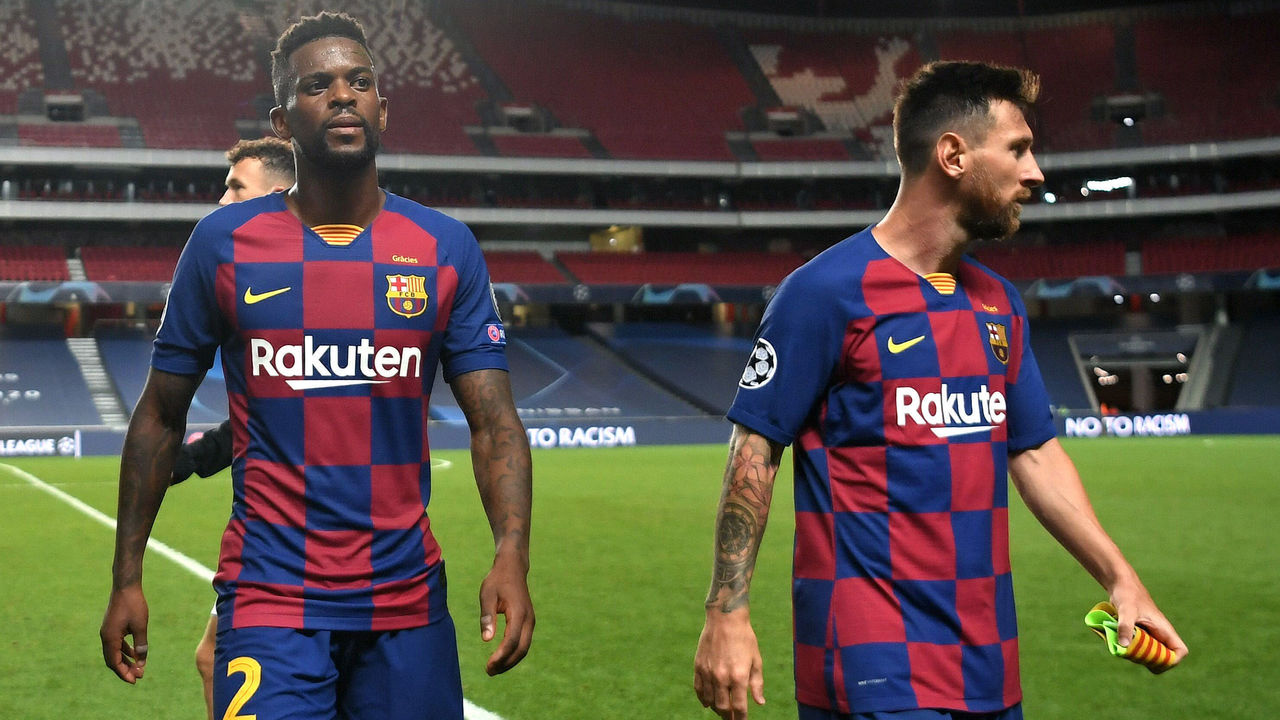 Not enough can be said, though, about the evening's right-sided pairing of Nelson Semedo and Sergi Roberto – especially the former, who was horrendous.
The two combined for a clumsy loss of possession that resulted in Bayern's second goal, and Semedo was comically out of position often, exposing Pique on numerous occasions. Alphonso Davies also skinned the right-back on Joshua Kimmich's goal.
Semedo's costly dalliances up field might have been the result of the Portuguese international's poor positional awareness or Setien's instruction. Both can be true, and neither is good enough.
Then there's Clement Lenglet, who was merely a passenger on Friday. First, he got beat to a dink over the top by Serge Gnabry to make it 3-1 before letting Thomas Muller prance in front of him to tip home the Bundesliga side's fourth goal minutes later. The game was effectively over by that point.
Lenglet wasn't much better in the air, either, winning only one aerial duel in the opening half to Robert Lewandowski's four. To Lenglet's credit, the 25-year-old is a reputable defender, but it's hard to soar like an eagle when you're surrounded by turkeys.
Continued transfer malpractice
Barcelona have nobody to blame but themselves for this situation.
Years of transfer malpractice and wasteful spending have resulted in a poorly constructed squad that lacks an identity. It would help, too, if the once-famed La Masia could produce a first-team player other than Ansu Fati.
Roughly €400 million was paid for Antoine Griezmann, Ousmane Dembele, and Philippe Coutinho in recent years – a lot of money for very little in return. The latter looked embarrassed when he scored twice on Friday against his parent club to rub salt in the wound.
The list of big-money additions gone bad is nearly endless: Arda Turan, Andre Gomes, Paco Alcacer, and Aleix Vidal among them. The right-back was meant to take over for Dani Alves, and Barcelona still haven't replaced the enigmatic Brazilian since he was allowed to leave. Alves could have done a job for Setien and Co. on Friday.
The academy pipeline has run dry, an aged squad is past its best, and efforts to recruit reported targets Neymar and Lautaro Martinez have proved impossible as the club tiptoes around Financial Fair Play mandates.
"We must bring in new blood to change this dynamic, and if necessary, I would be the first to leave," Pique said after the match.
If only it was so easy. If Barcelona's recent transfer activity is any indication, they'll bottle the necessary overhaul, as well.