Pierre Gasly has been relegated to the back of the grid for the Turkish Grand Prix after his AlphaTauri Formula 1 team was found guilty of a parc ferme offence.
Gasly was investigated after AlphaTauri told the FIA that it would change his engine, dropping him to the back of the grid, meaning he could avoid penalties in later races by taking new elements now.
But after penalties for the two McLaren drivers bumped Gasly up from 15th to 13th on the grid the Italian team revised its plans and decided not to change the engine.
However, the rear had already been taken off the car and without proper supervision from the scrutineers the FIA deemed that the team could have made unauthorised changes under parc ferme.
"After qualifying the team, based on a request from their engine supplier, asked to change all PU elements in Car 10 [Gasly] during pre-race parc ferme. Permission was granted by the F1 technical delegate. Such a change comes with a requirement to start the car from the back of the grid," the stewards decision read.
"The team then carried out work in disassembling the car under parc ferme conditions. During that work the team ultimately decided not to change the PU and ultimately reassembled the car with the original PU.
"Per the report of the technical delegate the car was disassembled to a stage where it is impossible for the scrutineers and other supervision means in place to guarantee that no modification to the car has been carried out to any component by disassembling and refitting the original items. This is normally not an issue because of the mandated penalty for such a change.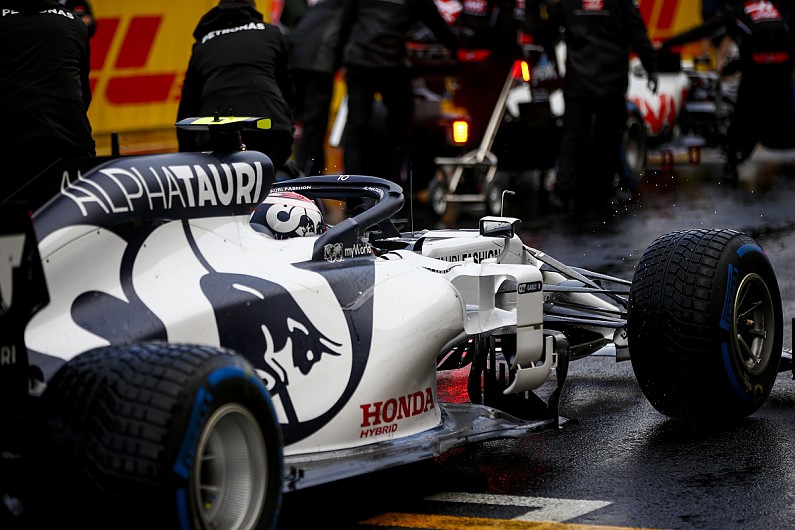 "The stewards determine that the specified penalty for the authorised work in parc ferme is in effect from the time the change was started, notwithstanding whether or not the PU change was ultimately completed."
In other late dramas ahead of the Turkish GP, Antonio Giovinazzi crashed on an exploratory lap on the wet track, and George Russell suffered front wing damage when he went off in the pitlane entrance.
Giovinazzi was craned out of the gravel and was able to return to the grid for repairs, but Russell will have to start from the pits if the team can fix his car. His Williams team-mate Nicholas Latifi also didn't go to the grid before the pitlane closed.
Autosport has produced a standalone special magazine to celebrate our 70th birthday. All current print subscribers will receive a copy for free. To pre-order your copy of the 196-page Autosport 70th Anniversary issue, please go to: autosport.com/autosport70th