Haas Formula 1 chief Gunther Steiner hopes the team will be over its Australian Grand Prix "jinx" after experiencing pit stop issues in each of the past two years.
Haas suffered a double DNF at the 2018 race after loose wheels forced drivers Kevin Magnussen and Romain Grosjean to retire within two laps of each other, having run P4 and P5 before pitting.
History repeated itself for Grosjean last year when struggles getting the front-left wheel attached to his car resulted in a 10-second pit stop, costing him sixth place.
Grosjean ultimately retired from the race 13 laps later as his wheel started to come loose due to damage to the wheel nut.
Haas has only twice got a car to the finish in Australia in the past four years, with Grosjean and Magnussen recording P6 finishes in 2016 and '19 respectively.
Looking ahead to this weekend's 2020 season-opener, Steiner said he hoped the team would finally end its luckless run at Albert Park.
"We always got very well prepared here, and mistakes happened," Steiner said.
"Two years ago when we missed both, it was something really unlucky, and last year the pressure just got to them in my opinion.
"Hopefully we are over it, because in '18, after the mistakes here, we didn't have any mistakes anymore until we got back in '19, and had one.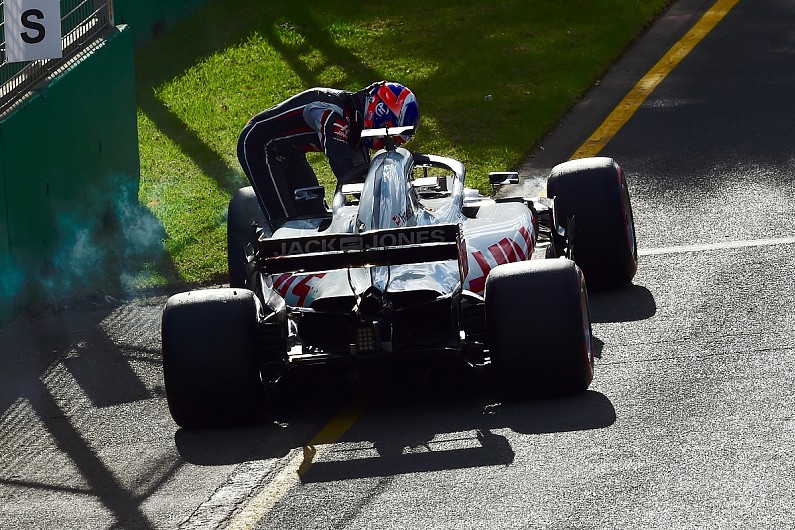 "Last year [was] the same thing, we didn't have a problem any more.
"It seems to be jinxed here, but hopefully we can get over that one this year."
Grosjean said it would be the "wrong message" to ask the Haas pit crew to place special focus on avoiding making the same errors, stressing he had full faith in the team.
"I've got full trust in the team. They want a good results as much as I want, and we do our best," Grosjean said.
"It will be in everyone's mind. We need to go racing, we need to do the best we can. If you just focus on that, it's going to happen.
"If you just focus on what you can do, what you know to do, then things should be OK."
Asked about Haas's Australia jinx Grosjean said: "Personally, I've always had good qualifying.
"I think out of all the races I've competed here, I've been very often in the sixth spot, but I didn't finish very often. It's a bit of a long flight home.
"If I could enjoy a few drinks on Sunday night to celebrate a good result, I'll take that happily."