One year later, Euro 2020 is finally underway. At the end of every matchday, we'll be dissecting the biggest talking points from all the action. Below, we look back on Sunday's games.
Teams in earlier groups at disadvantage
The teams in Group F will know what's required to qualify by the time their finale rolls around this Wednesday. Portugal, which is currently in third, will know whether a slender defeat to France will be enough to advance to the knockout rounds on three points, or whether it needs to hit four or six points to be assured of qualification.
The countries in the earlier groups at this tournament aren't afforded that luxury. Switzerland entered halftime 2-0 up against Turkey, a result which would boost its points tally to four but still leave it in third place in Group A due to an inferior goal difference to Wales, which was 1-0 down to Italy.
In that scenario, should Switzerland go for a landslide win over Turkey in a bid to leapfrog Wales into second place? Or, given that four points was easily enough for a third-place team to advance at Euro 2016, should it not risk pouring bodies forward and simply see out the victory?
Third-place finishers at Euro 2016
| # | Team | GD | Points |
| --- | --- | --- | --- |
| 1 | Slovakia | 0 | 4 |
| 2 | Republic of Ireland | -2 | 4 |
| 3 | Portugal | 0 | 3 |
| 4 | Northern Ireland | 0 | 3 |
| 5 | Turkey* | -2 | 3 |
| 6 | Albania* | -2 | 3 |
* Turkey and Albania didn't qualify for knockout rounds.
Wales and Switzerland were effectively in no-man's land at the break. They thought they had enough, so there was no sense in chasing a better result. It was simply a case of seeing how the next few days play out and hoping for the best.
And that meant Sunday's fixtures lacked tension. UEFA needs to rethink its 24-team format, and either reduce the number of competitors back to 16 or boost it to 32. Four-team groups with two progressing and two falling out of the competition usually set up dramatic group finales across the board.
Shaqiri, Zuber stir Switzerland's drink
Switzerland has a chance at nabbing one of four knockout stage spots for third-place finishers courtesy of a 3-1 victory over Turkey in Baku, Azerbaijan, and they owe it all to two stellar individual performances.
Xherdan Shaqiri and Steven Zuber were the difference against a defensively dysfunctional Turkey side in one of the tournament's better attacking showings.
For the first time in seven years, Liverpool's Shaqiri recorded a brace for his country. First, Shaqiri drilled a deft curling strike from outside of the area on his second-choice right foot, then the barrel-chested attacker potted his second when he got on the end of an incisive ball from Zuber.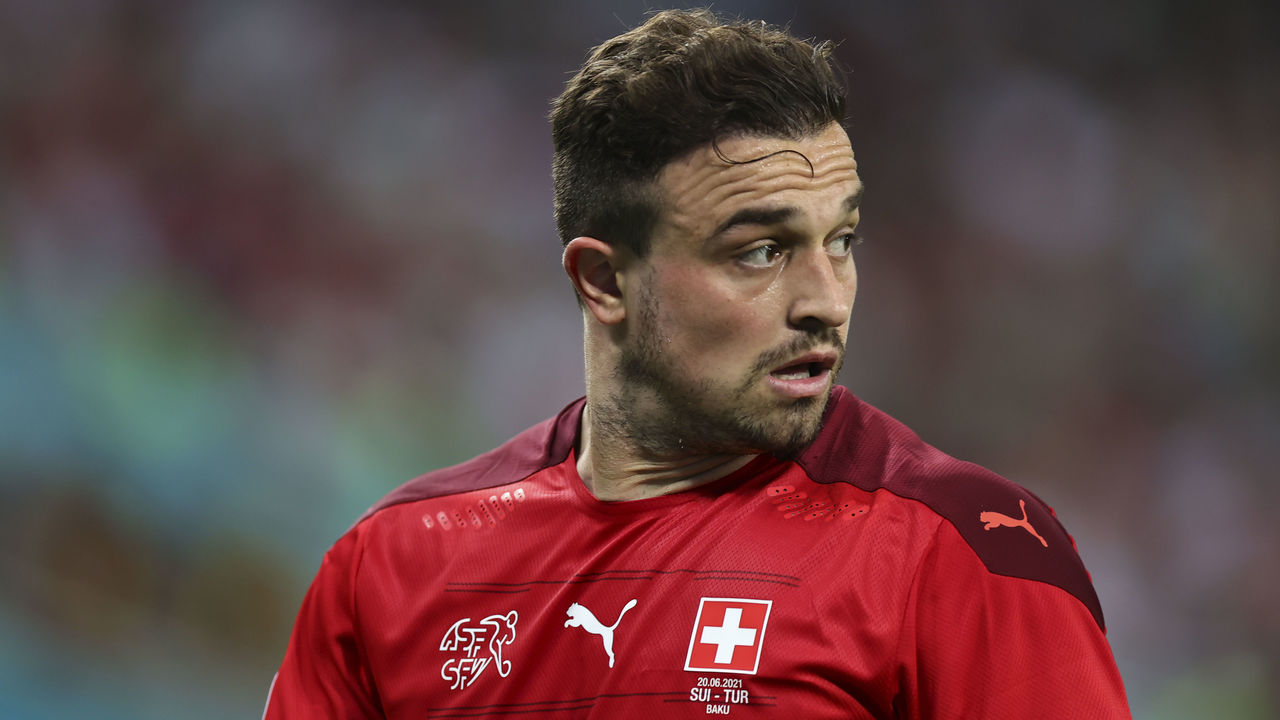 It was Zuber's third assist on the day following his involvement on Haris Seferovic's opener, making him just one of three players since 1980 to register three or more assists in a game at the European Championship. Over the course of 85 minutes, Zuber has 69 touches, five key passes, and completed four of five dribbles and eight of 14 duels.
Zuber's delicately weighted pass on Shaqiri's second was the highlight of a dominant outing on the left flank, and one that should bode well for the Swiss going forward should they secure a round of 16 place.
Turkey ill-prepared for Euro 2020 task
Turkey swiftly went from dark horse darling to tournament afterthought in the span of three matches. As the youngest of 24 sides at the tournament, their naivete can in part be excused.
Senol Gunes' side arrived at Euro 2020 having conceded the fewest goals in qualifiers (three), with none from open play, perhaps explaining why the only discernible tactic employed in Group A play was to defend.
They didn't do a particularly good job of that, conceding eight goals to Italy, Wales, and Switzerland – and Gunes' tinkering at the back didn't help. Central defender Merih Demiral was harshly dropped for the 2-0 defeat to Wales after scoring an own goal in the opener as Gunes decided to pair Kaan Ayhan with Caglar Soyuncu against the Dragons. The call to drop Turkey's tallest center-back for a game against Wales' 6-foot-5 striker Kieffer Moore was a peculiar decision, and one that hinted perhaps Gunes was out of his element.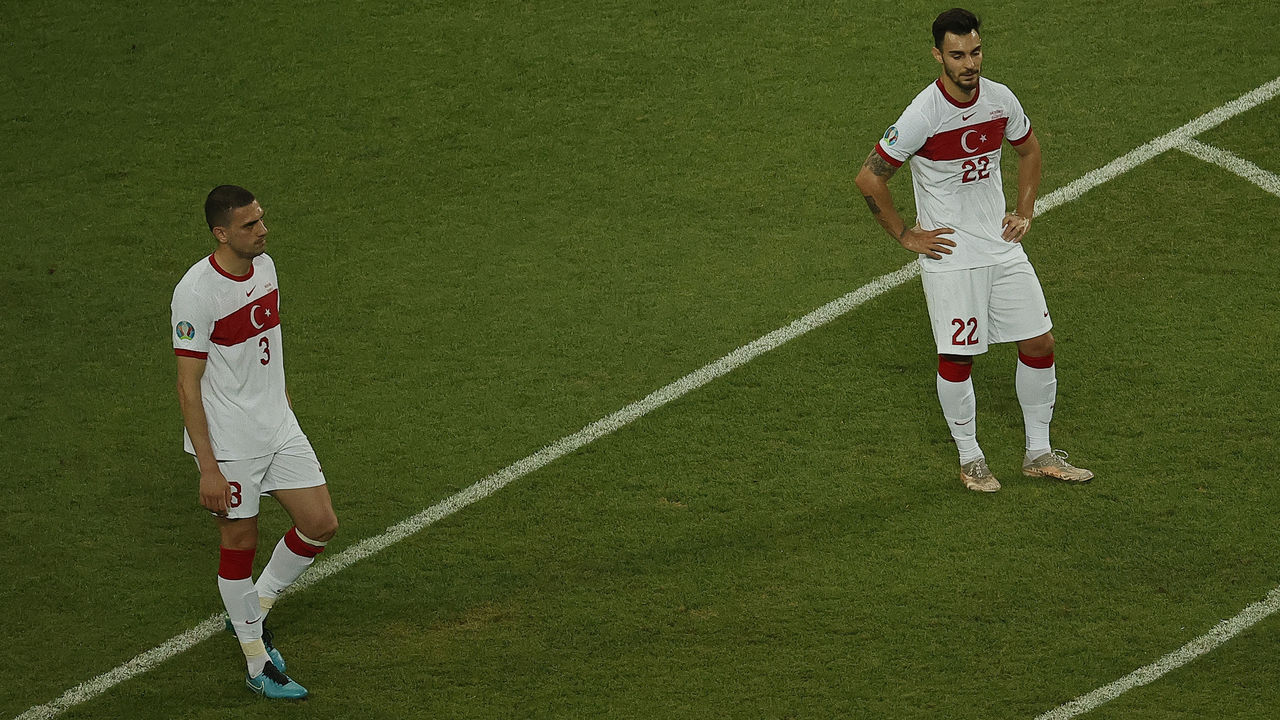 Turkey looked well off the pace at Euro 2020 and that contributed to a shockingly porous rear guard. Many players appeared knackered in the wake of congested domestic campaigns; Gunes' entire team have performed at levels somewhere between limp and lethargic. Even with the extra intent displayed in the opening stages of Sunday's 3-1 with the Swiss, Turkey was far too easy to break down.
Gunes – who led the nation to the 2002 World Cup semifinals in his first stint in charge – deserves a lot of the blame. With Turkey's core constructed of young and emerging talents, the Turkish football federation may fancy hiring a manager who's ascendancy matches that of the team.
Mancini's team management should be commended
There were plenty on social media who scoffed when Salvatore Sirigu emerged for a late cameo. Some believed bringing on a backup goalkeeper in the 89th minute was an insult to 10-man Wales, while others viewed it as further evidence that the tournament lacked competitiveness.
But Italy manager Roberto Mancini won't care for the outside noise. His priority right now is to keep his team focused on going deep at the European Championship, and that job is made easier when there's good morale in the dressing room. Introducing Sirigu wasn't meant to be a sneering poke at the ribs of Wales boss Rob Page, nor was it meant to be a putdown of Euro 2020's format. It was merely a move to let Sirigu feel involved and appreciated.
Sirigu is unlikely to unsettle Gianluigi Donnarumma in Mancini's starting XI, but the squad rotation elsewhere in the lineup will boost competition – and that can only be a good thing.
Marco Verratti logged the most touches, created the most chances, and attempted the most tackles on an impressive return from injury. Matteo Pessina replaced Nicolo Barella in midfield and became the youngest Italian to score in his first start at a major tournament since Antonio Cassano in 2004. Andrea Belotti held up the ball well in attack and Federico Chiesa, who can count himself unlucky to have not started in Italy's two matches to begin the tournament, dizzied Welsh defenders with his rhythmic footwork and pace.
Mancini is keeping his team fresh as it reaches the knockout phase, and indicated after the match he trusts each squad member to understand his role when called upon.
"It's important that the identity of the team remains the same, as changing three or four players shouldn't make any difference," Mancini said, according to Football Italia. "They all know what to do and the end product does not change."
Wales should target another semifinal
Five years after its remarkable run to the semifinals at Euro 2016, Wales should look to repeat the feat in this summer's rescheduled tournament.
Page's men will take on the runner-up from Group B in the round of 16, and Russia is currently on course to take second in that quartet ahead of its final game against Denmark. Wales should view Russia – or Finland and Demark if there's a surprise on Monday – as beatable opposition.
Group B
| # | Team | GD | Points |
| --- | --- | --- | --- |
| 1 | Belgium | +4 | 6 |
| 2 | Russia | -2 | 3 |
| 3 | Finland | 0 | 3 |
| 4 | Denmark | -2 | 0 |
Wales is the classic case of a team that's greater than the sum of its parts. The starting lineup is awash with players who struggle to get minutes for clubs in England's top two tiers, yet the Dragons have revived the team spirit that fueled its last European Championship campaign.
It's not rocket science. They always work harder than the other team, and that was no clearer at this tournament than the club's thrilling 2-0 win over Turkey in their second outing at the Euros.
We're getting ahead of ourselves a little here but, if Wales squeezed through the round of 16, another winnable fixture could lie in wait. The quarterfinal would be staged in Baku – the setting for that famous defeat of Turkey – and would be against either the Dutch, who weren't too convincing in their recent wins over Austria and Ukraine, or one of the best third-placed teams.