Liverpool withstood Villarreal's furious comeback bid on Tuesday to reach the Champions League final once again, ultimately coming away with a 5-2 aggregate victory. Below, we dissect the biggest talking points from a thrilling encounter in Spain.
Fighting fire with fire
Villarreal were jittery in last Wednesday's first leg. Their decision-making and composure were fractured by nerves and, you suspect, by far too much respect for their opponents. Liverpool did exactly what they wanted, which was to punch the Yellow Submarine's backline with their pneumatic press while Thiago Alcantara coolly conducted play from midfield.
There was perhaps no greater indication of how Tuesday's first half fared than when Thiago received the ball in midfield in the 26th minute. The Spaniard tidily evaded Etienne Capoue and strode forward. Normally, this would be the start of a Liverpool attack – especially when Thiago is in his best form since he moved to England. But, hurried by the retreating Capoue, Thiago slid the ball out of play for a throw-in.
Villarreal were aggressive and confident. Gerard Moreno linked play in the final third and pulled Liverpool's defense out of position with his movement. Raul Albiol rolled back the years when he sprinted back to muscle Diogo Jota off the ball during a Liverpool breakaway. Most impressive, though, was how Villarreal unsettled the visitors as a team in the opening period with their harrying and attack-minded play, forcing a complete role reversal from the previous week's match.
"They scored really early. This gave them confidence, and their fans felt it," Liverpool midfielder Fabinho told BT Sport post-match. "It was a hard first half for us, maybe (the hardest) of the season."
But then the roles were reserved once more.
Liverpool's performance was much improved after the interval, but Villarreal's apparent willingness to tighten up their lines and attempt to resist their opponents' attacks was peculiar. Because that's exactly what went wrong at Anfield.
Boulaye Dia, scorer of the game's opening goal, touched the ball only three times between halftime and his 80th-minute withdrawal. Villarreal no longer played with risk, as their completed dribbles fell from 11 to four on the other side of halftime. They were suddenly losing most aerial duels. The hosts unsurprisingly attempted no shots in the second half, while Liverpool fired 15 toward their mesh.
It didn't take long for Villarreal's superb first-half work to come undone. They were clearly at their best when they fought fire with fire.
Liverpool are human after all
For the first time in recent memory, Liverpool looked twitchy and timid. The first half at El Madrigal was the polar opposite of everything we've come to expect from this edition of Jurgen Klopp's team.
So often the aggressors, Liverpool played on the back foot. So often assured and controlled in possession, they were erratic. Passes went astray, defensive assignments were blown, the full-backs weren't getting forward, and the midfield was being overrun. Villarreal, spurred on by a thunderous home crowd that roared when Dia opened the scoring after just three minutes, had the Reds rattled.
Even Thiago, a Rolls-Royce of a midfielder who always appears in control of the situation, was unsettled; the visitors' passing accuracy in the first half was only 66%. Liverpool, damn near invincible this season, looked human for once.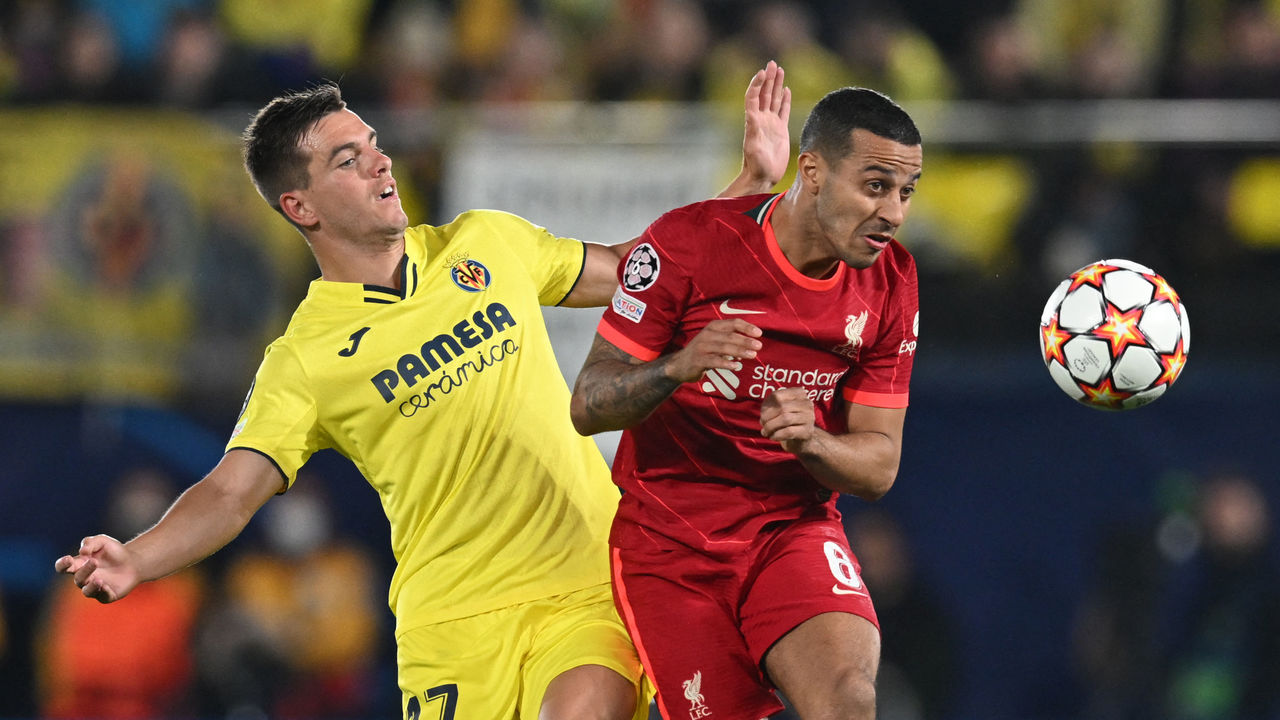 Until they didn't.
Aided by the halftime introduction of Luis Diaz, Liverpool heeded Klopp's request for more movement off the ball. They started to whip the ball around, break defensive lines, and create chances. Normal service resumed, and in just 12 second-half minutes, the home team's comeback bid had crumbled.
"We made it pretty tricky for ourselves. We knew before, these kind of things can happen," Klopp said after the match. "In life, it's always about how you react when things don't go your way."
Liverpool, who had only trailed for a total of 69 minutes in 2022 before Tuesday's match, have largely had it all go their way this season. This was a perfect test at the perfect time – more for internal belief than anything else. Every great team needs to be prodded and examined like this at some point on the path to success.
Liverpool took a huge blow, recovered, and hit right back. It turns out Klopp's vaunted "mentality monsters" never left. They just needed someone to push them to the limit.
Rulli unravels
Geronimo Rulli got away with it at Anfield. His flaps and poor timing went unpunished, and he didn't deserve blame for conceding from Jordan Henderson's cross following a heavy deflection off Pervis Estupinan.
But the Villarreal goalkeeper was out of luck in the second leg.
Rulli did his best hologram impression for Liverpool's first two goals, letting both Fabinho's shot and Diaz's header slip through his body and into the net. He was most at fault for Fabinho's effort, with his feverish hop to his right and back again inviting the Brazilian to shoot. Rulli managed to unsettle himself with his own footwork.
The 29-year-old was determined to rectify the situation. He was the hero of the prior campaign's Europa League final against Manchester United, scoring his side's 11th penalty in the shootout and then saving fellow netminder David De Gea's subsequent take. It was time for him to step up again.
And he did step up, albeit about 30 yards too far.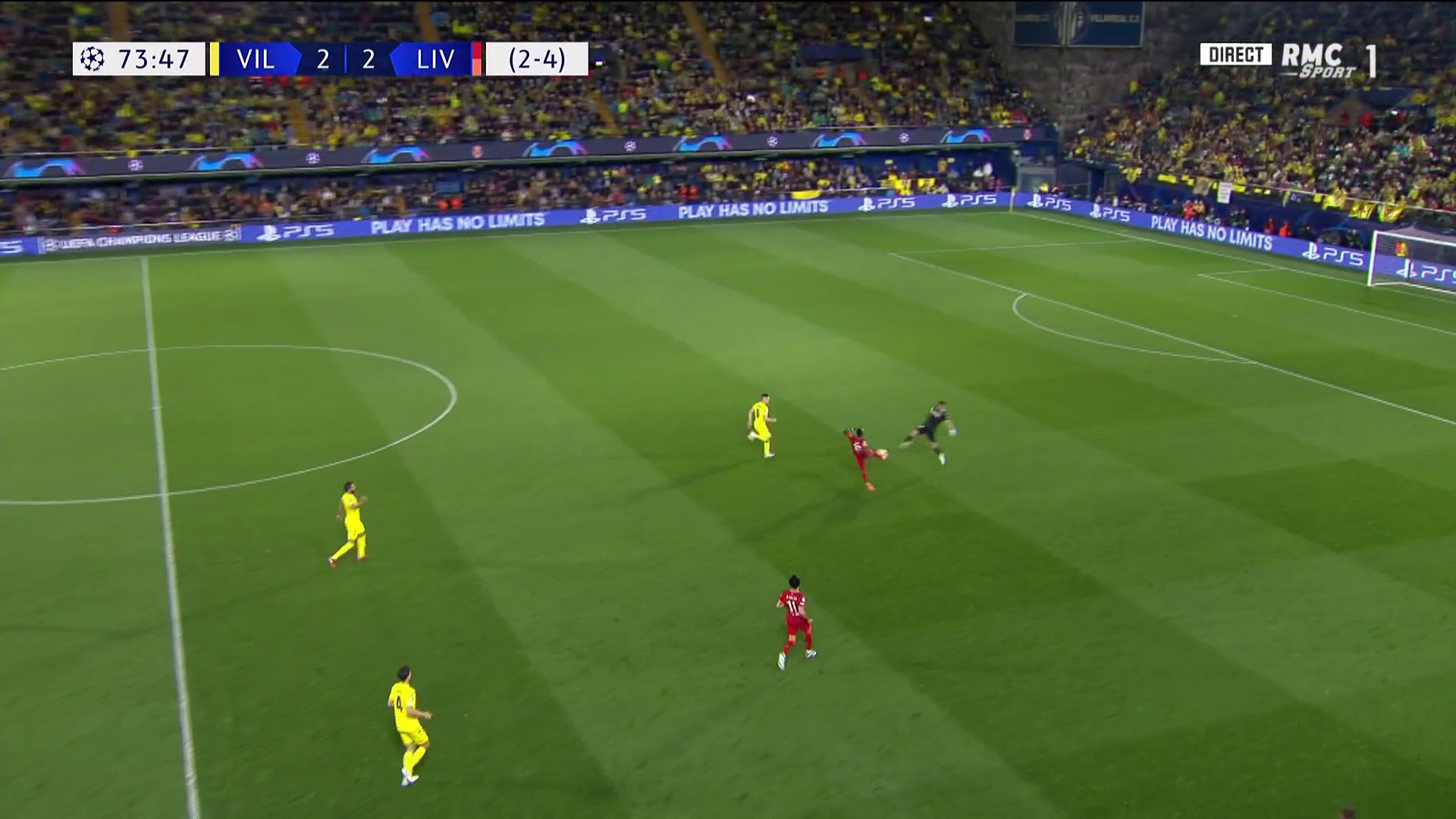 (Courtesy: @RMCsport)
Rulli's effort to thwart Sadio Mane's run onto a punted ball was his desperation summed up in a few erratic seconds. The Senegalese frontman easily tapped the ball beyond the goalkeeper's outstretched leg and eventually finished into an open net, but the sheer mindlessness of the error diverted attention from Rulli's most unacceptable lapse in the whole move.
Juan Foyth did all he could to stop Mane. He excellently anticipated the Liverpool attacker's touch to avoid Rulli and was unlucky to not intercept the ball. He then attempted a slide tackle and sprung up again, sprinting back in the hope that he would block Mane's shot.
Rulli, meanwhile, was jogging. He'd already given up.
It was a sorry way for Villarreal's miraculous Champions League run to end.