The 2022 World Cup is in full swing. At the end of every matchday, we'll review the biggest talking points emanating from Qatar and break down all the action on the pitch. Below, we look back on Day 2 of the tournament.
Bellingham announces World Cup arrival
There was already a ton to be excited about Jude Bellingham before he even touched a ball in Qatar. But the hype could be about to explode if his performance Monday is an indication of how his first World Cup will unfold.
Halftime hadn't even arrived before the football world started singing the 19-year-old midfielder's praises. And deservedly so. Bellingham was positively influential in helping England seal a comfortable – and expected – win over Iran in a World Cup debut to remember.
Bellingham, England's only non-Premier League player, offered a spark in central midfield that was pivotal in helping Gareth Southgate's men build a commanding first-half lead on their way to winning 6-2. The Borussia Dortmund star pushed the floodgates open in the 35th minute with a glancing header to record his first-ever international goal.
After Bukayo Saka scored the first of his two World Cup debut goals, Bellingham stepped up again and was the architect for England's third goal. He burst into the Iran end, dribbling past his markers superbly before finding Harry Kane in the build up to Raheem Sterling's goal to put the match well out of reach before halftime.
The price tag for Bellingham was already going to be ludicrous. But, at this pace, it could take a near world-record fee to pry away one of England's most promising young stars from Borussia Dortmund next year.
Superstars make all the difference
Sadio Mane's injury-induced absence was a blow to the World Cup as a whole. In full flow, the Senegalese forward is one of the game's most entertaining players to watch. But, at its core, his injury crippled the reigning African champion. The team relies heavily on the 30-year-old to provide the clinical touch inside the penalty area and tip the scales, especially when locked in tight matches.
Senegal's 2-0 defeat against the Netherlands on Monday was a stark reminder of Mane's influence. The Lions of Teranga played well against the Dutch. They had more shots, more shots on target, more key passes, and crafted several threatening opportunities. If anything, Senegal carried the play. But, in the crucial moment, the cutting edge that only Mane provides was glaringly absent. Ismaila Sarr was energetic and dangerous out wide – he gave Matthijs de Ligt constant headaches all match – but his final product was lacking when he weaved his way into the area.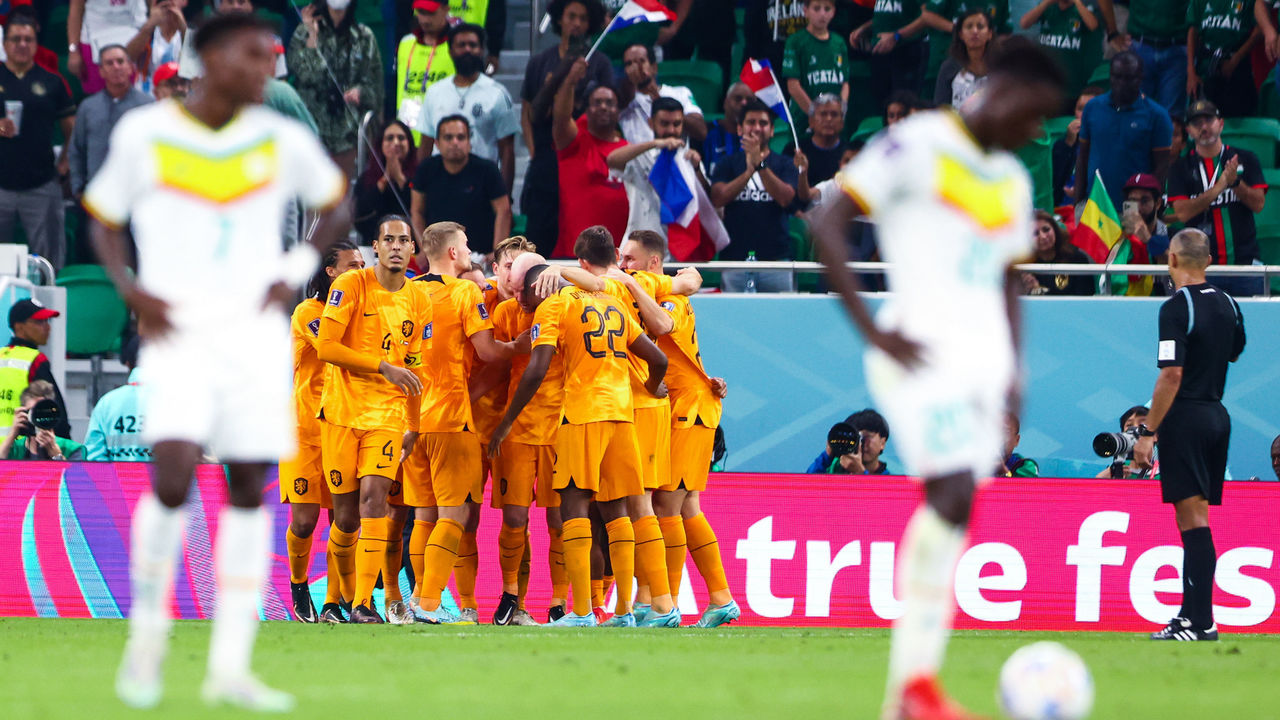 The match was a reminder of how, in major international tournaments where the margins are razor-thin, superstars make all the difference.
In the Netherlands' best moment of the contest, Frenkie de Jong clipped a sumptuous ball over the top of the Senegalese defense that Cody Gakpo, the team's most in-form attacker, headed home with authority. It was his only real scoring opportunity of the match. When it mattered most, the Netherlands' key players stepped up, while Senegal's best player could only watch from home, cruelly unable to make his mark on the competition.
Berhalter leaves U.S. exposed
Wales made an adjustment. The United States didn't.
Ultimately, that's what turned the tide in the second half of Monday's 1-1 draw. Wales had struggled mightily without a reference point in the first half, but everything changed when head coach Rob Page introduced center-forward Kieffer Moore at halftime. The move emboldened the Welsh and allowed them to stretch the U.S. with a more direct approach. Page's group responded with resounding effort as play resumed, wrestling back possession and taking over midfield.
Conversely, when Wales threatened to equalize, the United States' Gregg Berhalter chose to stand pat. By the 66th minute – when Berhalter made the first of his five ineffective substitutions – the Americans had lost all the momentum they had built in the opening stanza. Brenden Aaronson, a tone-setting midfielder, couldn't find his rhythm. DeAndre Yedlin lost duels on the right flank. Berhalter left Giovanni Reyna – a box-to-box midfielder with match-winning ability – on the bench while defensive crusher Kellyn Acosta struggled to gain a foothold in an increasingly stretched game. Berhalter showed his cards, preferring to control the damage, not reclaim the advantage.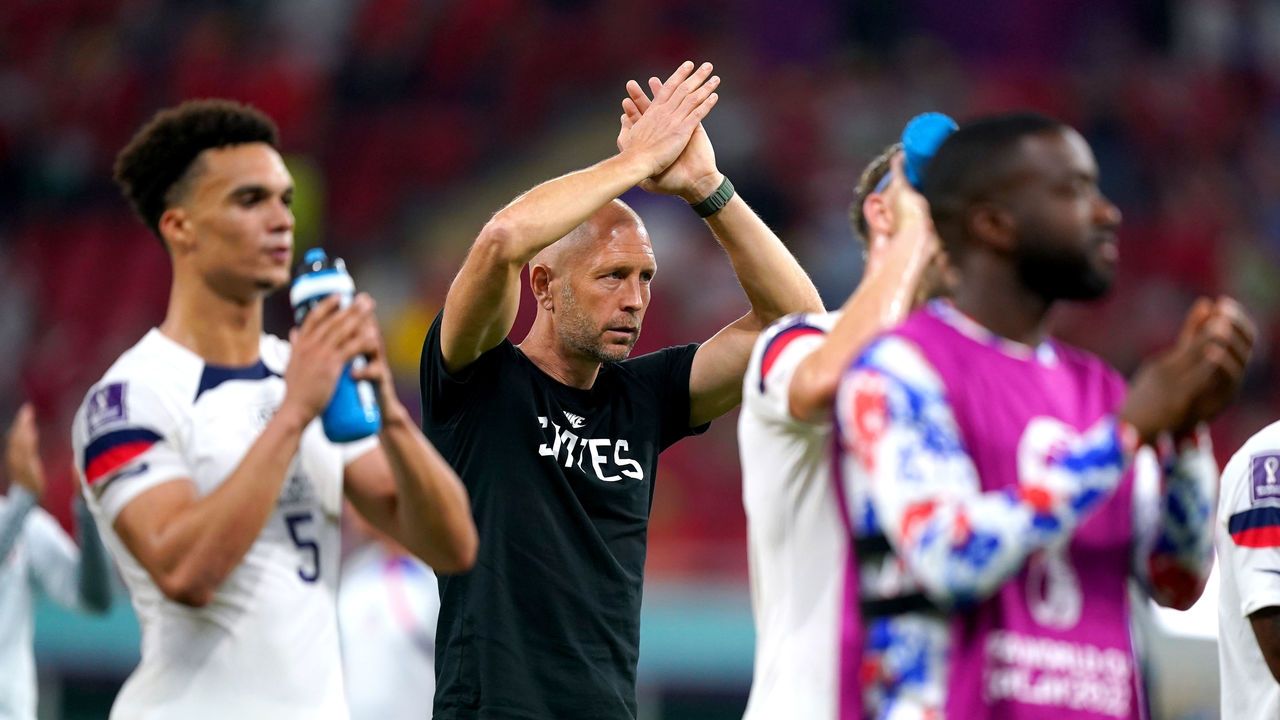 The decision to leave out Reyna was particularly difficult to digest. Finally, the U.S. had one of its best players available after a year interrupted by injuries, and there he was, keeping loose on the sidelines for a substitution that never arrived.
"In the phase of the game we were at, we went with Jordan (Morris), who we felt could give us speed and power," Berhalter told reporters, including ESPN's Jeff Carlisle.
If Berhalter wasn't willing to throw on a difference-maker against an opponent the U.S. could've and should've beaten, when will he do so?
Quick free-kicks
What's up with stoppage time?
England and Iran played nearly 30 minutes of stoppage time over their two halves Monday. The Netherlands scored a goal in the 99th minute of its win over Senegal. The United States and Wales played well beyond the 90th minute of their feisty affair. Get used to it. FIFA has instructed officials to be more liberal when adding time at the end of each half to account for minutes lost during play. Fans are typically used to seeing five additional minutes at most, but this more literal interpretation of "stoppage time" is going to result in lengthier matches throughout the tournament. With players already at their physical limit dealing with a congested schedule, plus the searing heat in Qatar, is this really a change that was needed or wanted?
Concussion protocol still a mess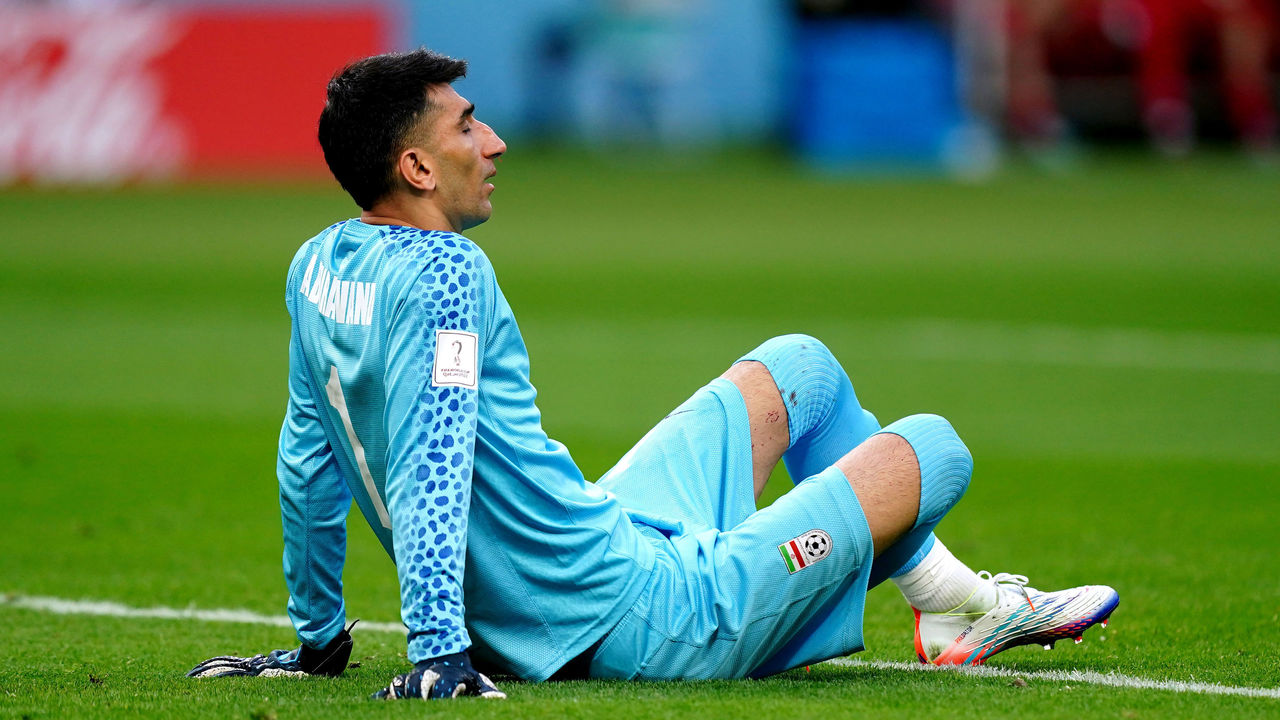 There was a critical failure in FIFA's newly adopted concussion protocol just two games into its implementation. Iran goalkeeper Ali Beiranvand went down with a nasty head injury but was still allowed to continue despite appearing visibly shaken after a lengthy break in play. After seemingly persuading Iran's medical staff to keep him in the game, Beiranvand eventually asked to leave. The damage was done by then, as concerns and questions about the effectiveness of FIFA's new policy were rampant. Given that this is the first World Cup that allows teams to make substitutions for suspected concussions in addition to the five allotted in a match, there's no way Beiranvand should've been allowed to play had FIFA's concussion protocol been followed.
Logistical issues in Qatar
It's been 12 years since FIFA stunningly awarded this year's World Cup to Qatar. The governing body, and the nation, had over a decade to prepare. Just a couple of days in, you wouldn't know it. After the last-minute flip-flop on the sale of alcoholic beer in stadiums – something that should have been clearly established well before the tournament – ticket issues blighted Monday's opening match between England and Iran. The problem caused scores of fans to miss the opening kickoff. FIFA's mobile app was apparently the culprit. Fans complained that their e-tickets had disappeared from their phones, causing long queues outside the Khalifa International Stadium.
FIFA scores another own goal
Ahead of the World Cup, captains of seven European nations vowed to wear armbands adorned with the multi-colored, heart-shaped logo of the "OneLove" campaign that promotes inclusion and diversity. The national teams, including three who played Monday – England, Wales, and the Netherlands – said they were prepared to pay a fine to allow the respective captains to wear the armband. So FIFA upped the ante and threatened to sanction the players with yellow cards if they took part in the anti-discrimination gesture. They promptly abandoned the plans and wore a FIFA-approved armband instead. Fans and journalists took to social media Monday to provide accounts of how they were forced to remove pro-LGBTQ paraphernalia before entering stadiums. FIFA has reportedly ordered Belgium to remove the word "Love" from the collar of its World Cup shirt, too.
Good guy Grealish
Jack Grealish kept his promise. Prior to the World Cup, the England forward met with 11-year-old Manchester City fan Finlay, who has cerebral palsy. The heartwarming encounter ended with Finlay asking Grealish, whose sister also has cerebral palsy, to commemorate his next goal – either for club or country – with a special celebration. He did just that after scoring England's sixth marker against Iran on Monday. With a giant grin on his face, Grealish stretched out his arms and began rolling them in waves, just as Finlay had demonstrated to him when they met. Especially amid some of the other scenes at this World Cup thus far – including some discussed above – it was a brilliant, beautiful sight that signals the power of football and sport.
Maguire makes amends
Harry Maguire has come under immense scrutiny, for good reason, amid consistent struggles at club level with Manchester United. So much so, many clamored for him to be dropped entirely from the squad for the World Cup. Southgate, though, trusts the oft-criticized defender more than most. He's one of his stalwarts. Maguire repaid his manager's faith with a solid outing against Iran. The 29-year-old looked liberated on the pitch, driving forward with the ball and, crucially, providing a constant threat from set pieces, a key element to England's game. Southgate said after the match that Maguire was taken off as a precaution after feeling ill in the second half. The manager also allayed fears over a potential head injury, adding that he expects the defender to be available against the United States later this week. Bullet dodged, it seems.
Stat of the day
Welcome back to the World Cup, Wales.
Tweet of the day
What were you doing at 19 years old?