The Champions League round of 16 came to an end this week, with the last four quarterfinal berths being decided. Below, we dissect the biggest talking points from the week's action in Europe's premier club competition.
Napoli are genuine Champions League contenders
Napoli proved for the umpteenth time Wednesday they're no fluke.
Feeding off their success in Serie A, the Partenopei tore Eintracht Frankfurt to pieces in the second leg of their already-lopsided last-16 tie. They outclassed the reigning Europa League champions with their intricate passing plays and on-ball confidence. Napoli had no intention of just sitting on their 2-0 lead from the first leg; they wanted to add to it. That's what they did, and Frankfurt couldn't do anything about it.
Winning any tie 5-0 is extraordinary. However, doing it with ease is something else entirely. Napoli aren't just winning; they're doing it with absolute class. The way they play from the back, string passes together, and hold onto the ball is just sublime. In possession, Napoli never look like they're in a rush. But out of possession, they hunt the ball like wolves, jumping into the fray as soon as possible.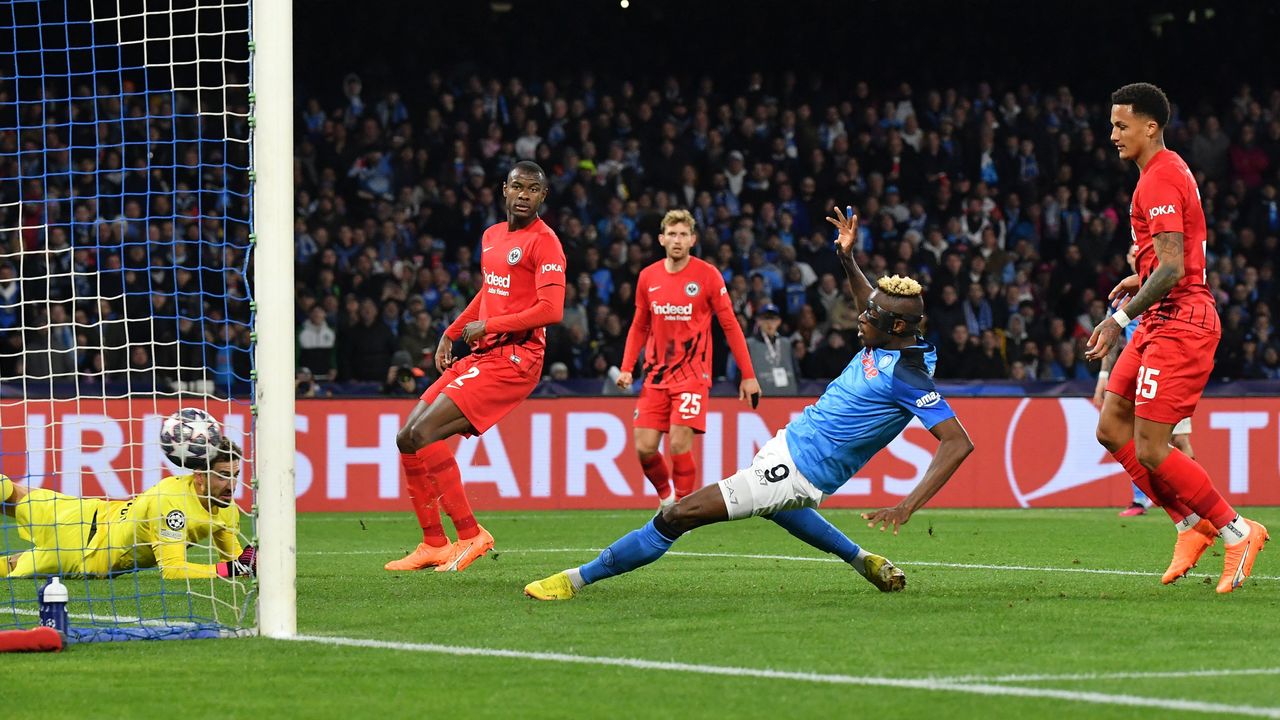 They have all the ingredients that make up a Champions League-winning side. In Victor Osimhen, they have a physically gifted and technically sound center-forward with 21 goals in his last 22 matches. In Khvicha Kvaratskhelia, they have a winger with a seemingly bottomless bag of tricks. In Stanislav Lobotka, they have one of the most responsible midfielders in the game. And in Kim Min-jae, they have an aggressive defender who can win any ball and force turnovers in midfield.
Head coach Luciano Spalletti has fit these players into a sophisticated system that runs on collective spirit. They press as well as any team in Europe, and they have such a clinical edge. Napoli don't really have any weaknesses; they're solid from top to bottom.
Who's to say they can't win a historic double? Armed with an 18-point lead in Serie A and on their way to a first league title in three decades, the southerners have now reached the quarterfinal stage for the first time in club history.
Klopp gives up on midfield skirmish
The complaint has been played on repeat. Liverpool acquired Luis Diaz, Fabio Carvalho, Darwin Nunez, and Cody Gakpo over the past three transfer windows, while the only senior midfielder added over the past five windows was Arthur Melo last summer.
It's safe to say that Arthur won't live long in Scousers' memories once he departs Merseyside in June.
Such is the staleness of Liverpool's midfield; Klopp gave up on it altogether for almost an hour of his side's 1-0 loss at Real Madrid. In some ways, the German manager's hands were tied: Thiago Alcantara, Stefan Bajcetic, and Jordan Henderson were unavailable for the matchday squad, and Liverpool needed to attack while they were losing 5-2 on aggregate. But with Harvey Elliott, Curtis Jones, and Alex Oxlade-Chamberlain watching from the bench, Klopp deployed a midfield duo consisting of Fabinho and 37-year-old James Milner.
And that was it.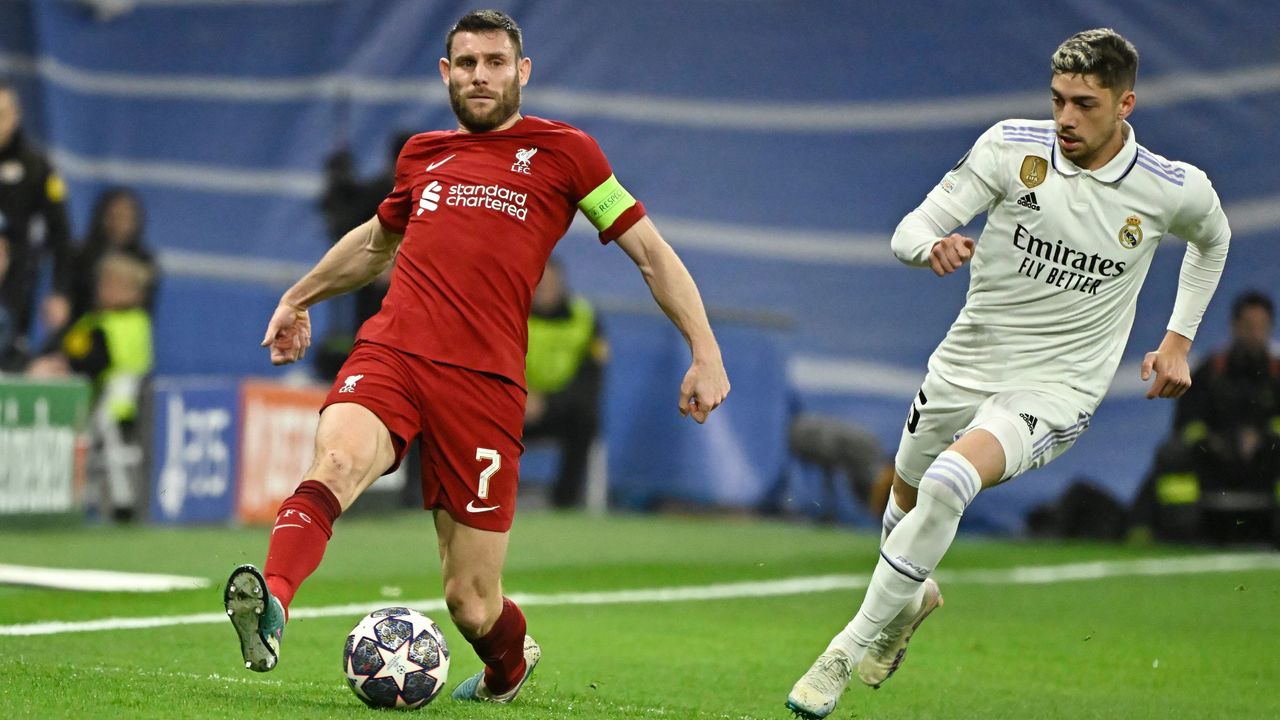 The two players were expected to cover ground. They were expected to tackle. They were expected to shift the ball quickly toward Liverpool's attackers. But Fabinho and Milner weren't seriously expected to compete with Eduardo Camavinga, Toni Kroos, and Luka Modric.
The result of this game plan was entirely predictable. Kroos was authoritative yet serene as he moved through the middle, Modric harried and hovered, and Camavinga – who's still just 20 – maturely conducted play. Within the first 21 minutes, each midfielder had sauntered through space and attempted a shot from outside the area. It was far too easy.
It was only after the introduction of Elliott in the 57th minute that Liverpool tried to participate in this part of the pitch.
Liverpool exited Europe with a whimper – a 6-2 aggregate defeat will sting a club so proud of its continental pedigree. There's plenty of hard work ahead. Signing Jude Bellingham from under the noses of many interested clubs would prove a spectacular piece of business, but he can't be the answer on his own.
With the slump in form and the advancing years of so many in Liverpool's midfield, the club needs to perform open-heart surgery in the summer.
By the numbers: Trying to make sense of Haaland
Cristiano Ronaldo, Lionel Messi, Alan Shearer, and every other striker who's lit up English and European football throughout history, look away now. Erling Haaland has his eyes on your scoring records.
The Manchester City superstar netted five times in his team's 7-0 obliteration of RB Leipzig, showcasing levels of anticipation and narrow-mindedness that only the best players in his position have possessed.
Sometimes, only numbers can paint the full picture. Here are the best stats and facts to surface after an iconic outing from Haaland:
1 – The Norwegian scored five goals in a game for the first time in his senior career.
2 – Haaland now has two Champions League hat-tricks to his name. Brazilian great Ronaldo, Thierry Henry, and Wayne Rooney managed only one apiece.
3 – Haaland became just the third player to notch five goals in a Champions League fixture. Messi was the first to achieve the feat when he spearheaded Barcelona's 7-1 rout of Bayer Leverkusen in 2012. Luiz Adriano matched Messi's outburst in Shakhtar Donetsk's 7-0 triumph at BATE Borisov in 2014.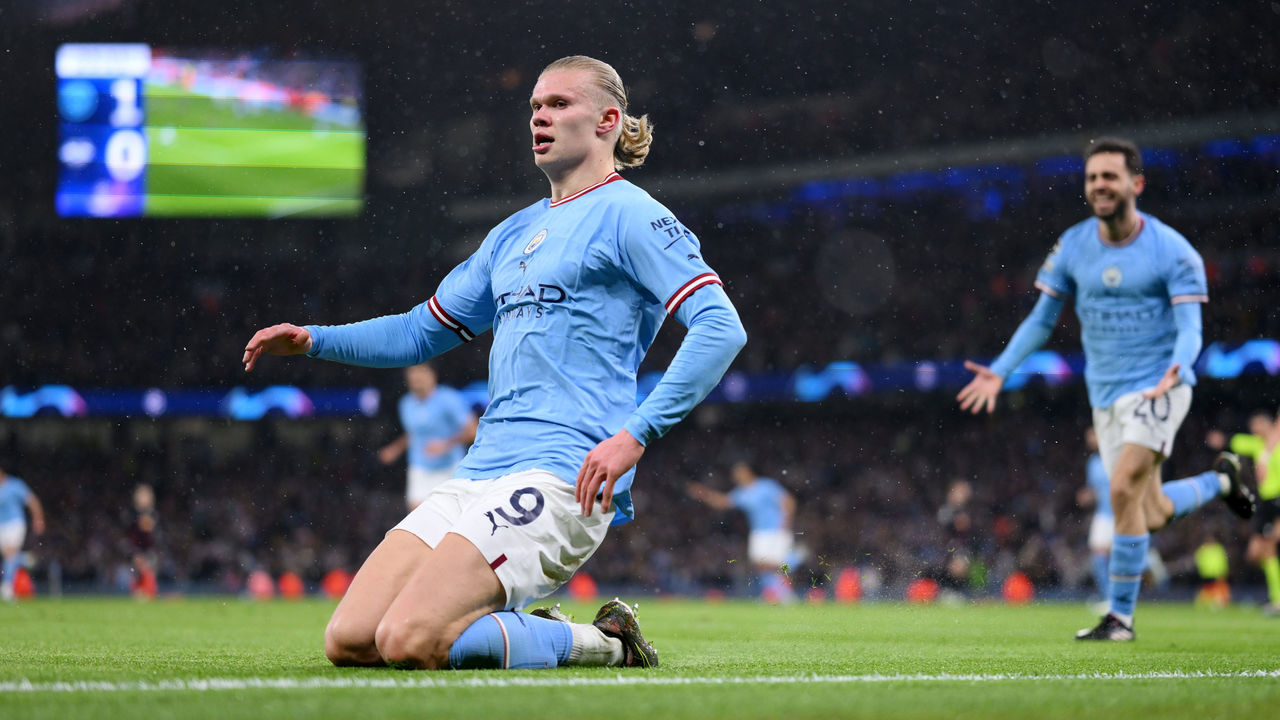 5 – The former Borussia Dortmund marksman has scored three or more goals in five matches for Manchester City this season. That's three more than any other player hailing from one of Europe's top five leagues.
25 – Haaland is only 25 matches into his Champions League career. The competition's records appear to be at the mercy of Haaland and Paris Saint-Germain forward Kylian Mbappe.
30 – The second goal of Haaland's evening made him the youngest and fastest player to reach 30 Champions League goals.
33 – The 22-year-old's total Champions League haul of 33 is three more than both Samuel Eto'o and Wayne Rooney mustered during their glittering careers.
94 – Tommy Johnson's 38 goals during the 1928-29 campaign stood as the single-season scoring record by a Manchester City player for 94 years. Haaland has beaten that tally in March, and he could still play in 19 more matches this campaign.
100% – Each of Haaland's eight efforts at Leipzig's goal was on target. He's unerringly accurate, and he won't stop trying to score. "You miss 100% of the shots you don't take," reads the famous quote often attributed to hockey legend Wayne Gretzky.
Guardiola ensured City took control
Pep Guardiola previously stressed the importance of his side controlling the matches against Leipzig. "We don't have the team to compete with them in the transitions, they are better than us, they are faster and quicker, except Kyle (Walker) and Erling (Haaland)," he said after the first leg, according to The Athletic's Sam Lee.
Guardiola's brave modifications for the relentless win over Leipzig helped his team take control. City's goalscorer from the 1-1 first-leg draw, Riyad Mahrez, was on the bench alongside Walker, whose advanced position on the right flank was a key element of City's tactics in the opening fixture. Phil Foden was surprisingly among the substitutes after averaging almost seven key passes per game since his reintroduction to the lineup two weeks earlier. An off-color Kevin De Bruyne started in Foden's place.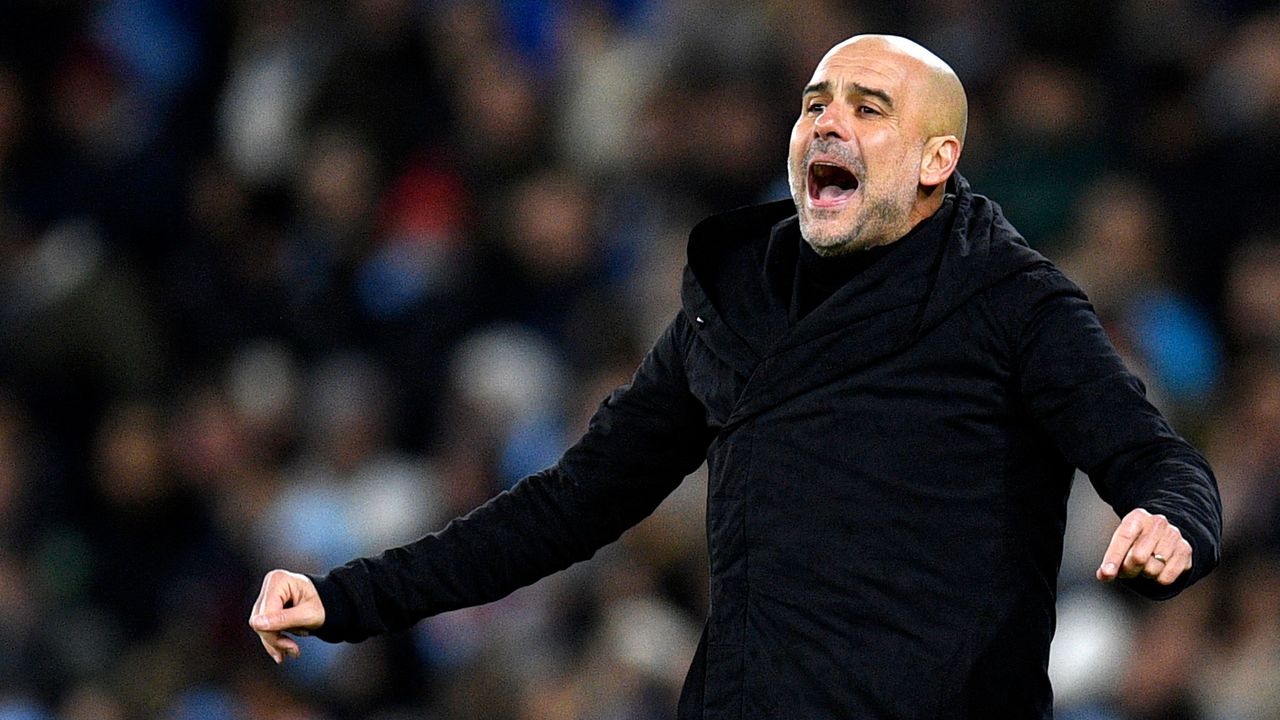 The four center-backs protected City from counter-attacks at the Etihad Stadium. Rodri intelligently slotted between Ruben Dias and Manuel Akanji when extra protection was required or to assist with build-up play from the back. John Stones split his duties between right-back and defensive midfield, and Nathan Ake was solid defensively. Some of Ake's play down the left proved how much he's growing from an attacking perspective under Guardiola.
Ahead of this versatile yet solid defensive setup, the risky play of Mahrez – one of City's best Champions League performers in recent seasons – was sacrificed to ensure the team lost the ball less frequently. It worked: City had 49% possession in the second half of the first leg, but that rose to over 66% for the full 90 minutes of the second leg.
When Guardiola makes unexpected changes to his lineup or approach and Manchester City don't get a result, he's accused of overthinking his tactics. It must irritate the Spaniard when similarly imaginative tweaks lead to a victory and don't offset that negativity with widespread critical acclaim. His selection and subsequent in-game management in last month's trip to Arsenal, and his lineup for Leipzig's visit, are recent examples of Guardiola's risks paying off handsomely.
Inter's foot soldiers pave the way to quarterfinals
Inter certainly needed luck to reach the Champions League quarterfinals. Porto had a shot cleared off the goal line and hit the post twice in second-half stoppage time Tuesday, falling just a goal short of forcing extra time in this nerve-racking last-16 tie. Had they played an additional half-hour at the Estadio do Dragao, Porto, not Inter, would've had the momentum, and few would've bet against them to advance.
But that didn't happen. Porto waited too long to create such excellent chances. They spent most of the 90 minutes patiently plotting a path through Inter's back line. But a pathway never emerged. Porto were too casual for too long.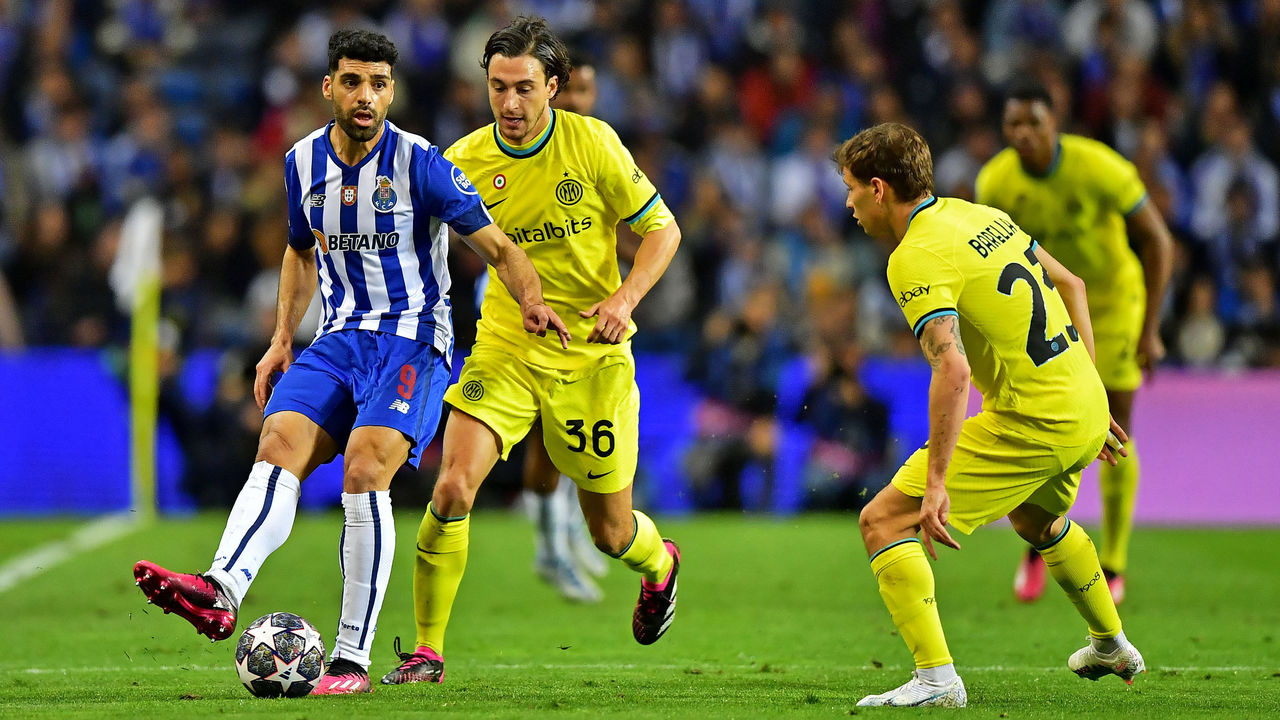 Inter, on the other hand, were all too happy to absorb pressure, knowing they could rest on their 1-0 aggregate lead from the first leg. Head coach Simone Inzaghi, who watched his team lose against relegation-threatened Spezia last Friday, didn't need to take much of a risk anyway. Without Otavio – the Brazilian forward who was sent off in Milan and suspended for Tuesday's decisive clash – Porto lacked any sort of cutting edge up front.
So the Nerazzurri simply held their line. Matteo Darmian, Inter's unsung hero this season, was excellent on the right of Inter's three-man defense. His tackle on Galeno in the closing stages was one of several impressive plays by the Italian defender. Federico Dimarco's block on Evanilson also prevented Porto from gaining a lifeline earlier in the second half. And when Porto fired crosses into the penalty area, Francesco Acerbi and Alessandro Bastoni cleared the lines. Henrikh Mkhitaryan led all players with three tackles and three interceptions, and Hakan Calhanoglu, as industrious as ever in his newly acquired deep-lying role, remained calm amid all the chaos around him.
So maybe they earned their luck. They played like a team that was desperate to progress. And now they're through to the quarterfinals for the first time in 12 years.
Quick free-kicks
Serie A is roaring back to relevance
Three Italian clubs will feature in the Champions League quarterfinals for the first time since 2006. That alone may not mean much to people outside of Serie A, but to the league's teams, coaches, and executives, it's an important milestone, one that could signal its return to consciousness. Important hurdles remain – Serie A is still struggling financially, and its stadiums are mostly outdated – but its best teams are showing they can compete with the best around. Right now, AC Milan, Inter Milan, and Napoli are flying the flag in the Champions League, and each has demonstrated an ability to manage these big nights. Milan and Inter defended incredibly well in the round of 16, and on Wednesday, Napoli entertained onlookers who may otherwise have overlooked their excellence in Serie A. They are, in their own way, showcasing the renewed strength of the league.
Wrap Benzema in cotton wool
When Karim Benzema is on the pitch, he scores. Simple as that. The biggest problem for Real Madrid this season, though, is that their talismanic French striker has spent plenty of time on the sidelines dealing with myriad injuries; Benzema has missed 14 matches across all competitions this season. He returned from his latest ailment, an ankle issue, to start – and score – against Liverpool on Wednesday, bringing his tally to 19 goals in 28 games on the campaign. Real Madrid will be hoping it wasn't a Pyrrhic goal after Benzema took an apparent knock on the play before finding the net; he was substituted shortly after. With Barcelona in a commanding position atop La Liga, it might behoove Carlo Ancelotti to give Benzema more rest than he otherwise would to mitigate injury risk and ensure the veteran is fit for the stretch run of the Champions League as Real Madrid look to retain their crown.
Alisson doesn't dwell on first-leg error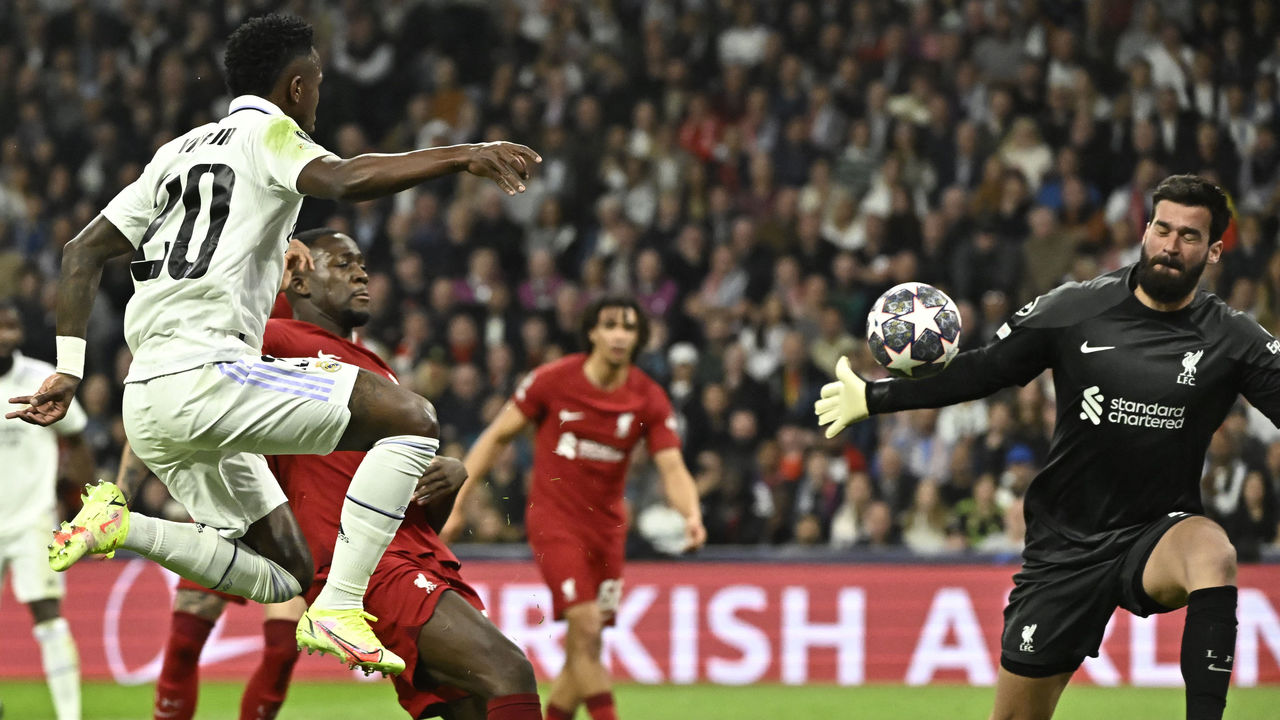 The sight of Thibaut Courtois' casual, clunky touches gifting a goal to Mohamed Salah was peculiar, but Alisson balancing the number of goalkeeping gaffes at the other end of the park – when he bounced a clearance off Vinicius Junior and into his own net – was arguably the oddest aspect of the first leg between Liverpool and Real Madrid. Although the Reds bowed out of the tournament at the Bernabeu on Wednesday, the usually impeccable Alisson made amends with some miraculous saves in the reverse fixture. His strong right arm denied Vinicius from point-blank range, he tipped Camavinga's long-range effort onto the bar, and he also blocked a Federico Valverde effort after the versatile Uruguayan raced clear. Liverpool could've been on the end of another one-sided scoreline without the excellence of their goalkeeper.
Is a Milan derby possible in the quarterfinals?
It certainly is. Unlike in previous rounds, UEFA allows teams from the same country to face each other in the quarterfinals. That means AC Milan, who dispatched Tottenham Hotspur earlier in the round of 16, could meet crosstown rivals Inter in the next phase of the competition. They last met in the Champions League in 2005 when Milan ousted Inter 5-0 on aggregate in a tie marred by a flare-throwing incident involving former Milan goalkeeper Dida. Milan and Inter also squared off in the semifinals in 2003, with the Rossoneri advancing on away goals despite playing at the San Siro on both occasions. However, the Nerazzurri have form on their side. They've won three of the last five derbies, including a 3-0 shellacking in the Italian Super Cup in January.
KDB back to his best
De Bruyne's below-par performances were a talking point before the return fixture with Leipzig, and he answered his doubters in spectacular fashion. Haaland demands most of the attention after his five goals against Leipzig, but De Bruyne's determined display featured four key passes, 75 touches, and 14 crosses. His sublime, swerving finish in the dying embers of the game was the least he deserved. His emphatic return to form should sound a warning to Premier League title rivals Arsenal and the teams battling for Champions League glory.
What, exactly, did VAR see?
It was ultimately moot because of Haaland's otherworldly scoring exploits – and it wouldn't have changed the outcome of City advancing – but the decision to award the home side a penalty for what looked, on multiple replays, like a non-existent handball by Benjamin Henrichs deserves scrutiny, if for no other reason than to hold officials accountable. Players will almost always remonstrate with referees when there's even a sniff of winning a penalty in their team's favor. For none of the City contingent to react in the moment was a telltale sign that this was a questionable call, at best. The crowd didn't protest the play, either. Replays on the broadcast weren't even conclusive that Rodri's header inside the box even deflected off the Leipzig player's arm. The VAR, Alejandro Hernandez, must have seen an angle that wasn't shared publicly for him to urge colleague Slavko Vincic to check the monitor. Henrichs said after the crushing 7-0 defeat that talking about VAR was pointless and that Leipzig "need to talk about our own performance" instead. In the grand scheme of the match, he's right, but this is another in an ever-growing list of debatable VAR-aided decisions.
Stat of the week
Trent Alexander-Arnold must be sick of seeing Vinicius by this point.
Tweet of the week
Finally, something Erling Haaland seemingly can't do …