The Champions League returned this week with the round of 16 finally kicking off. Below, we dissect the biggest talking points from Tuesday's action in Europe's premier club competition.
PSG foiled by Bayern's French duo
Naturally, much of the discourse preceding Paris Saint-Germain and Bayern Munich's meeting revolved around Kylian Mbappe's fitness. The protagonist of a glittering French generation was initially expected to miss the first leg due to a thigh injury, but PSG's vague diagnosis and updates on his rehabilitation led to some predictions that Mbappe would, in fact, be ready for the encounter.
So, his inclusion on the bench and eventual introduction in the 57th minute demanded plenty of attention. He produced the inevitable when he poked in from close range, only for video review to detect an offside in the buildup.
The erasure of that predictable storyline meant the narrative instead swung back toward Bayern Munich's 1-0 victory and two of Mbappe's less heralded compatriots.
Kingsley Coman was the most dangerous player in the first leg. For the opening half, he was widely labeled as a wing-back but was extremely advanced down the left, completing three dribbles and regularly troubling Achraf Hakimi. Coman dropped back to help form a back-five during the rare occasions that PSG retained possession for a reasonable amount of time, but Bayern largely entrusted Matthijs de Ligt, Dayot Upamecano, and Benjamin Pavard to protect Yann Sommer's goal.
With Bayern's organized press and Mbappe's absence on PSG counter-attacks, the visitors could afford to thrust Coman forward.
(Courtesy: WhoScored)
Coman, who entered the fixture with three goals over his last 85 minutes in the Bundesliga, switched to the right flank following the halftime swap of Joao Cancelo for Alphonso Davies. He was soon rewarded for his positive display when he met Davies' delivery and pushed the ball under Gianluigi Donnarumma.
Upamecano, Bayern's second-best player, showed no scars from France's World Cup final defeat to Argentina. The 24-year-old helped subdue Lionel Messi as he tallied five tackles, three interceptions, and a clearance from the heart of the Bavarians' defense.
Bayern were so dominant for the opening hour of the match but threatened to unravel when Mbappe was on the pitch and surging at their backline. But unlike earlier in his Bayern spell, Upamecano was authoritative and decisive while his teammates' composure frayed. It was a colossal performance on a huge day for Bayern.
Mbappe changes the equation
Excuse us for stating the obvious, but Mbappe is a singular force of nature around which everything else at PSG revolves. Yes, even Messi.
The Ligue 1 leaders were a complete non-factor in Tuesday's match before introducing Mbappe off the bench in the 57th minute. PSG had two shot attempts – and none on target – before Christophe Galtier decided he had seen enough. Mbappe, making an expedited return from injury, was clearly not fully fit. It didn't matter. PSG fired off seven shots in a frantic final 30 minutes, including a one-on-one situation where Mbappe, using his trademark pace down the left wing, sprung free to force an excellent save from Sommer. Were it not for a microscopic offside call against Nuno Mendes that chalked off Mbappe's would-be equalizer, PSG would be heading to Bavaria deadlocked at one apiece. He changed everything.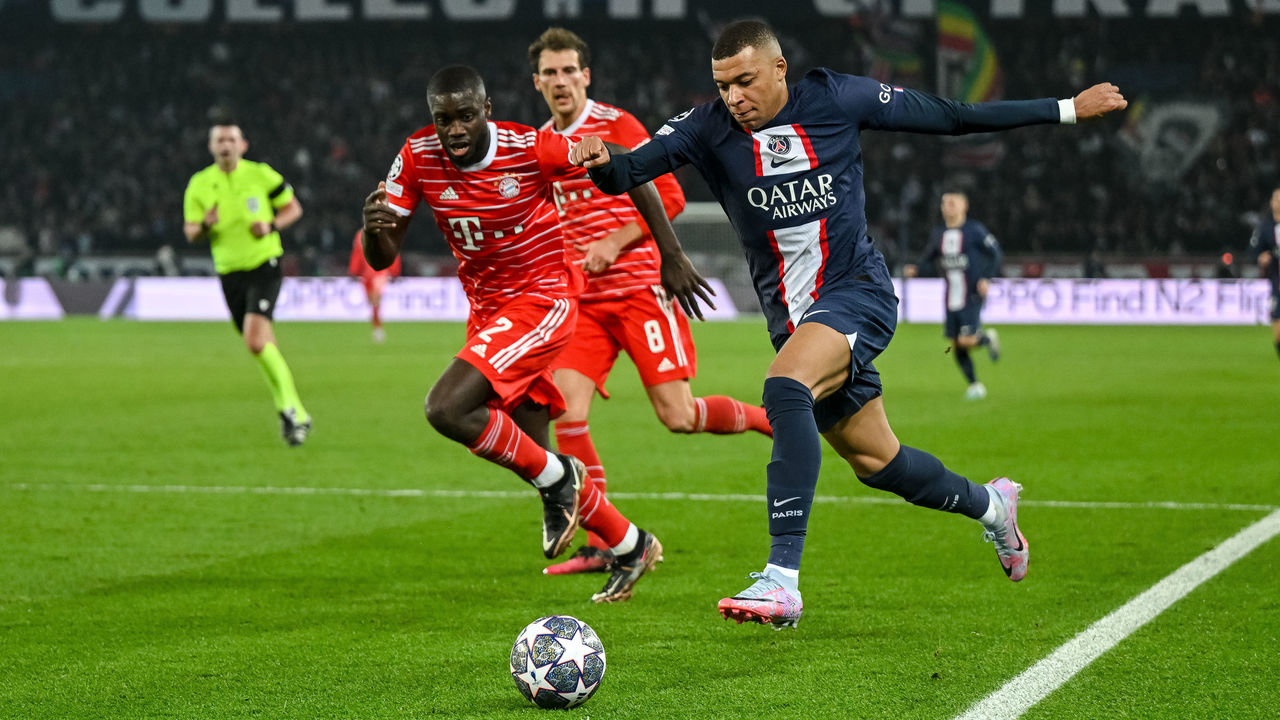 Bayern, using a 3-1-5-1 formation in possession, pressed high and camped out in PSG's half during the opening stanza. They were free to be extremely aggressive after recognizing that their French hosts, without Mbappe's presence, couldn't exploit the space behind their defenders and hit them with a direct ball over the top to launch a counterattack. When Neymar and Messi dropped deep to collect the ball, multiple retreating red shirts eventually crowded them out. PSG had just three touches inside the Bayern penalty area in the first half. Mbappe had double that total, on his own, in 33 minutes.
"The last 15 minutes we were great with Kylian," PSG midfielder Danilo Pereira said. "We can go over there (in the second leg) and win."
PSG's late flurry should give Julian Nagelsmann plenty to ponder going into that return fixture on March 8. Mbappe, barring a setback, will start that affair, so how will Nagelsmann account for that? The lopsided setup that left space down the flanks – acres that Mbappe happily feasted on – is surely not a viable option again. Bayern, for all their territorial dominance and ball possession, barely escaped with a victory despite only facing the Mbappe-powered version of PSG for 33 minutes. Hell, they easily could have lost the match in the final stages. The innovative Nagelsmann will have to concoct a new tactical plan, a task made more difficult by versatile defender Pavard's late red card and subsequent suspension.
Milan find beauty in simplicity
This isn't the team that won the Italian championship last May. That team pressed and counterpressed with unrelenting intensity and created enough big chances to win games twice over. AC Milan stumbled somewhere along the way, and with their title defense in tatters and defensive shape all out of sorts, the Rossoneri had no choice but to rethink their strategy on the go. Head coach Stefano Pioli switched to a back three, and soon after, his usual preference for zonal marking gave way to more pedestrian man-marking tactics.
And it's worked. The players just needed a few games to understand their new roles.
Milan gave Tottenham Hotspur virtually nothing at San Siro on Tuesday, sitting deep for large stretches after taking an early 1-0 lead. Brahim Diaz's seventh-minute opener allowed Milan to play defense-first football, and so they did, forfeiting possession so they could defend in numbers. Simon Kjaer latched onto Harry Kane every chance he got. Champions League debutant Malik Thiaw matched Dejan Kulusevski stride for stride. Olivier Giroud contributed more off the ball than he did on it. Milan, who looked completely lost in the derby a fortnight ago, played like a team again. The Rossoneri have allowed just one goal in their last three matches, vastly improving on their odious return of 12 in the three fixtures prior.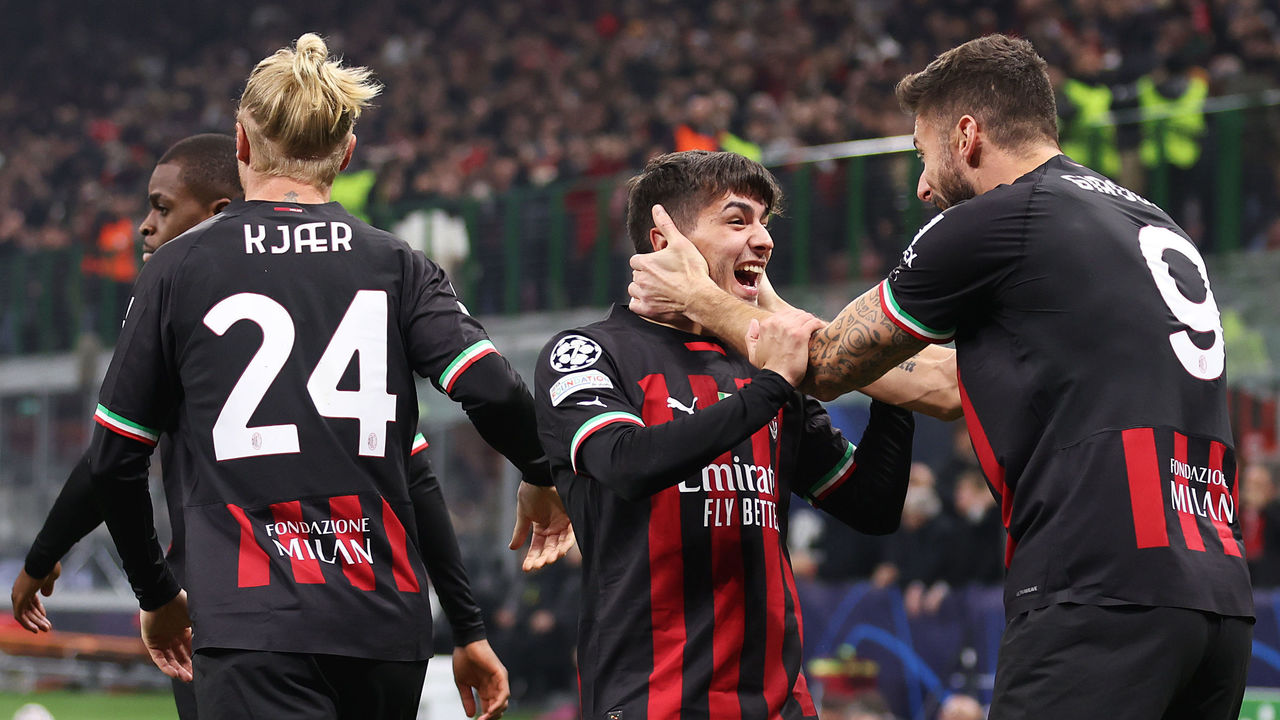 Tottenham could have even lost by more. For all of their possession, Spurs narrowly avoided conceding on two other occasions: As the second half wore on and their legs seemed to tire, substitute Charles De Ketelaere and midfielder Rade Krunic steered headers just wide of the post, and Rafael Leao threatened several times on the counter.
The consensus, however, is that Spurs still have every chance to overturn the tie. A 1-0 lead is tenuous. But if Milan's newfound solidity is long-lasting, Antonio Conte's men will have just as much trouble breaking them down in the second leg next month.
Quick free-kicks
Sarr shows class in relief of Bentancur
Conte threw Pape Matar Sarr into the deep end on Tuesday – and boy, did he ever swim. Having never played in the Champions League before, the 20-year-old midfielder showed incredible poise both in and out of possession, winning nine total duels and five tackles. Sarr kept Milan from breaking out of their own end on several occasions, stifling their counterattack before it could really get started and creating turnovers in dangerous positions. Sarr also demonstrated the passing range of a veteran playmaker, going long and short whenever necessary. He and Oliver Skipp had only started once together before, but it was Sarr who took the majority of the responsibility. He seemed to relish in it.
Time to recognize Mendes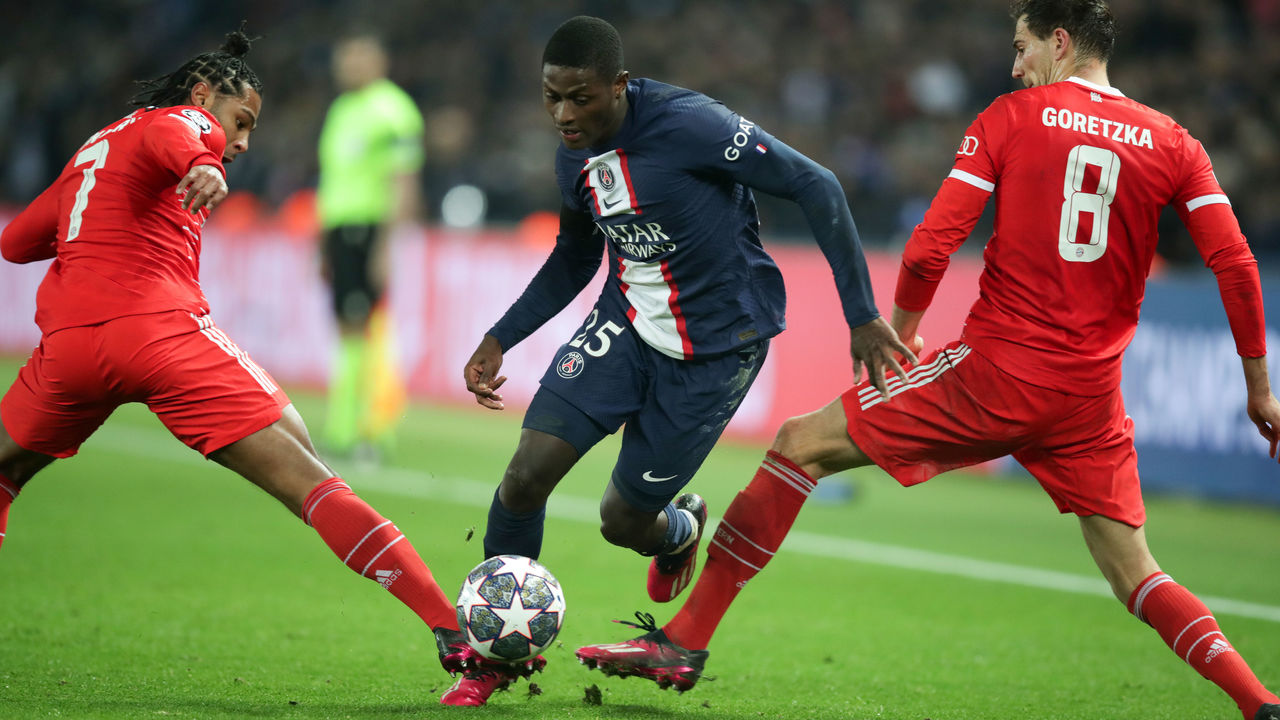 The nominees for FIFA's FIFPRO Men's World 11 included Cancelo – who played much of the period the distinction covers at left-back for Manchester City – AC Milan's Theo Hernandez, and Bayern's Davies. There was no place for Mendes. Granted, his limited role during Portugal's underwhelming World Cup campaign didn't help his cause, but he's clearly one of the most threatening players in his position. PSG's only true attacking highlight of the first half was when Mendes' trickery and run eventually resulted in a free-kick, which Messi slammed against the wall. He was also his team's most creative outlet in the second stanza, making explosive runs down the left before rolling the ball inside. Only an extremely tight offside call denied Mendes an assist and PSG an equalizer when he cut the ball across for Mbappe.
Ramos turns back the clock
Were it not for Sergio Ramos, the Champions League quarterfinals would already be out of reach for PSG. The veteran defender endured a tricky first season in the French capital after leaving Real Madrid, struggling to stay fit and watching most of the campaign from the stands, but he's been a consistent presence in 2022-23. The Spaniard was colossal against Bayern Munich on Tuesday. Ramos, 36, led PSG in clearances, interceptions, and successful aerial duels, and he tied for second in successful tackles. Just about every time Bayern charged toward the penalty area, Ramos, one way or another, provided an obstacle and forced them to recycle possession and start over again. He'll need to replicate that showing next month in Germany.
Stat of the day
It's been a while since Milan won a Champions League knockout match.
Tweet of the day
Warren Zaire-Emery is making everyone feel very old right now.