And breathe. The Euro 2020 quarterfinal stage is all set, but we'd be remiss if we didn't spend some time discussing the incredible action on display during the last 16. Below, we examine the biggest takeaways from a truly spectacular round of matches that had a little bit of everything.
There's nothing like tournament football
Club football is great. We all love it. But at times, especially this past season when the fixture list was compressed and players everywhere were pushed beyond their physical limits, it can all feel like a grind. An international tournament was the perfect tonic. Euro 2020 has gone above and beyond, delivering the ideal blend of quality, tension, and drama you can only get at a competition like this. Even "bad" games are good because of the stakes, and the "good" games are true spectacles. This tournament has produced screeches and screams many of us didn't know we had inside.
Monday may go down as the most thrilling day in the history of tournament football. Two matches, 14 goals – both of the stunning and bizarre variety – underdogs grabbing last-gasp equalizers, extra time, penalties, and a heavy favorite being knocked out. You couldn't script it. Here's hoping there's still plenty in the tank for the remaining matches.
A perfect test for Italy
Italy was catapulted to "legitimate contender" status after being the standout performer of the group stage, but the Azzurri's narrow extra-time win over Austria in the last 16 showed that the opening round of the tournament matters little. Everything changes when you reach the knockout stages, and absolutely anything can happen. It was also oddly reassuring to know this adventurous club that's been rebranded under Roberto Mancini still retains the national team's historic penchant for making everything a little bit more difficult and nervy than it needs to be.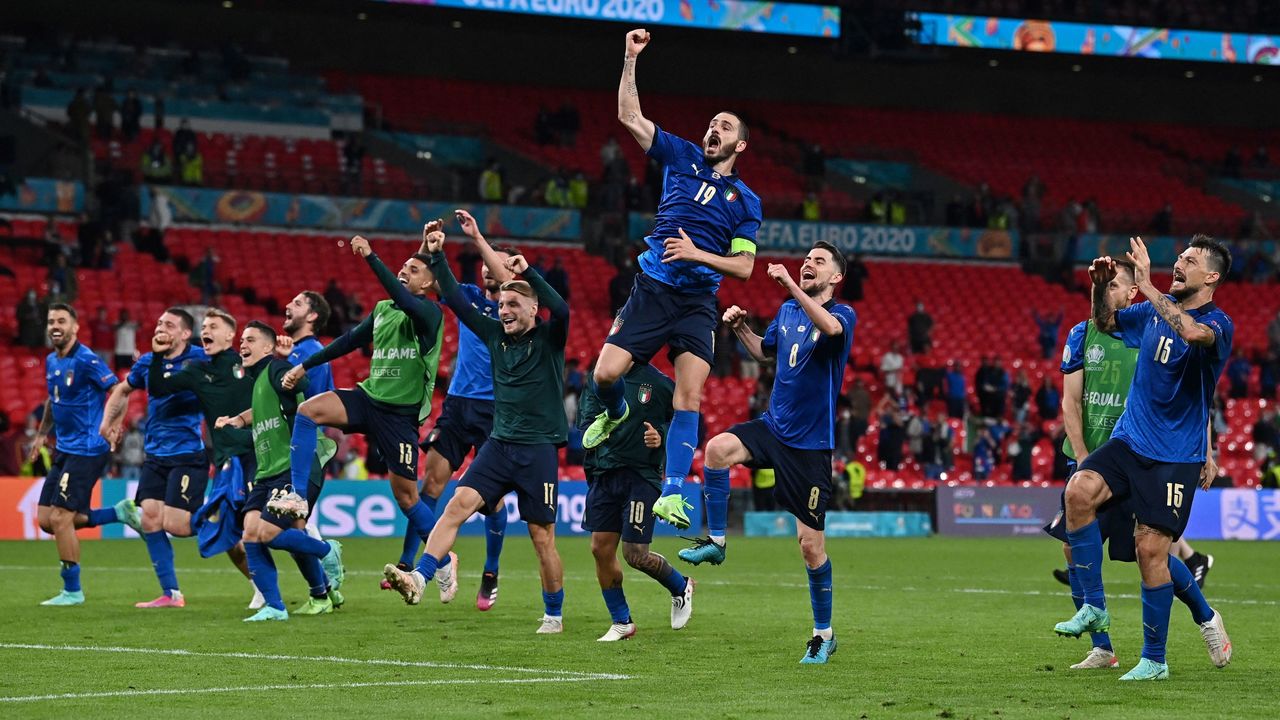 The 2-1 victory at Wembley, against a resolute Austrian side that pressed and harried all over the pitch, should serve Italy well going forward. If the Italians are going to reach the final, the path, starting with Belgium, is daunting. Diving right into the deep end after breezing through the group stage is unnerving – for fans, mostly – so it was important, as many Italian coaches like to say, for the team to "suffer" through a hard-fought win and show some mettle. Nobody rolls through an entire tournament unscathed. Better to learn that now than in, say, the grand finale.
Denmark isn't just a feel-good story
Since the harrowing Christian Eriksen incident in its opening match of the tournament, Denmark's entire run at Euro 2020, unsurprisingly, has been framed around the team's incredible resilience, togetherness, and mental fortitude. And that's all extremely valid. That the players have not only persevered but succeeded is a remarkable accomplishment after so nearly losing a teammate and friend right in front of their eyes.
But it's also important to acknowledge that this is much more than a group just riding an emotional wave, being spurred on by boisterous supporters both in Copenhagen and beyond. Denmark is a legitimately good football team, as it proved in the 4-0 dispatching of Wales in the round of 16. The defense, anchored by Simon Kjaer, is solid, and so too is the midfield pivot in front of it. Mikkel Damsgaard has provided some trickery on the ball, Kasper Dolberg and Yussuf Poulsen are both credible scoring threats, and Joakim Maehle has been one of the standout performers of the competition.
At this point, there's no reason why Denmark, based purely on footballing merit, can't capture a second European crown.
The Netherlands laid an egg
Remember when we considered giving Frank de Boer some credit after the Netherlands looked so explosive in the group stage? Yeah, natural order has now been restored. The ridiculed manager, whose reputation has cratered since leaving Ajax, is once again leaving a job in shame, parting ways with the Netherlands after the team's shocking 2-0 defeat to the Czech Republic in what was the tournament's first big upset. He was an unpopular hire to begin with, and this always seemed the likely conclusion.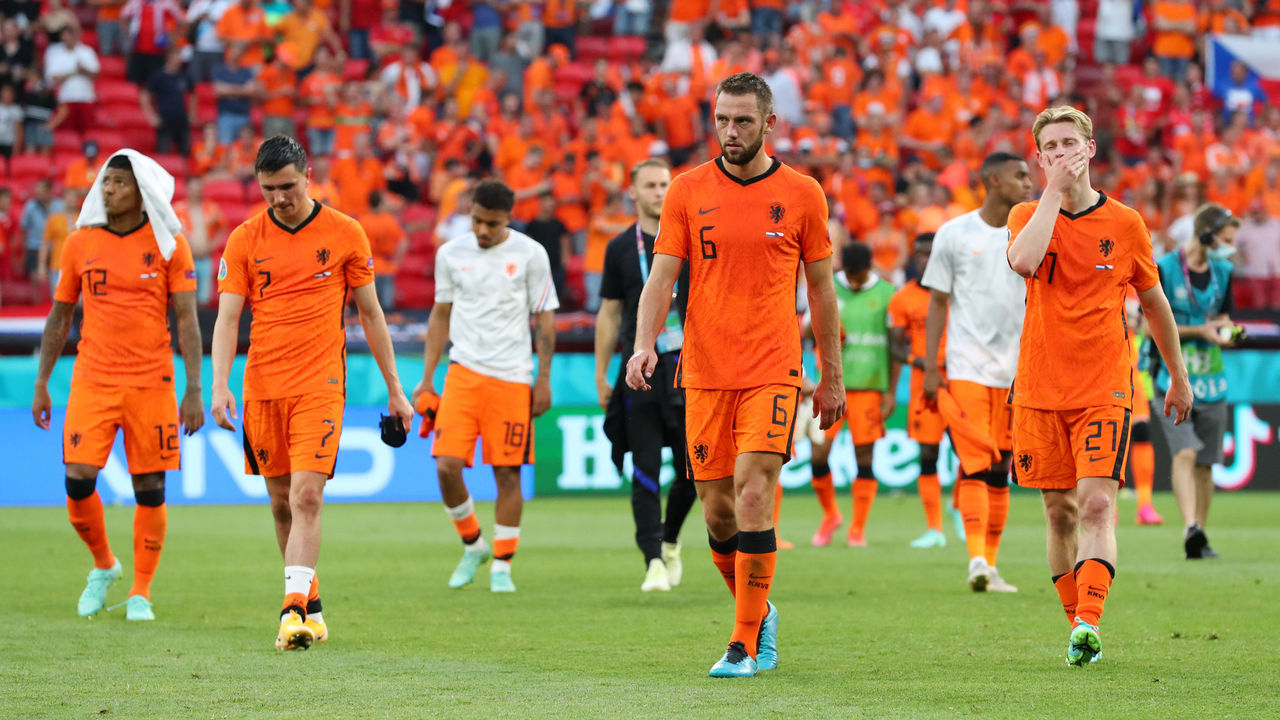 In fairness, the loss wasn't all De Boer's fault; the Netherlands' best players were anonymous, and the match was turned on its head by a whirlwind 30-second spell that, on another day, could have resulted in the Dutch scoring and Matthijs de Ligt not being sent off. Instead, Donyell Malen spurned his big chance and De Ligt, usually so assured, slipped and panicked. De Boer's substitutions afterward were questionable – of course they were – but the Oranje were toast after the red card, and finished the match without a shot on target.
Fernando Santos failed Portugal
Managers' insistence on shackling their extremely talented squads has been a theme of this tournament, and Fernando Santos is arguably the chief culprit. Yes, his defensive scheme and conservative approach delivered Portugal the title five years ago, but you can't always go back to the well and expect the same results. Particularly when you're at the helm of such a talented group of players; the current edition of the Selecao is far more skilled than the victorious 2016 outfit. Someone forgot to tell Santos that, though, and he persisted with his cautious scheme, simply hoping for results rather than pressing the issue and playing on the front foot.
Yes, Portugal outshot Belgium and created better chances, but that big push didn't come until late – when the Belgians were 1-0 up and sitting on their lead. Had Portugal showed that same attacking vigor from the opening whistle, and had the likes of Bruno Fernandes and Joao Felix been on the pitch earlier, we'd likely be talking about what Portugal needs to do to topple Italy right now. Instead, the nation's title defense is over.
Spanish resilience shines through
It would have been easy for Unai Simon to shrivel up and crumble after he allowed one of the most baffling own goals in European Championship history early in Spain's clash with Croatia. Many others would have. That type of bizarre, meme-worthy error could crush any player, but especially a goalkeeper, who spends much of the match standing alone with nothing to do but think. But the 24-year-old, like his team, didn't throw in the towel in the face of adversity and ridicule.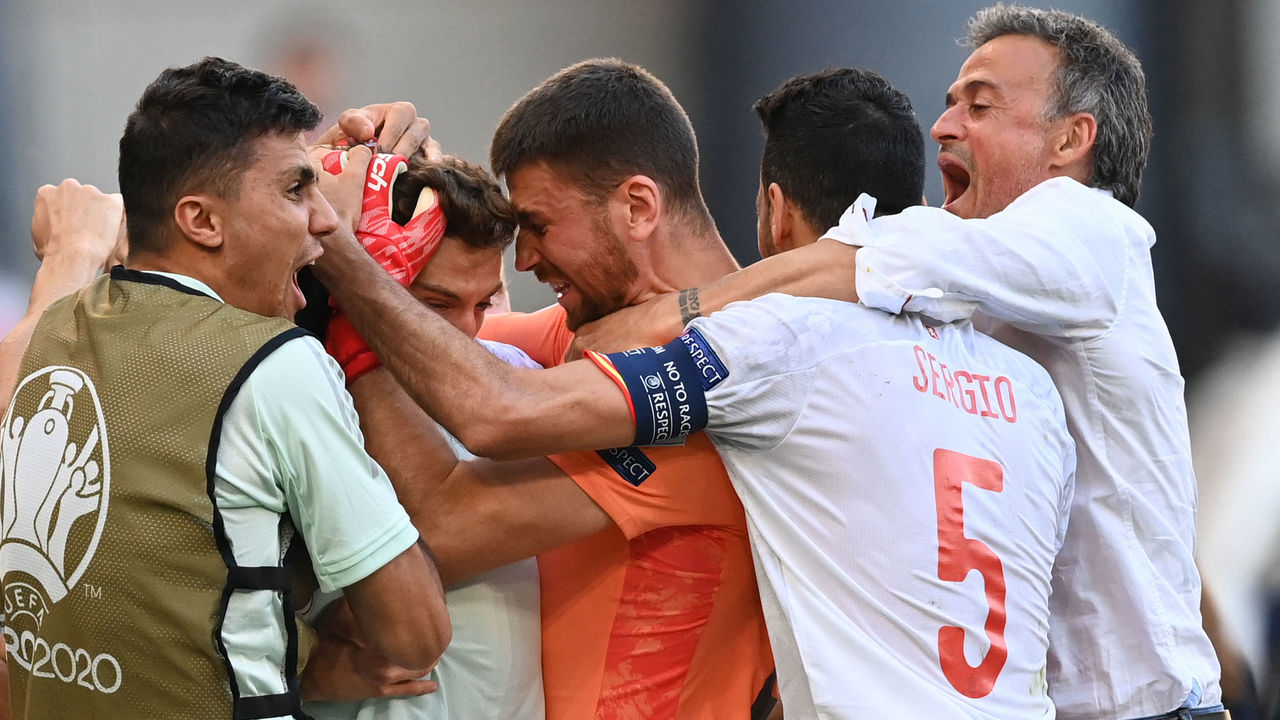 Indeed, it was Simon who ensured that Croatia's madcap comeback didn't bleed into extra time; the netminder made a brilliant reactionary save to keep the contest tied at 3-3 early in the extra frame, and that was the springboard for La Roja to regain control and ultimately earn a wild 5-3 triumph. Alvaro Morata, himself the subject of intense criticism during the tournament, scored a thunderous winning goal, adding another layer to the redemption narrative that underlined Spain's success.
France pays for Deschamps' sins
How do you say "hold my beer" in French?
For all of Fernando Santos' aforementioned failings, Didier Deschamps outdid his Portuguese counterpart, making a drastic lineup decision that was at least partially responsible for France's stunning defeat to Switzerland. His hand was forced by injuries to his two best left-backs, but the shift to an unfamiliar system that shoehorned midfielder Adrien Rabiot into a left wing-back role was, simply put, a disaster. That he ditched it so swiftly during the match was a clear indication Deschamps made a mistake. His decision to start the unconvincing Clement Lenglet as part of a back-three baffled, too.
France recovered – having unrivaled talent can do that – and should have seen out the win after holding a 3-1 lead with under 10 minutes remaining. That part isn't entirely Deschamps' fault. But the primary role of a manager is to set up players, and teams, for success. You need to give them the best possible chance to thrive. Instead, Deschamps set France up for failure, and for once, the most skilled collection of stars on the planet couldn't overcome that. It's a shame, especially for Paul Pogba, who was putting in a tournament performance for the ages that will now be forgotten.
Switzerland hits new heights
As much as the focus has been on France's implosion – and rumblings of discord within the French camp – since Les Bleus' surprising ouster, let's not forget Switzerland's role in all of this. The Swiss have long been a fixture at major tournaments, but are rarely expected to make any real impact; that's been underlined by three consecutive losses in the last 16 at recent tournaments. Solid but unspectacular has been this team's calling card for over a decade. We can throw that description out the window now. The staggering win on Monday was the exact opposite of what we've been accustomed to from Vladimir Petkovic's team over the years.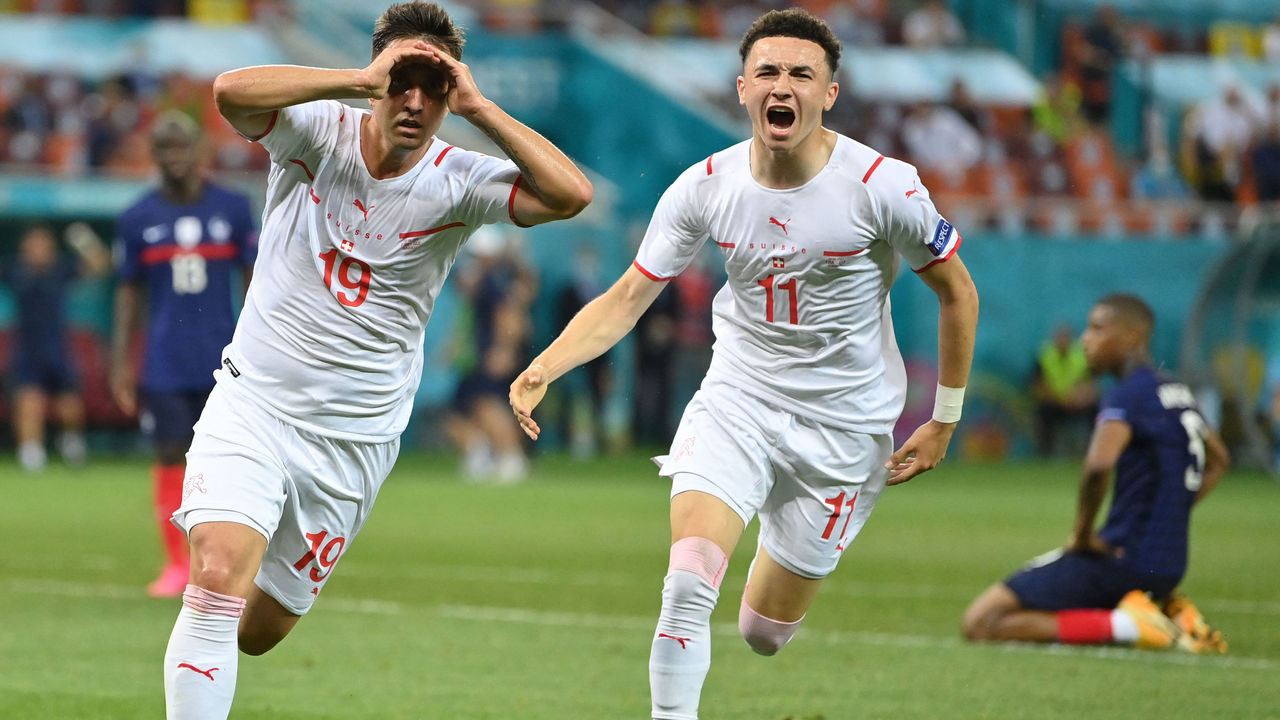 Switzerland took full advantage of France's tactical uncertainty, exploited spaces down the flanks, and, crucially, never backed down even when it seemed all but certain the reigning World Cup champion would coast through the final 10 minutes of the contest. For that, the Swiss, led wonderfully by Granit Xhaka, have been rewarded with a spot in the quarterfinals of a major event for the first time since 1954.
Vindication for Southgate
It actually happened. The curse has been lifted.
England finally beat Germany in a knockout match for the first time since the 1966 World Cup final, thanks largely to Gareth Southgate's conviction and belief in his players.
The manager's decision to shift to a three-man defense for the last-16 clash caused extreme consternation within an already pessimistic fan base, especially as the tactical switch relegated national darling Jack Grealish to the bench. The prematch concern wasn't unjustified – all things being equal, a team should play its best players – but Southgate's decisions were vindicated as the Three Lions earned a famous 2-0 win at Wembley.
Unlike Deschamps, Southgate made his changes with a clear, familiar plan in mind. The England manager had employed it many times before, so a more defensive setup wasn't foreign to his players. That manifested itself on the pitch as England largely shut Germany down. It wasn't swashbuckling football, but it was precisely what Southgate wanted. Grealish made a massive impact off the bench, too, ticking off another box for the manager.
Given England's potential path to the final, it really could be coming home now.
Group of Death, indeed
First Portugal. Then France. And finally, Germany. All three heavyweights emerged from Group F, and all three were sent packing at the next available opportunity. The Germans, in particular, went out with a whimper, ending Joachim Low's long reign in disjointed, disappointing fashion.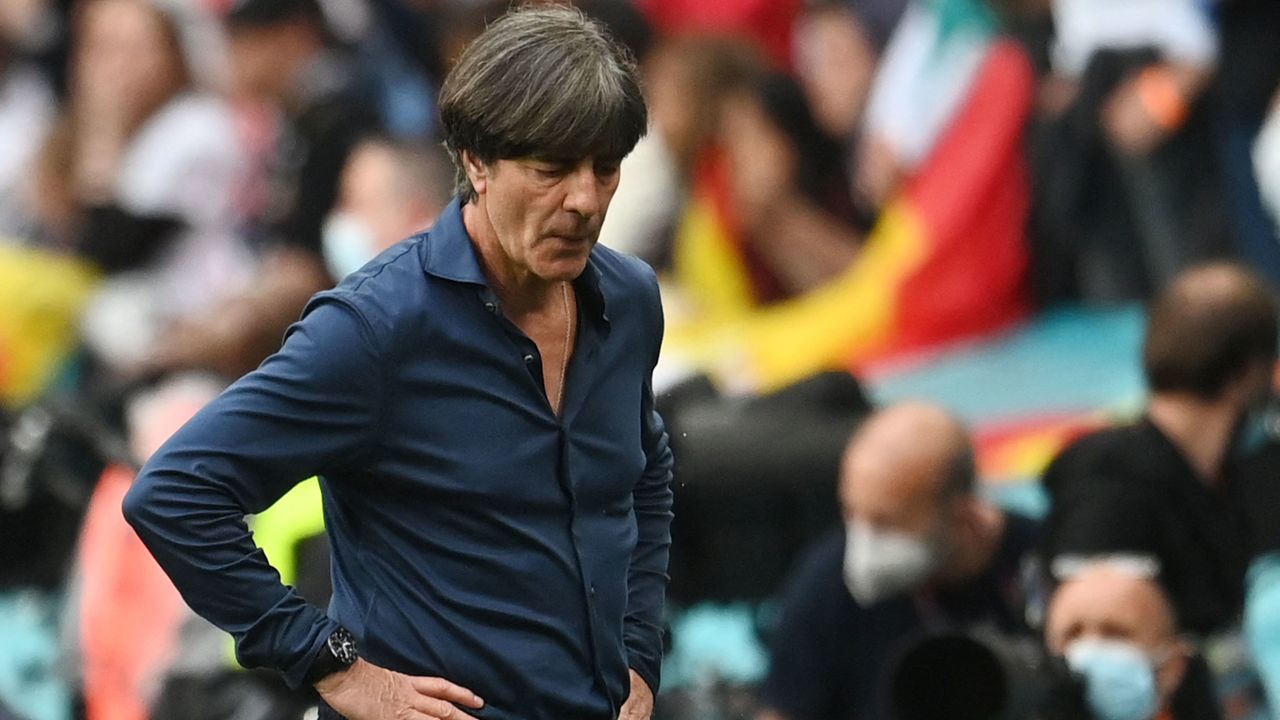 "Group of Death" was almost too apt a description.