Bayern Munich ended Lyon's fairy-tale run in the Champions League on Wednesday with another professional performance.
Serge Gnabry scored twice and Robert Lewandowski added another to secure a 3-0 victory and a place in Sunday's final.
Manager Hansi Flick has overseen a massive transformation since replacing Niko Kovac in November. Now, Bayern are 90 minutes away from clinching a second treble in club history.
Here are three takeaways from the semifinal in Lisbon:
Gnabry's growth a lesson for all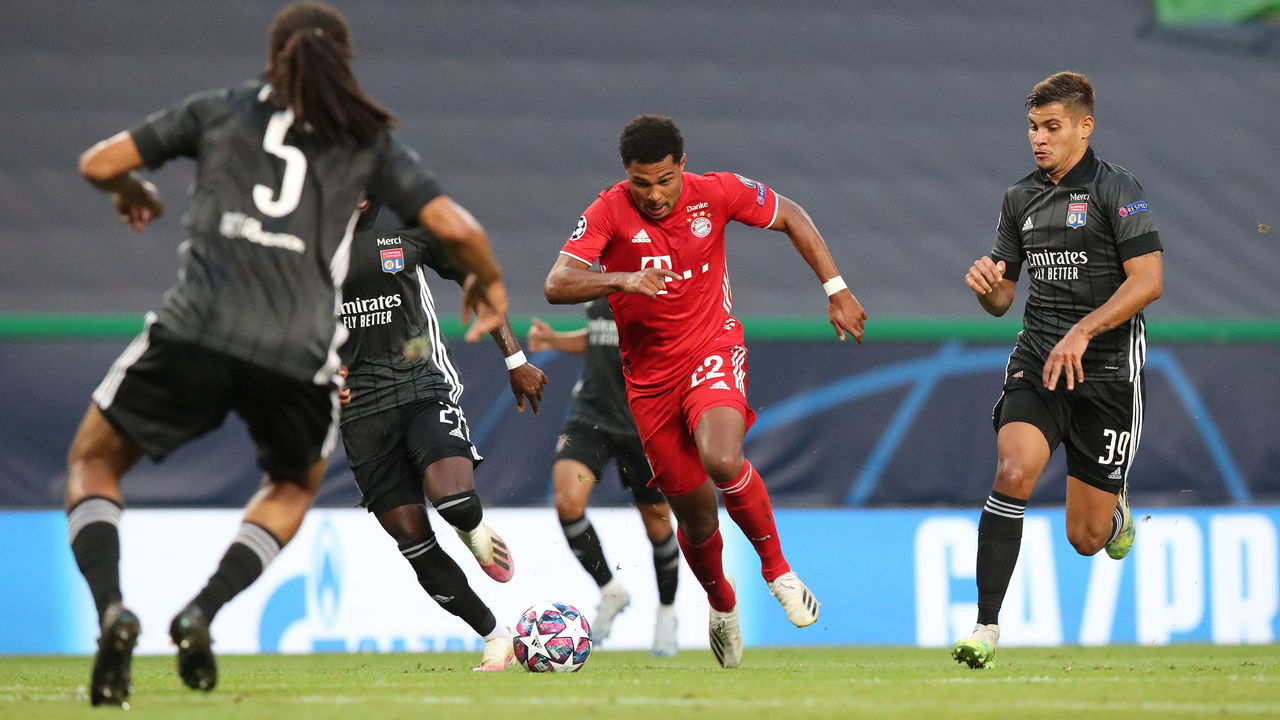 Fans and pundits carve Arsenal whenever Gnabry scores a big goal. It's football's favorite auto reply. But it ignores the good work Gnabry and Bayern did to get to this point.
His two goals against Lyon should serve as a reminder that success isn't always instantaneous. Sometimes, players take the long way around. When Gnabry was told he wasn't good enough to play for Arsenal – or West Bromwich Albion – he left. Werder Bremen gave him a chance and Bayern scooped him up a season later.
But few clubs have Bayern's patience. Instead of sitting Gnabry on the bench, the Bavarians sent him out on loan to Hoffenheim, where he built on the confidence he gained at Bremen. It was less about results – qualifying for the Champions League with Arsenal or staving off relegation with West Brom – and more about development.
Gnabry's ascent is proof that talent needs time to shine. He's become an undisputed starter and leader at Bayern and formed a fantastic partnership with Lewandowski. Gnabry and Lewandowski's 24 goals are the most ever recorded in a single Champions League season by a pair of teammates. Many of Gnabry's best performances have come against legitimate opposition as well. Tottenham, Chelsea, and Barcelona have all been victimized by the German international.
In hindsight, it's easy to laugh at Arsenal, but it misses the point completely.
Lyon waste what few chances they had
Rudi Garcia prepared for the match knowing Lyon would have fewer goal-scoring chances than their potent opponents. How different it could have been if Les Gones had finished the few chances they generated.
Lyon could have easily been two-nil up inside of 17 minutes after Memphis Depay and Karl Toko-Ekambi goofed on opportunities; Gnabry made it 1-0 against the run of play with his 22nd goal of the season in all competitions seconds after Toko-Ekambi's miss.
In the fourth minute, Maxence Caqueret sprung Depay with an incisive through ball that split Jerome Boateng and David Alaba, and the Dutchman rounded Manuel Neuer before firing an off-balanced strike into the side netting. Then, 13 minutes later, Leo Dubois found Toko-Ekambi with another probing pass that afforded the Cameroonian heaps of space behind Bayern's backline. Toko-Ekambi looked certain to score after he cut inside to evade both Alphonso Davies and Boateng before firing off the post from close range.
Ekambi had another great opportunity just before the hour mark, firing directly at a lunging Neuer from six yards out.
It was a stark contrast to Lyon's quarterfinal performance, when they were clinical in front of goal. They created roughly the same number of chances in both matches, but where they converted in the win over Manchester City, they didn't capitalize against Bayern. That was the difference.
It's not like Bayern were infallible in front of goal, either. Leon Goretzka and Thomas Muller fluffed chances of their own early on, but Bayern's capacity for overcoming those missed opportunities was far higher than Lyon's.
Bayern's smothering press undoes Lyon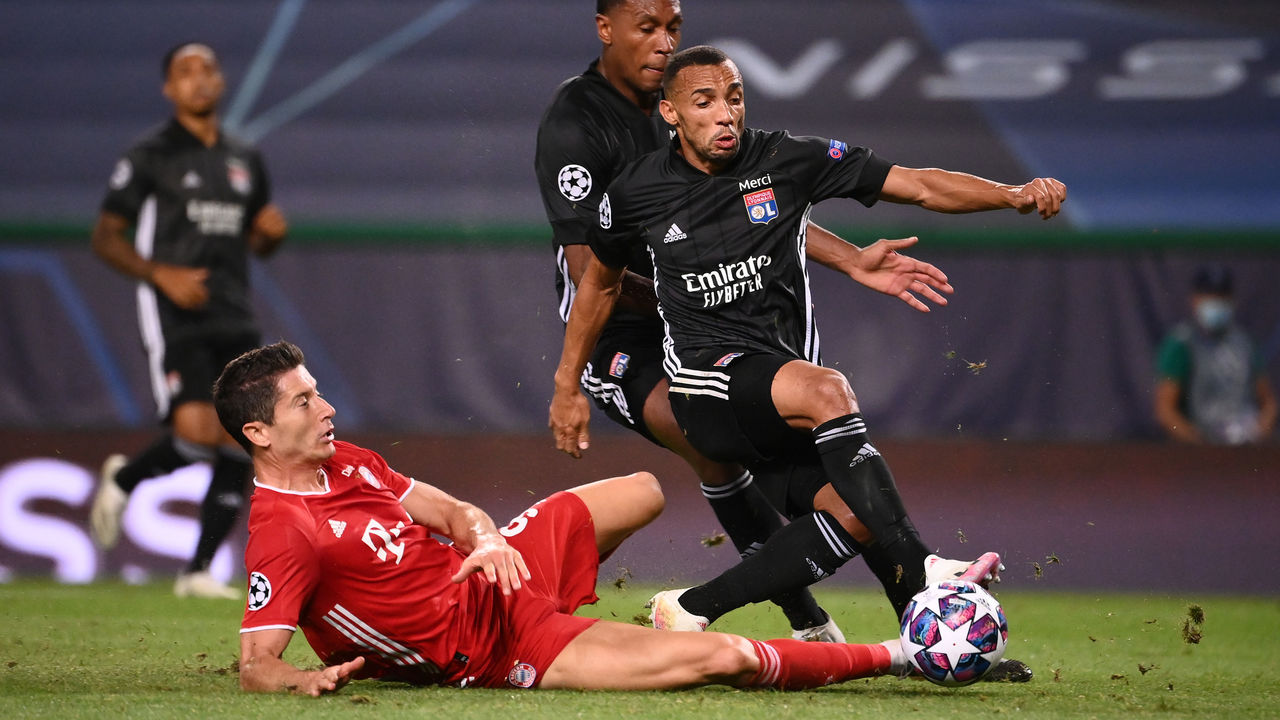 Flick's team stormed to the Champions League final with 10 wins in as many matches during this season's competition; a tournament-high 42 goals stands out among Bayern's astounding metrics.
For all of their statistical marvels, the difference between Bayern and their opponents in the knockout stages isn't just on the scoresheet.
If Kovac's tactical ethos was rigid, conservative, and uninspiring, the approach of his successor Flick has transformed Bayern into an indomitable behemoth. It's one thing that Bayern can outscore their opposition with ease, but it's another altogether the Bundesliga giants are happy to outwork them as well.
Against Lyon, Bayern's pressure without the ball was unrelenting. It was a nuisance for Lyon's backline and midfield, and it unlocked a resolute setup that both Juventus and Manchester City struggled to break down.
Lyon could do little to stifle Bayern or coordinate the same fleet-footed counterattacks they profited from in their two previous European matchups, and Houssem Aouar and Caqueret weren't nearly as effective on Wednesday as they were in previous rounds due to the pressure.
Flick is a managerial free spirit who's keen to let his players perform their required duties with elan. The team relishes Flick's tutelage, and is content to generate opportunities through hard work and not just technical savvy.