Paris Saint-Germain's rise has been anything but linear. Though they quickly monopolized Ligue 1, winning seven of the last eight titles, PSG couldn't quite make it work in the Champions League. And the Champions League, after all, is the reason Qatar Sports Investments bought the club nearly a decade ago.
Club chairman Nasser Al-Khelaifi had hoped to win a Champions League title by now, but after numerous setbacks and missed deadlines, Les Parisiens now seem closer than ever.
PSG reached the semifinals of Europe's top competition for the second consecutive season, fending off defending champions Bayern Munich in a relentless quarterfinal that required much more than the skill of Kylian Mbappe and Neymar.
That part is crucial. Winning in Europe is about more than just star power, or else PSG – having spent more than €1.3 billion in transfer fees over the last decade – would've won already. This tournament is about organization and leadership, defending and game management, and, yes, a bit of luck.
PSG had all of that against Bayern.
Despite allowing 45 shots over the course of the tie, PSG looked sure of themselves. The counterattack exposed Bayern's high line on numerous occasions, and even though they had the lead, Neymar and Mbappe searched for goals, the Brazilian hitting the woodwork twice.
The difference was in the details. PSG built a big enough cushion in the first leg, scoring crucial goals away from home, and defended well in the second, especially in one-on-one situations. They took nothing for granted, showing the mettle and poise they lacked in previous collapses against Chelsea in 2014, Barcelona in 2017, and Manchester United in 2019.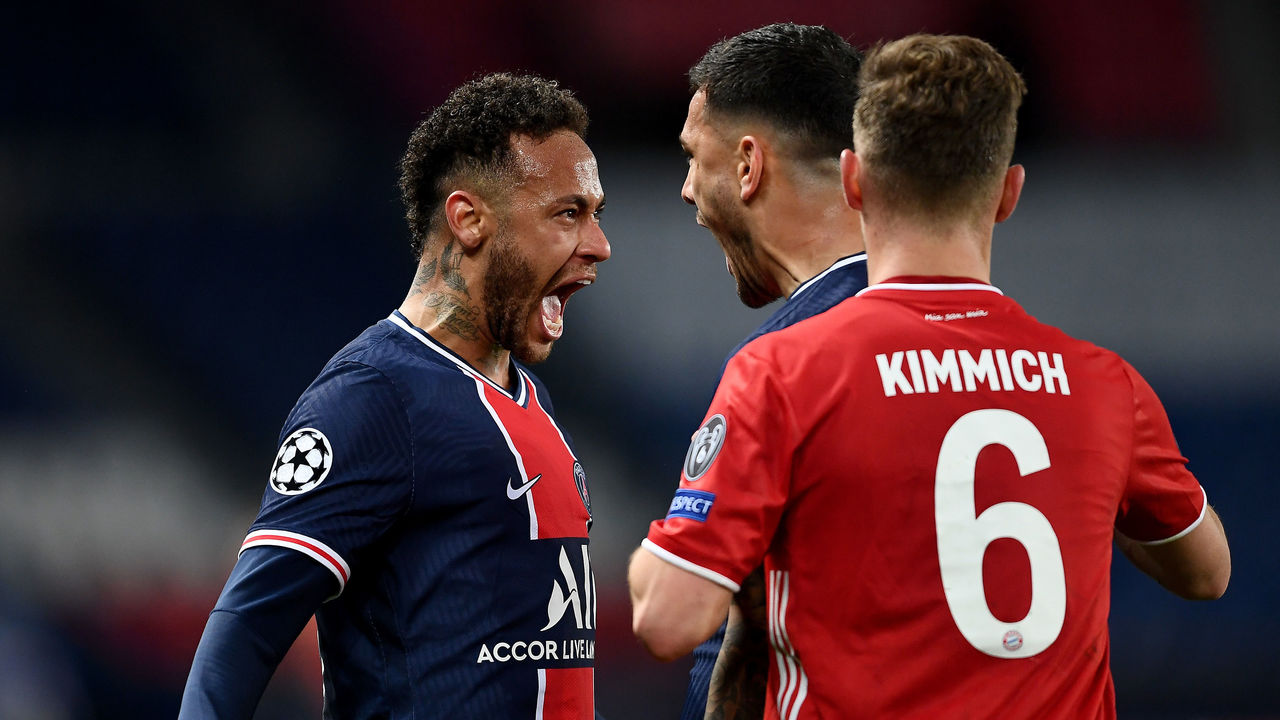 If anything, Mauricio Pochettino's side improved in this reverse fixture, creating more chances and limiting Bayern's time on the ball, all without club captain Marquinhos, midfield metronome Marco Verratti, and either of their starting fullbacks.
That's the thing about PSG: The individual talent is there, and it is necessary, but there is a team behind it all. Danilo Pereira, who looked like an uninspiring signing from Porto, dropped into defense and dominated. Colin Dagba – one of the few youth players to actually get minutes with the senior team – neutralized Kingsley Coman, who decided the final against these two teams last August. Angel Di Maria ran up, down, east, and west without hesitation, hunting down the ball and twisting his way out of trouble. Finally, there was Keylor Navas, perhaps the best goalkeeper in club history and one of its best bargains at €15 million.
Everything has come together, and at a club like PSG, that has rarely been the case.
Unlike four years ago – when PSG lost 6-1 to Barcelona, throwing away a 4-0 lead from the first leg – individual errors did not sabotage their hopes of advancing. There were no excuses, and more importantly, no chances taken.
Before that fateful night in 2017, some of PSG's players sat around a table, eating pizza and drinking soft drinks while discussing what they would do with their sizeable advantage against Barcelona. None of them seemed particularly bothered. The media roasted them for their complacency.
The scene was different last month when PSG once again found themselves with a 4-1 lead in the last 16 against Barca. Despite being at home, Pochettino gathered his players the night before to keep them focused. The game finished 1-1, and PSG moved on.
They approached Tuesday's second leg with the same professionalism. Though PSG lost 1-0, they limited the damage, and advanced on away goals.
"PSG have grown up," said defender Presnel Kimpembe. "The club doesn't stop growing day by day, year by year. We've picked ourselves up. Tonight was a war, and we managed to win it."