The Champions League last 16 rumbles on this week, as the first four quarterfinalists are being decided. Below, we dissect the biggest talking points from Tuesday's action in Europe's premier club competition.
Chelsea finally find their confidence
For the first half hour of Chelsea's pivotal Champions League clash against Borussia Dortmund, scoring seemed like the most onerous task in the world. Raheem Sterling panicked when sent through on goal, dawdling when more confident strikers would do something – anything – to get the ball out from underneath them. Kai Havertz, who hadn't scored in any of his last seven matches, struck the post, and the ball somehow skipped across the goal line and out of harm's way. Chelsea created chances but couldn't finish any of them.
Then something clicked. Sterling banged one home at what seemed like the 11th time of asking, lifting the heaviness around Stamford Bridge. Havertz retook the penalty he had missed, picking out the same bottom right corner he targeted with his first attempt.
In that half-hour stretch, Chelsea were a blur of motion. All they wanted to do was score. Even Marc Cucurella and Kalidou Koulibaly joined the rush. You could hardly tell this side from the one that toiled to get on the scoresheet in previous fixtures. If not for a couple of marginal offside calls, they'd have won 4-0.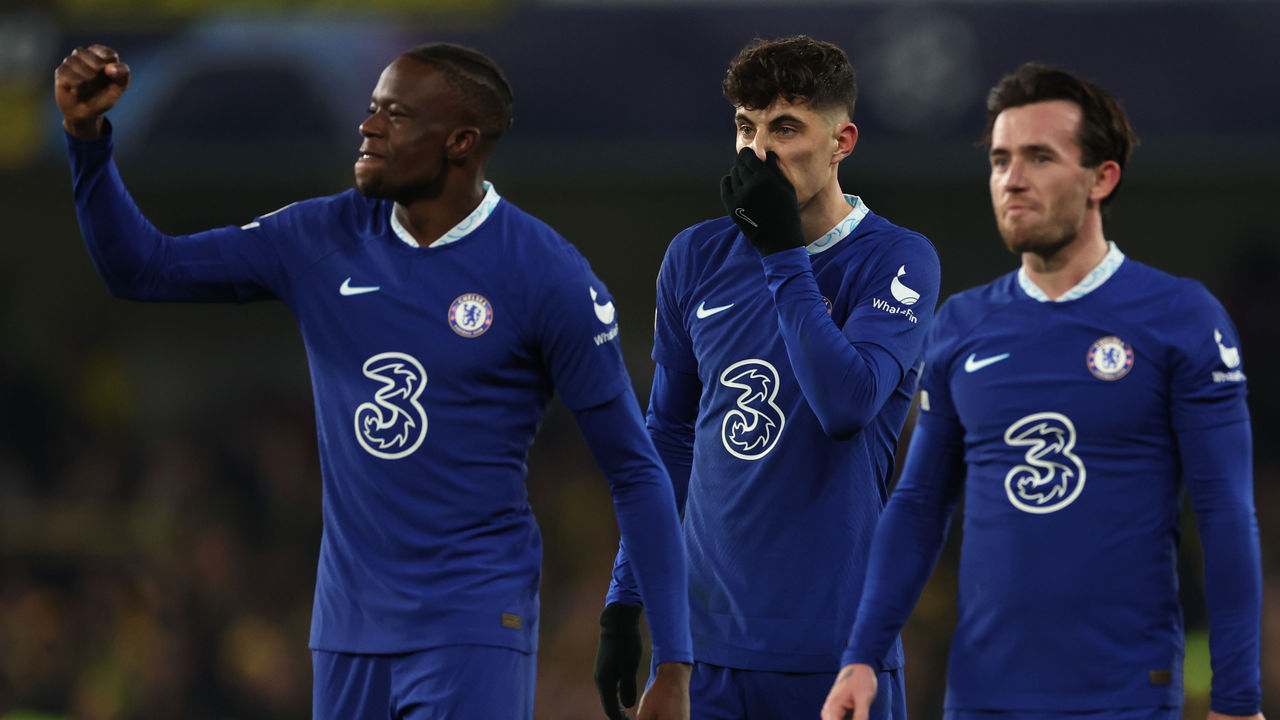 This was a long time coming. Chelsea hadn't scored multiple goals in any match since Dec. 27. Injuries certainly played a part, but for the longest time, the west London side had no attacking impetus. The players didn't create particularly much or defend particularly well.
But head coach Graham Potter stayed the course. He managed to keep spirits high in training – even while dealing with death threats sent to him and his family. You could tell his players were up for this game. Potter's back three pressed high, choking Dortmund's attack before it could really get going. Cucurella was particularly aggressive, playing the kind of defense-splitting passes few expected him to play from the left center-back position.
Chelsea could of course revert to their old habits over the coming games. But that flurry of action in the middle of the game promised better things to come.
Handball rule continues to divide
What exactly is a handball offense? The International Football Association Board, which issues the laws of the game, says a "deliberate" offense occurs when a player moves their hand or arm toward the ball. A player is also at fault if they make their body bigger when their hand or arm is in an unnatural position.
Neither of these things seemed absolutely, undoubtedly true when Chelsea's Ben Chilwell struck Dortmund defender Marius Wolf's hand just inside the penalty area. Wolf was turning away when the shot was taken, his head looking in the opposite direction, ruling out deliberate handball. His hand wasn't necessarily in an unnatural position, either. The German full-back wasn't flailing his arm or stretching it out to make his body bigger. He was turning away, and his arm was still reasonably close to his body. But because Chilwell shot a yard away, Wolf couldn't pull his entire arm in time.
Ultimately, match official Danny Makkelie reviewed the footage on the pitchside monitor and determined enough was there to award a penalty. Was Wolf's arm out? Yes, undoubtedly so, but the circumstances here created reasonable doubt. The original non-call was not, by definition, a clear and obvious error.
The biggest issue here is enforcement. ESPN's de facto rules official, Dale Johnson, tweeted that "competitions differ" when these calls are made. "I doubt the VAR would give it in the Premier League," Johnson added.
Former FIFA referee Manuel Grafe expressed frustration at the call as well, saying these interpretations cause a kind of "injustice." Sometimes they're given, and other times not.
Quick free-kicks
Chelsea's Kepa earning his keep in goal
Kepa Arrizabalaga is redeeming himself one save at a time. It has been a strange and confusing year and a half for Chelsea's beleaguered goalkeeper, who's gone from afterthought to undisputed starter without fuss or fanfare. The club had no choice but to turn to Kepa once Edouard Mendy fractured his finger in January. But Mendy was losing his grip on the job before that. The world's best goalkeeper in 2021 made a series of errors over the following year, and his confidence plummeted. Kepa stepped in and performed reasonably well as the rest of his teammates struggled and made two key saves Tuesday to keep Dortmund at bay when they threatened to take a foothold in the match. The world's most expensive goalkeeper is in his second act as Chelsea's No. 1, and it's worth watching.
Injuries catch up to Dortmund
You can only overcome key injuries for so long. Eventually, they catch up to you. That's not the sole reason Dortmund were beaten by Chelsea on Tuesday – the Blues, as outlined above, delivered their best performance in months – but, clearly, Dortmund's list of absentees loomed large at Stamford Bridge. Missing Youssoufa Moukoko and Karim Adeyemi zapped Dortmund of any spark up front or ability to stretch the field and get behind the Chelsea backline. The latter, in particular, lit up the first leg with his spectacular solo goal. That type of gamebreaking ability was absent Tuesday as Dortmund were largely contained by Chelsea's defense. Losing Julian Brandt in just the fifth minute to an apparent hamstring issue only compounded the matter; the creative German international was one of Dortmund's best players during their now-snapped unbeaten run to start 2023. As a result, Sebastien Haller was mostly a non-factor in the match, touching the ball just once inside the Chelsea penalty area as Koulibaly neutralized his impact before he was taken off for the more mobile Donyell Malen in the 77th minute.
Benfica can beat anyone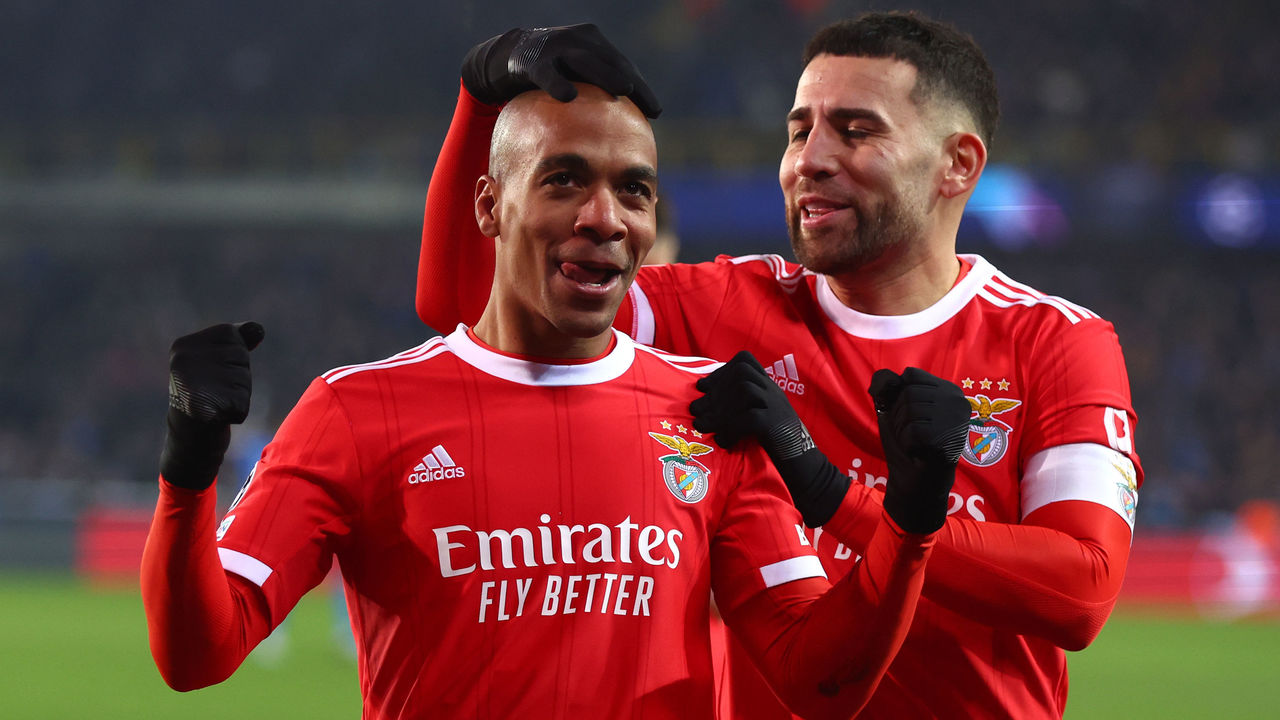 Sleep on Benfica at your peril. Roger Schmidt's team has been a bulldozer this season, the latest impressive outing coming in a 5-1 romp against Club Brugge that capped a dominant 7-1 aggregate triumph. As a result, the Portuguese giants are off to the Champions League quarterfinals for the second consecutive season. Benfica haven't missed a beat since selling star midfielder Enzo Fernandez to Chelsea in January; Goncalo Ramos is establishing new records seemingly every time he steps on the pitch, Joao Mario has scored in five consecutive Champions League matches, and the machine that Schmidt has built just keeps chugging along. Benfica, eight points clear at the top of the table in Portugal, will fancy their chances of beating absolutely anybody in the next round, especially at the Estadio da Luz, where they're unbeaten this season, having won 16 of 18 matches across all competitions.
Parker's time almost up
Scott Parker has been an unmitigated disaster at Club Brugge. The Belgian side fired Carl Hoefkens in late December despite a stirring run to the Champions League knockout stages, citing poor domestic form as the reason behind the decision, and then made the surprising decision to appoint Parker as his replacement. They would surely like a mulligan right about now. The Englishman has won just two out of his 12 matches at the helm, with the 7-1 aggregate hammering against Benfica the latest humbling setback. Benfica have been steamrolling nearly everything in their path this season, but the meekness of Brugge's performance Tuesday signified a team totally lacking in confidence right now. Parker's squad has tumbled to fourth in the Belgian top flight, a whopping 21 points adrift of first place, and the brightest point of the season – the inspiring Champions League run – ended with a harsh thud. The former Fulham and Bournemouth manager may have already overseen his final match with the Belgian outfit.
Stat of the day
Decent company for Graham Potter.
Tweet of the day
It's been a tough season for Parker all around.