It took until the eighth minute for Sergio Ramos to do Sergio Ramos things. The Spaniard strutted down his well-trodden path between excellent defending and grievous bodily harm as he disregarded the ball and shoved Timo Werner aside, letting possession roll into the hands of Thibaut Courtois and the Chelsea forward crash into the advertising hoardings.
It was streetwise. It was ruthless. It was Zinedine Zidane's Real Madrid.
But Wednesday's Champions League elimination to Chelsea could signal the end of that era for the club. Real Madrid lurked with the nonchalance of a grizzled predator in Wednesday's second leg, seemingly ready to snap or claw when an opportunity arose. But it didn't. The Blues had the energy to evade and loot an aging team that could finish a campaign without a meaningful trophy for the first time since the 2009-10 term. On this occasion, experience didn't prevail.
The past decade has brought four Champions Leagues, three La Liga titles, and a sack of other silverware into the Santiago Bernabeu, and much of that success was earned with the same spine – save for additions like Toni Kroos and, of course, the 2018 departure of Cristiano Ronaldo. But now, the Real Madrid rebuild is long overdue.
Whether Zidane is the man to oversee this transition is up for debate.
| Player | Arrival | Age |
| --- | --- | --- |
| Sergio Ramos | August 2005 | 35 |
| Marcelo | January 2007 | 32 |
| Karim Benzema | July 2009 | 33 |
| Raphael Varane | July 2011 | 28 |
| Luka Modric | August 2012 | 35 |
| Dani Carvajal | July 2013 | 29 |
| Casemiro | July 2013 | 29 |
| Isco | July 2013 | 29 |
| Toni Kroos | July 2014 | 31 |
There were plenty of busts and downright average signings since August 2005, but the above group is still present and has underpinned Los Blancos' success at a cost of around €181 million. Florentino Perez's posturing for a Super League and egregious soundbites deserve criticism, yet these investments – for players who weren't Galacticos before their respective arrivals – merit praise. Only Marcelo was signed while Perez wasn't president.
The team will soon look very different. Ramos' contract expires at the end of the season, while Karim Benzema, Dani Carvajal, Isco, Marcelo, Luka Modric, and Raphael Varane all hold deals that expire a year later. The average age of the full nine-man ensemble will be almost 31-and-a-half when Marcelo celebrates his 33rd birthday next week.
And there's hardly a hint that Madrid are entering a new cycle. Courtois and Ferland Mendy logged the most minutes for Real Madrid in their Champions League campaign, but immediately below them were Kroos, Modric, Benzema, Casemiro, and Varane. Ramos missed three group games and four knockout matches through injury, but his continued influence over this team is unquestionable. Since the start of the 2018-19 season, Real Madrid have won 67% of their Champions League matches with Ramos in the team and 31% without him.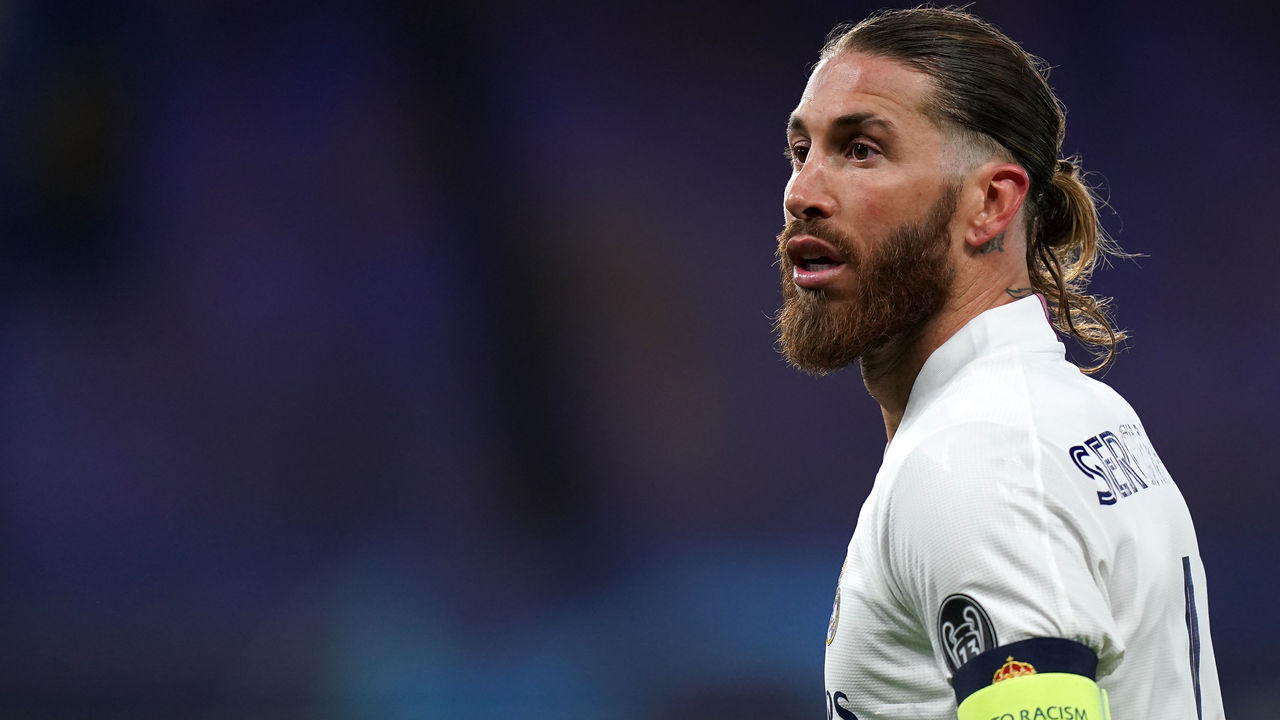 Zidane's loyalty toward these players is understandable given the gold rush that's defined his reigns. But the fierceness of that loyalty has come at the cost of some of the veterans' would-be successors. Marcos Llorente left in search of first-team football and is now a terrace hero at Atletico Madrid. Sergio Reguilon was excellent on loan at Sevilla but he was offloaded to Tottenham Hotspur. Letting Achraf Hakimi join Inter Milan was a baffling decision. Martin Odegaard was called back from a spell with Real Sociedad but, after being starved of minutes in Madrid, he pushed for a loan to Arsenal.
There are more. It would be a surprise to see Luka Jovic, Dani Ceballos, or Brahim Diaz in the famous white shirt again. Vinicius Junior and Rodrygo are both just 20, but it wouldn't be too harsh to suggest the Brazilian duo should have been more crucial to Real Madrid's starting XI at this stage.
Zidane has maintained success at Real Madrid until this point. However, to start afresh – without Ramos flooring a forward and Benzema incessantly bashing efforts on goal – is a venture into the unknown for the French boss.
And so far, there's been little to suggest that he's a man willing or able to undertake that challenge.