The Champions League quarterfinals got underway this week. Below, we dissect the biggest talking points from Tuesday's games in Europe's premier club competition.
Big move on tap for Nunez
Darwin Nunez's 28th goal of the season nearly inspired an upset Tuesday against Liverpool. His close-range effort in the 49th minute appeared to give Benfica the lift they needed in a tie no one believed they could win. Even if Liverpool proved too much to overcome, leaving Benfica with a 3-1 deficit after the first leg, Nunez showed once again he has enough quality and spirit to lead any attack in Europe.
Nunez is the reason Benfica are even in the Champions League quarterfinals in the first place. He eliminated Ajax in the round of 16 with an opportunistic header that came off a questionable free-kick, denying the clearly superior Dutch a chance to make another deep run in the competition. Before that, the 22-year-old scored a brace against Barcelona in a 3-0 win that ultimately gave Benfica the ammunition they required to advance from the group stage.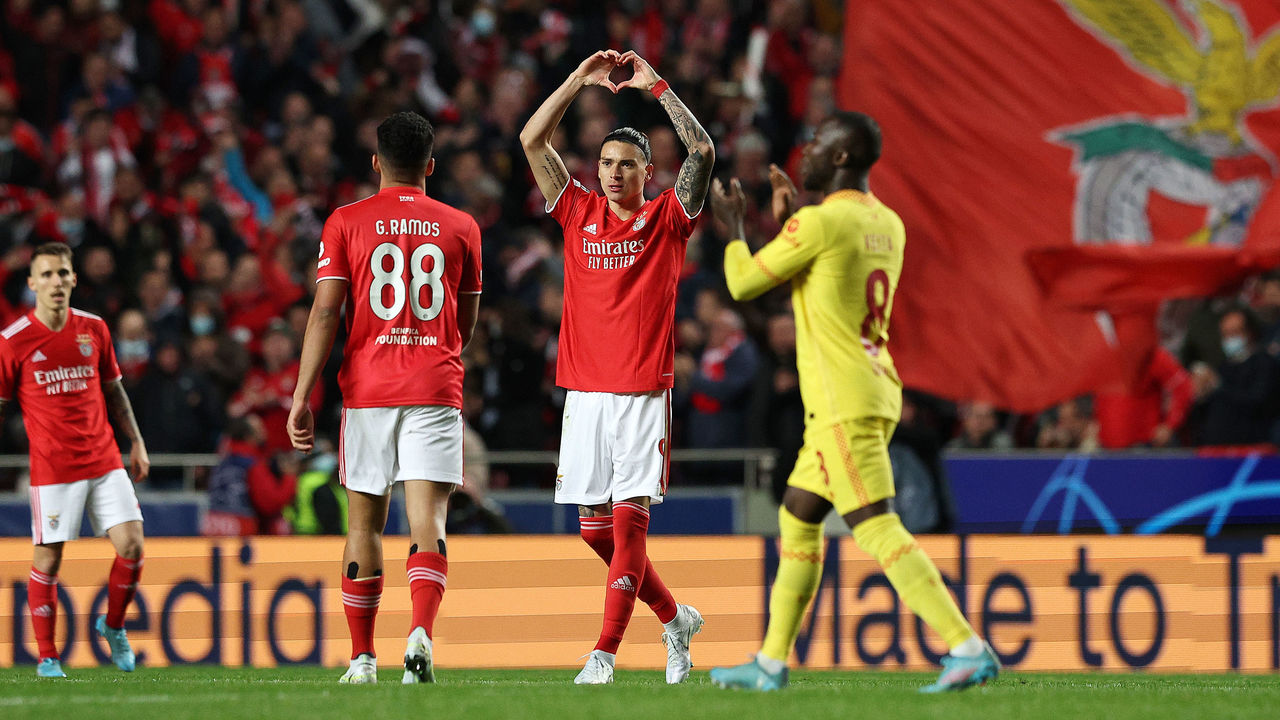 But he's more than a goalscorer. The Uruguayan plays with the grinta that fuels so many of his countrymen, including Edinson Cavani and Luis Suarez, the players he's set to replace in the national team. Nunez chases after every loose ball and races back to defend in his own end. No run is wasted: He gives his all whether he receives the ball or not, whether his teammates find him in the channels or not, and whether he's in the attacking third or not.
After pulling one back in the second half Tuesday, Nunez showed no sign of resting on his laurels, galloping along the sideline to defend and eventually win a goal kick near his own corner flag. He motioned to the crowd, pumping it up to keep the tide turning.
It's that commitment that makes Nunez one of the game's most exciting prospects outside of Erling Haaland. Expect Europe's top sides – perhaps even Liverpool – to clamor for his signature this summer.
Diaz making case for more starts
Having played for Porto for two-and-a-half seasons, Luis Diaz knew Benfica's weaknesses better than most. So, perhaps it's no surprise he had so much success running behind Benfica's defenders Tuesday. By the end, Diaz walked away from the Estadio da Luz with a goal and an assist, showing up the fans who booed his every touch. He must've taken note of it as well, or else he wouldn't have celebrated with as much emotion as he did when he made it 3-1.
"He got a nice reception, didn't he?" Liverpool defender Andrew Robertson said afterward. "It was a good finish for him and a really important goal for us. It gives us a two-goal cushion, which makes a difference."
Liverpool manager Jurgen Klopp gave Diaz the start ahead of Diogo Jota, and if he so pleased, the German could start the Colombian international the rest of the season without much flak from anyone. Diaz has already made eight starts in three competitions since joining the club in January, emphasizing how quickly he's adapted to Liverpool's rigorous style of play.
Diaz has been particularly effective in the Champions League. Liverpool reaped the benefits in the round of 16 when Klopp tossed on the 25-year-old midway through the first leg against Inter. With the Nerazzurri beginning to wane, Diaz overwhelmed the Italian opponents, using his energy to stretch the lines and create space for his team to score two late goals. It proved to be the difference in the tie.
Diaz had a similar performance against Benfica. He busied himself up and down the left flank and forced the Portuguese side into mistakes. Knowing Diaz would remain a menace, Klopp took off Sadio Mane and Mohamed Salah in the 61st minute, allowing his weary internationals some rest while Liverpool's midseason signing continued to hustle on the pitch.
How can you leave Foden out?
Ilkay Gundogan wasn't his usual self. His passes weren't as precise, he struggled to reset the focus of Manchester City's attacks, and there was no room for him to run through Atletico Madrid's deep block.
Instead, Tuesday's match required serpentine movement to draw and evade tackles. It was a tight affair tailor-made for Phil Foden.
Pep Guardiola would be brave to leave the Englishman out of his starting XI for the reverse fixture at the Wanda Metropolitano. The 21-year-old instantly tipped the tie in City's favor. Seventy-five seconds after he first stepped onto the pitch, Foden took the ball under his spell, attracting three Atletico Madrid players before rolling a pass through the legs of another.
Kevin De Bruyne slotted the ball past Jan Oblak to give City a crucial 1-0 lead going into the second leg.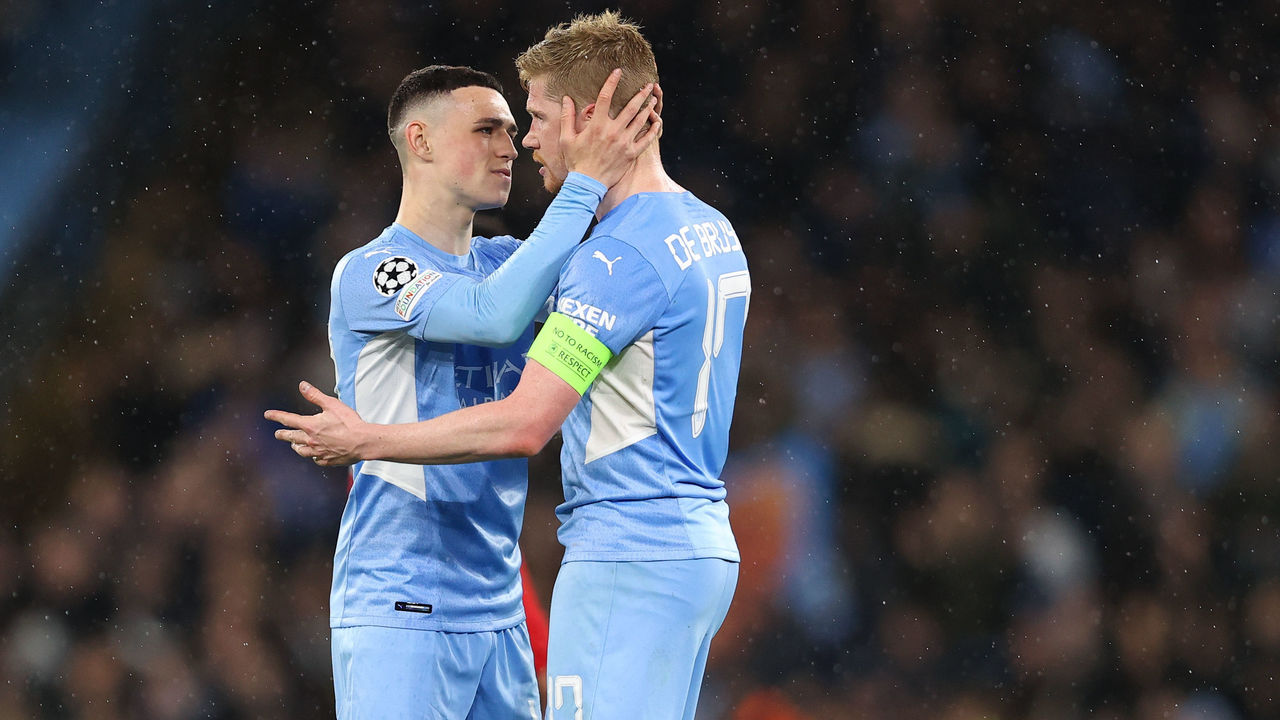 Foden dared Atletico Madrid's players to challenge him and was determined to only progress the ball. He danced past Geoffrey Kondogbia and Reinildo before De Bruyne's blocked shot in the 80th minute, and then Foden teed up the Belgian again when he bent the ball behind the Spanish side's backline with an audacious strike with the outside of his boot.
The temptation from many in the media is to dub Foden – and, indeed, any player from a working-class background – a street footballer, but his cameo delivered an ethereal sparkle that seemed several galaxies away from the puddles and red rows of homes in his native Stockport.
Simeone's subs disrupt Atletico
It was going exactly how Diego Simeone had planned.
Atletico Madrid were fine with letting Manchester City control everything ahead of their backline in the first half, and their reluctance to attack was demonstrated by their non-existent press. When City's defenders had the ball, the visiting players scattered like a dodgeball team anticipating an onslaught.
Simeone saved his numbers for the defense, where his quintet stood firm. The full-backs were unadventurous – including Renan Lodi, whose attacking caused Manchester United problems in the previous round – and having three central defenders freed up a body to track the false nine.
But then, just as Atleti threatened to pinch a goal from the Etihad Stadium early in the second half, Simeone looked to his bench and sought disruption over quality.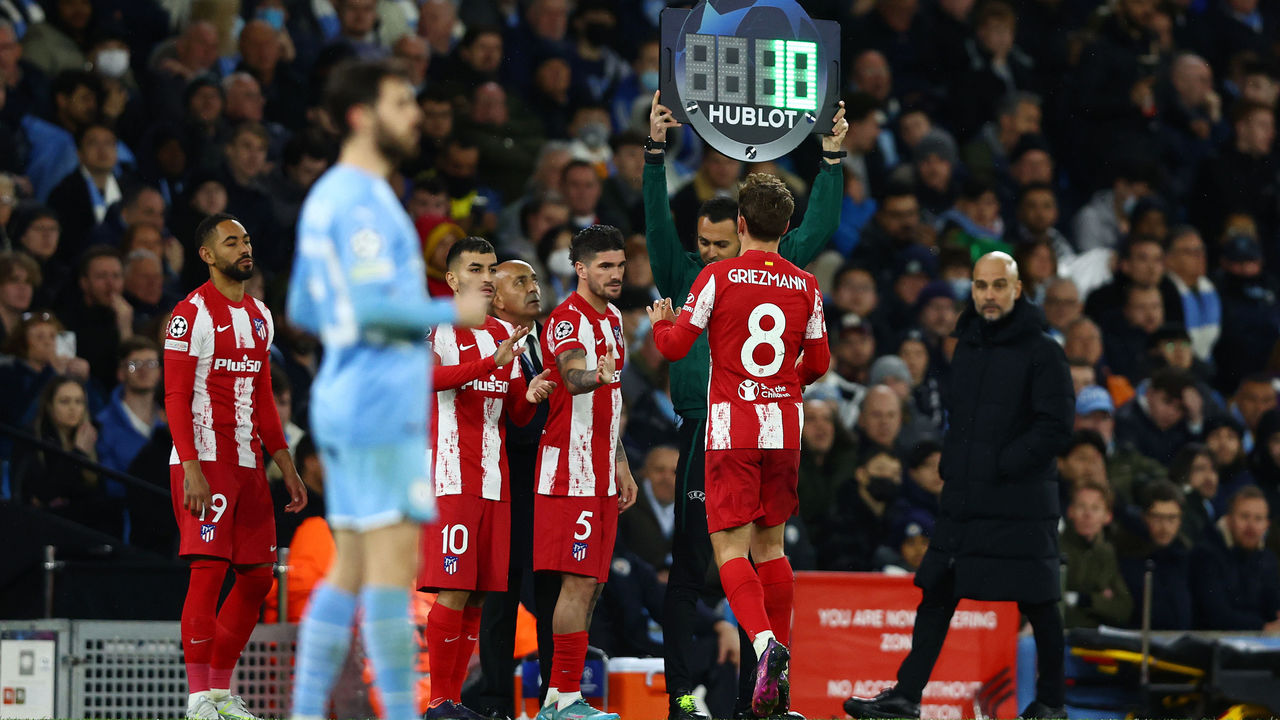 The three players that Simeone brought on in the 60th minute were intent on causing chaos – Rodrigo De Paul and Angel Correa were booked for altercations with Jack Grealish, and Matheus Cunha was fortunate to escape punishment for his egregious playacting in the final seconds. Their introductions necessitated the withdrawals of Antoine Griezmann and Marcos Llorente, both of whom could've put Atleti ahead on breakaways.
But above all else, Simeone wanted a brawl.
"It's the way they play. It's their style and there's no point us trying to fight them because that's not our way," De Bruyne said post-match on Atleti's combativeness. "We handled it pretty well."
Simeone's negative changes were at odds with Guardiola's positive triple-swap, which included the appearance of the excellent Foden. The contrasting tactical styles between the two teams were obvious during the first leg, but Simeone's conservatism turned out to be his side's undoing.