The Champions League rumbles on with Matchday 5 this week. Below, we dissect the biggest talking points from Tuesday's action in Europe's premier club competition.
Unbeaten Potter still has work to do
It took a moment of magic to lift Chelsea into the round of 16, with Kai Havertz popping up out of nowhere Tuesday to add another crucial Champions League goal to his resume.
However, before Havertz broke the deadlock and eased concerns with one swing of his boot, there was legitimate concern that Chelsea's dominating performance would go unrewarded. The same old issues in attack that plagued Thomas Tuchel near the end of the German manager's reign as Chelsea manager seemed alive and well in the team Graham Potter inherited in early September.
Chelsea dictated the tempo throughout the contest but repeatedly came up short in the final third. And it wasn't for a lack of chances – Potter's men produced one of their most dominating halves under the English coach, slicing through Red Bull Salzburg's defense effortlessly in the first half with slick passing and constant movement that made them difficult to mark.
In all fairness, Salzburg 'keeper Philipp Kohn was a major factor in containing Chelsea, making several important stops. But the Blues' end product on many occasions just wasn't good enough – especially for the caliber of stars that they have on the payroll. Pierre-Emerick Aubameyang, for one, had a day to forget. The ex-Arsenal star continued to look conflicted in front of goal on an evening in which he should've scored at least two goals by halftime.
Despite the headaches, Chelsea left Austria with three points against a Salzburg side that hadn't tasted defeat at home since February 2021 – a run of 40 matches unbeaten. And while Potter will be encouraged after his side extended its unbeaten run to nine games under his leadership, the English manager will need to solve what's plaguing his attack if Chelsea are to mount a realistic run at the Champions League title in 2023.
Milan slowly finding their footing
AC Milan didn't exactly get a free ride to start the season. Injuries to key players, including star goalkeeper Mike Maignan and club captain Davide Calabria, disrupted their rhythm. Summer signings Divock Origi and Charles De Ketelaere struggled to make any early impact. Questionable refereeing threatened to block their progress to the knockout round of the Champions League for the first time in nearly a decade. The reigning Serie A champions quickly learned they'd have to prove themselves all over again.
And that's what the Rossoneri are doing. They're just three points behind first-placed Napoli in the Serie A standings, and after Tuesday's 4-0 win over Dinamo Zagreb, they only need a point next week against Salzburg to advance to the round of 16 in the Champions League.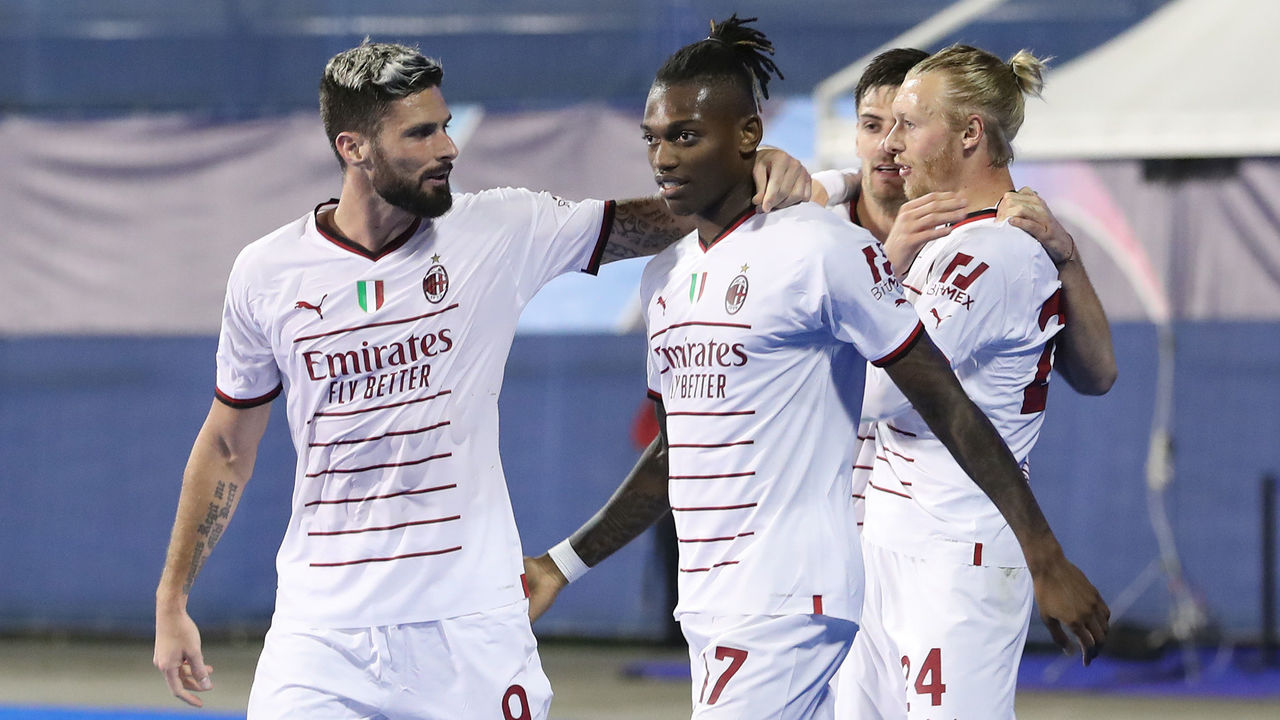 Their performance in Zagreb was as convincing as it was necessary. After losing back-to-back games to Chelsea – and conceding five goals in the process – Milan needed a strong showing to claw their way back into contention in Group E. Despite having only played on a handful of occasions this season, center-backs Simon Kjaer and Matteo Gabbia combined to clear their lines and block shooting lanes. Gabbia even scored his first goal for his boyhood club. Backup 'keeper Ciprian Tatarusanu made all the saves he needed to make, and Rafael Leao created enough chances to double the final score.
Zagreb hadn't lost at home in 31 matches. Milan made them look like they hadn't won at home in 31 matches.
Now on a three-game winning streak of its own – its longest of the season to date – Stefano Pioli's side has powered through weeks of adversity and achieved a level of consistency few thought it could attain with several starters out injured.
Ake earning respect at City
Nathan Ake didn't have much luck in his first two years at Manchester City. He suffered an injury each time he appeared set for a run of games, restricting him to starting just a quarter of the matches across two Premier League campaigns. And when the big fixtures arrived, Pep Guardiola – a manager who appreciates balance in the middle of defense – would pick two right-footers rather than select the left-footed Ake.
How times change. In recent weeks, Manuel Akanji and Joao Cancelo have tired during games while John Stones, Aymeric Laporte, and Kyle Walker dealt with injuries. Ake, on the other hand, is the fittest defender in Guardiola's throng and has become so reliable that he was picked ahead of Ruben Dias for the Manchester derby earlier in October.
"We need a right foot and a left foot," Guardiola explained after the 6-3 win over Manchester United. Ake has won his boss' faith.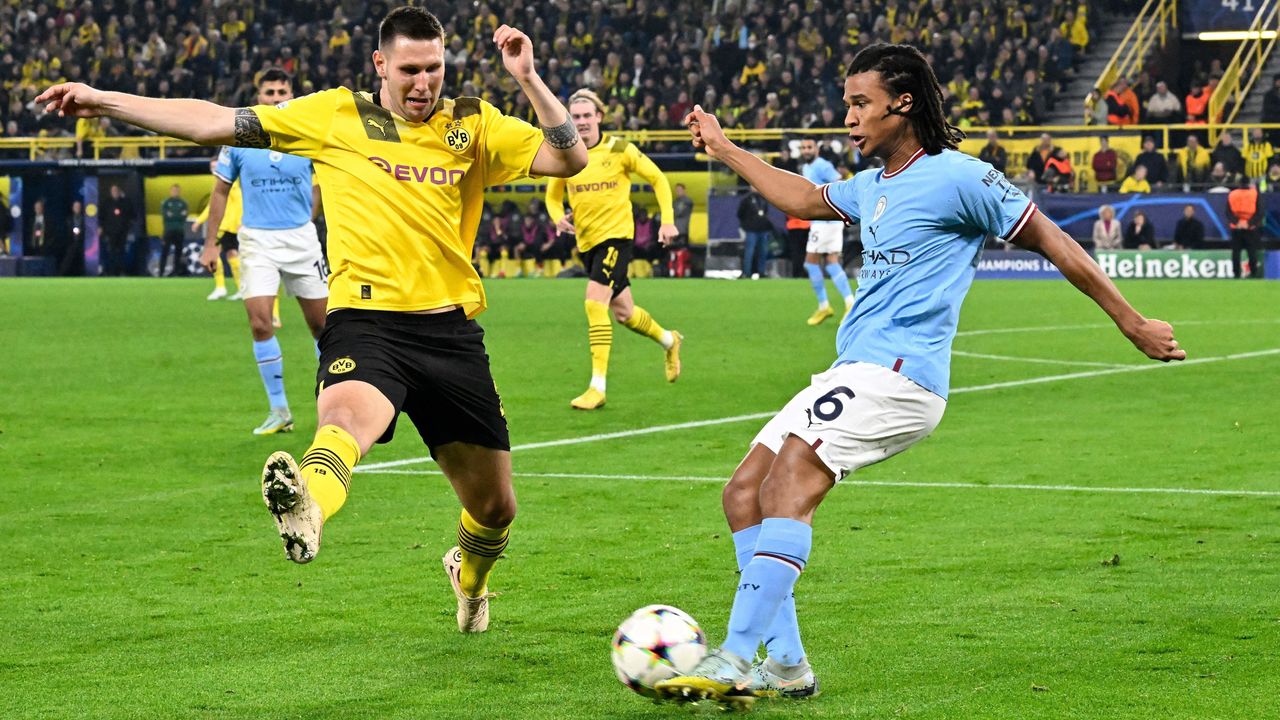 Borussia Dortmund were dangerous down the right flank during the first half of Tuesday's 0-0 draw, but City's biggest weakness on that side wasn't Ake – it was Cancelo, who's lost form in recent matches. Cancelo was substituted, and Ake was moved to left-back at halftime, becoming more influential as the game went on.
What Guardiola likely admires most about Ake is his gait – his back is straight and his head is raised while he strides, always aware of what's going on around him – and his ability to skim well-weighted balls to the midfielders' feet. He led the Group G match in touches (158) and played 20 more passes than Niklas Sule, Mats Hummels, and Nico Schlotterbeck combined. Ake's also a proactive player without the ball and won each of his three attempted tackles at the Westfalenstadion.
In a summer awash with good deals for City, Chelsea's failure to sign Ake appears to be a blessing for Guardiola and a backline troubled by fitness issues and injuries.
Juventus' downfall complete
Since reaching the final, and losing to Real Madrid, in 2017, Juventus have been going backward in the Champions League. They followed that soul-crushing defeat, their second loss in the showpiece match in three years, by faltering in the quarterfinals in each of the next two seasons. Three consecutive ousters in the round of 16, against a trio of underdog opponents, followed. The trend was obvious.
It reached a nadir Tuesday.
Juventus' 4-3 defeat to Benfica – a scoreline that could've, and perhaps should've, been much worse, confirmed that Massimiliano Allegri's team won't even have the opportunity to underwhelm in the knockout stage this time around. The Europa League, at best, beckons.
A humbling defeat to Maccabi Haifa on Matchday 4 meant this was always the likely outcome, but it's still jarring to see the math officially confirm what has looked inevitable since the beginning of the campaign.
Consistent mismanagement, both at the executive and field levels, has consequences. Puzzling transfer decisions add up. Riffling through managers has a destabilizing effect. All of that together, over a period of several years, has left Juventus in their current state. Once on the cusp of winning a trophy that's become an obsession for the club after so many near misses, Juve are now further away than they've been in almost a decade.
This team, and club, is in need of rejuvenation. There was no clearer indication of that than the waning minutes of Tuesday's defeat. Exciting youngsters Fabio Miretti, Matias Soule, and Samuel Iling-Junior, each 19 years old, came off the bench and injected life and verve into the Italian side, turning a lopsided 4-1 deficit into a respectable 4-3 defeat almost single-handedly.
There's a clear path forward for Juventus. Can we trust them to actually take it?