Luke Shaw's goal two minutes into Sunday's final was a gut punch that would've, in another time, knocked the confidence out of Italy. It could've led to more heartache. But this team was forged through hardship. A single goal was never going to ruin this moment.
To win Euro 2020, Italy first needed to walk through the fire. Go back to Nov. 13, 2017, the night Italy missed out on the 2018 World Cup. An inquisition began at all levels of public life, tearing at the very soul of the people's country for an answer to an impossible question.
How can something like this happen?
If the Italians couldn't quite face the reality before – the reality that they had lost relevance in one of the few pursuits that brings them together – it hit them hardest on that fateful night in Milan, when a goalless draw against Sweden knocked the country out of the world's favorite tournament.
Then something changed. Roberto Mancini, who came in from the wilderness to take Italy's top job in May 2018, saw and nurtured the potential that previous coaches ignored. He noticed there could be another, and perhaps better, way of playing. Italy didn't need to defend a 1-0 lead – not with the quality of players coming through.
Mancini's side proceeded to dominate matches. It thrashed teams it should've thrashed. It gave no freebies to the minnows of international football. It showed a ruthless streak against the likes of Liechtenstein and Armenia that Italy hadn't shown before, and confidence grew in a program and a team that had lost so much of it.
A few decisive wins later, Italy didn't look like Italy again but like something new entirely, proving it didn't need to play defensively to be successful again. Italy could score goals at will and play with possession and flair, and it could still defend when situations called for calm. Except defending would only be an option, not a necessity. And it was a viable option, too, with veterans Giorgio Chiellini and Leonardo Bonucci ready for any call to action.
To get the best out of pacy wingers like Federico Chiesa and Lorenzo Insigne, and energetic midfielders like Marco Verratti and Nicolo Barella, Mancini gave them the freedom to show their personality. Shackling or forcing them to fit into some rigid system would've harmed their development, and crucially, their production. Mancini's preference for attacking football was a choice rooted in pragmatism rather than idealism.
He simply made sure he didn't get in the way. Predecessors Gian Piero Ventura and Antonio Conte shoehorned aging and limited players into fixed formations, hoping to squeeze out results. It worked at Euro 2016, when Conte relied on sound tactics to get a rag-tag group to the quarterfinals. But Ventura's blatant misuse of players like Insigne – who remained on the bench throughout that disastrous showing against Sweden – left scars that needed healing.
Mancini's XI rarely followed a specific blueprint. Full-backs played like wingers. Midfielders scored goals. The ball was something to cherish, not to bludgeon out of bounds.
If he was a stubborn ideologue, Mancini would've forced his players to adopt the conservative counterattacking principles that brought success earlier in his coaching career. He won trophies with Inter Milan and Manchester City not by throwing caution to the wind, but with measured performances.
Instead, he adapted to the team at his disposal, and Italy started winning again. The Azzurri went unbeaten for 33 games, all the way to Sunday's final. And with a wonderful mix of attacking brilliance, midfield tranquility, and defensive solidity, they beat England 3-2 on penalties at a hostile Wembley Stadium. Chiesa created chance after chance, and midfielders Verratti and Jorginho maneuvered out of tight quarters to keep the game at their tempo.
Everyone on the team played for each other, and that was Mancini's hope from the start. The manager forged close bonds with the unit that he formed in 2018, and as a non-playing member of Italy's 1990 World Cup squad, he made sure no one would feel as excluded as he once did.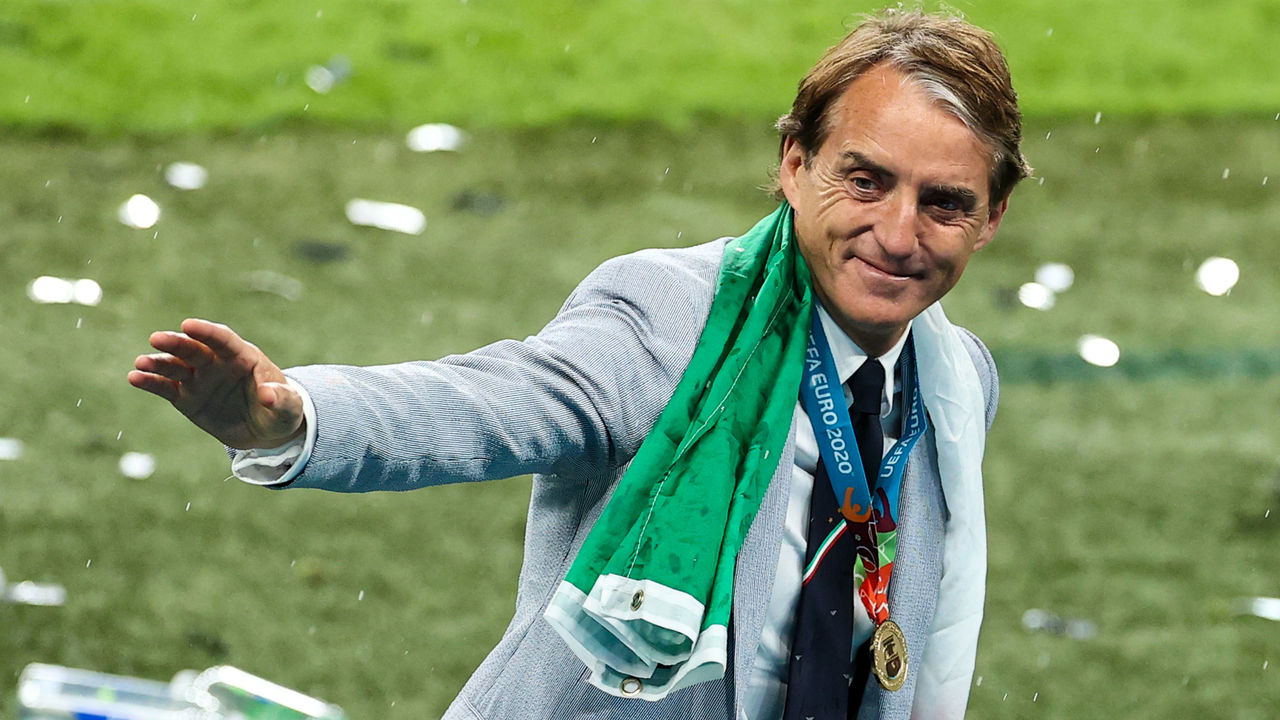 So in the last group-stage encounter against Wales, the 56-year-old gave time to players who had yet to appear in the tournament. Goalkeeper Salvatore Sirigu, midfielder Gaetano Castrovilli, and 21-year-old forward Giacomo Raspadori played for a few minutes in an otherwise inconsequential game, just so they could take part in the start of something special.
That sense of togetherness powered Italy throughout four grueling knockout matches. It dug deep in extra time to ward off Austria before denying Belgium's comeback attempt and beating Spain on penalty kicks. Italy's belief grew with every result.
That's why Shaw's goal on Sunday was just a blip, not a crushing blow. It was a test Italy had passed before. Even as roughly 60,000 people booed its every touch, the team regained its equilibrium, controlling more and more of the ball, and the game.
"You all know where we started from," goalkeeper Gianluigi Donnarumma, who saved two of England's penalty kicks, told Rai Sport afterward. "That early goal could've killed us, but that's not who we are. We are the ones who never give in."