Pep Guardiola noted it ahead of Manchester City's visit from Real Madrid. His side would need to overcome hardships against gnarled, streetwise opponents if they wanted to reach the Champions League final. Matches of this magnitude are rarely straight sprints to the finish.
"We have the desire to play against them and take on this incredible test, and we want to improve," Guardiola said in his pre-match press conference. "We are going to suffer together and then, when we attack, do it as well as possible."
Suffering to succeed is one of Guardiola's mantras at City. He mentions it a lot, including before the Champions League final defeat to Chelsea and again ahead of a group-stage scuffle with Paris Saint-Germain this season. Each time – in Porto, Paris, and Tuesday's 4-3 first-leg win on home turf – Guardiola's warnings were justified.
And in Real Madrid, a team that habitually drags itself over the line from precarious positions in domestic and European football, there might not be better tutors for City on the art of suffering.
Karim Benzema and Luka Modric thrived on adversity at the Etihad Stadium. City had just poured forward twice and could've made it 3-0 through the efforts from Riyad Mahrez and Phil Foden. A response from Real Madrid was required. It was no surprise that Benzema – a player whose obscene goal output leaves his excellent buildup play somewhat underappreciated – first stepped up. He drove into a channel populated by Bernardo Silva, Rodri, and Ruben Dias to win a corner from a scenario that, initially, seemed harmless.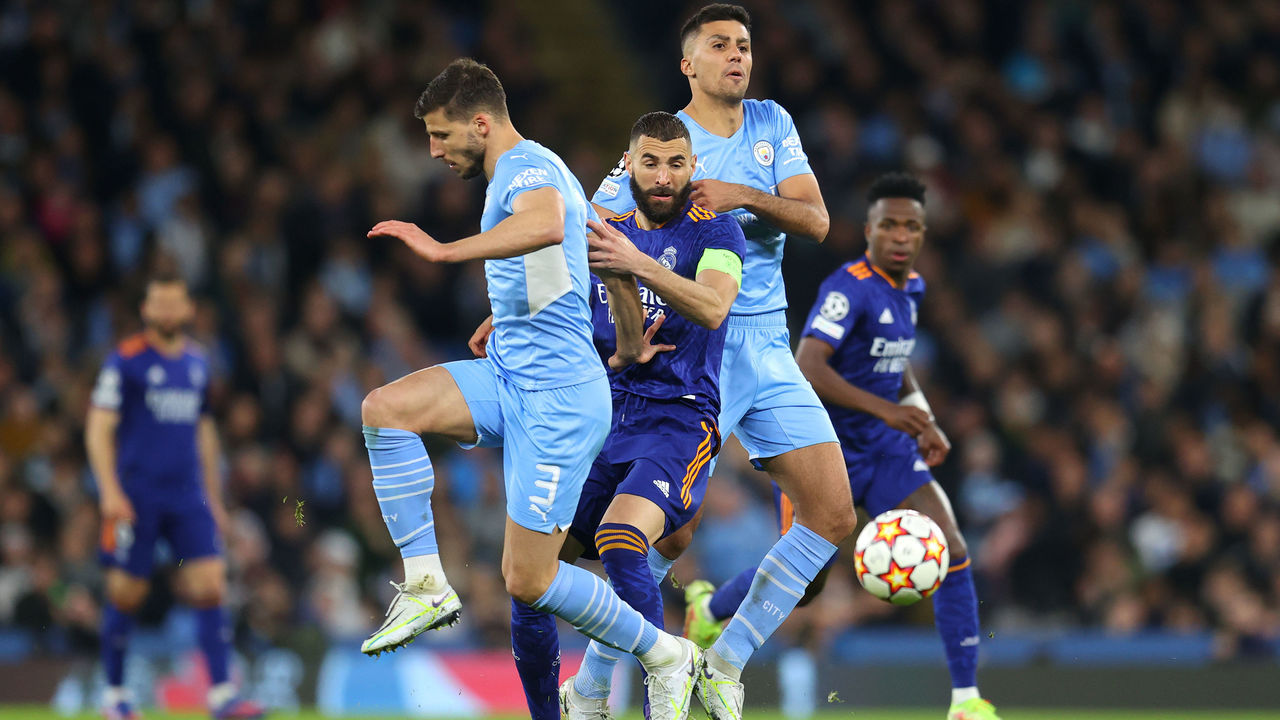 Benzema ran to the corner flag, quickly exchanged passes with fellow veteran Toni Kroos, and wrapped his foot around a delivery toward the direction of David Alaba. The defender was understandably disappointed he didn't at least nod the ball on target. City didn't have enough time to get ready for the set-piece properly, and Ederson appeared beaten at his far post.
In merely 20 seconds, Benzema pulled his sinking team from a rising tide. It's brief periods like this that can turn the direction of a game. That's how battle-hardened players respond to setbacks, especially those of Benzema's experience.
Modric – perhaps football's neatest personification of Muhammad Ali's line, "float like a butterfly, sting like a bee" – also pushed his 5-foot-8 frame to its limits to help his side reduce the first of the three two-goal deficits it faced in the first leg. Modric determinedly flung himself into the air to win a header in midfield before a Vinicius Junior shot was deflected wide. He later expertly spread himself for a block tackle on Mahrez, banking on a deflection that could trigger an attack for the visitors.
The challenge worked. The ball ricocheted to Ferland Mendy, whose bouncing cross was excellently turned in by Benzema.
"We know if we give the ball away in dangerous areas, they're going to punish us," Foden said post-match after noting Real Madrid's unrivaled Champions League pedigree.
The seasoned winners in this competition will prey on the smallest errors. Fernandinho – an ersatz right-back after replacing another unnatural player in that position, John Stones, during the first half – promptly followed his sumptuous assist for Foden with an ill-advised attempt to halt Vinicius on the halfway line. The winger duped his compatriot and coolly finished after an explosive, though largely unchallenged, sprint down the left flank.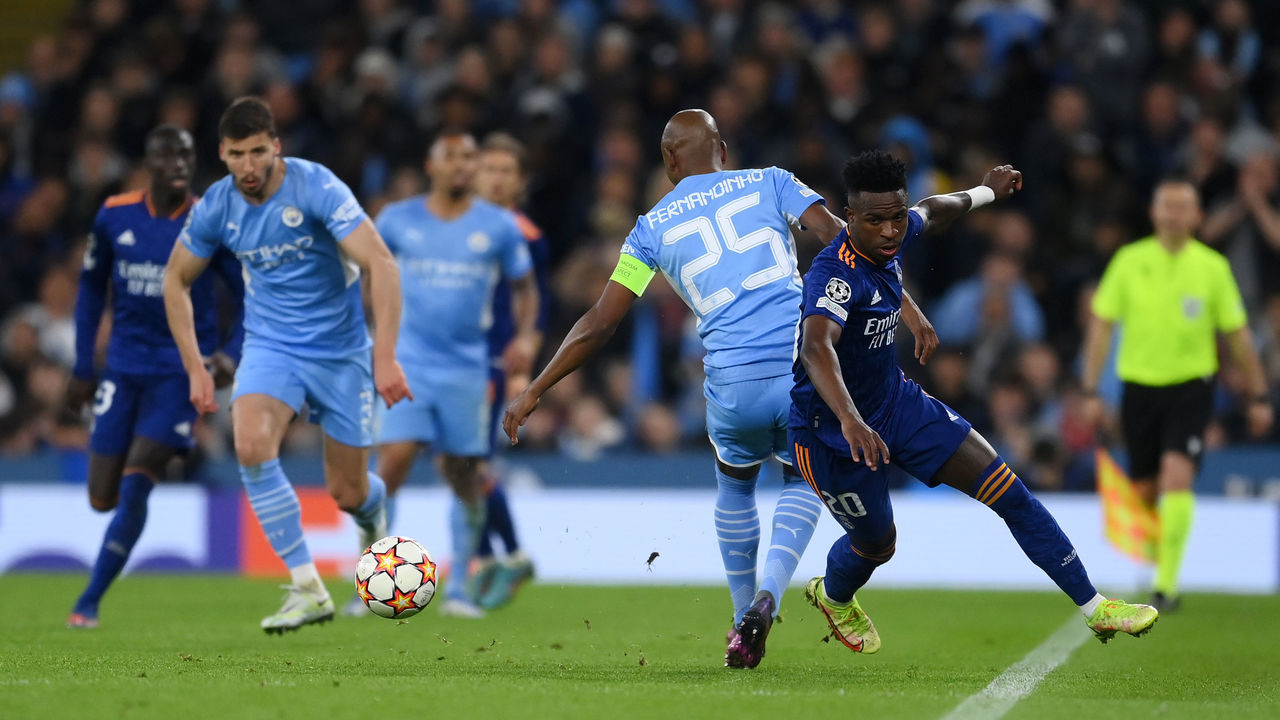 And though Aymeric Laporte's concession of a penalty was slightly unfortunate – the ball hit his head before it glanced off his outstretched arm – Benzema leaned on every bit of his experience to net his penalty for Real Madrid's third goal. Benzema peeked at Ederson as he trotted up to the spot and saw that the goalkeeper was prepared to spring in either direction, so he serenely looped a Panenka into the middle of the net.
City hadn't conceded a goal in the knockout rounds. They hadn't surrendered a Champions League goal at home since November. Yet Real Madrid, who City outplayed for long periods, relied on their know-how to breach the reigning English champions three times. City should've won the match by two or more goals.
"We're not going to decide the tie tomorrow," Carlo Ancelotti said before the doubleheader began. "It will be decided at the Bernabeu."
Real Madrid have players remaining from their hoarding of four Champions League crowns over the past eight years. That much was clear in a classic display of opportunism, fighting to win individual battles, and reveling in the pressure. They suffered and came out with a 4-3 defeat, which was much more than they deserved.
City, without a single Champions League winner in their squad, must learn from the best – and do it fast – if they're going to collect Europe's top prize at the end of May and in years to come.