The 2022 World Cup is nearing its climax. After every matchday, we'll review the biggest talking points emanating from Qatar and break down all the action on the pitch. Below, we look back on Argentina's semifinal win over Croatia.
Magical Messi continues to inspire
Josko Gvardiol, Croatia's fleet-footed man-mountain of a defender, was, by some margin, the best center-back in the tournament going into Tuesday's World Cup semifinal against Argentina.
And not even he stood a chance.
Lionel Messi, 15 years his senior, lulled him into a false sense of security. Picking up the ball near the halfway line, with seemingly no space to operate while boxed in along the touchline, the diminutive Argentine twisted this way and that to break free of Gvardiol's clutches. He dropped his shoulder and surged toward the penalty area with the type of burst more reminiscent of his halcyon days. Then, just when the imposing defender seemed to recover and get the situation under control, Messi quickly spun to the left. In a flash, he was inside the box with a dizzied Gvardiol again chasing in his wake. The crowd's anticipation was palpable. Without looking up, Messi capped the superlative sequence by teeing up Julian Alvarez from point-blank range.
Alvarez easily slotted the ball home to make it 3-0, solidifying Argentina's victory and ensuring the Albiceleste will appear in the World Cup final for the sixth time, and first since 2014. Alvarez immediately ran into Messi's arms, embracing his captain. All of Argentina echoed the youngster's reverence.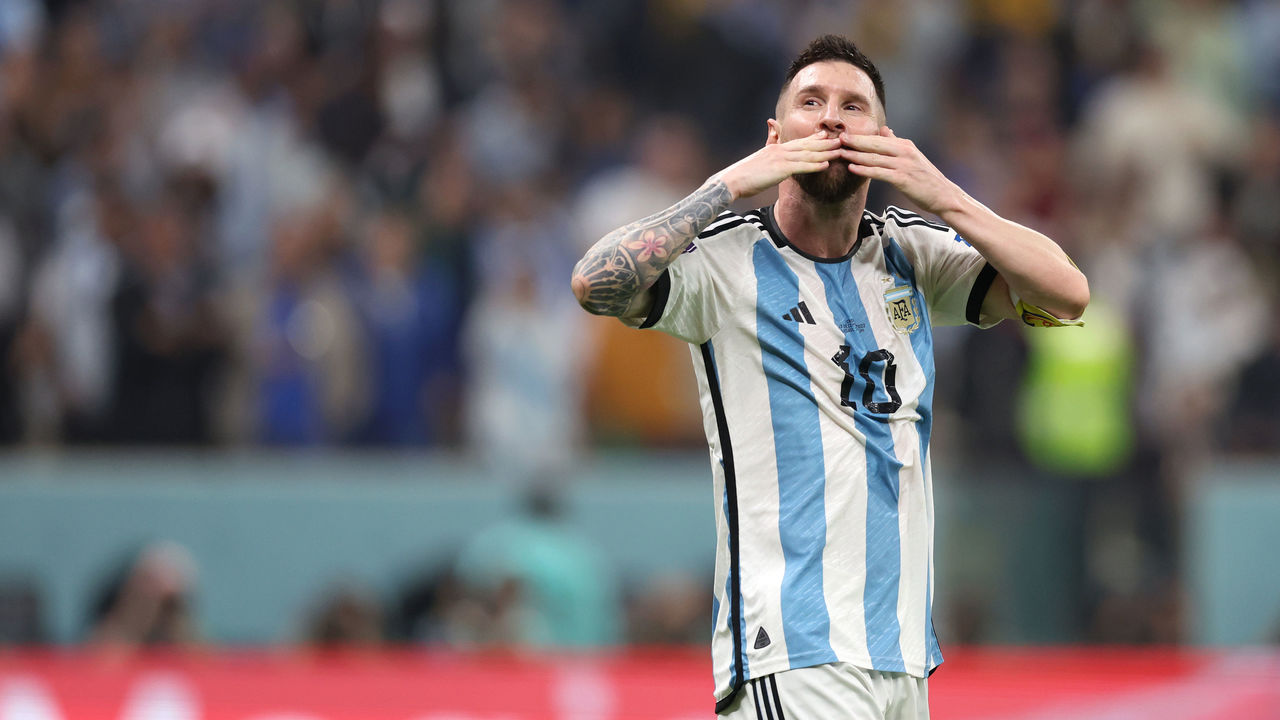 "Marvellous mischief," commentator Peter Drury proclaimed with stunning accuracy. It was almost devilish watching him toy with Gvardiol.
Messi, now level with Kylian Mbappe as the joint-leading scorer in the tournament with five goals, has provided the two most spellbinding assists of the competition just days apart. He created a passing lane out of thin air against the Netherlands, and, for an encore, he twisted a previously unshakeable defender into a pretzel like he was out for a Sunday stroll.
"I am enjoying this a lot," Messi told reporters after the match. Same, Leo.
Messi, after falling at the final hurdle in 2014, has one more chance to capture the only title to elude him over his magical, decorated career. It will, self-admittedly, be his last opportunity. This is the denouement we all wanted to see. Whether it's France or Morocco providing the opposition on Sunday in Lusail, Messi, a man on a mission, will have something special up his sleeve.
An unforgettable era for Croatia
Case studies and field trips will try to find the answer behind Croatia's achievements for years to come. Is the marriage of gritty inner-city kids and players from the sun-kissed Dalmatian Coast simply a recipe for success? Do the youth academies at Croatia's clubs – namely Dinamo Zagreb – hold the secret? Did a country with a population of four million just get lucky with this particular generation?
This was a special era, and regrettably, it's likely over. It seemed improbable that Croatia could rival the run to the 2018 World Cup final over four years later, but its mature students in the class of 2022 produced some remarkable moments en route to the semifinals.
Luka Modric has defied the eroding effects of time. He covered all areas of the pitch during Croatia's quarterfinal triumph over Brazil on spot-kicks. In the semifinal, he extinguished danger in his own area while trying to get Croatia going with two key passes and three dribbles. Modric helped form the tournament's best midfield with Marcelo Brozovic and Mateo Kovacic.
Brozovic and Kovacic will be 33 and 32, respectively, at the next World Cup. Modric will be nearing his 41st birthday.
Dejan Lovren, 33, was an unexpected hit in the backline. Rather than warming the bench as many predicted, he's started each of Croatia's six matches ahead of Saturday's third-place playoff. His physicality and experience provided a barrier, giving Gvardiol – an impeccable reader of the game and accomplished with the ball at his feet – the opportunity to flourish as one of the finest performers in Qatar.
And therein may lie the green shoots for Croatia: At 20, Gvardiol is undoubtedly the leader of the next generation.
Alvarez is taking the torch
Don't let the favorable bounces from Josip Juranovic's toe poke and Borna Sosa's off-balance swing sully your enjoyment of Alvarez's solo effort. The move captured the awareness, dedication, and single-mindedness that are set to propel him to a place among world football's exclusive attacking elite.
Alvarez was defending the near post for a corner when an undetected Brozovic was looking for a pass to find him near the edge of the 18-yard box. The ball came, but Alvarez had already spotted the danger; while forward Andrej Kramaric and a quartet of Croatians standing at 6-foot-1 or more – Mario Pasalic, Ivan Perisic, Gvardiol, and Lovren – awaited a delivery, the 22-year-old blocked the cross. Then his mindset changed immediately, turning defense into attack.
Nicolas Otamendi nodded the ball to Messi. Messi stretched and flicked at the ball before Brozovic could win back possession. The ball bobbled to Alvarez, who had continued his upfield movement, around six yards inside his own half. And he ran.
Nahuel Molina's off-the-ball run briefly occupied Sosa, but it fizzled out. Rodrigo De Paul couldn't maintain the pace needed to make himself a reasonable passing option to Alvarez's left. So, Alvarez gritted his teeth and pumped his arms, earning his luck when Juranovic and Sosa – undoubtedly unsettled by the youngster's bullish charge – fluffed their tackles. He guided the ball over Dominik Livakovic via a confident nudge with his laces.
Alvarez's second goal really belonged to Messi – it was a stupendous assist – but it could represent something more: This is Messi's final World Cup, and he could be in the process of passing the torch to the next shining light of Argentina's men's team.
Quick free-kicks
Paredes gives Argentina different look
Leandro Paredes nearly contributed to Argentina's implosion in the quarterfinals against the Netherlands with some undisciplined moments, but, inserted into the starting lineup on Tuesday against Croatia, the Juventus midfielder provided a more calming influence. His composure on the ball alongside Enzo Fernandez and De Paul allowed Argentina to match up with Croatia's vaunted midfield trio while giving Alexis Mac Allister more freedom to venture forward through the middle in support of Messi and Alvarez. Whether Lionel Scaloni opts for a similar approach in the final will be fascinating and crucial. Though Morocco and France play different styles and use different systems, both have three men in midfield areas at most times. Antoine Griezmann, reborn in a deeper role this tournament, adds another body in central areas for France that needs to be accounted for, while the Atlas Lions have utilized a well-defined three-man midfield all tournament long. For those reasons, Paredes could be in line to start the final on Sunday.
Croatia undone by another slow start
The Croatians' slow starts finally came back to bite them. Going into Tuesday's tilt in Lusail, Zlatko Dalic's team had conceded the first goal in three of its first five encounters, including both knockout matches. They finished goalless in the other two games. Croatia didn't draw first blood in any fixture in Qatar. That trend continued against Argentina. This time, the never-say-die attitude of Modric and his experienced compatriots wasn't enough. In overturning deficits to beat Canada, Japan, and Brazil, the Croatians never let any of those games get away despite conceding first. They stayed within reach. But using possession in midfield to put a stranglehold on the match, as Croatia has done to such devastating effect many times, can be to your own detriment when trailing by multiple goals. Croatia struggled, even when behind, to truly threaten Argentina's backline. Case in point: Its two shots on target came in the 73rd and 89th minutes. It was too little, too late.
Stat of the day
With each passing match in Qatar, Messi monopolizes another statistical category. What more can you say at this point?
Tweet of the day
Alvarez, quite literally, ran in a straight line for about 50 yards on his goal.