The preparations are nearly complete. Though some nations have scheduled warmup matches in the days just before the World Cup begins in November, many of the world's preeminent sides completed their pre-tournament itineraries during the recent international window. With that in mind and kickoff in Qatar fast approaching, we examine the most noteworthy storylines to emerge from the past week across the globe.
Goalkeeper debate settled, but USMNT unsettled
Christian Pulisic, Antonee Robinson, Yunus Musah, and Tim Weah missed last Friday's sobering 2-0 defeat to Japan. However, it wouldn't be outrageous to say that Miles Robinson – the Atlanta United defender who forged a strong partnership with Walker Zimmerman until rupturing his Achilles tendon in May – remains the biggest absentee for Gregg Berhalter's side.
Japan's aggressive press unnerved the United States, forcing the Americans to lose possession in their own half 54 times in the opening half alone. The midfield played inexcusably poor – Weston McKennie's performance was cringeworthy – but Zimmerman's and Aaron Long's passing from defense was wretched. It's difficult to imagine Miles Robinson playing any worse against Japan's press. He's quicker, more agile, and, most crucially, a better passer than Zimmerman and Long.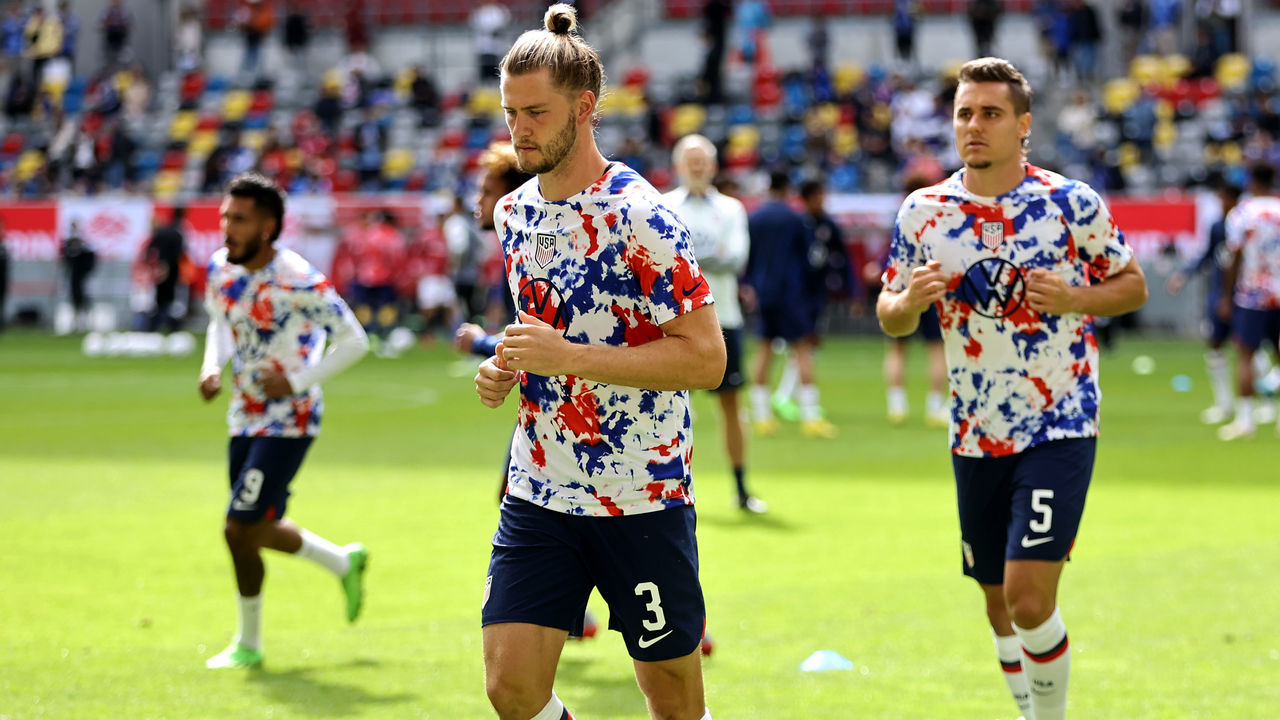 Unless Miles Robinson heals fast, Berhalter faces a tough call over who starts alongside Zimmerman in Qatar. In its Group B tilt with England, the U.S. will need more composure at the back against energetic attackers like Phil Foden and Raheem Sterling. Tuesday's 0-0 draw against Saudi Arabia underlined that the U.S. also needs to find a higher tempo in games when it has the most possession, and that can start with a defender like Miles Robinson, who can push quick passes to the midfielders' feet. The U.S. could have the majority of the ball in its other World Cup group matches against Wales and Iran.
At least Matt Turner spared Berhalter of another hard decision. The No. 1 battle has been a drawn-out debate for U.S. fans, complicated by surprising acts of heroism from different goalkeepers in recent years. But Arsenal's Turner should now get the nod between the sticks. He was excellent against Japan, producing six saves, including a stop on Daichi Kamada during a one-on-one. He then shut out Saudi Arabia four days later.
Is Canada ready for the jump in quality?
It's difficult to glean too much from Canada's 2-0 win over Qatar in the team's first friendly of the international window. The World Cup host, frankly, isn't talented enough to adequately test John Herdman's group.
The 2-0 defeat to Uruguay, though, was a much more instructive and beneficial affair. Yes, Canada seemed to struggle, at least initially, with the pace of play and overall quality that Uruguay offered. That wasn't entirely surprising; Uruguay, led by the likes of Darwin Nunez and Federico Valverde, is the best team Canada has played in quite some time. It's one thing to prepare for that jump in quality, but it's another thing entirely to actually live it. Canada looked a little overwhelmed defensively when Uruguay upped the intensity, something Herdman and his staff will need to rectify quickly ahead of the team's opening World Cup test against Belgium.
But there were plenty of positives to take from the tuneup match, too. Canada didn't abandon its identity, pressed high up the pitch, and crafted several quality chances after playing through Uruguay's own aggressive press. With more sharpness inside the area, the Canadians would have gotten on the scoresheet. Tajon Buchanan returned to the fold after an injury layoff, rising star Ismael Kone came off the bench to show he can be a serious X-factor in Qatar, and Herdman should have Jonathan Osorio and Atiba Hutchinson, two key players that didn't feature during this international window, at his disposal come November. All told, there were more than enough signs to suggest that Canada will be a serious thorn in the side of its Group F opponents.
Southgate's fitted a glass ceiling at England
Apparently, it doesn't matter how often Fikayo Tomori subdues Serie A attackers and how important he was to AC Milan winning their first Scudetto in 11 years. Gareth Southgate prioritizes loyalty over wisdom, so Harry Maguire, Eric Dier, John Stones, Kyle Walker (a right-back), Marc Guehi, and even Conor Coady are above Tomori in the center-back pecking order.
And that's it.
"Clearly, it's not an ideal situation," Southgate admitted last week about Maguire starting two out of seven Premier League matches for Manchester United during a prolonged spell of poor form.
"You want your best players playing regularly so that they're physically in a good place and mentally in a good place. But he is an important player for us. I think it's important to back our best players."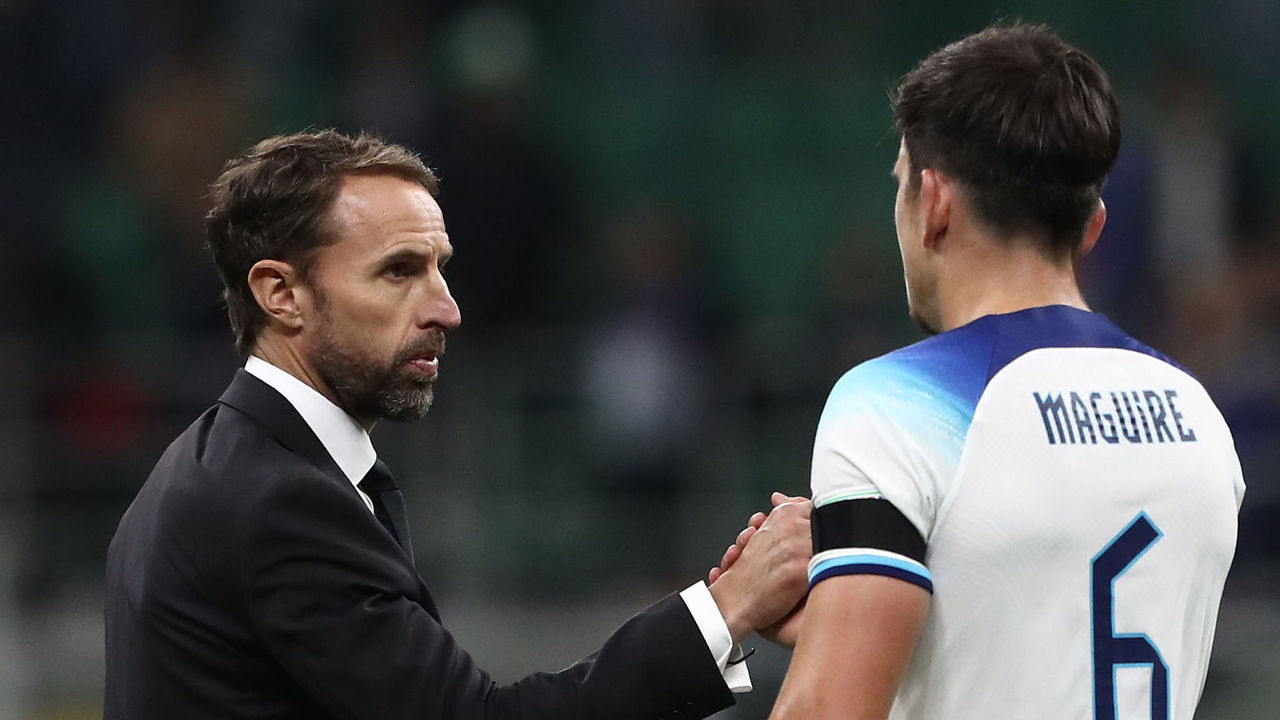 Is Maguire really one of England's best players? His lapse and subsequent tackle that gifted Germany a penalty in Monday's 3-3 draw suggests otherwise. And besides, Southgate seemingly disregarding how Englishmen perform for their clubs contradicts his earlier claim that he'd "never pick on reputation" and that form matters.
As it stands, Tomori, Ivan Toney, and others have little hope of breaking into the England XI. Southgate's loyalty to Maguire & Co. could boost confidence among his starters and encourage them to fight for their manager's cause. But it could be potentially ruinous for the morale of those on the fringes of the boss' plans.
Germany relying on individual brilliance
Germany has long had the reputation of a team that can simply get the job done, no matter what. When the chips are down, Germany finds a way to deliver. Football is a simple game, as Gary Lineker famously said.
But, ironically, that presents a problem for Hansi Flick, who can't quite seem to get his team playing the up-tempo, quick passing game that he desires, especially against opposition that defends deep. In international football, where one moment of brilliance is enough to swing a match and potentially a tournament, steadfast self-belief can sometimes be enough. But relying solely on inspirational individual plays isn't a solid recipe for sustained success.
Flick knows that.
Germany's manic 3-3 draw against England was a prime example of the issues plaguing his side. Germany has a bevy of impressive players, especially in attacking midfield and wide areas, but it lacks a focal point up front who can anchor the team. Kai Havertz scored a spectacular goal at Wembley and will likely head to Qatar as the de facto No. 9, but he too can drift through matches, almost looking a little disinterested at times.
That kind of general malaise is clouding the whole squad right now.
One-sided battle for Brazil's No. 9 shirt
Brazil justified its status as a favorite to win the World Cup with straightforward victories over Ghana and Tunisia. Tite's men have won their last seven outings and are unbeaten over 15 matches.
Richarlison has arguably shone more than any other Brazilian in 2022, scoring seven goals and assisting once over six Canarinho appearances. Pair his international exploits with his club form, where he's impressed for Tottenham Hotspur after helping Everton preserve their Premier League status, and it's easy to understand why it'll only take an injury for him to surrender Brazil's coveted No. 9 shirt.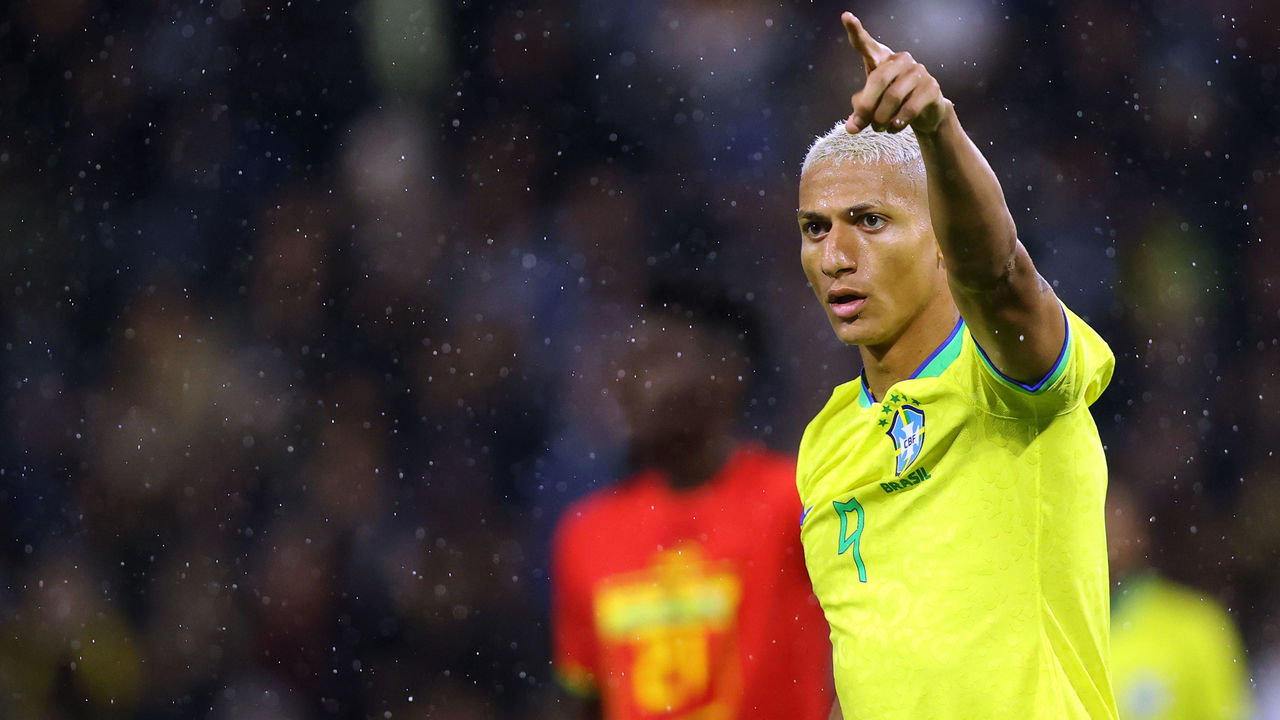 It's not like he lacks competition for the jersey. Gabriel Jesus is enjoying an explosive start to life at Arsenal but was surprisingly omitted from Tite's squad for September's fixtures. Roberto Firmino is experienced and has recently shown flashes of his best form with Liverpool. And Flamengo's Pedro is proven as a lone forward. However, Atletico Madrid's Matheus Cunha hasn't scored a competitive goal since May and could find his place in the squad threatened.
But Richarlison offers something no other attacker does: a workmanlike grit that sees him hound down loose balls and keenly compete in 50-50 challenges. His style is almost anti-Brazilian – a nation renowned for flamboyance and beauty. However, Richarlison perfectly complements the direct, risk-taking play of his attacking colleagues like Neymar and Raphinha.
Messi's best chance to win World Cup
Argentina's turnaround under Lionel Scaloni has been nothing short of remarkable, especially considering the fragmented disaster of a team he inherited after Argentina's nightmarish 2018 World Cup.
Following a pair of 3-0 friendly wins over Honduras and Jamaica, respectively, the rejuvenated South American giant is enjoying a 35-match unbeaten run that includes a Copa America title, a classy World Cup qualifying campaign, and a dominant win over European champion Italy in the "Finalissima."
And most importantly, Scaloni's implemented a possession-based system that gets the best out of his diminutive namesake. For the first time, perhaps ever, Lionel Messi genuinely looks happier and more comfortable playing for his country than his club; Messi scored four of Argentina's six goals over the past week. Whatever other improvements Scaloni has made – and there have been plenty, particularly in defense – getting the best out of Messi remains his most vital accomplishment.
Argentina is a cohesive and collective unit instead of a jumbled, imbalanced assortment of players. That should make every other World Cup contender very, very nervous.
"I see Argentina above the rest and Brazil, too," Spain boss Luis Enrique recently admitted. "Well above the rest."
Unsettled France gives Deschamps headaches
Though Gareth Southgate may beg to differ, Didier Deschamps has more headaches right now than perhaps any other manager going into the World Cup. Being the defending world champion brings its own unique pressure that would weigh on anyone. But in addition, the French bench boss is dealing with an injury-ravaged team and a variety of off-field issues that threaten to derail France's title defense before Les Bleus even arrive in Qatar.
France, which narrowly avoided Nations League relegation, was without Hugo Lloris, Jules Kounde, N'Golo Kante, Ousmane Dembele, Karim Benzema, and Paul Pogba through injury for its final game before the World Cup, a 2-0 defeat to Denmark. Pogba, a vital part of the 2018 World Cup-winning side, is working his way back from knee surgery and could miss the tournament. Off the pitch, he's also mired in a bizarre extortion investigation involving his brother, Mathias.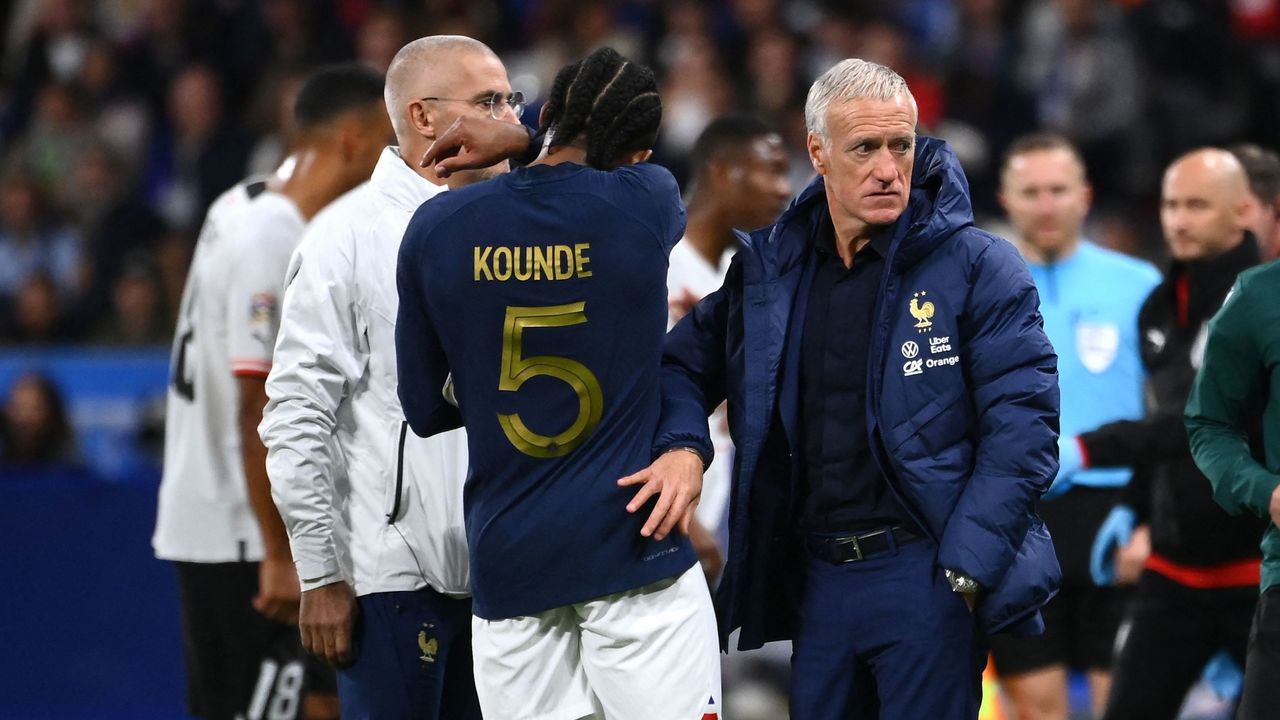 "The important thing is to be able to recover all our strength in the next two months," Deschamps said of his team's rocky preparation.
Any roster built around Kylian Mbappe is capable of extraordinary things, to say nothing of all the other obscenely talented stars France has at its disposal. But right now, the vibes around the team are far more reminiscent of the mutinous 2010 squad that infamously capitulated rather than the 2018 outfit that brought home the trophy.
Frustration building for Mexico
Chaos continues to reign for Mexico.
Manager Gerardo "Tata" Martino, already under enormous pressure from an increasingly frustrated fan base, isn't inspiring confidence. Performances under his watch have been stale at best and totally wayward at worst, while injuries are piling up and forcing constant lineup changes that only further create disharmony on the pitch. Not exactly ideal preparation.
El Tri's second-half collapse against Colombia on Tuesday, in which they turned a 2-0 halftime lead into a chastening 3-2 defeat, only served to make an already hostile situation worse. Mexico now has just two wins in its last seven matches, and those came against Suriname and Peru. The latter was only procured through a late goal from Hirving Lozano.
Martino and Mexico have two more friendlies scheduled for November ahead of the World Cup against Iraq and Sweden, respectively. The optimist will say those provide an opportunity to turn things around and head to Qatar on a high note. Right now, though, it's not inconceivable that those two games could actually make things seem more dire before the tournament starts.
System over sense for Spain?
Luis Enrique leaves out big-name players he believes won't suit his system. There's a hitch, though. He doesn't seem to have a clear idea of which Spaniards actually fit into his vision.
One notable omission from his squads is Celta Vigo's Iago Aspas, who's long been the most productive Spanish forward on the globe. Aspas' lack of defensive contribution is a reasonable concern. But freezing him out is baffling, especially when Enrique has yet to settle on a player in that position. Marco Asensio, Borja Iglesias, Alvaro Morata, Ferran Torres, and Raul de Tomas have all appeared at center-forward since June.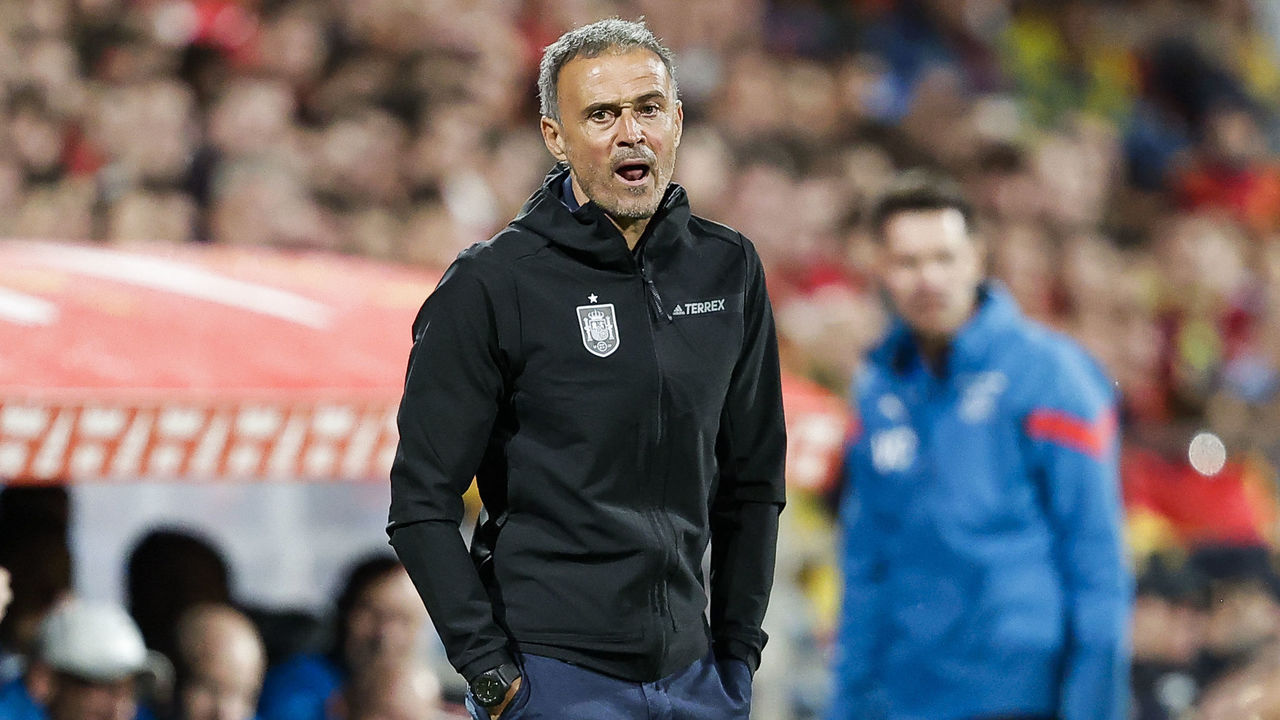 And there's little consistency in Enrique's defensive selection. Over the past two-and-a-half years – a stretch of 40 contests – the only center-back to start more than three straight matches for Spain is Aymeric Laporte, who recently underwent knee surgery. Cesar Azpilicueta is the only full-back to exceed three consecutive starts since the 2018 World Cup group stage – a 53-game run. But he's now 33 and, like many of his international teammates, isn't playing regularly for his club.
Enrique can't expect to rely on either of those players at the World Cup. Nor can he expect his defense to have great organization and understanding due to his constant personnel switching.
Don't be fooled by their spot in the Nations League finals. La Furia Roja could play like strangers in Qatar.
Same old problem for Portugal
It was painstakingly obvious a long time ago, but nothing's changed. Fernando Santos still isn't the right man to oversee Portugal.
There's an abundance of attacking talent at Santos' disposal. Rafael Leao is one of the most exciting widemen on the planet. Bernardo Silva is a mesmeric mover and almost impossible to knock off the ball. Bruno Fernandes is hitting his form at the right time. There's also wandering full-back Joao Cancelo, forward Diogo Jota … you get the picture.
However, when the attackers deliver, it's always in spite of Santos. Rather than set his team up to play to its strengths, it's designed to absorb pressure and counterattack, often with the ponderous William Carvalho as its nucleus. The explosiveness is also lacking up front when 37-year-old Cristiano Ronaldo is trundling his way through another 90 minutes.
Portugal should be tormenting its opponents. Instead, the Selecao are blunted by Santos' negativity.
Missing out on a place in the Nations League finals isn't the end of the world, but Tuesday's 1-0 defeat to Spain in Braga signals desperate times for a lot of Portugal fans. There was an opportunity to dismiss Santos following last November's 2-1 home defeat to Serbia. Now it's extremely unlikely the country's football federation will pull the trigger when Portugal's World Cup opener is under two months away.
A generation that should be delighting onlookers with daring, dominant attacking football could be wasted.