The Champions League delivered equal servings of goals and drama this week, as four clubs booked their spots in the competition's quarterfinals. Below, we dissect the biggest talking points from the week's last-16 action.
Time for Juve, Ronaldo to split
It's time to end the experiment.
After another soul-crushing Champions League exit, this one courtesy of FC Porto, it's in everybody's best interest for Juventus and Cristiano Ronaldo to go their separate ways. Having come so close to ending their Champions League drought on multiple occasions, the Italian giants – rightly or wrongly – took a big swing in 2018 to get over the hump; the club signed Ronaldo with the primary goal of finally delivering the big-eared trophy. For several reasons, it hasn't worked.
When Ronaldo carried Juventus in recent seasons, scoring all of their knockout-stage goals, others didn't deliver. When other players stepped up, like Federico Chiesa on Tuesday, Ronaldo was off his game. Things have never synced, and, as we've seen so many times before, a team needs everything to come together just right to win the Champions League.
Juventus are now clearly trying to build for the future. Their cycle of dominance, backstopped by Giorgio Chiellini and several other veterans, is over. The club needs to hand the keys to the likes of Chiesa and Matthijs de Ligt to try to kickstart a new winning run. Relying on Ronaldo, now 36, is incongruous with that approach. Moving on also makes sense for the Portuguese star, who should be seeking a club facing the type of "win now" situation Juve were in when they signed him.
Oliveira, Pepe shine brightest in Turin
While much of the focus is centered on Juventus' latest Champions League failure, it's important to acknowledge the architects of Tuesday's surprising result. Porto, who played with 10 men for over an hour thanks to a moment of stupidity from Mehdi Taremi, were Herculean in Turin. Sergio Oliveira and ageless wonder Pepe, in particular, stole the show. The midfielder and defender – each in his own way – showed Juventus exactly what they're missing right now.
Oliveira, who scored both the first-half penalty and 115th-minute free-kick that ultimately won the tie, was dogged, crafty, and dangerous on the ball. He was everything Juventus' midfield has been missing in recent seasons, wrapped up into one ponytailed ball; it was his sweet nutmeg that drew the foul for the dramatic free-kick. Juventus could use exactly that type of ingenuity to liven up a talented but not particularly creative midfield crop.
Pepe, meanwhile, was simply a colossus. The 38-year-old was everywhere, sacrificing his body to make 18 clearances, block multiple shots, and make one vital last-ditch intervention on what looked like a certain Chiesa goal. His leadership, both vocal and by example, would've been useful on the other side of the pitch, where Juventus have been oddly passive this season.
Sacking Pirlo would be a mistake
Harrowing as this setback was, the numerous calls for Andrea Pirlo's head are misguided. At least for now. If Juve truly are playing the long game – as the hiring of a rookie manager and the club's recent transfer practices would suggest – then they must be willing to accept the hits that accompany that process.
Such hits aren't something one typically associates with a team that's won nine consecutive league titles, but that's the reality of the situation.
"I am the coach of Juventus, I was brought in for a more ample approach, a project that was always meant to develop over several years, so I am not concerned," Pirlo told Sky Sport Italia after Tuesday's match, as translated by ESPN.
Would that assertion be easier to stomach if they were still in the Champions League? Of course. But he's not wrong. It's impossible to know whether he's the right person for the job after less than a full season, particularly one as strange and unique as this.
Haaland will smash all the records
Tuesday's show of domination was yet another reason to believe the most revered Champions League records aren't safe if Erling Haaland comes close to maintaining the form that's made him a superstar at 20 years old.
After extending his streak of successive Champions League matches with a goal to six in the first half of Tuesday's second-leg draw with Sevilla, the Borussia Dortmund star claimed his second of the night to become the youngest player in Champions League history to reach the 20-goal mark.
Perhaps even more impressive was the speed with which he reached the feat: The Norwegian only needed 14 games to reach the 20-goal mark, smashing the record held by Tottenham Hotspur star Harry Kane, who played 24 games before scoring his 20th Champions League goal.
Mock Haaland at your own risk
Setting records is nice and all, but exacting revenge might've been the highlight of Haaland's night.
Emotions were running high when Sevilla goalkeeper Yassine Bounou mocked the Dortmund star moments after saving his penalty. But Bounou's taunts were premature, as it was determined the Moroccan international came off his line.
Predictably, Haaland got the last laugh after burying his second chance. He also let Bounou hear about it by screaming at him from close range.
A possible rematch with Paris Saint-Germain could be another opportunity for revenge after players from the French side, led by Neymar, mocked Haaland's trademark celebration following Dortmund's Champions League exit last season.
The teenager who can do it all
Jude Bellingham's talents were obvious from a very early age, and Birmingham City were keen to make the most of them. So, the academy staff tried to make him a midfielder who could do a bit of everything; a player who wasn't just comfortable as a No. 6, No. 8, or No. 10, but one who could thrive in each role.
Birmingham's plan worked. In what was already his sixth Champions League start, Bellingham was one of Borussia Dortmund's best players in their 2-2 draw with Sevilla. The 17-year-old's energy was boundless as he worked to nullify the opposition's aggressiveness in midfield with game-high numbers in tackles, duels won, and fouls drawn.
The young Englishman's passing wasn't the best – his accuracy was below 70% – but that wasn't Dortmund's game plan; they spent much of the fixture trying to absorb Sevilla's pressure, and Bellingham was key to his team's success in that regard. For comparison, his passing accuracy in his first Bundesliga season is a respectable 83.5%.
This kid really can do it all.
Lopetegui couldn't have done things differently
Luuk de Jong isn't the grade of striker you'd expect to see in the Champions League knockout rounds. He is, let's say, more Turf Moor than Camp Nou. As for Youssef En-Nesyri, the jury is still out in light of his tendency to be a streaky scorer.
But while they are the only center-forwards at Sevilla's disposal, it made sense for the Spanish side to cross again and again in Tuesday's match. En-Nesyri's percentage of successful aerial duels in La Liga is only 0.2% lower than Andy Carroll's rate for Newcastle United in the Premier League. De Jong, who was brought on after an hour, scored two headers in last season's Europa League final, and despite being shorter than En-Nesyri, still stood taller than three members of Dortmund's four-man defense. Pinging balls into the box was the right thing to do.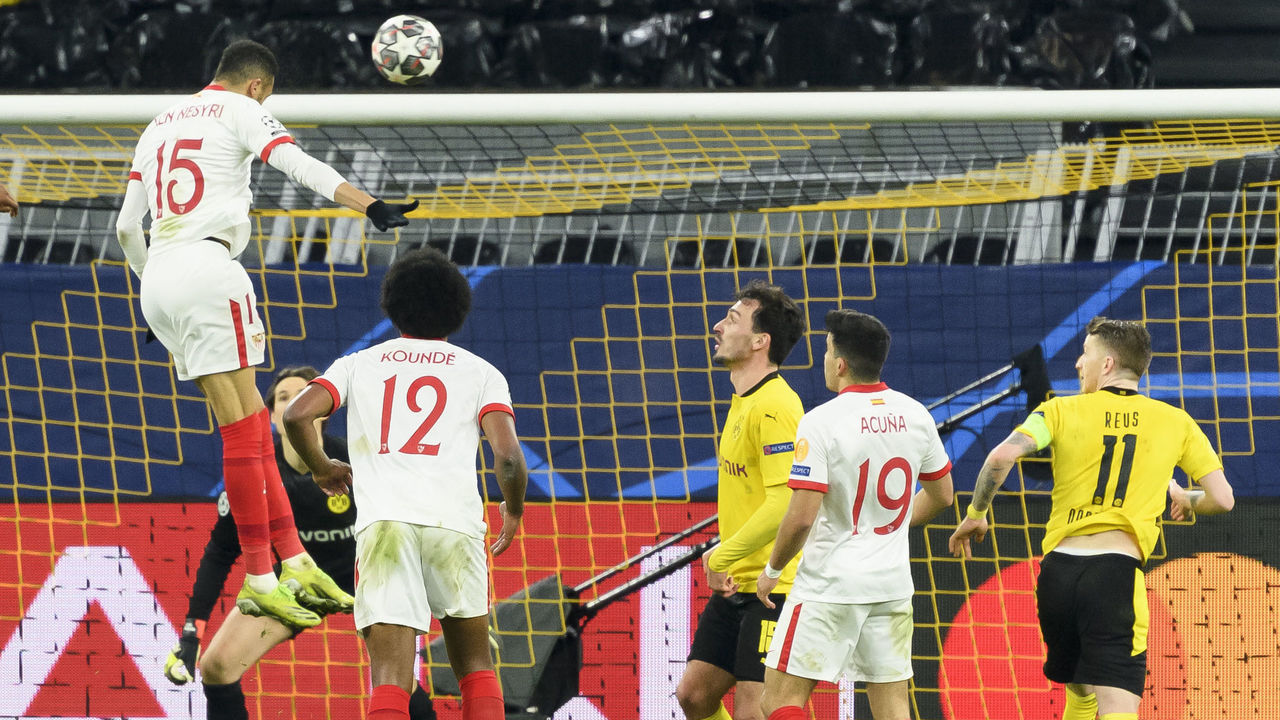 Julen Lopetegui's men were better than Der BVB for most of the match as they smashed 47 crosses over 90 minutes, but they eventually fell short in a 5-4 aggregate defeat. With a bit more luck, Sevilla would have been Champions League quarterfinalists for the first time in three years.
It will be interesting to see where the club goes after this elimination. En-Nesyri could fetch a high fee with Premier League clubs circling, and De Jong turns 31 in August. Is it time to change things up? Or, with cash reserves low amid the pandemic, does Lopetegui stick and try again with a strikeforce that has more physicality than technical ability?
Koeman doing good work at Barcelona
Barcelona can take the positives from Wednesday's 1-1 draw at PSG. They didn't score the four goals they needed to overturn the tie, but Ronald Koeman's side put in a much more distinguished performance away from home. Barcelona pressed higher, created more chances, and kept things cleaner at the back. The club looked more like the Barca that have gone unbeaten for 16 La Liga matches than the sad-sack bunch that crumbled 4-1 in the first leg a month ago.
"OK, we are out, which is what counts in this sport. But we leave with good sensations," Koeman told reporters. "We had opportunities to make things very complicated for our rival. We were the superior team in the first half, taking big risks at the back with man-to-man marking. Really, we deserved more for that effort."
Koeman's right. On the whole, the Blaugrana have become a much tighter, more composed team under the Dutchman's supervision, and some of the academy's most promising players have contributed. The club has become more flexible with their back three, with Frenkie De Jong controlling play in the middle and Jordi Alba liberated in midfield. Even Ousmane Dembele – once considered damaged goods – has rediscovered the form that convinced Barca to sign him for more than €100 million.
Most importantly, these last few months have provided Lionel Messi proof that maybe, just maybe, there's a project at work after all.
Navas always shines in the Champions League
PSG goalkeeper Keylor Navas showed once again why he's one of the best shot-stoppers around with a nine-save performance against Barcelona.
Navas usually saves his best work for Champions League nights – the Costa Rican keeper recorded the second-longest shutout streak in competition history at 738 minutes while playing for Real Madrid. The 34-year-old backstopped Madrid to several titles, including three consecutive Champions League crowns, before moving to PSG in 2019.
Along with Marquinhos, Navas may go down as PSG's shrewdest signing in the Qatar Sports Investments era.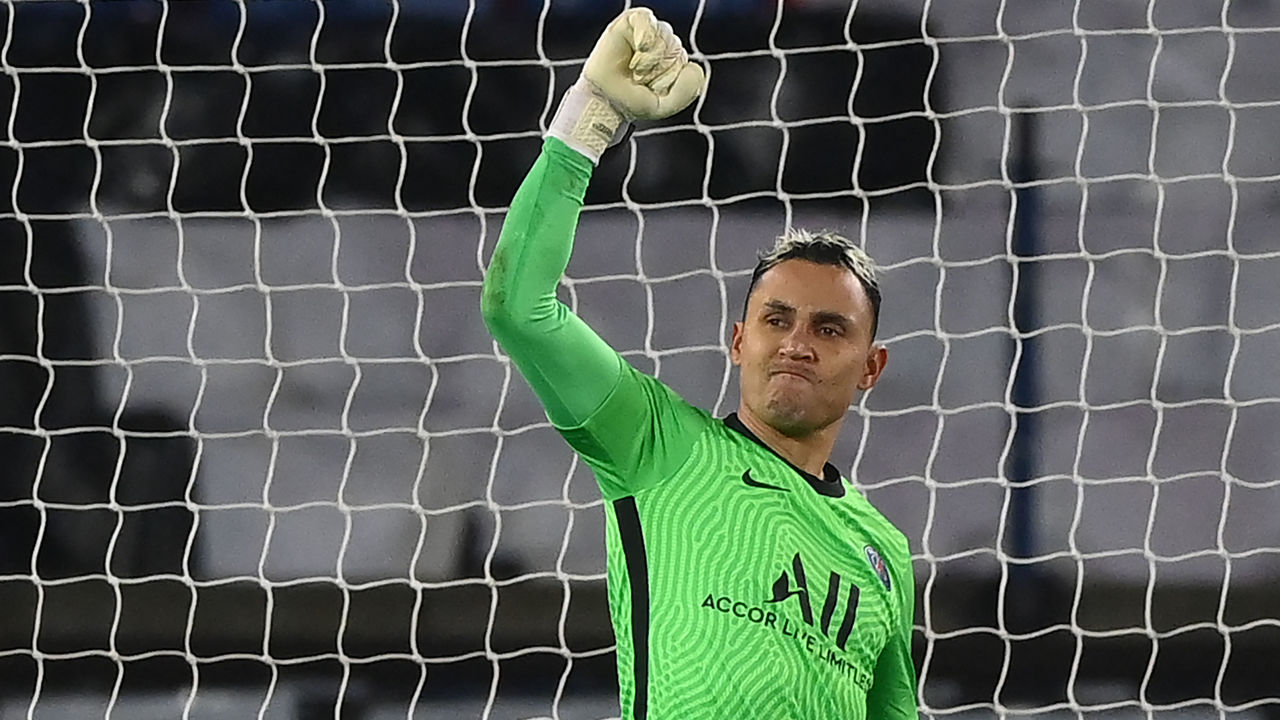 On Wednesday, he was the difference. Navas had already made seven stops even before saving Messi's penalty. As Barca grew in confidence, he somehow managed to tip Sergino Dest's fierce strike onto the crossbar – a quick reaction that may have changed the appearance of the tie.
PSG struggled to deal with Barca's press, and their opponents often found ways behind the defense, but Navas was always there to clean up the mess.
Phillips could force Klopp to rethink
Nathaniel Phillips' frustration on Merseyside is quite forgivable. Phillips was already 23 when he made his league debut with Liverpool last October, and he still found minutes hard to come by in the months that followed as injuries sidelined fellow center-backs Virgil van Dijk, Joe Gomez, and Joel Matip.
Phillips has been named on the bench 18 times this season, and on 17 of those occasions, either one or both of Fabinho or Jordan Henderson were picked ahead of him in the middle of the defense. Rather than pick a natural center-half, Jurgen Klopp has instead elected to keep Fabinho and Henderson in his backlines, weakening his midfield in the process.
Klopp might change his mind now. Phillips, like fellow reserve center-back Rhys Williams, isn't the fastest, but he kept things simple in Wednesday's 2-0 win over RB Leipzig. The Englishman basically tattooed himself on Leipzig's attackers with his tight marking, relished aerial duels, and smashed five clearances up the park. It was old-school stuff from Phillips, but it was definitely effective.
This should be Klopp's cue to tweak his mindset and potentially address his team's domestic woes. Pulling Fabinho or Henderson away from the middle to bolster the rearguard has proven too costly, so bringing it back to basics by picking players in their right positions could be the start.
Phillips should feel disgruntled if he's not facing Wolverhampton Wanderers next Monday.