And then there were four. The Champions League semifinals begin this week with a pair of intriguing matchups on deck. Here's a breakdown of each contest, along with predicted outcomes.
Manchester City vs. Real Madrid
First leg: April 26 (Etihad Stadium)
Second leg: May 4 (Santiago Bernabeu)
The 13-time champions, who boast about the European Cup being part of their DNA, against a club that's desperate to validate its project on the continental stage by capturing the famous trophy for the first time.
Real Madrid and Manchester City, coming off equally chaotic but very different quarterfinal triumphs, meet in this round's marquee matchup. It wouldn't really be accurate to dub this the old guard of European football against the new – Manchester City have been the dominant force in English domestic football for the last decade, after all. But the sport's changing financial landscape – and thus its power shift toward England – hasn't yet resulted in City winning their most desired accolade: the Champions League.
"If we had to compete with history, we wouldn't have a chance," Pep Guardiola said of the impending clash. "Their history speaks for itself.
"We have to have the desire to compete against them. To play against Real Madrid is an incredible test. We want to try it. We need to suffer, to stick together, when we have the ball, try to attack."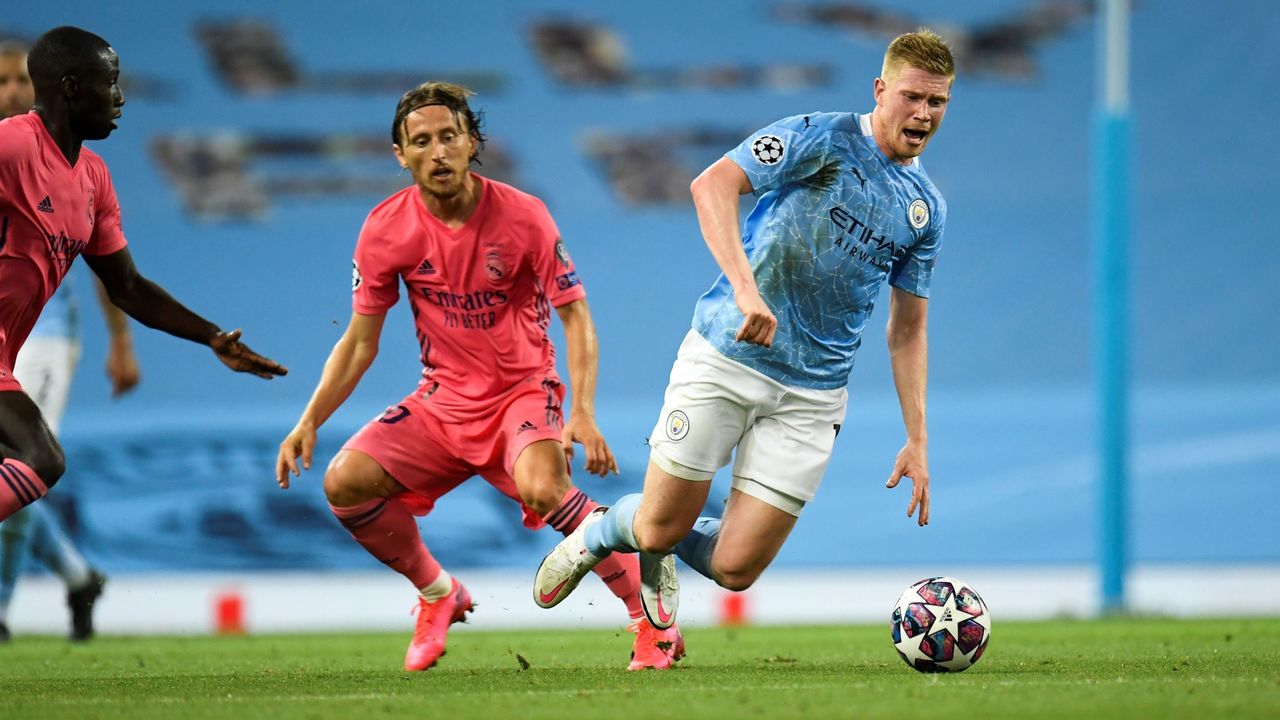 Joao Cancelo's absence looms large over the first leg; the Portuguese full-back, a creative fulcrum from his nominally defensive position, is suspended for Tuesday's affair. There are very few players in the world capable of replicating Cancelo's attacking impact. With respect to the possible replacements in Guardiola's squad, none of them play for Manchester City. Injuries to Kyle Walker and John Stones are concerning, too, especially considering that Vinicius Junior isn't exactly the opponent you want to see when faced with a selection crisis at right-back.
Guardiola, often ridiculed for "overthinking" his lineup and tactical choices in recent Champions League seasons, has no choice but to concoct something unique after admitting that both Walker and Stones are "doubts" for Tuesday.
Absentees aside, Guardiola can – and should – take solace in a simple yet vital fact: Manchester City is the better team. By the Expected Goals (xG) metric, City have both the best attack and defense of the four semifinalists remaining in this year's competition; their xG difference of 12.6 is vastly superior to Real Madrid's mark (4.2). Yes, Madrid has faced tougher opposition in the knockout stages, but City navigated a more difficult group.
Real Madrid, as they did in each of the last two rounds, will have to rely on less tangible factors. It's impossible to measure, but the experience and self-belief that decorated veterans like Karim Benzema, Luka Modric, Casemiro, and Toni Kroos possess means there's never a sense of panic on the pitch, particularly when the second leg is played at home.
"At the Bernabeu, nothing is ever lost," Carlo Ancelotti said after the rousing quarterfinal with Chelsea, which the red-hot Benzema decided in extra time. "I can't explain it, but there is a magic at the Bernabeu that helps you."
By every quantifiable metric, Guardiola's team is superior. If that "magic" is real – and, honestly, after seeing Madrid conjure up seemingly impossible Champions League victories out of the ether on countless occasions, it just might be – they'll need every last drop of it to topple Manchester City.
This time, previous success might not be enough to beget more of it. City, last year's defeated finalists, are on a mission to write their own chapter of history.
Prediction: Manchester City advance after extra time
Liverpool vs. Villarreal
First leg: April 27 (Anfield)
Second leg: May 3 (Estadio de la Ceramica)
Juventus. Bayern Munich. Liverpool?
Villarreal, the modest Spanish club making its first appearance in the Champions League semifinals since 2006, is aiming to pull off yet another upset and extend a remarkable European run that's being savored in an era otherwise dominated by uber-rich "super" clubs with unlimited resources.
This would be their biggest surprise yet, though, and by some margin.
Unai Emery's unflappable unit will have to overcome a Liverpool team that has just one loss in all competitions since Dec. 28. Looking to reach a third Champions League final in five seasons, this is arguably the best squad Jurgen Klopp and the Reds have put forth in that stretch.
"They have probably the most successful cup competition manager in world football, so he knows what he is doing," Klopp said of his opposite number. "Unai Emery is the king of the cups. It is unbelievable what he is doing."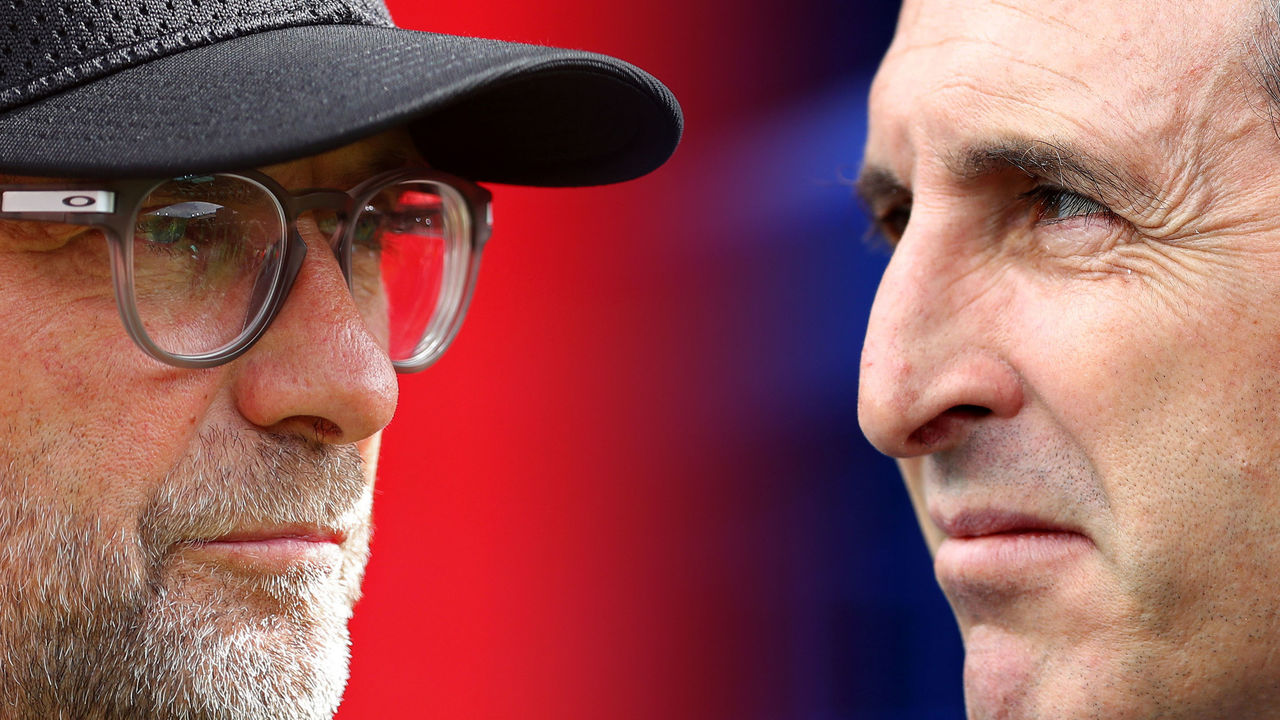 How Emery compensates for the expected absence of injured striker Gerard Moreno will be the most intriguing tactical wrinkle of the first leg, and perhaps the most decisive of the entire tie. Giovani Lo Celso, as he's done on occasion, could play a more advanced position behind Arnaut Danjuma. Having the Argentine in a faux No. 10 role would then allow Emery to pack the center of the pitch by introducing another midfielder, possibly Manu Trigueros or Francis Coquelin, into the lineup in an effort to wrest control. At the very least, it'd offer some resistance against Thiago, who's again at his metronomic best at the heart of Liverpool's midfield.
That conservative option seems most likely, based on Emery's track record in the competition this season. This is a team, remember, that knocked out Bayern Munich despite ceding possession almost entirely and having just two shots on target over the 180 minutes.
Can such a guarded approach work again?
Though unlikely, if Emery wants to be more aggressive, quarterfinal hero Samuel Chukwueze could be inserted into the starting XI, which would potentially help to keep Andrew Robertson more honest down the flank.
But even if the Basque strategist solves that conundrum, he still needs an answer for the other side of the pitch, where Trent Alexander-Arnold and Mohamed Salah will try to overwhelm the sometimes overzealous Pervis Estupinan. Trying to shut down Liverpool is like playing whack-a-mole – if you put out one fire, another immediately springs up.
We've been burned before siding against Emery, but beating this Liverpool team is a different proposition to anything the Yellow Submarine have faced thus far. Villarreal will make it tight, of course, but Klopp's rampant side is simply on another level that only Manchester City can match this season.
Get ready for an all-English Champions League final. Again.
Prediction: Liverpool advance 3-2 on aggregate