The Champions League rumbles on with Matchday 2 this week. Below, we dissect the biggest talking points from Tuesday's action in Europe's premier club competition.
Son becoming a big problem for Conte
Son Heung-Min has now gone eight games without a goal, and if his performance in Tottenham Hotspur's surprising 2-0 defeat to Sporting CP on Tuesday is any indication, the drought will continue for some time.
Many expected Son to take his game to the next level, and rightfully so. The South Korean forward finished the 2021-22 Premier League season with 12 goals in his final 10 appearances, enough to earn him a share of the Golden Boot award. But his form in front of goal since the start of August has dropped dramatically. Son's failed to convert any of his 18 attempts on goal, and only half of those have been on target.
Son didn't register a single shot Tuesday against Sporting 'keeper Antonio Adan, and one of his only two touches in the penalty area came from an offside position. He just couldn't connect with the rest of his teammates. Clearly frustrated, Spurs boss Antonio Conte replaced him after 72 minutes – and Son's lucky he even lasted that long.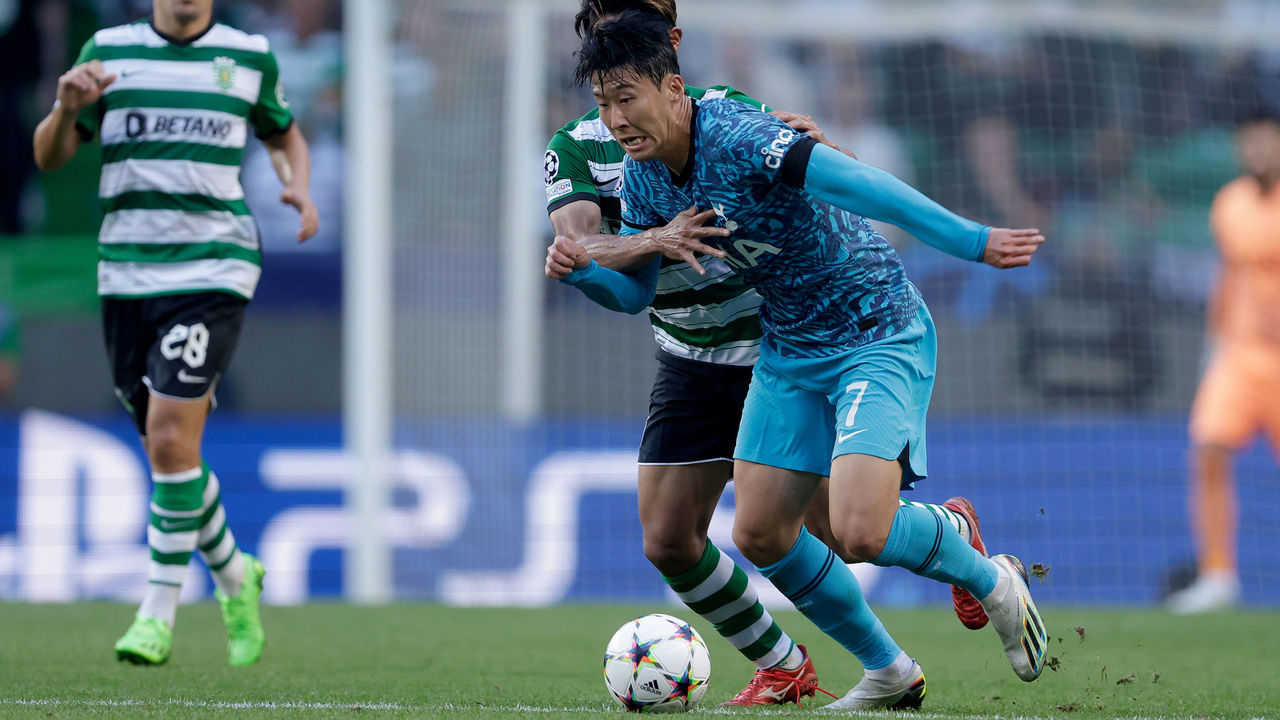 The 30-year-old's substitute Dejan Kulusevski showed much more attacking impetus in the final quarter of an hour, appearing on the left and right to create chances. With Richarlison also comfortable playing on the left wing, Son's place in Conte's starting lineup could, and probably should, come under scrutiny.
Richarlison has played extremely well in his limited time on the pitch, showing greater compatibility with Harry Kane and the will to get into scoring positions. Initially signed to provide depth, the Brazilian forward could now earn a significant run in the team, with Kane up front and Kulusevski returning to his usual place on the right. That spells trouble for Son, whose native South Korea is banking on him to lead the way in the World Cup. But Conte can't afford to wait for anyone – not even one of the Premier League's best players.
That's more like it, Liverpool
Jurgen Klopp got the response he demanded.
In a game Liverpool desperately needed to win after opening their Champions League campaign with an embarrassing defeat, Klopp's men delivered a strong defensive performance on their way to beating Ajax 2-1 and picking up their first three points of the tournament.
The result offered a huge boost for a Liverpool side that was left reeling after last week's abysmal performance in Italy.
In the aftermath of the 4-1 loss to Napoli, there was plenty of uncertainty about the Reds' ability to rebound from what Klopp described as the team's "worst" performance since his arrival. Klopp delivered "four or five days of absolute truth" to his struggling squad.
Although Liverpool's route to victory was anything but direct, the rallying cry seemingly worked. After Mohamed Salah's first-half goal, poor play from Trent Alexander-Arnold and Virgil van Dijk was largely responsible for Ajax's equalizer before halftime. The Reds' attack went sterile after the break until unlikely hero Joel Matip's 89th-minute winner sent Anfield into a frenzy.
Although Liverpool have a ways to go before they're comparable to the outfit that dazzled last season, Tuesday's victory was undoubtedly a relief for a club that's underachieved for much of the season so far.
When heavyweights collide
That was fun.
Bayern Munich and Barcelona, familiar foes in recent seasons, delivered a rousing spectacle in Bavaria on Tuesday. It was only a group-stage affair, but the almost unhinged intensity and elite skill on display were befitting of a final. Both teams pressed fiercely, trying to play on the front foot and not allow their illustrious opposition any time to breathe. Tackles were flying, and bodies were often strewn across the pitch as the two sides went blow-for-blow, racing up and down the field and exchanging rapid attacks peppered with quick, clever passing sequences and exquisite dribbling.
Alphonso Davies and the rejuvenated Ousmane Dembele – and fellow winger Raphinha – engaged in a series of explosive tussles that were as entertaining as the actual match itself. A game within the game. Teenage midfielders Pedri and Gavi were two standout players in the first half as Barcelona, looking to regain their status as Europe's elite footballing institution, played with the incisiveness, inventiveness, and swagger of their peak years. The club's financial future may be tenuous, but things look bright on the pitch.
But Bayern, despite still looking vulnerable defensively when put under pressure, didn't crack. Julian Nagelsmann's decision to introduce Leon Goretzka to begin the second half was vital, and the German juggernaut helped turn the tide in his side's eventual 2-0 victory.
"In the first half we had a lot of chances to score, and when you forgive so much against a team like this, you end up paying for it," Pedri, wise beyond his years, said following the defeat.
Those ebbs and flows are the hallmarks of memorable Champions League nights.
The group stage of Europe's premier club competition has been increasingly neutered as the gulf between football's wealthy elite and everyone else has continued to grow over the years, making it more difficult for Cinderella stories to develop. But Tuesday's clash at the Allianz Arena was a reminder of everything that's still good about the tournament. When heavyweights collide, it's still the most riveting show around.
Lewandowski's rare off night
Captivating as Tuesday's match in Bavaria was, it didn't quite go according to plan for Robert Lewandowski.
The prolific Pole, who scored 344 goals in 375 Bayern appearances before departing for Barcelona this past summer, was given a predominantly warm reception upon his return. But a smattering of boos emanated from a fan base that isn't totally at peace with the acrimonious nature of Lewandowski's departure. Not quite hostile, but there was tension in the air.
"I think for Lewy, it was really an emotional game to come back," said Bayern captain Manuel Neuer after the match. It's impossible to know if that harmed the forward – even the most accomplished veterans can get butterflies – but whatever the reason, Lewandowski was just slightly off at the Allianz Arena. A rare sight over the years.
The 34-year-old spurned two glorious opportunities in the first half, whistling a volley just over the crossbar from inside the box before sending a close-range header at the back post right into Neuer's chest. Another good chance went begging when Noussair Mazraoui made a last-ditch block late in the first half. From there, Bayern's defenders corralled him, and whenever Barca did scamper forward menacingly, Lewandowski couldn't find the right timing and connect with his teammates.
Lewandowski had nine goals in his first six games with Barcelona going into Tuesday's encounter, but his dream start to the season ended with a thud in the one match he was surely more excited about than any other.
What's happening in Group B!?
This comes with the caveat that it's still very early – we're only two games into this campaign's Champions League, after all. But Group B, against all odds, is already shaping up to be a wild ride.
Club Brugge sit atop the quartet with a perfect record after waltzing into the Estadio do Dragao, a typically intimidating venue, and crushing FC Porto on Tuesday. Despite losing Charles De Ketelaere over the summer, the Belgian club certainly wasn't lacking an attacking spark in its 4-0 rout.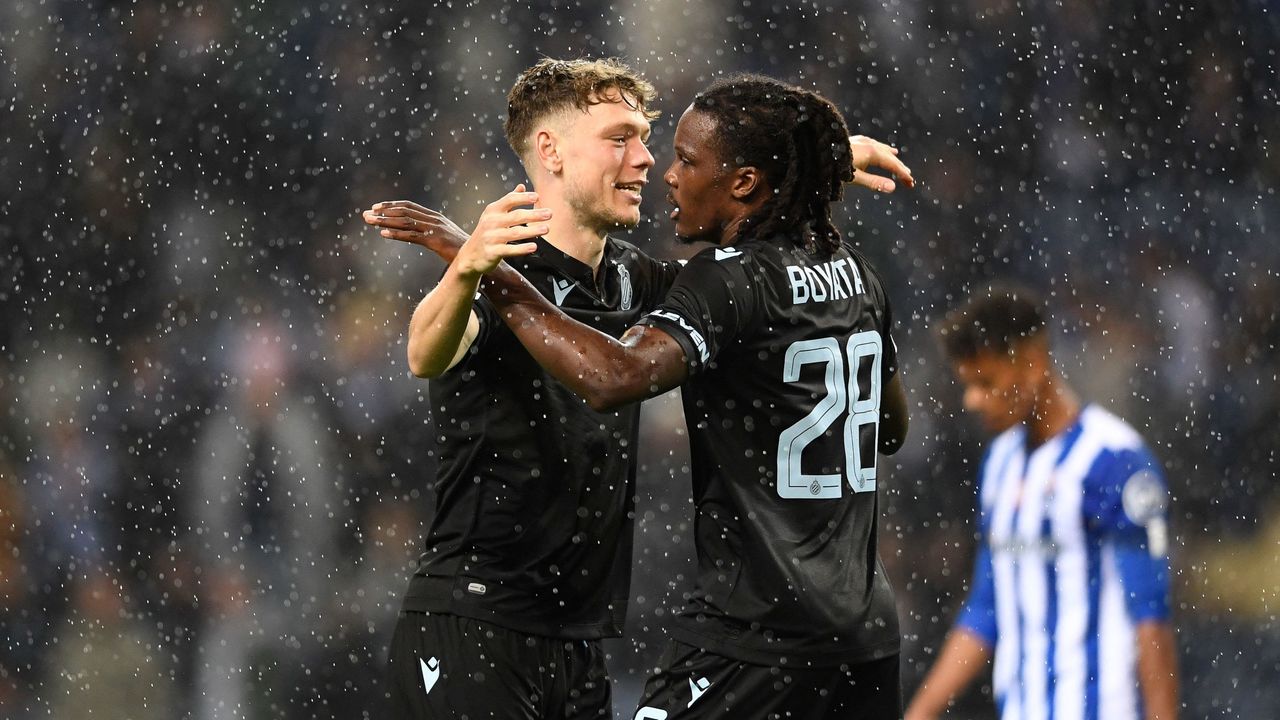 The surprises didn't stop there, though, as Bayer Leverkusen put their woeful early-season form behind them to claim a 2-0 win against overwhelming group favorites Atletico Madrid. Leverkusen went into the match having lost six of their eight games in all competitions to begin the new campaign, so naturally, they shut down Diego Simeone's side. Throw all reason out the window.
Group B, viewed after the draw as lacking much intrigue or excitement, is flipping the script.