As we await the full return of world football, we're taking this opportunity to look back on some of the most memorable goals ever scored. Going frame by frame, we'll dissect how, exactly, these epic moments came to fruition.
Who, where, and when?
Goalscorer: Lionel Messi (Barcelona)
Match: Barcelona vs. Manchester United
Competition: Champions League (final)
Date: May 27, 2009
Barcelona's 2008-09 season will go down as one of the greatest a European football club has ever authored.
Boasting a 22-year-old Lionel Messi, a spectacular midfield, and rookie manager Pep Guardiola, the club became the first Spanish side to capture the treble, capping its league- and cup-winning domestic campaign by securing the continent's most coveted honor, the Champions League title.
Though it wasn't an end-to-end affair, Barca's 2-0 win over reigning champions Manchester United in the final will long be remembered for the magical moment in which Messi, the tournament's top scorer that season, found the net with – of all things – a picturesque victory-sealing header.
Here's the goal, complete with a bevy of wonderful slow-mo angles, in its entirety:
Let's examine how Messi was able to deliver an iconic Champions League moment, and score a goal he later described as one of his career best.
Setting the scene
The sequence actually begins with Manchester United in possession, as goalkeeper Edwin van der Sar tries to play a long ball out to the left wing in the direction of Cristiano Ronaldo and Patrice Evra.
Exactly 20 seconds after the Dutch netminder boots the ball, it's in his net. Events unfold quickly at the highest level, especially when you throw in a couple of seemingly innocuous mistakes, and some of the greatest footballers to ever play the game.
Barcelona captain Carles Puyol, deployed at right-back because Dani Alves was unavailable due to a suspension, sets things in motion with an instinctual play.
There's a moment of hesitation between Ronaldo and Evra – a case of "I got it, no you take it" – when Van der Sar's pass is in flight, and Puyol pounces. The Spaniard charges between the Manchester United duo and picks off the clearance, bursting forward as the rest of the Red Devils' backline retreats.
Ronaldo, not exactly known for his exuberance when tracking back and putting in defensive work, watches as Puyol strides away before playing the ball out to the right wing for Samuel Eto'o. Keep that locked away for later, because it eventually becomes very important.
A botched clearance
When Eto'o drives a cross into the box, United are seemingly in good shape.
Despite starting to commit more players forward in search of an equalizer while trailing 1-0 at the time with just over 20 minutes remaining, they still enjoyed a numerical advantage on the play. Five United players were in a defensive position compared to just three Barcelona attackers looking to put the contest on ice.
The retreating Ryan Giggs sticks out a leg and cuts off the cross, poking it toward Evra. This is when things start to fall apart for United.
Under no pressure from Eto'o, Messi, or Puyol – and with nothing but the Stadio Olimpico pitch in front of him – Evra had eons of time to control the ball and stride forward. Instead, the Frenchman tries to hoof it away, but he doesn't make clean contact and puts it right to Xavi, who's about to enter the frame.
All the time in the world
Now, remember the lallygagging Ronaldo? Had he shown a little more vigor while retreating, he likely would've been able to retrieve Evra's botched clearance, or at the very least pressure Xavi.
Neither of those things happened. The Spanish pass master gets the ball under his spell and immediately starts scoping the field, while Ronaldo does … basically nothing.
Ronaldo isn't solely at fault, of course. A number of things still had to occur after Xavi assumed possession for the ball to end up floating overtop of Van der Sar's head, three of which take place almost simultaneously:
Nobody else closes down Xavi, either. Evra can't charge forward and pressure the ball because he's wary of leaving Eto'o alone on the wing.
The domineering Nemanja Vidic isn't willing to rush too far out of the penalty area, which is somewhat understandable for a center-back who made his career out of being a brick wall inside his own box. Ideally, a defensive midfielder would confront Xavi, but amid the hubbub of the initial play, United became discombobulated. Vidic was actually the one who shifted over to confront Eto'o (first screenshot), as Evra was still racing back into position.
Rio Ferdinand, who's marking Messi, is flat-footed for a split second as Xavi starts to set himself for the pass.
A split-second lapse, and a perfect pass
It's important to note that Ferdinand, who together with Vidic formed one of the most celebrated central defensive partnerships in Premier League history, stands 6-foot-2. Barcelona list Messi, meanwhile, at 5-foot-7, but that's almost certainly an exaggeration of his actual height. Either way, under no circumstance should the little Argentine ever outdo Ferdinand in the air.
"It was hard to imagine that I was going to score with my head with (Rio) Ferdinand standing near me, but I didn't really have a marker – the ball came into the center and I was there to meet it," Messi later said.
Ferdinand isn't quite tight enough to the Barcelona megastar, leaving just enough space for Xavi to drop a dime onto his teammate's head. Were it someone else, the cross may not have been perfect, and Ferdinand could have headed it to safety.
Unfortunately for Sir Alex Ferguson and Manchester United, Xavi is one of the greatest passers in football history. Once he clipped the ball into the area, Ferdinand was cooked.
To say Messi isn't known for his aerial abilities would be an understatement. He's scored 627 goals for Barcelona throughout his storied career, but precious few – 22, to be exact – have come with his head.
As such, it's perhaps unsurprising that he misjudges the flight of the pass, overrunning it ever so slightly, and then needing to hang in the air for a second and contort his body to make contact.
This isn't the form you expect to see on a typical headed goal:
In fact, Messi is almost facing sideways when he gets his noggin on the cross.
The stunned responses
Considering Messi himself was surprised, in hindsight, that he scored such a goal, you can forgive the Manchester United players for being equally shocked.
John O'Shea, the versatile Irishman who was a staple of the Ferguson era at Old Trafford, lined up at right-back for the match in Rome, and his reaction was appropriate after the ball was nestled beyond Van der Sar:
One of the lasting images is of the shot-stopper himself, mouth agape as Messi's header begins to soar over his head.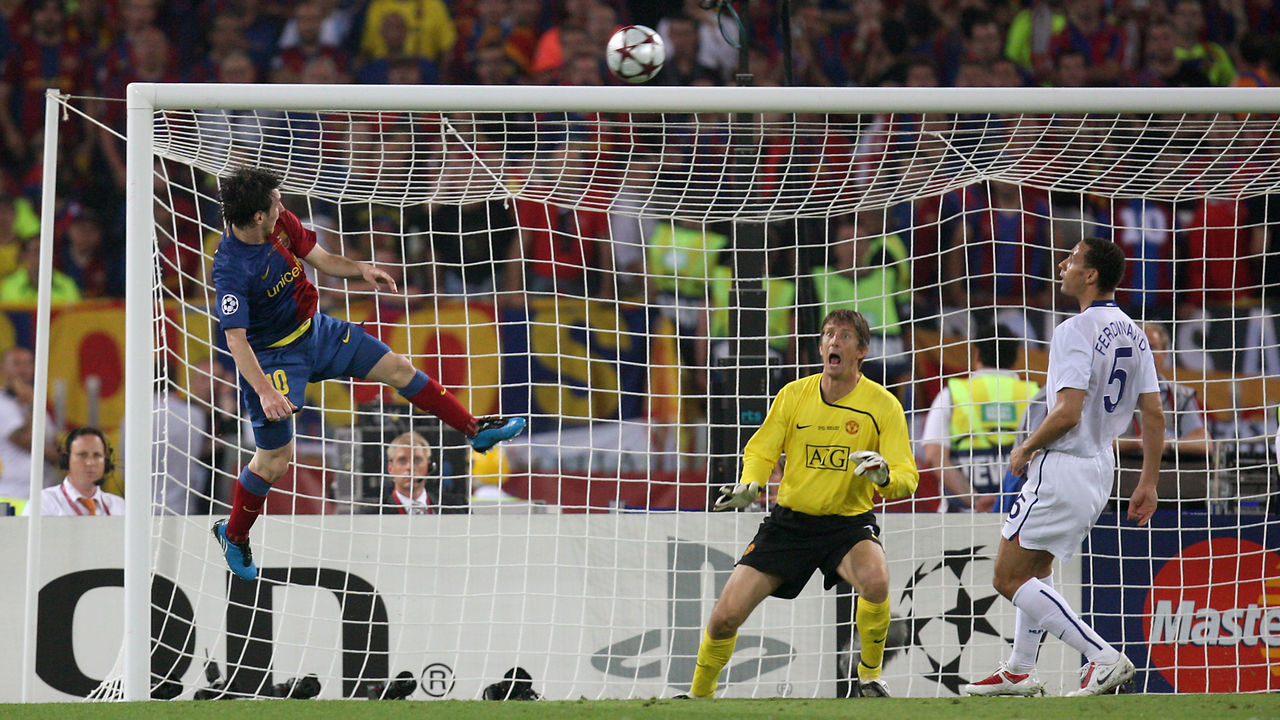 The final word here goes to Messi, who, despite scoring an indelible Diego Maradona-esque goal, gorgeous free-kicks aplenty, and numerous other sensational efforts, counts this header as one of his most treasured tallies.
"My favorite goals are more than just attractive; they are important," he later said. "It was in the Champions League final and helped us to close the circle with Guardiola and win the (treble), which we had never done.
"That goal rounded up a spectacular game."