Earlier this year, when Tottenham lost four of nine league outings heading into the pandemic-forced work stoppage, Jose Mourinho was labeled a tactical dinosaur. The game passed him by, and his greatest days were so far in the rearview they had begun to resemble folklore.
Parking the bus was an antiquated scheme that no longer delivered results. How quickly things change.
Heading into Sunday's north London derby against sputtering rivals Arsenal, Tottenham are suddenly veritable title contenders. How did they turn things around?
A successful series of pragmatic additions
For starters, having the right players goes a long way to performing well in a rigid system. Tottenham's summer signings addressed the shortcomings of the previous campaign.
Sergio Reguilon and Matt Doherty are upgrades at both full-back positions over Ben Davies and Serge Aurier. Reguilon has been a marauding presence on the left flank and a dead-ball threat who combines well with the attack. The Spaniard has been the better of the two Real Madrid recruits (still waiting on Gareth Bale), and Doherty has swiftly shed the moniker he garnered at Wolves as a "systems player."
Since their additions, Spurs have yielded just three goals away from home as part of the league's best defensive standard, recording three clean sheets in five outings outside of their opulent north London digs. Last season they managed just two clean sheets on the road (scoreless draws at mighty Watford and Bournemouth, no less). It's a stark difference.
Pierre-Emile Hojbjerg also merits praise. What the 23-year-old's initial £15-million move from Southampton lacked in glitz, it more than made up for with industry and graft. Loads of it.
Heading into Sunday's derby, Hojbjerg is joint-top in the Premier League in tackles (36) and tackles won (22), and is joint-sixth in pressures (180). The Dane fills holes in front of Tottenham's backline before they appear. Manchester City can attest to that. He's also third in total touches (821) and joint-second for passes into the final third (68) while playing every minute in the league this season. Hojbjerg is the perfect muse for Mourinho's low defensive block: a no-nonsense, hard-working midfielder that's been the hallmark of the Portuguese gaffer's greatest sides.
Hojbjerg has also made the lives of those around him simpler, with individual tasks now more focused and concentrated.
Tanguy Ndombele is among the biggest benefactors. The Frenchman has been near-infallible this season as Mourinho's version of a No. 10. He initiates the press, often as the furthest advanced player closing down opponents, and quickly moves the ball with precision. Mourinho deserves credit for motivating Ndombele and changing his role, but so does the £67-million midfielder formerly coined as a transfer bust.
Simplicity reigns supreme for Mourinho
There's nothing revolutionary about Mourinho's current tactical practices or approach to man management.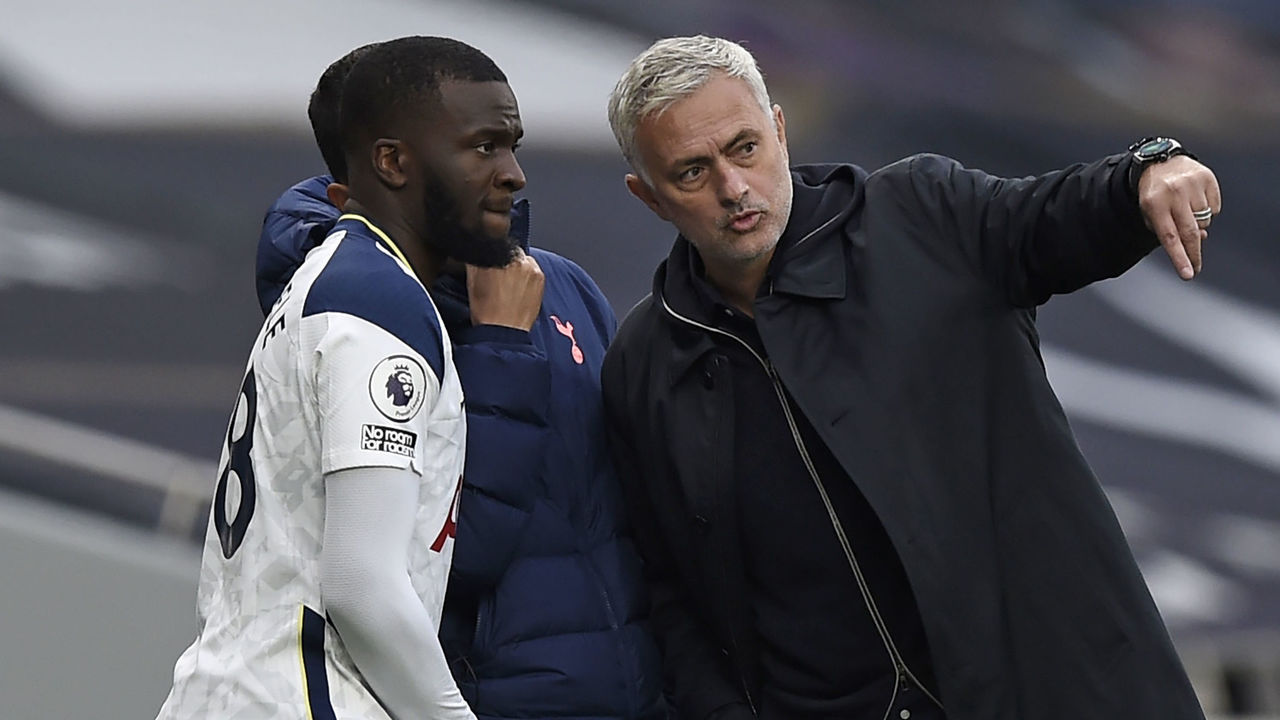 Take Ndombele, for example. He's like a new signing after a debut season spent in Mourinho's doghouse. Following a string of woeful performances where Ndombele looked unbothered, Mourinho publicly questioned the 23-year-old's desire after an awful display versus Burnley.
Mourinho is no stranger to ostracizing players in hopes of getting more from them. Joe Cole, Ricardo Carvalho, Eden Hazard, Luke Shaw, and now, Ndombele, are lessons of when the manager gets it right. Even Aurier, who was the focal point of many of Mourinho's locker room critiques captured by Amazon's fly-on-the-wall "All or Nothing" documentary, appears revitalized.
Conversely, there's Paul Pogba, whose turbulent relationship with Mourinho while at Manchester United saw the World Cup winner stripped of the vice-captaincy amid repeated public quibbles. Ultimately, Mourinho's failure to get the most from Pogba cost him his job at Old Trafford. Surely, the manager can now revel in the coincidence that Ndombele has become exactly the player he wanted Pogba to be at United.
Does Mourinho have his mojo back? It's been a common refrain as Spurs enter title discussions. As much as there's an apparent spark evident in the boss' interviews and social media presence, Mourinho's style of play is working. It's as simple as that.
Tottenham took four points from Manchester City and Chelsea in the last two outings. Spurs were outshot 35-9 over those two matches, with just three of those nine efforts hitting the target. Three shots on target, two goals scored, zero conceded. It's peak Mourinho.
With Tottenham's back-four sitting deep and the midfield condensed around the tireless Hojbjerg, many of the shots Mourinho's men yielded in those two fixtures were from distance that did little to bother Hugo Lloris.
For Mourinho, it's all going to plan, but being difficult to score against doesn't necessarily result in victories.
Harry Kane: Mourinho's splendid talisman
Tottenham have to be lethal with the few opportunities they're afforded on the counterattack for the gaffer's overtly defensive system to succeed.
Harry Kane, the presumptive PFA Player of the Year frontrunner at this juncture, is an impeccable centerpiece.
Kane has long been a skilled passer, but that's often overlooked compared to the 27-year-old's prowess in front of goal. Instead of being one of the multiple attackers making intricate passes around the area like under Mauricio Pochettino, Kane can now drop deeper and find runners with a wide array of passes in Mourinho's scheme.
Those balls often find the probing runs of speedy attackers Heung-Min Son, Steven Bergwijn, Lucas Moura, and, at some point, Bale. Kane functions very well between the lines as a playmaker. He leads the Premier League this season with nine assists – more than he compiled in the previous three terms combined – and he and Son have formed the league's best-attacking tandem with 16 goals and 11 helpers between them.
"I think that's been the real difference. It's allowed me to create space and get the ball but have an option going forward as well," Kane said about his role under Mourinho.
Kane's 21 key passes put him among the league's best creators, and his nine through balls are tops in the division, a remarkable statistic for a striker. Pair those returns with a league-best 12 goal-creating actions and an astounding 54 progressive passes, and it's clear the English star's refined expertise is perfectly suited for Mourinho's direct, vertical approach.
A Premier League-wide trend of higher defensive lines and the increased popularity of pressing has only helped Tottenham's cause as tactical rebels.
With Kane leading the way, Mourinho's simple yet focused approach is working perfectly. It might be enough to carry them all the way to an unexpected title.