The 2022 World Cup is in full swing. At the end of every matchday, we'll review the biggest talking points emanating from Qatar and break down all the action on the pitch. Below, we look back on Tuesday's last-16 games.
Refreshed without Ronaldo
The problem with Cristiano Ronaldo – well, aside from the stroppiness that ruptured his relationship with Manchester United – has been evident for a while now. His stepovers are less bewildering, and his runs are less piercing since time has run its course, leaving a 37-year-old attacker whom teams must oblige.
It's rare that a modern side can carry a player who can sometimes be so static. He scores goals – he netted 18 times over 30 Premier League outings for Manchester United last season – but the question was always how much his colleagues would produce if he wasn't there. Playing to Ronaldo's strengths didn't necessarily play to United's. These concerns were top of mind when numerous clubs ruled themselves out of signing Ronaldo when he submitted a transfer request last summer.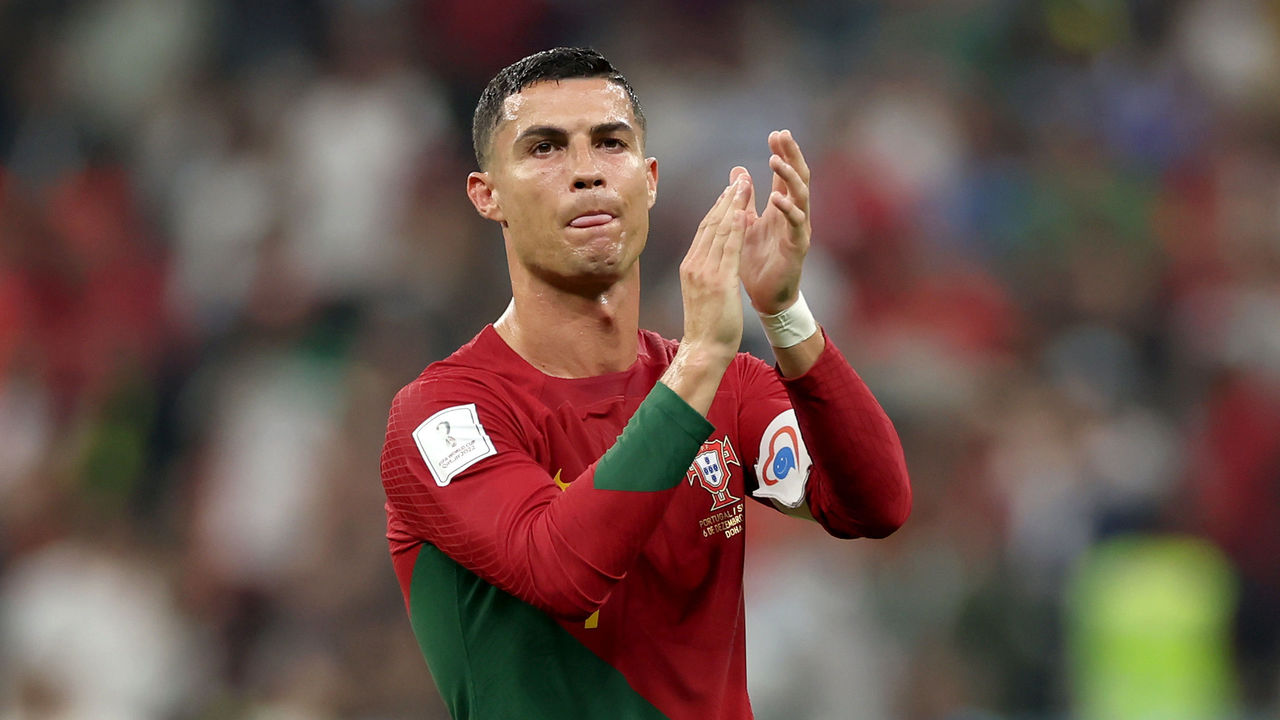 Ronaldo is now a free agent and, for the first time since 2008, on the bench at a major international tournament. Judging from the evidence of United's most recent performances and Portugal's 6-1 round of 16 rout of Switzerland, his former club and country might be better off without him.
It's a disappointing swansong for a footballer who's undoubtedly one of the greatest to ever grace the planet. Along with Lionel Messi, he's swept up countless individual records. He's won five Champions League titles, seven domestic championships, and numerous other accolades in club football and helped Portugal win Euro 2016.
But, while everyone accepted the sorry sight of an all-time great's powers dwindling, Ronaldo was in denial. He's used to being the talisman. His ego harmed his reputation at Manchester United and – following his angry reaction to being substituted during Portugal's final group game – resulted in him watching his replacement against Switzerland, 21-year-old Goncalo Ramos, hit a hat-trick in his first-ever Selecao start.
The veteran marksman can still be a hero for Portugal at this tournament – this is Ronaldo, after all – but the superstar won't currently look back on his 2022 in football with great pride.
Morocco defended like lions
Nobody, player or otherwise, is bolstering their reputation in Qatar quite like Walid Regragui. Prior to being named Morocco manager in August, the 47-year-old, a former defender, was coaching in his homeland with Wydad AC.
All he's done in the intervening months is author a historic World Cup run, transforming Morocco into an endearing side that's nearly impossible to penetrate; Tuesday's memorable shootout win over Spain made the Atlas Lions the first Arab nation, and only the fourth African team, to ever reach the World Cup quarterfinals. And Morocco deserved every last bit of the manic celebrations that Achraf Hakimi's deft Panenka sparked in Ar Rayyan.
No team at this World Cup has been more organized, resolute, and difficult to break down. Regragui's side, with Sofyan Amrabat bulldozing the opposing midfield, Romain Saiss anchoring the backline, and every player working in perfect defensive unison with one another, has conceded just one goal in Qatar. And even that was an own goal. Since Regragui took the job in late August – now a span of seven matches – Morocco hasn't conceded a single goal scored by an opposing player. Morocco shut down Croatia and Belgium before rendering Spain's possession futile. Even in the shootout against La Roja, Yassine Bounou's goal wasn't breached.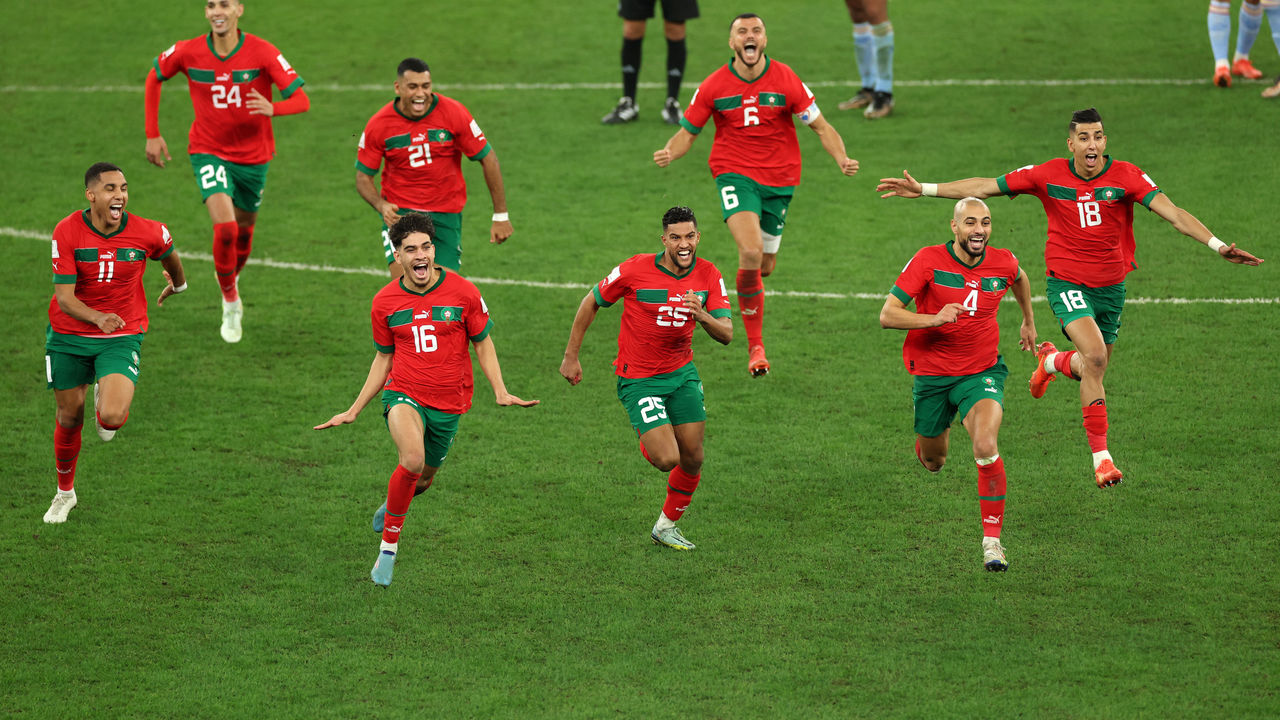 Morocco, the only team from outside Europe or South America remaining in the World Cup, is being spurred on by raucous support at every match. The Moroccan fans have arguably been the loudest of the tournament, creating a partisan atmosphere for every match. The whistles coming from the crowd as Spain passed the ball around on Tuesday were deafening. The fans roared with every Amrabat tackle, every Saiss clearance, and every bit of trickery and skill from wide attackers Hakim Ziyech and Sofiane Boufal.
With a watertight backline, individuals capable of winning a game at any moment, and a de facto home-field advantage, Morocco has all the ingredients necessary to keep this inspiring run going.
Familiar failings for impotent Spain
For Spain, Tuesday's defeat was eerily similar to 2018. Equally painful, too.
The European heavyweight hoarded possession against Morocco, just as it did four years ago in its last-16 match with host nation Russia. Spain attempted over 1,000 passes at Education City Stadium, an obscene benchmark it also eclipsed against the Russians. And, just like four years ago, Spain eventually lost on penalties, tripping over the first knockout hurdle.
At least the Spaniards actually converted some of their spot-kicks on that occasion, unlike Tuesday's feeble display from 12 yards out.
"It was a pity. It was decided on penalties in the most cruel way," said veteran midfielder Sergio Busquets, whose weak penalty was thwarted by Bounou. "It was tough, very hard for us. We tried to wear them down, give them the run-around, find spaces. We lacked that little luck for the final ball."
This wasn't a matter of luck, though. Spain, for all its possession and sideways passing, didn't show any ability – or desire – to alter its approach, even as it kept running headfirst into a red wall of unyielding Moroccan defenders. Trusting in your style is one thing. A stubborn unwillingness to adapt is dangerous. Spain and Luis Enrique were undone by inflexibility.
Of those four matches listed above, Spain won just once against an inferior Costa Rican side that waived the white flag after conceding early goals. Possession, as it turns out, can be in vain. If anything, Spain's tiki-taka approach, lauded by Spanish purists, is first and foremost a form of defense; Spain conceded higher quality chances than any other team that reached the knockout stage in Qatar. Keeping the ball was a defense mechanism.
Spain only managed two shots on target over 120 minutes on Tuesday. Morocco, meanwhile, actually created the best chance of the game despite not seeing the ball for huge portions of the match. Were it not for the meek finishing of unimpressive substitute Walid Cheddira, Morocco would have won before the shootout. You could argue that it was Morocco that was unlucky.
Perhaps it's time for a rethink in Spain.
Quick free-kicks
Who is Goncalo Ramos?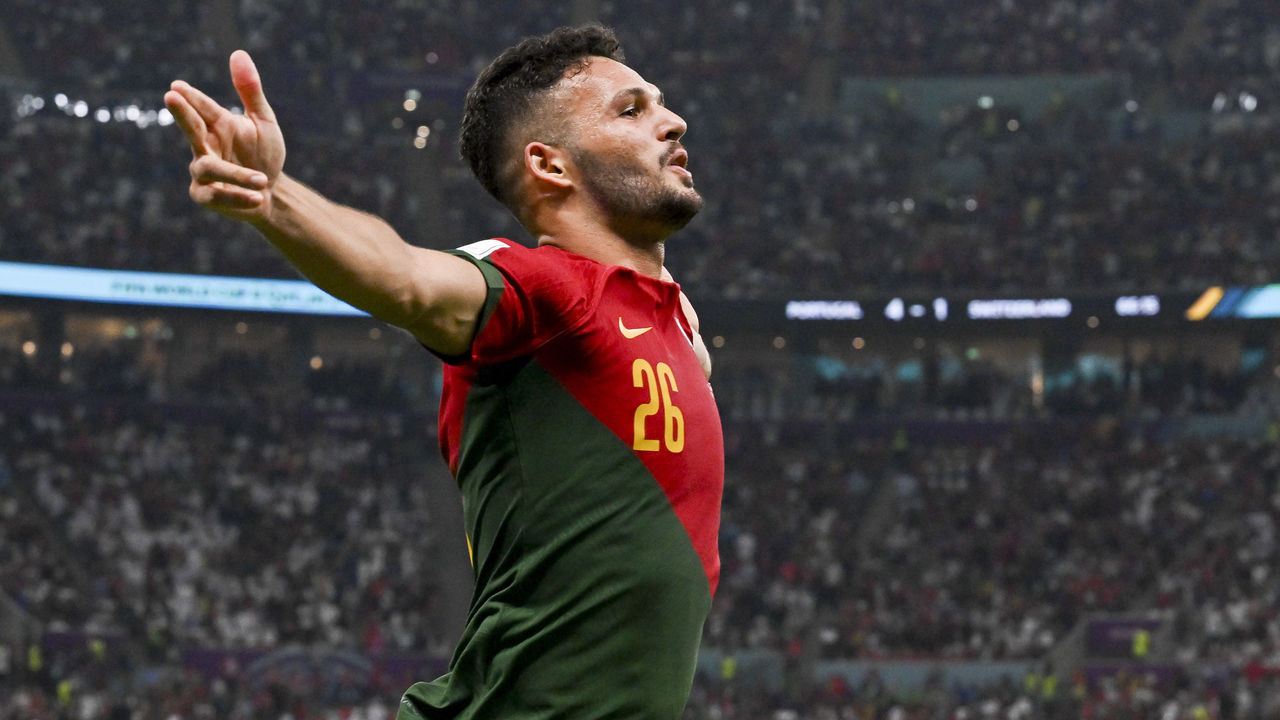 Ramos' goal-scoring exploits in the UEFA Youth League and at the 2019 European Under-19 Championship always hinted at his huge potential. However, it took a combination of former Benfica B coach Nelson Verissimo taking interim charge of the senior side between January and June of this year and Darwin Nunez's blockbuster summer move to Liverpool for Ramos to earn a prolonged run in Benfica's first team. The prodigy only made his Portugal debut on Nov. 17 but forced his way into the World Cup squad with a sublime record of 14 strikes in 21 appearances for Benfica this season. Now try to get him out of the lineup: He's the first player to score a hat-trick in his full World Cup debut since Germany's Miroslav Klose in 2002.
Amrabat leads the way for Morocco
Amrabat was, in no uncertain terms, a monster on Tuesday. The Moroccan midfielder crafted one of the best individual performances of any player thus far in Qatar, providing a one-man shield that continually flummoxed Spain and forced the likes of Pedri and Gavi, two of the game's most technically gifted midfielders, to turn back and recycle possession. They couldn't find a way past the relentless Fiorentina man, who somehow kept finding reserves of energy to race around the pitch, harry his Spanish counterparts, throw his body into tackles, and then get right back up and do it all over again. Every time Spain approached the penalty area, Amrabat was there to offer resistance. He recovered the ball nine times, won seven duels, made four tackles, and had an interception and clearance, just for good measure. It was a heroic display that will have the Fiorentina brass awaiting some big-money offers in the January transfer window.
Enrique's homework doesn't pay off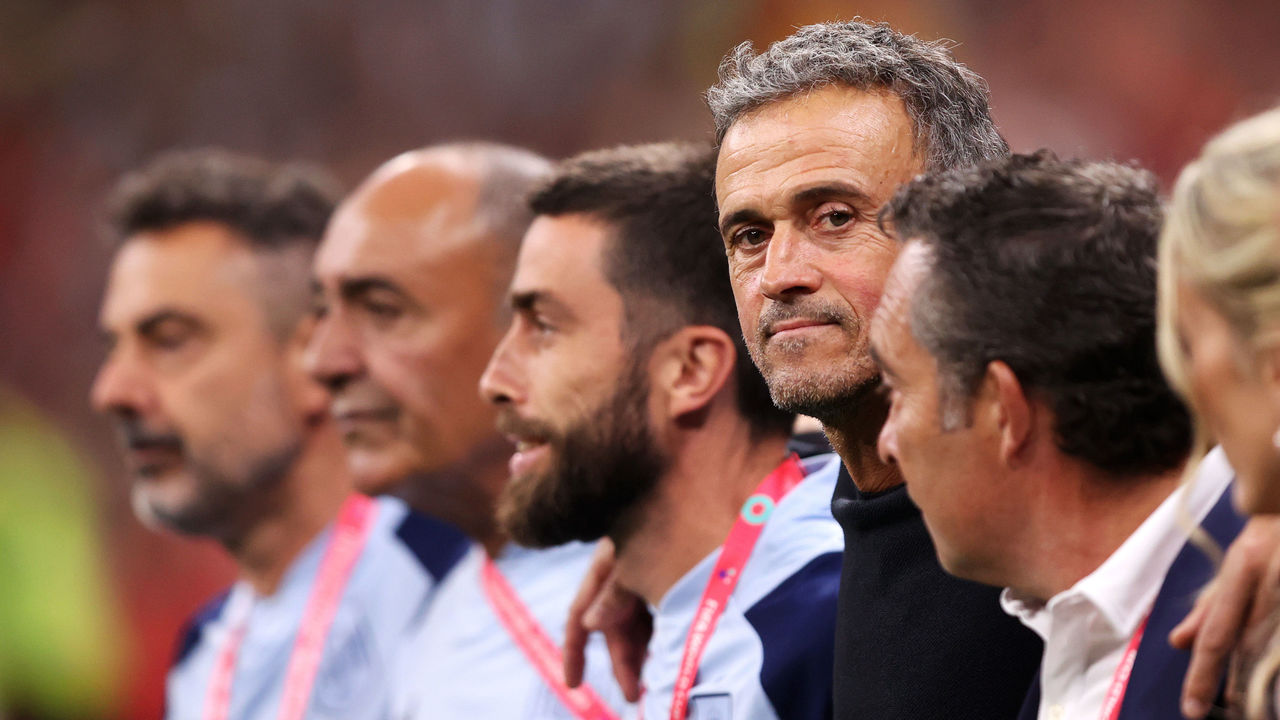 Ahead of the World Cup, Spanish boss Enrique gave his players some homework. Enrique, an obsessive football mind who leaves nothing to chance, asked each player to practice 1,000 penalties before arriving in Qatar in case La Roja needed a shootout to advance at any point. "It's a moment of maximum tension, a time to show your nerve, and that you can shoot the penalty in the way you have decided if you have trained it a thousand times," he said. Penalties, contrary to what many suggest, are not a "lottery." Enrique's right about that. But judging by the mediocre efforts of Pablo Sarabia, Carlos Soler, and Busquets, each of whom failed to convert from 12 yards after powerless attempts, maybe his players didn't do the assigned homework. Spain has now lost four of its five penalty shootouts at the World Cup – more than any team in history – and became only the second side to get blanked in a World Cup shootout. Best-laid plans.
Ironic twist for Hakimi
Hakimi, inarguably Morocco's most illustrious player, was born in Madrid and spent over a decade representing Spanish giants Real Madrid at various levels before departing the country. He opted to play for the Atlas Lions, the nation of his parents' birth, over Spain. How different things could have been. The thought was impossible to ignore as he dominated the right flank on Tuesday, and especially came to the fore when he clipped in the decisive Panenka to end the shootout and send Morocco to the next round. Meanwhile, Spain opted to start Marcos Llorente, a natural midfielder, at right-back in the game thanks to a limited pool of talent at the position.
Stat of the day
Vindication for Fernando Santos.
Tweet of the day
What was Ronaldo really thinking while celebrating Ramos' goals?