The Champions League rumbles on with Matchday 4 this week. Below, we dissect the biggest talking points from Tuesday's action in Europe's premier club competition.
Juventus hit rock bottom
Well, it turns out the win over Maccabi Haifa in last week's reverse fixture wasn't the beginning of a grand resurgence for Juventus. If anything, the victory in Turin simply masked the glaring issues that continue to drag the club down. The Israeli opposition exposed them all Tuesday.
Juventus' humbling 2-0 defeat at the Sammy Ofer Stadium, only the most recent in a growing list of turgid displays, was a microcosm of their season. They were slow and ponderous on the ball, incapable of making incisive vertical passes, and, most aggravating of all, lacked any sense of urgency and intensity – in a must-win match, no less. The loss means Juve's hope of reaching the Champions League knockout stage has virtually disappeared. With the Bianconeri languishing in Serie A, there's a very real chance they won't be in Europe's premier club tournament again until 2024, at the earliest.
Massimiliano Allegri, already under immense pressure from a fuming fan base openly demanding his removal, deserves plenty of blame. Right from the opening whistle, there appeared to be no distinctive game plan. That's on the manager and nobody else. Tactically, there's no cohesion or fluidity, and he's clearly not able to motivate this group, either. A new voice and approach are desperately needed.
The players are not unimpeachable in all this, though. Far from it.
This team is remarkably fragile. The types of intangibles that for so long defined Juve have disappeared, and nobody seems willing, or able, to be a catalyst for positive change on the pitch or in the locker room. Gianluigi Buffon and Giorgio Chiellini aren't walking through the door to arrest the slide.
Juve have been trending downward for a few seasons now. Tuesday, they hit rock bottom. In theory, there's only one way to go from here.
City in unfamiliar state of survival
Manchester City couldn't be accused of disrespect in Denmark. Pep Guardiola normally wants his team to control matches even with 10 men, but following the 30th-minute dismissal of Sergio Gomez for denying a goal-scoring opportunity, City primarily focused on keeping FC Copenhagen at bay.
The injury-hit hosts impressed and had chances, including when Isak Johannesson was a toenail away from finishing a stunning Victor Kristiansen cross, while Guardiola's uncharacteristic conservatism and the clear fatigue of players such as Manuel Akanji hinted at how much recent fixtures have taken out of the visitors. Given the circumstances, a goalless draw was a good result for City.
However, it wasn't ideal preparation for Sunday's trip to Liverpool. In addition to Akanji, the likes of Joao Cancelo and Ilkay Gundogan ran themselves ragged to compensate for Gomez's dismissal and may find it hard to fully recuperate for the Anfield tilt. And doubts over Gomez's credentials for Guardiola's team were clear before his red card: Over his eight appearances so far, his passes have lacked crispness and precision, going astray or forcing his teammates to take extra touches.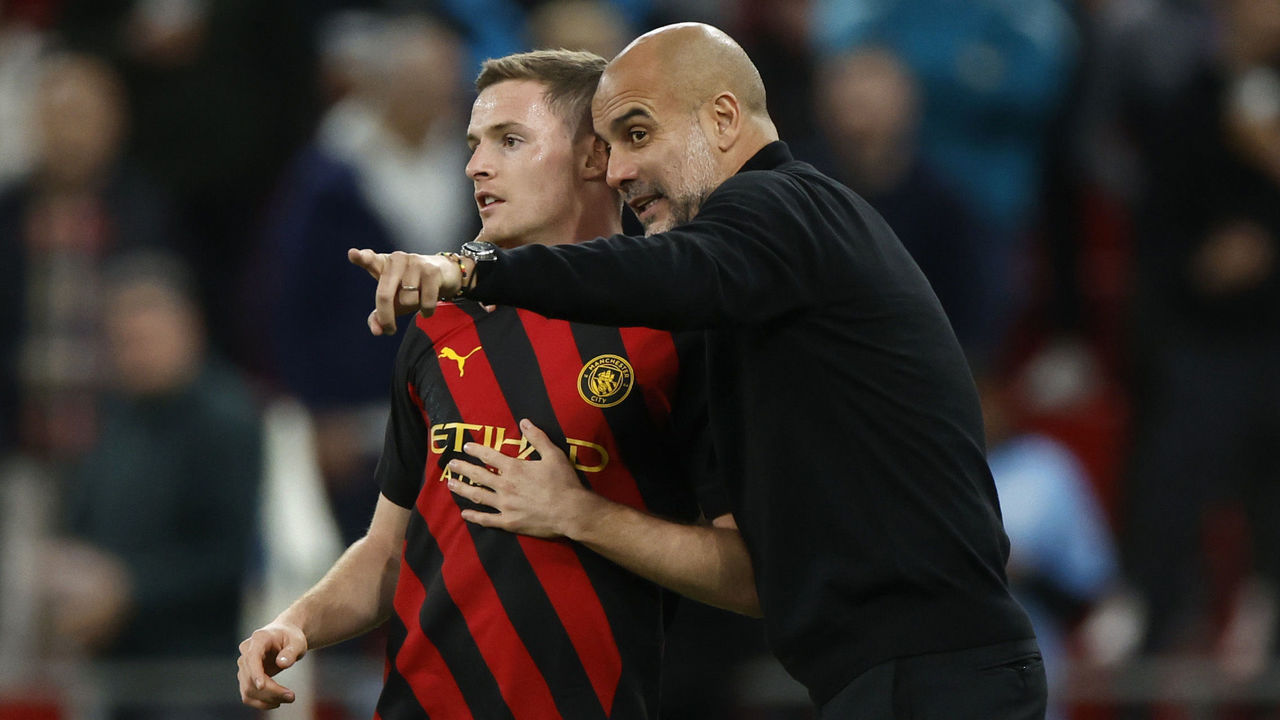 Julian Alvarez was also largely anonymous after he tested the goalkeeper with a good shot from a narrow angle in the sixth minute. Suddenly, the side that famously didn't field strikers could prove overly reliant on Erling Haaland, who watched from the bench.
This was far from a disastrous evening, but it created more problems than solutions for Guardiola before club football pauses for the World Cup. Their eventual progression to the knockout rounds after Borussia Dortmund and Sevilla's draw helps, of course, but center-backs at full-back and tiring players could be a recurring theme over the coming weeks.
Card-happy referee derails Milan
If Milan bow out of the Champions League, it'll be a controversial refereeing decision in the first half of Tuesday's defeat to Chelsea that many will cite as the primary factor behind their demise.
It was a painful night for a Milan side that was out for revenge after its lopsided loss to Chelsea at Stamford Bridge last week. Milan's bid for vengeance was quickly derailed after referee Daniel Siebert sent off Fikayo Tomori less than 20 minutes into the contest. Siebert concluded that the Milan defender fouled Mason Mount in the box during a clear goal-scoring opportunity.
Unfortunately for the Rossoneri, it was a poor officiating decision that, along with contributing to a 2-0 loss to the Blues, could end up costing them a place in the knockout round.
Replays indicated that contact between the two players was minimal. Tomori appeared to tug on Mount's shoulder and arm before letting the Chelsea midfielder free to fire a shot on goal. Siebert, however, was quick to produce a red card, while Mount received a yellow card for what some believed was a protest over the German official's decision to send off his former teammate Tomori.
Tomori's dismissal essentially spelled the end to what promised to be a competitive and entertaining affair between two European heavyweights. Assuming they can avoid another card-happy referee over the next two games, Milan are still in control of their Champions League destiny. But time is running out.
Real Madrid's late leveler can't diminish Shakhtar's feat
Winger Mykhaylo Mudryk was slumped on his chair behind Shakhtar Donetsk's coaching team. The players still on the pitch stared into space, inconsolable after a 95th-minute equalizer denied them two valuable points in Group F.
It wasn't the scene you'd usually associate with a team from a war-torn Eastern European nation drawing 1-1 with Champions League titleholders Real Madrid. But Ukraine's Shakhtar continue to set remarkably high standards despite the fear and upheaval that troubles the squad.
Shakhtar grew into the first half and threatened in transition with Mudryk – the 21-year-old linked with Premier League clubs like Arsenal and Newcastle United – as their rampaging, yet oft-wasteful, outlet. Center-backs Antonio Rudiger and Nacho were Real Madrid's most important players before the break.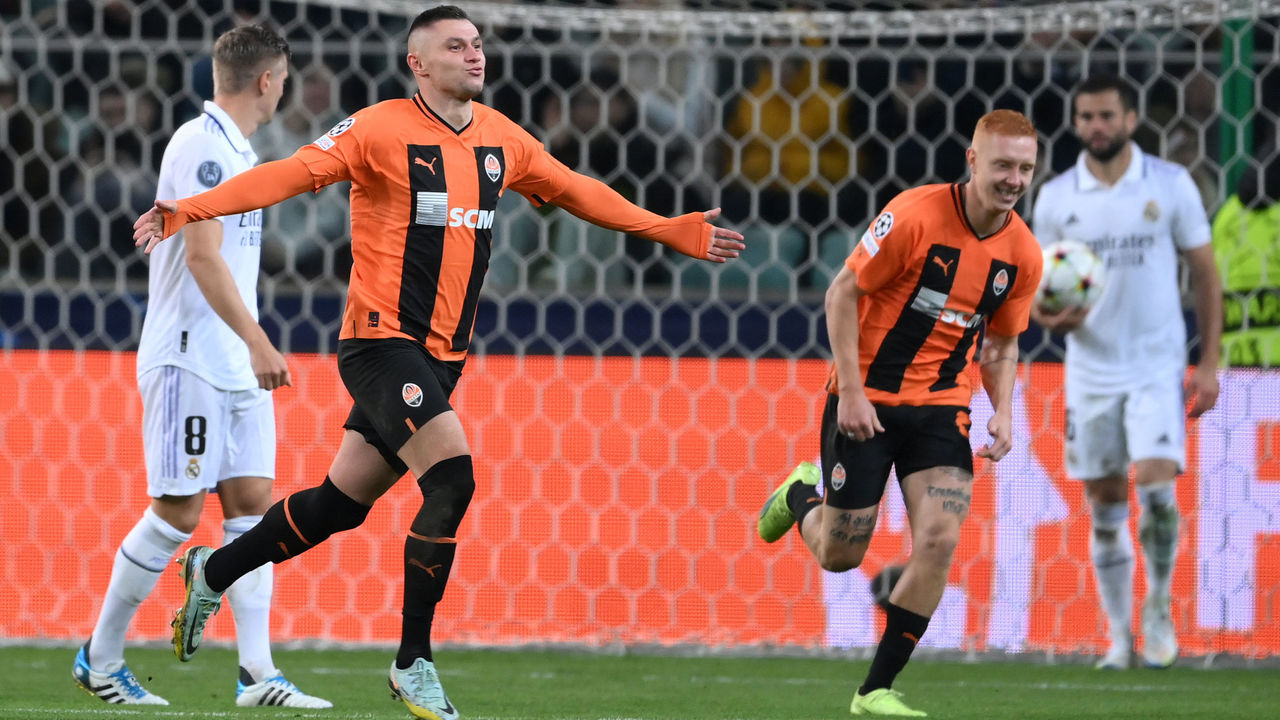 Real Madrid didn't heed the warning, and Mudryk and Bogdan Mykhaylichenko combined before Oleksandr Zubkov's header put Shakhtar ahead shortly after the interval. Shakhtar were so close to a famous win, even as Carlo Ancelotti called five big names off the bench. Yukhym Konoplya and Georgiy Sudakov picked Vinicius Junior's pocket within a few minutes of his introduction, Valeriy Bondar was heroic in defense, and Artem Bondarenko drew plaudits for his all-action performance in midfield. Those four players have an average age of just 22.
However, Rudiger's brave header in the final moments denied Shakhtar a huge result.
Considering what the Shakhtar players are still going through – that the days prior to the fixture were consumed by panicked calls to loved ones following a Russian bombardment of Kyiv – makes their on-pitch displays somehow both trivial and inspiring. This is a club that, since violence began in Donetsk in 2014, has effectively slept on friend's couches. Their Champions League "home" games are in the Polish capital of Warsaw this season. There was an exodus of their best foreign players following the Russian invasion in February after FIFA allowed them to suspend their contracts.
Yet they still elbow themselves some room on European football's top table.
Whether they advance to the knockout phase or not, Shakhtar are the winners of this season's Champions League.
Benfica's newest superstar
In a match featuring midfielders like the superlative Marco Verratti and €40-million Portuguese international Vitinha, it was Enzo Fernandez who shone brightest in the center of the pitch during Benfica's 1-1 draw against Paris Saint-Germain.
The Argentine continues to earn rave reviews in his first season at Benfica after joining the club from River Plate this past summer for an exceedingly modest initial €10-million fee. On Tuesday's evidence, Benfica pulled off the heist of the year in procuring the 21-year-old.
Fernandez, who operates and orchestrates in a deep midfield position, was the pivot around which all of Benfica's play was built. He's comfortable on the ball in tight areas, understands how to move and create space for himself to receive a pass, and can both see and execute difficult passes that many others wouldn't bother to even attempt. He's a feisty tackler, too, as Neymar learned on more than one occasion.
Benfica's scouting department has hit another home run. After selling Darwin Nunez for huge money, expect Fernandez to keep the trend going. Some of Europe's elite clubs are already circling.