The Champions League rumbles on with Matchday 3 this week. Below, we dissect the biggest talking points from Tuesday's action in Europe's premier club competition.
Red-hot Sane flying under the radar
There's been plenty of uncertainty hovering over Bayern Munich after a few hiccups – domestically, anyway – early on this season. New signing Sadio Mane's lackluster scoring touch hasn't helped, as the former Liverpool star has yet to match expectations less than three months into his Bayern career.
A day after talking about his growing pains at Bayern, Mane helped endear himself to fans with his first Champions League goal for the German club in Bayern's 5-0 victory over Viktoria Plzen on Tuesday. Yet, Leroy Sane is arguably becoming the most important player Julian Nagelsmann has in his bottomless pool of attacking talent.
Jamal Musiala has deservedly received plaudits this season, but Sane's evolution into one of the most lethal wingers in Europe has somewhat gone under the radar. With seven goals in all competitions this season, Sane is establishing himself as Bayern's primary scoring threat.
Sane was pivotal in Tuesday's Group C encounter, again ensuring Bayern Munich's struggles remain limited to the Bundesliga. His brace – which included a stunning strike from outside the box – helped the Bavarians comfortably maintain a perfect start in the Champions League group stage after three games.
It's obviously still early in the season, so Sane experiencing a Mane-like slump is totally possible at some point. Likely, even. But if he can stay healthy, Sane could be on the brink of his best campaign yet and maybe even fulfill the lofty expectations he's struggled to achieve since arriving in Munich from Manchester City.
Redemptive night for Alexander-Arnold
There was no chance anybody but Trent Alexander-Arnold would be in charge of free-kick duties early on in Liverpool's Champions League meeting with Rangers. When the opportunity came, the look of confidence on his face was undeniable for a player who's come under fire after struggling on the defensive side of the ball this season.
Fans around Anfield were on their feet in anticipation of what would come from their fellow Scouse. Alexander-Arnold, who Jurgen Klopp backed to rediscover his form earlier this week, delivered one of his vintage free-kicks to help propel Liverpool to a 2-0 victory.
Although the moment of magic – combined with his efforts in keeping a clean sheet – should help temporarily silence critics, the 23-year-old's ball-striking abilities have never been a concern.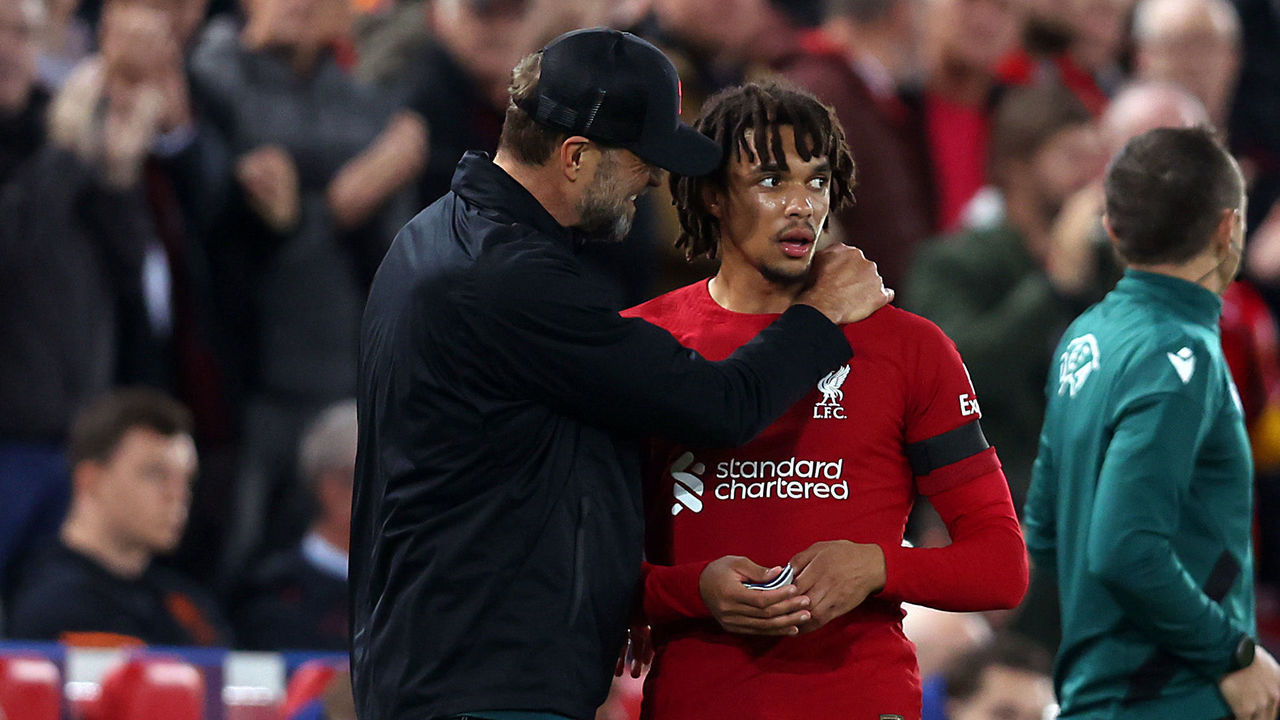 It's indifferent defending that's set off alarm bells, leading to a somewhat tedious debate about whether his place in Gareth Southgate's England squad for the World Cup is under threat. There's no denying his defensive play is a major concern. From failing to track opposing players in dangerous areas to looking disinterested amid Liverpool's early-season struggles, there's no shortage of evidence highlighting Alexander-Arnold's worrying form.
But, in the end, it's quite ridiculous that Southgate would ever consider omitting one of the most gifted players in the world. Especially one who is, as he did Tuesday, capable of deciding matches with one swing of his boot. The real question before the World Cup should be whether he plays regularly or is forced to take a back seat behind the likes of Reece James and Kyle Walker.
Barcelona still a work in progress
Barcelona may be top of La Liga, but they're far from the finished product. Tuesday's 1-0 loss to Inter Milan proved as much. This is a relatively young team with a young coach. While they may have an idea of football in their minds, they haven't quite found a way to make it work in Europe. It's one thing to beat up the Elche and Cadiz; it's another to try the same tricks against Bayern Munich and Inter.
Despite controlling possession 71% of the time, Barcelona rarely threatened Andre Onana's goal, producing just two shots on target. Robert Lewandowski, who leads all scorers in La Liga with nine goals, recorded only two touches in the penalty area and spent most of the time holding up play with his back to goal. Ousmane Dembele couldn't complete a single dribble. He even switched sides midway through the second half, hoping to fare better on the left than he did on the right. That experiment ended after a few minutes.
Barcelona had every right to complain about the penalty they weren't given. Inter wing-back Denzel Dumfries clearly handled the ball during a tussle with Ansu Fati in second-half stoppage time. But the Blaugrana did themselves no favors at San Siro. They moved the ball too slowly to draw Inter's defenders out of position and didn't play the kind of vertical passes Xavi Hernandez wants to see from his players. Over 41% of Barcelona's passes went backward, and you could sense the desperation in each of the 50 crosses they attempted.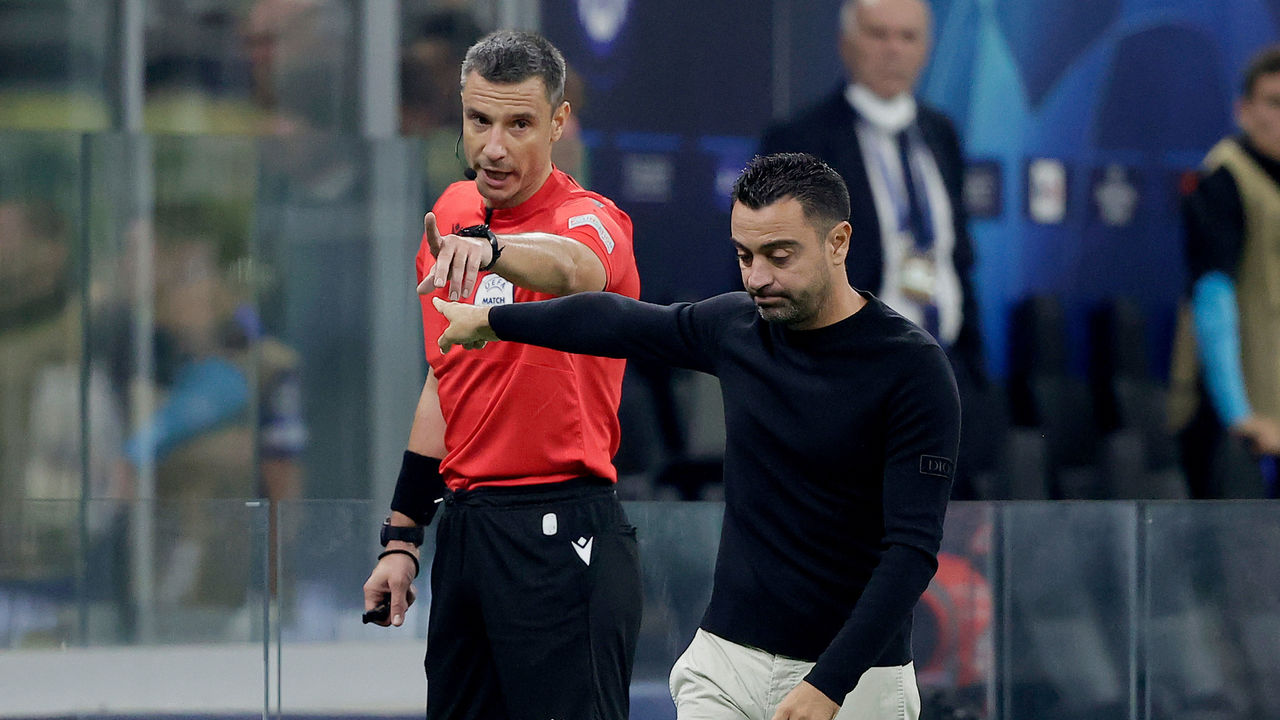 Of course, Inter made it difficult to play any meaningful passes into the final third. Barcelona's failure Tuesday was also Inter's success. Armed with a back five, the Nerazzurri played with men behind the ball, and their midfielders patrolled the half spaces to ensure the likes of Dembele couldn't break into the area. Federico Dimarco, Henrikh Mkhitaryan, and Alessandro Bastoni covered whenever the French winger tried to glide infield. It was a defensive masterclass.
But the Catalan giants can do better. Barcelona played much better in a 2-0 loss to Bayern and could've won that game with better finishing. But they struggled mightily against Inter, not just in attack but also against the counter. Barcelona capitulated every time they lost possession, and that happened a lot. If they can't score, then they have to learn to resist the tide when it inevitably turns.
Ultimately, Barcelona have a long way to go before they can convince the masses they're ready to compete for titles again. They may be in first place in the Spanish top flight, but five of the six teams they've beaten in Spain are currently in the bottom half of the table. Bigger tests await. The next month will reveal what this team can really achieve.
Another strike against VAR
That said, Barcelona could've used at least one of the two calls match official Slavko Vincic and video assistant referee Pol van Boekel somehow missed during another horrific 90 minutes of officiating in the Champions League.
Dumfries' arm was clearly in an unnatural position when the ball struck his hand as he attempted to head it away in the 92nd minute. But after reviewing the footage, Van Boekel not only decided against awarding a penalty but neglected to even instruct Vincic to see the pictures for himself on the pitchside monitor.
Vincic has the right – and, in this case, the obligation – to review controversial incidents for himself. He did when Van Boekel detected Fati had handled the ball in the build-up to Pedri's equalizer and ultimately chalked it off once he saw the clip. Why, then, didn't the match official head back to the monitor when Dumfries committed a similar offense?
Xavi said the referee didn't even offer an explanation at the end of the match.
"I think the referee should be out here explaining these decisions," the Spaniard told reporters. "Today I'm really unhappy. I feel there's real injustice."
That's saying nothing of the red card Vincic could've shown to Hakan Calhanoglu for a sliding tackle that caught the inside of Sergio Busquets' leg. That would've left Inter down a man for the final 20 minutes. Calhanoglu escaped with a yellow card.
Unfortunately, the current system leaves doubt in the minds of coaches, players, and fans. But it's not the fault of the technology. The officials making decisions continue to get it wrong and make no attempt to explain themselves when they do.
Can Napoli maintain rip-roaring pace?
How do you say "bulldozer" in Italian?
Napoli are on an absolute tear to begin the season, demolishing Ajax 6-1 – in Amsterdam, no less – in yet another high-octane attacking display from Luciano Spalletti's insatiable team.
Still unbeaten, they've won nine of their 11 matches in all competitions this season, scoring 31 goals in the process. The high-flying side sits tied for first in Serie A and tops its Champions League group with a perfect record.
They're also the first Italian team to ever score more than 10 goals in the opening three Champions League games of a season.
Those numbers are even more impressive considering how the club was forced to retool in the summer after losing several beloved stalwarts; captain Lorenzo Insigne, all-time top scorer Dries Mertens, defensive anchor Kalidou Koulibaly, and midfield lynchpin Fabian Ruiz all departed.
That type of upheaval, which raised a furor among the fan base, threatened to derail the season before it began. Instead, it turned out to have the opposite impact, rejuvenating the club. The new players, most of them young and hungry, have infused Spalletti's team with more verve and energy, while other incumbents have flourished with added opportunities.
Khvicha Kvaratskhelia, already a beloved figure in Naples, is a sensation. Giacomo Raspadori, who scored twice Tuesday, has hit the ground running. Andre-Frank Zambo Anguissa is having a spectacular season thus far. Kim Min-jae has seamlessly replaced Koulibaly in defense. And arguably their best player, Victor Osimhen, should return from injury soon.
We've seen this before, to an extent. Napoli began last season on fire, winning 10 of their first 11 league matches before hitting a rough patch and falling off the pace in Serie A. But, fuelled by Kvaratskhelia and Co., this feels different. Napoli are a frightening force to be reckoned with.
Club Brugge are for real
Hands up if you expected Club Brugge to roll through their group after three matches. Yeah, neither did we.
The Belgian club made a serious statement of intent Tuesday, brushing aside Atletico Madrid 2-0 to maintain their perfect start to the Champions League campaign. Carl Hoefkens' team sits comfortably atop Group B with nine points, scoring seven goals along the way and, most impressively, not conceding any. Only Bayern Munich and Real Madrid can match that defensive record in this year's competition. Decent company.
This isn't a case of Brugge getting lucky, either.
Yes, Antoine Griezmann wasted a glorious chance from the penalty spot, but Brugge defended stoutly overall. And combine that with explosive attacking players who can break down the opposition at a moment's notice.
Canadian winger Tajon Buchanan tormented Atletico, while the red-hot Ferran Jutgla continued to establish himself as one of the best value signings of the summer transfer window, scoring his eighth goal in 11 matches across all competitions since moving from Barcelona for just €5 million.
With the 23-year-old Spaniard leading the way, and a collection of effervescent talent around him, Club Brugge are making waves.