Roberto Mancini made the same mistake as his predecessor. Just as Gian Piero Ventura had done in 2017, Mancini guaranteed the Azzurri would, one way or another, make it to the World Cup.
"We'll book our place in the World Cup in March and hopefully win the tournament, too," the 57-year-old declared in November.
Italy didn't deliver in 2017, and it failed again in 2022.
Thursday's scarcely believable 1-0 loss to North Macedonia means Italy will miss its second straight World Cup. In just eight short months, Mancini's side has gone from the high of winning Euro 2020 to the low of another miserable World Cup qualifying campaign.
It's a brutal fall from grace for a team that had, up until recently, recaptured its sense of place in the international game. The inquisition that followed Italy's failure to qualify for the 2018 World Cup was agonizing. Talking heads and politicians blamed foreigners for suffocating the development of homegrown talent, while former players criticized Italy's footballing establishment for keeping the same people in the same jobs, regardless of performance.
Changes were made across the board: Carlo Tavecchio resigned as president of the Italian football federation, with incumbent Gabriele Gravina replacing him in 2018; Mancini replaced Ventura as head coach; and several World Cup winners, including Gianluigi Buffon, Daniele De Rossi, and Andrea Barzagli, announced their retirement from international duty. Younger players began to flourish under Mancini's leadership, and Italy started to play an attacking brand of football that both excited fans and delivered results.
Italy went a record 37 matches without defeat from March 2019 to October 2021, demonstrating an uncharacteristic knack for goals. It no longer struggled to blow out inferior opponents, something it had struggled to do even during its heyday. Italy, which routinely found a way to make the easy feel impossible, was finally playing with some swagger.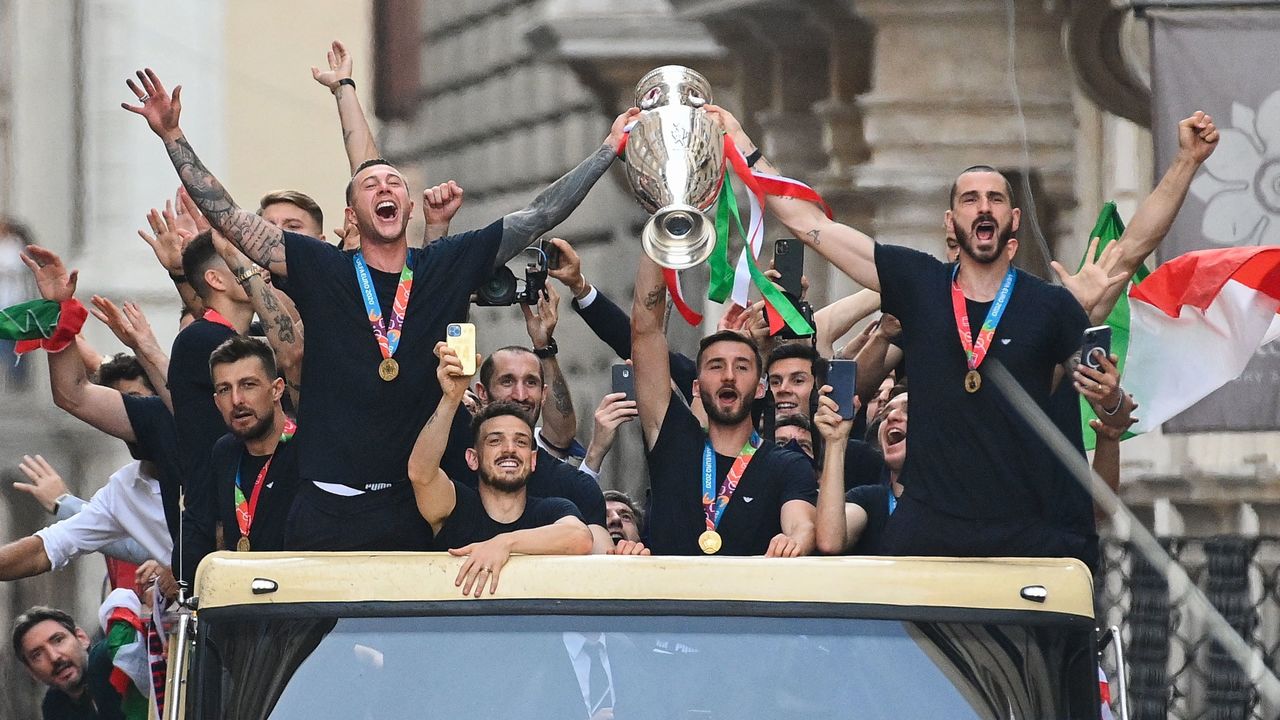 Winning Euro 2020 was never the main objective. Mancini said he was originally targeting success at the 2022 World Cup. All he wanted to do was make the players believe in themselves again. They felt lighter, entering games without the weight of expectation. Mancini gave them the license to do what Italian teams traditionally didn't: attack teams and dominate matches. Italy didn't have to protect 1-0 leads to be successful anymore. With pacy wingers, like Federico Chiesa, and energetic midfielders in Marco Verratti and Nicolo Barella, the Azzurri had the pieces to play more expansive football – and thrive while doing it.
But even as Italy hurdled opponents on the way to the final at Wembley Stadium, it began to show cause for concern. Leonardo Spinazzola's injury in the quarterfinal win over Belgium – an Achilles tear that continues to keep him on the sidelines – robbed Mancini of his biggest threat on the left flank. Without his starting left-back bombing forward, opponents could play narrower and leave the wings unattended.
Spain outplayed Italy in the semifinal, but the Azzurri escaped on penalty kicks. Although Mancini's team rebounded in the final, it seemed to lose the swashbuckling style that made its football – and victories – possible. Scoring suddenly became a chore: Italy managed just 13 goals over nine World Cup qualifiers, a pitiful return for a team that banged in 37 in 10 Euro qualifiers not long ago.
Ciro Immobile's struggles up front didn't help. Despite scoring upwards of 20 goals per season with Lazio, Immobile continued to look anemic in international fixtures. Mancini persisted with the 32-year-old, if only because there was no better alternative. Moise Kean, Mario Balotelli, Giacomo Raspadori, and Andrea Belotti all earned call-ups over the last few months, but none of them made a good enough pitch to stay. Gianluca Scamacca, Sassuolo's burgeoning 23-year-old striker, was beginning to make a case, but an injury compromised his participation in Thursday's playoff.
Italy's problems multiplied in the aftermath of its celebration in Rome. It slumped to a 1-1 draw with lowly Bulgaria in its first game after winning Euro 2020, and its best players seemed to lose the hunger that made them champions in the first place. Jorginho, an exceptional penalty-taker, missed two spot-kicks in games against Switzerland. Had he made either of them, Italy would've qualified.
It would be easy to scapegoat Jorginho, or Immobile, or Mancini, or blame it all on the season-ending injury to Chiesa that prevented him from playing down the stretch. Jorginho admitted those misses will haunt him for the rest of his life. Immobile may never captain Italy again. Mancini could, and probably will, resign. Maybe Chiesa would've scored another big goal if he were healthy.
The fact remains this team lost its way. Italy still dominated matches, but when things didn't go its way, it failed to adapt. The more chances Italy wasted, the more desperate it got and the more prone it became to counterattacks and lapses in concentration.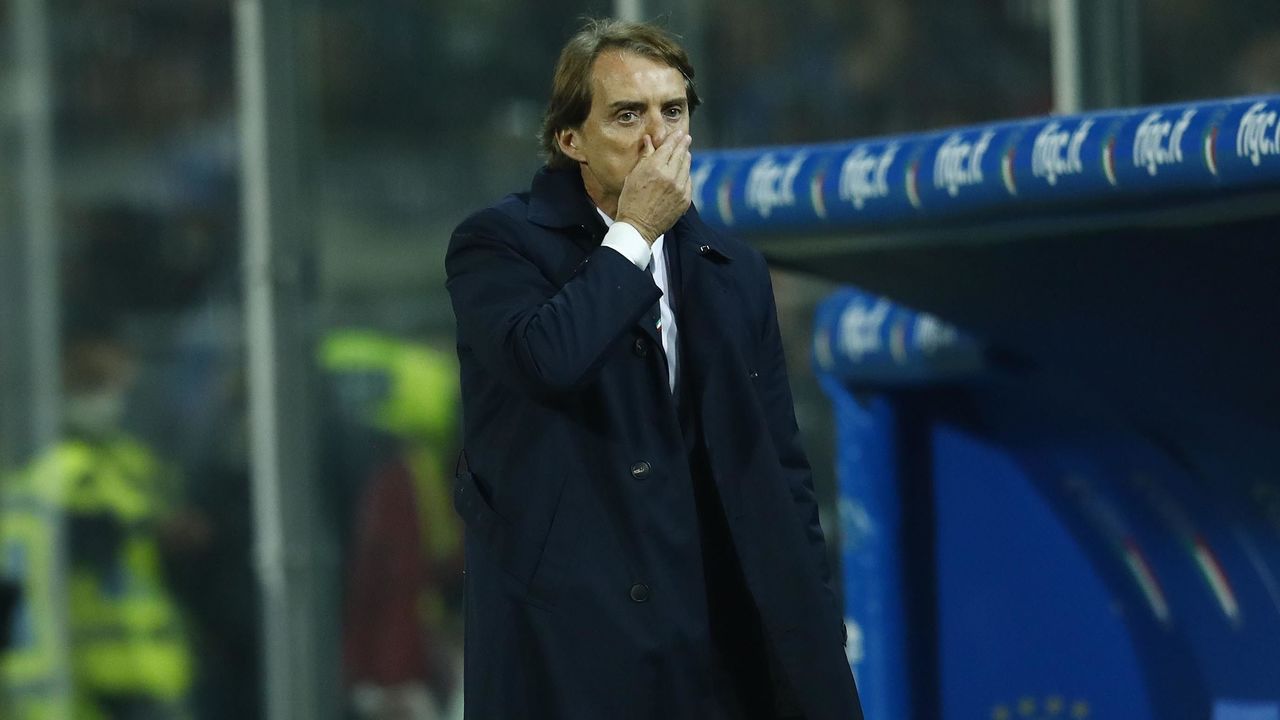 Italy's devolution happened over time, not in one particular game. Mancini said his players could've played another half-hour against Bulgaria, and "the ball wouldn't have gone in." Frustrated, Mancini decided Italy would face Northern Ireland without a striker, a tactic that ultimately backfired in a drab affair that finished goalless. Then, Aleksandar Trajkovski scored for North Macedonia in the 92nd minute of Thursday's playoff, cashing in on a straightforward goal kick that neither Jorginho nor Alessandro Bastoni could corral.
A familiar storyline played out in Palermo. Italy outshot North Macedonia 32-4, but only five of its shots hit the target. Many more were blocked. With no way through, the midfielders and full-backs hurled in crosses with reckless abandon, knowing full well North Macedonia's taller, more physical defenders would have no problem clearing the lines. It felt a lot like the goalless draw against Sweden in 2017: all huff and no puff.
"From the European Championships onwards, perhaps the luck that accompanied us turned into bad luck," Mancini said. "Now, we need to know how to suffer."