Pep Guardiola's decision to pick a three-man defense and plug the midfield for last season's Champions League elimination to Lyon was jarring.
It was at odds with Manchester City's usual attacking style. It seemed to confuse the players. The Spaniard was overcomplicating matters rather than trusting what had made his team so successful.
Guardiola was, to reel out the hackneyed term, overthinking.
But City are different this season. As they showed in Wednesday's Champions League progression at Borussia Dortmund's expense, they can move between playing on the front foot and exercising caution in a way that previously eluded them. They regroup and adapt instead of cowering when things don't go to plan.
"I know we have great players and a great team and should have been to the semis earlier. We were lacking something. We made little mistakes which led to goals," midfielder Ilkay Gundogan said during Tuesday's prematch press conference.
He added: "I feel like we are much more stable at the moment. We are defending well."
There was still a defensive mistake, of course. This is City, after all. John Stones, reborn this season when he seemed destined for the exit, was so far behind the thought process that led to Dortmund's goal that the keys to his Ford Ranchero were jangling in the pockets of his disco flares. The ball went over the daydreaming center-back's head and, via Erling Haaland and Mahmoud Dahoud, eventually broke to Jude Bellingham. The 17-year-old's smash swung the tie in Dortmund's favor.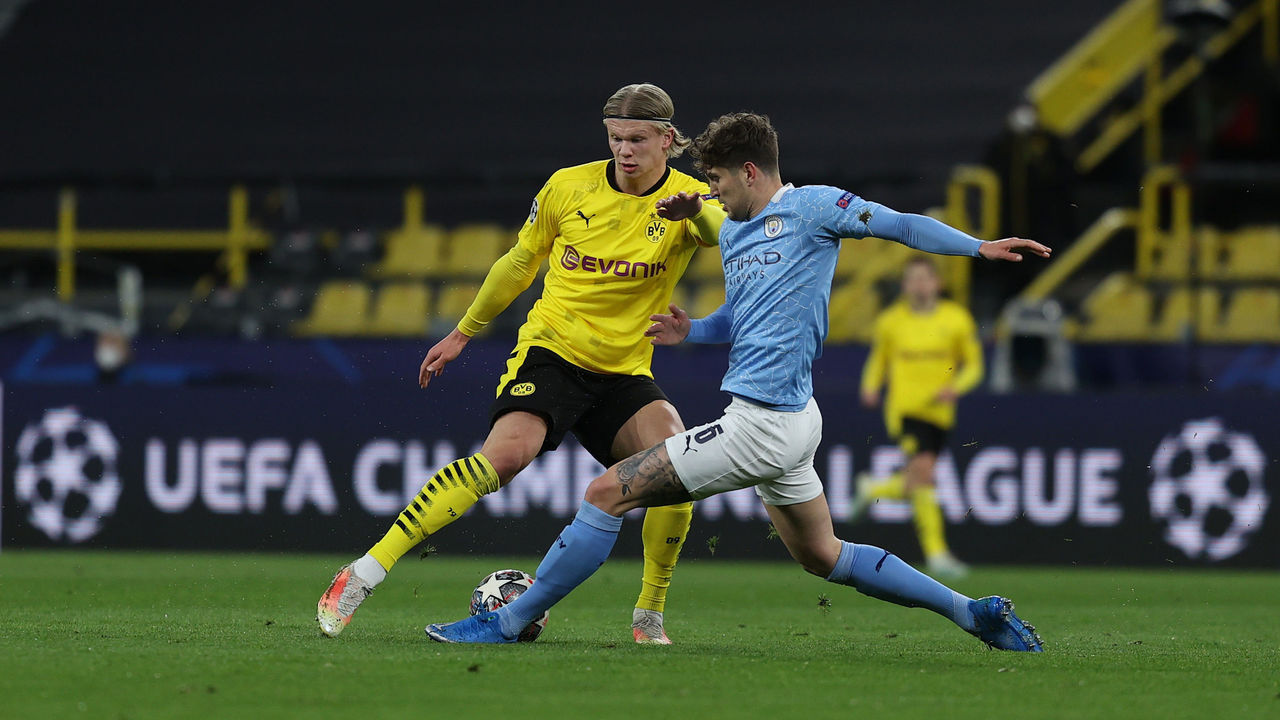 Until then, City's structure had withstood Dortmund's pressure. When the German team passed the halfway line, Guardiola's side was packed into two sturdy banks of four. Riyad Mahrez also dropped back on occasion, leaving Kevin De Bruyne alone in attack.
The setup would have been alien to City on the day of that embarrassing Champions League exit a year ago. It would have been Pep overthinking again. But this season, the players can do it. It wasn't a lack of familiarity with the system that caused Bellingham's opener, as Rodri and Gundogan regularly clogged up the midfield until Guardiola tweaked his tactics in mid-December; it was Stones' mistake.
Without that blip, the Premier League leaders could have seen out the game in this conservative manner. They didn't look uncomfortable.
The way City changed their mindset and started to pick and pull at the seams of Dortmund's defense after Bellingham's tally should please Guardiola. City had lost eight and drawn two of the previous 10 matches in which they trailed at halftime; overcoming adversity has been difficult for these players. But this time, they turned the page with an assured flourish, like a cocksure conductor moving on to the next composition.
They were patient, almost heartened by their own belief that they could turn it around. And they did so days after losing 2-1 to Leeds United despite having 29 shots on goal.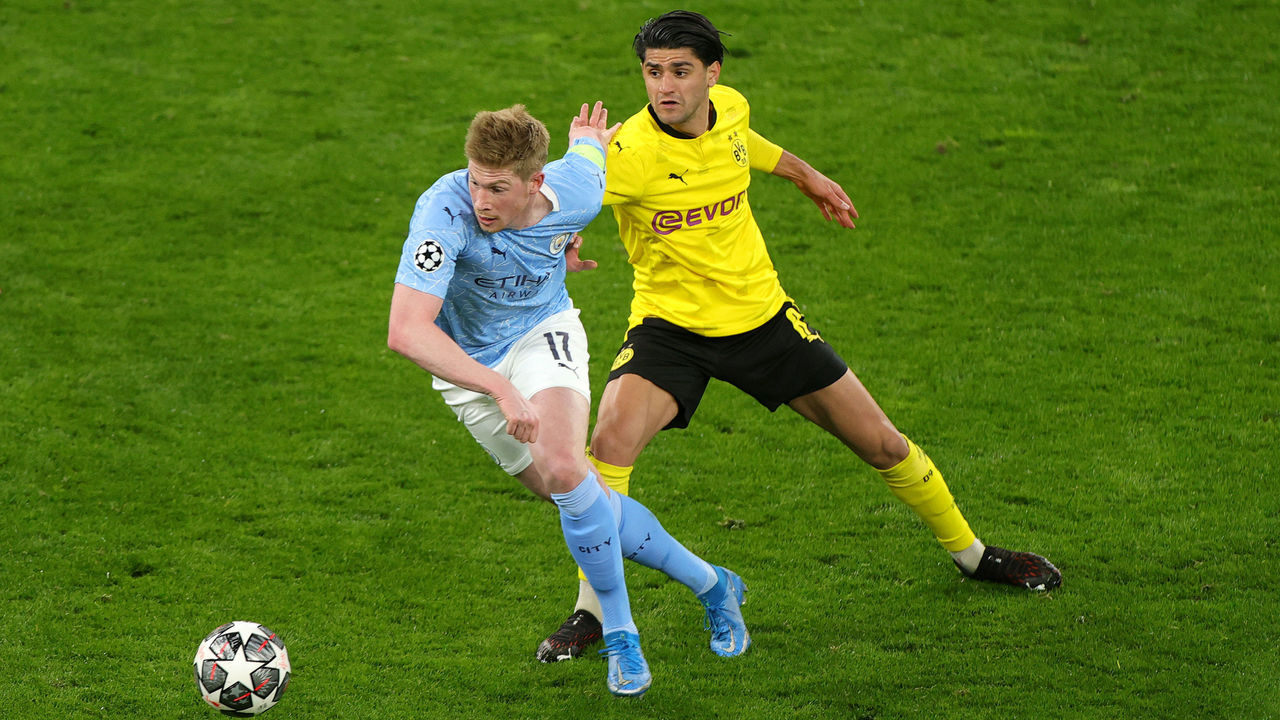 De Bruyne was unsurprisingly at the center of it all, crashing a shot off the bar and teasing a free-kick into the area, and he was even more relentless in the second half. The Belgian misplaced passes as he tried to pry Dortmund open, but the ball was always muscled back by De Bruyne or one of his teammates. They were in the mood.
The penalty that restored City's advantage will be debated, as all handball decisions are. But there is no denying the spot-kick Mahrez lashed past Marwin Hitz was deserved.
City were comfortable. They didn't question Guardiola's approach as they did in previous Champions League terms. They had seized control of the tie, and they weren't going to give it back. De Bruyne almost scored when he shimmied through a series of challenges, and though Hitz met his effort with a fine save, it was over about a minute later: Phil Foden received the ball from a short-corner routine and drove it in from the edge of the area.
"We've lost both games fair and square," Bellingham told beIN Sports. "Congratulations to them, they're the better side on both nights – I think with the ball, just brilliant."
Foden celebrated with his manager and teammates, enjoying more than just the culmination of a job well done. City had proved they could adapt to the circumstances and get the result. In the four eliminations that preceded this season, a failure to do this had been City's undoing – and a clear flaw in the management of one of football's greatest tacticians.
Perhaps Guardiola and his team have finally learned from those mistakes.