theScore looks back on Wayne Rooney's iconic career now that the English legend has called time on his playing career to manage Derby County.
Here are Rooney's most memorable moments:
'Once A Blue, Always A Blue'
His heart was in the right place, but it's unlikely Wayne Rooney told anyone about his audacious plan to show Everton supporters how committed he was to the club. He was, after all, just 16 years old at the time.
After scoring against Aston Villa in the FA Youth Cup Final in 2002, Rooney celebrated the goal by unveiling a message under his Everton shirt: "Once A Blue, Always A Blue."
Though it was a welcome message for Toffees supporters yearning for Rooney's unquestionable talents, fears over his departure were realized just two years later when he skipped town in 2004.
'Remember the name! Wayne Rooney'
Before moving on to greener pastures, Rooney continued his evolution into one of the world's most exciting players for his boyhood club.
Though it was no secret in England that there was something special about Everton's teenage phenom, Rooney announced himself to the world with a moment of magic against a juggernaut Arsenal side.
Manchester United debut hat-trick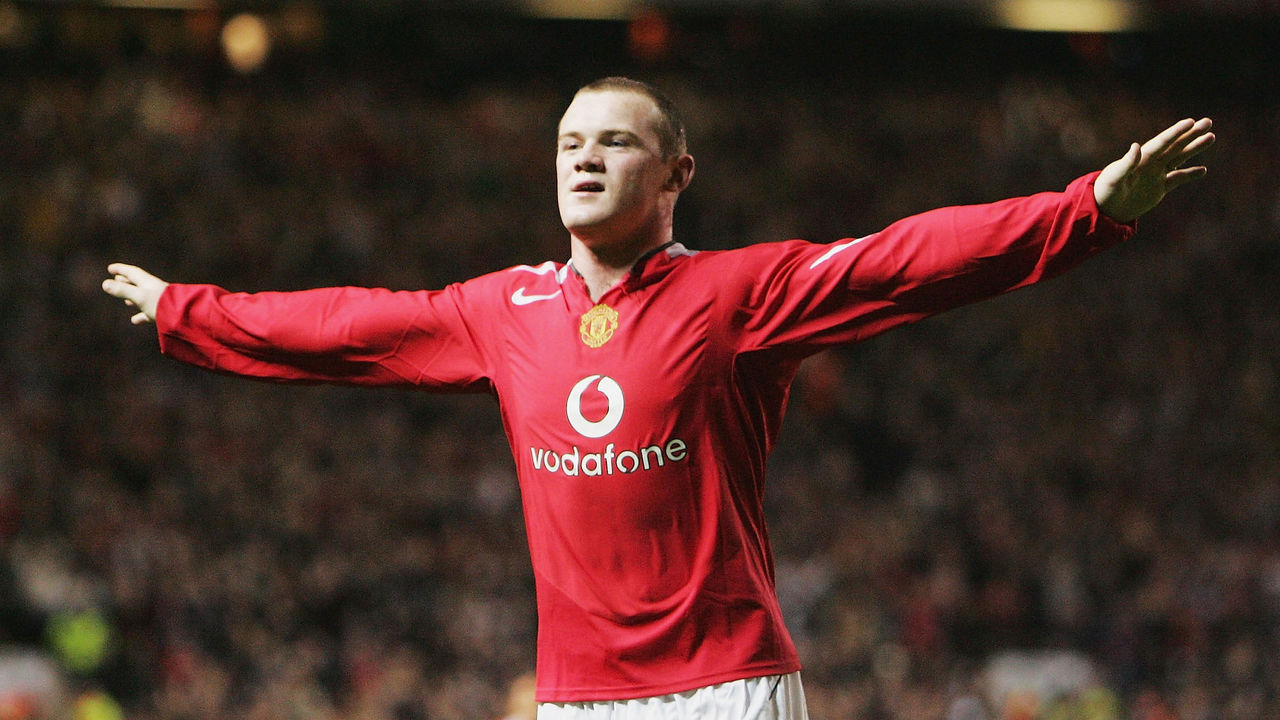 As far as debuts go, it doesn't get much sweeter than Rooney's at Manchester United.
Rooney wasted no time in proving he was worth the £25.6-million price tag that made him – at the time – the most expensive teenager in the world. The youngster recorded a hat-trick and set up a goal in his first match with United.
In one night, he displayed all the tools United hoped they were getting. Rooney's mix of agility, speed, power, and finesse proved too much for a helpless Fenerbahce side in the 6-2 drubbing at Old Trafford.
Ending Arsenal's unbeaten run
Rooney wasn't done tormenting Arsenal after leaving Goodison Park, as he marked his 19th birthday with a performance for the ages.
The United forward – who then-Gunners manager Arsene Wenger called the "the greatest young English talent I have ever seen" after his goal in 2002 – continued to thrive under the spotlight.
With Arsenal one match away from their 50th straight without a loss, Rooney played a pivotal role in ensuring their record-breaking run ended at 49. During a heated affair known as the "Battle of the Buffet," Rooney won a penalty and scored in the controversial 2-0 win.
Red card against Portugal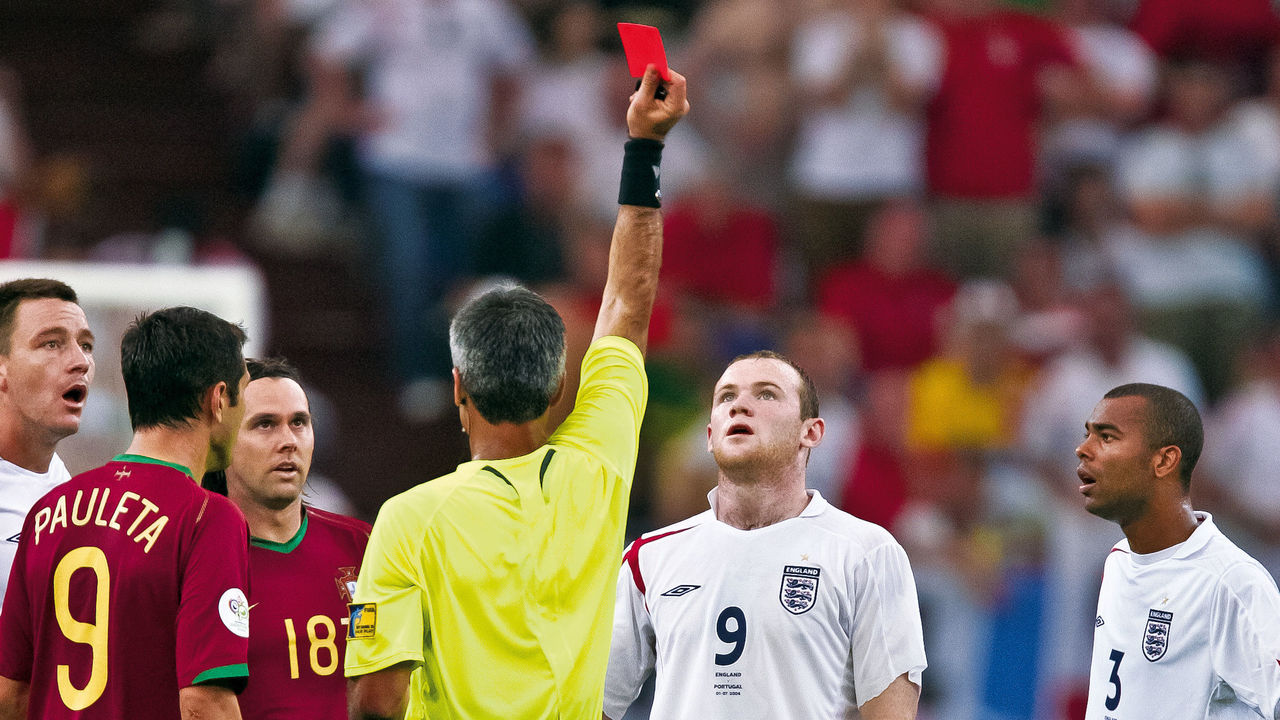 Rooney's unbridled passion was a massive component of his success, but his fiery demeanor sometimes came at a price.
One of the biggest blemishes on his career came during the 2006 World Cup in Germany when Rooney – 20 years old at the time – was sent off in the 62nd minute of England's quarterfinal clash with Portugal for a moment of madness.
After an intense battle for the ball, Rooney stomped on Ricardo Carvalho's nether regions. To make matters worse, Rooney lost his cool when Portuguese superstar and United teammate Cristiano Ronaldo was animated in his demand for the referee to send the Englishman off.
Lashing out at England fans
Rooney had another moment to forget at the next World Cup when he took out his frustrations on English supporters after a disappointing goalless draw against minnow Algeria in the group stage.
As England fans booed their team off the pitch, Rooney lashed out to a nearby camera over the lack of support, saying, "It's nice to see your own fans booing you."
England went on to finish behind the United States in the group stage before bowing out with a decisive loss to Germany.
Not made for Hollywood
When he wasn't dazzling us with his performances on the pitch, Rooney gave us something to laugh about – for all of the wrong reasons – away from it when he answered the marketing department's call to endorse a product or promote a film.
For example, this gem:
And there's this shocker from 2016:
Overhead kick against City
Of all the moments, Rooney's overhead strike against Manchester City in 2012 might be the most indelible image of his legendary career.
Sir Alex Ferguson's reaction spoke volumes, as Rooney left the iconic manager stunned and brought the Old Trafford faithful to their feet with an acrobatic effort to lift United to a crucial victory over their fiercest rival.
Rooney called it "the best goal" of his career. He finished the season by helping United win the fourth of his five Premier League titles.
Kitchen floor knockout
As Rooney entered the final years of his time at United, it was clear he wasn't the same player who shined during the league-winning years.
But he successfully managed to shift attention away from his fading talents in 2015 when a video surfaced of him sparring good pal Phil Bardsley, who landed a vicious blow to prove the United star wasn't much of a boxer.
Rooney had some fun at his own expense, celebrating a goal for United by pretending to knock himself out shortly after the video went viral.
Sir Bobby Charlton's England record falls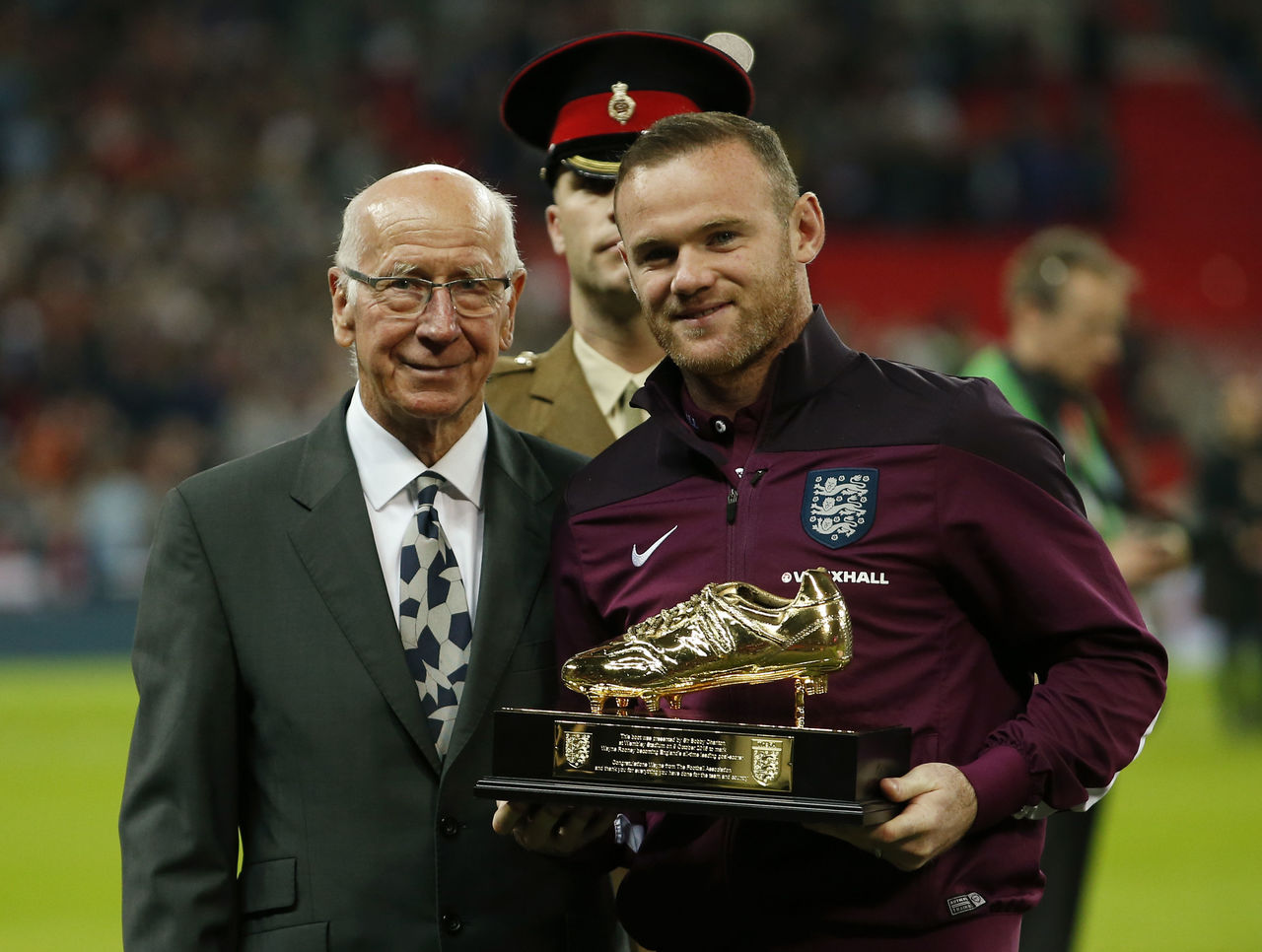 Though Rooney never really got close to winning the World Cup, there's no doubting his place as one of England's most prolific scorers.
Sir Bobby Charlton's longstanding record of 49 goals for the Three Lions finally fell in 2015 when Rooney converted a penalty against Switzerland at Wembley Stadium to surpass the 1966 World Cup winner.
He ended his international career with 53 goals, 21 more than the next closest active player, Harry Kane.
United's all-time leading scorer
The wait to eclipse Charlton as United's all-time leading scorer ended with a strike of sheer beauty.
Rooney added another dramatic moment to his collection when he scored a phenomenal free-kick against Stoke City in 2017 to bring his team level in stoppage time with his record-breaking 250th goal.
He left at the end of the 2016-17 season to rejoin Everton, ending his storied career as United's top scorer with 253 goals in 559 appearances.
Flashes of brilliance in MLS
Just when you thought the days of Rooney scoring jaw-dropping goals were a thing of the past, he showed he still had something left in the tank during his stint at D.C. United.
One of his most memorable plays, however, didn't end in him scoring. The English striker showed off his dominance on both ends of the pitch with an unforgettable sequence against Orlando City in his first season in North America.
After tracking back to win the ball with a textbook tackle deep into stoppage time, Rooney did his best quarterback impression by going deep with a pass into enemy territory and picking out a teammate for the winning goal.