The 2022 World Cup is in full swing. At the end of every matchday, we'll review the biggest talking points emanating from Qatar and break down all the action on the pitch. Below, we look back on Day 11 of the tournament.
Rooting for chaos nearly pays off
So, so close. As the final minutes ticked away in Wednesday's concurrent Group C fixtures – Argentina against Poland and Mexico versus Saudi Arabia – every onlooker had their abacus in hand.
With Argentina and Mexico leading their respective games 2-0 heading into stoppage time, the battle for second place in the group was, incredibly, coming down to the seldom-used fair play tiebreaker. By picking up two fewer yellow cards in the tournament up to that point, the Polish were clinging to the second spot ahead of the Mexicans. The permutations were endless as social media ate up the drama and concocted zany scenarios that would result in Poland picking up more cards. Everyone – besides the Poles and Mexicans, who were chewing their fingernails – was rooting for chaos.
Had Poland received two more yellow cards, it would've taken a drawing of lots to determine who would join Argentina in the next round. Polish coach Czeslaw Michniewicz seemed acutely aware, substituting veteran midfielder Grzegorz Krychowiak shortly after he was shown a yellow card – Poland's fifth of the tournament.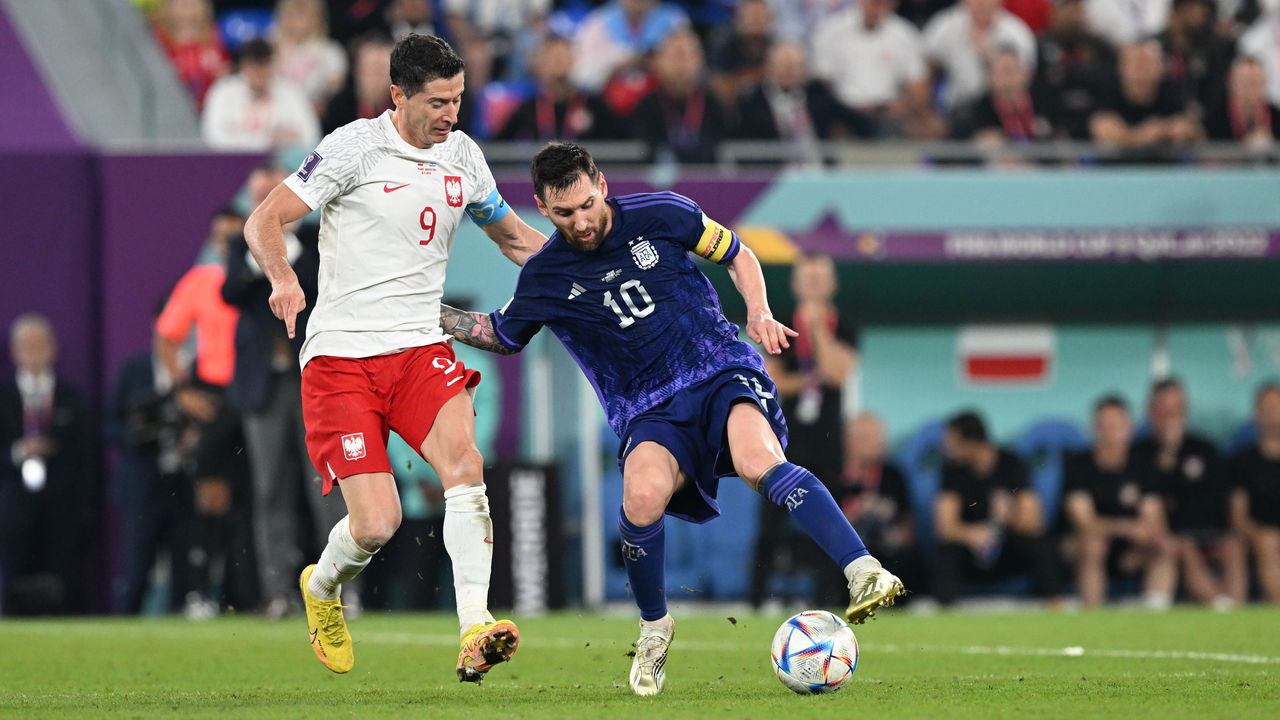 The Poles almost looked frightened to make any challenge, fearing punishment from the referee. It nearly allowed Argentina to score a third goal, which would have eliminated them. The South American side was inches away, quite literally, from another score on multiple occasions.
All the while, Mexico was throwing players forward with reckless abandon while seeking a third goal against Saudi Arabia. Thanks to a combination of Saudi netminder Mohammed Al-Owais, a fractional – but correct – offside call, and some wayward shooting, it never arrived. The tension rose with each chance, shredding viewers' nerves – even if you didn't have a rooting interest in the outcome.
In the end, Salem Al-Dawsari's late tally meant that goal difference, not the fair play tiebreaker, decided second place in the group in Poland's favor. But that roughly 30-minute spell was the best – and most chaotic – of the tournament so far. Only the World Cup can deliver such high drama.
Denmark stung by measly firepower
Denmark was supposed to make an impact at this World Cup. An appetizing group-stage draw alongside Australia, Tunisia, and France – already having beaten the latter twice competitively in 2022 – only lifted the Danes' confidence after their impressive run to the European Championship semifinals in 2021.
"We have some belief now that we can do things, that we are actually a really, really good team," forward Martin Braithwaite told theScore before the tournament started. "So, I think we have gotten more confidence since the Euro competition, and it's going to help us at the World Cup."
Despite beginning its campaign with two disappointing results, Denmark still had its fate in its own hands going into Wednesday's decisive clash with Australia. This match was between a nation ranked 10th in the world and a ragtag bunch that limped into the World Cup – rather than merely claiming a win, the result should've been a morale-boosting victory for Denmark ahead of the knockout rounds.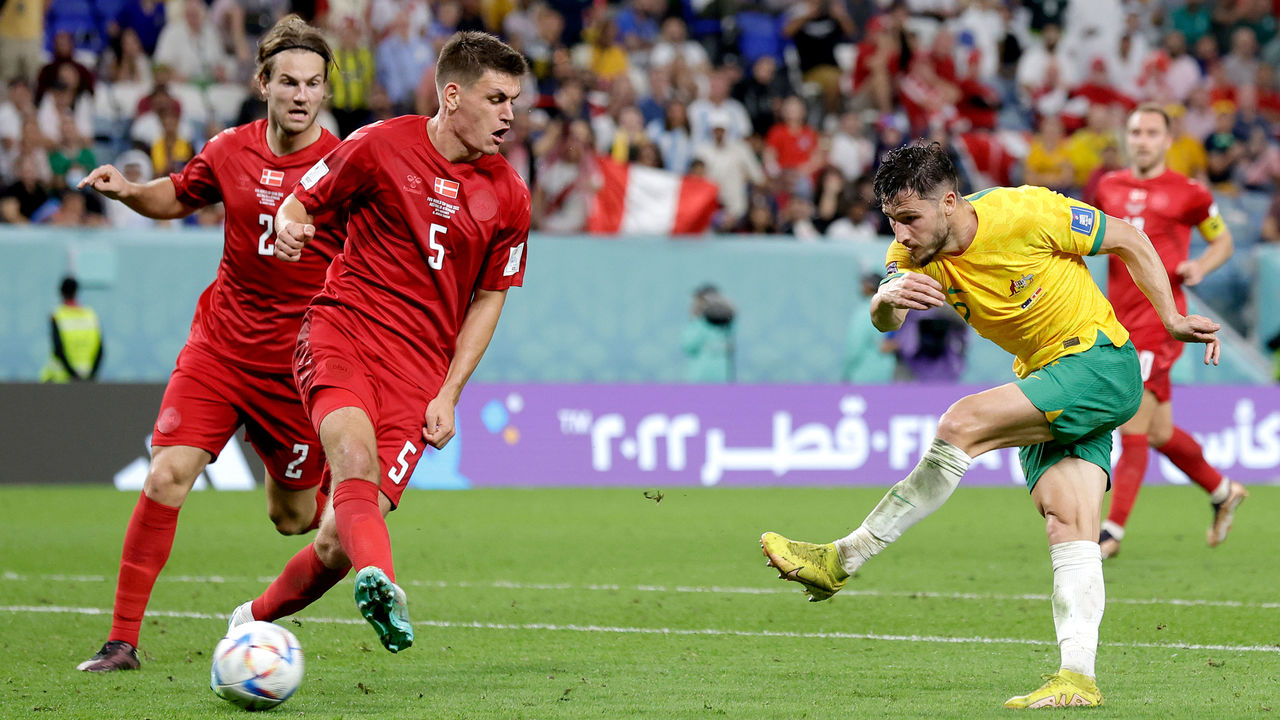 That wasn't how things played out. Mathew Leckie's twisting run and low accurate shot ended Denmark's World Cup with a surprising bottom finish in Group D. There have been more shocking scorelines than Australia's 1-0 triumph in Qatar, but Denmark's overall performance certainly was unexpected.
Denmark's results in Qatar
| Opponent | Score |
| --- | --- |
| Tunisia | 0-0 |
| France | 1-2 |
| Australia | 0-1 |
Accusatory fingers will point at Denmark's attack, and rightly so. Kasper Hjulmand deployed two forwards in the opener, a lone forward against France, and then a three-man attack, but Andreas Skov Olsen's tame scuffed effort against Australia was the only shot on target from any player in those six starting roles. Defender Andreas Christensen was the only Danish player to score at this World Cup.
Converting, rather than creating, is definitely the primary issue. Denmark finished its campaign with 27 key passes, which is 42% more than the Netherlands managed en route to finishing atop Group A.
The Danes must yearn for another Jon Dahl Tomasson or Allan Simonsen for this era because this tournament could've played out so differently with a clinical striker on the squad.
Mooy typifies Aussie spirit
Aaron Mooy risked his primary source of income in an effort to give Australia a final push into the World Cup.
The midfielder refused to report for preseason training with Shanghai Port FC in May over fears that a COVID-19 lockdown would prevent him from joining Australia for its crucial playoff fixtures. Mooy was earning almost $130,000 per week in the Chinese Super League, sources told The Sydney Morning Herald's Dominic Bossi.
"I won't release the details of what that took for Aaron, but he's made a big sacrifice to be here with us," Socceroos coach Graham Arnold said at the time.
Mooy's dedication to his country has been evident in his showings in Qatar. Although the 32-year-old usually stands out for his technical ability and inventiveness in Australia's midfield, he's instead worked diligently without the ball. He put in two big challenges and smashed away four clearances in the 1-0 win over Denmark, and he was similarly obstinate in the clashes with France and Tunisia.
Sometimes you need your stars to sparkle, but sometimes you need them to roll up their sleeves and do the dirty work. Mooy, unlike other veterans at this tournament, has adopted the latter rather than chasing the former.
Deschamps up to his old tricks
Didier Deschamps couldn't help himself. With France already assured progression to the World Cup knockout stage, he made nine changes to his starting lineup for the group finale against Tunisia. France, so entertaining and enterprising in its opening two matches, was unrecognizable en route to a 1-0 defeat. This second-string lineup has never played together, and it showed. Midfield maestro Eduardo Camavinga, in particular, looked lost playing an unfamiliar left-back role – a struggle Blaise Matuidi understands.
It didn't harm his team, ultimately – France still won the group thanks to a superior goal difference over surprise runner-up Australia – but it called Deschamps' decision not to include Real Madrid standout Ferland Mendy into question, especially since he had an additional roster spot available after injury forced Karim Benzema out of the tournament.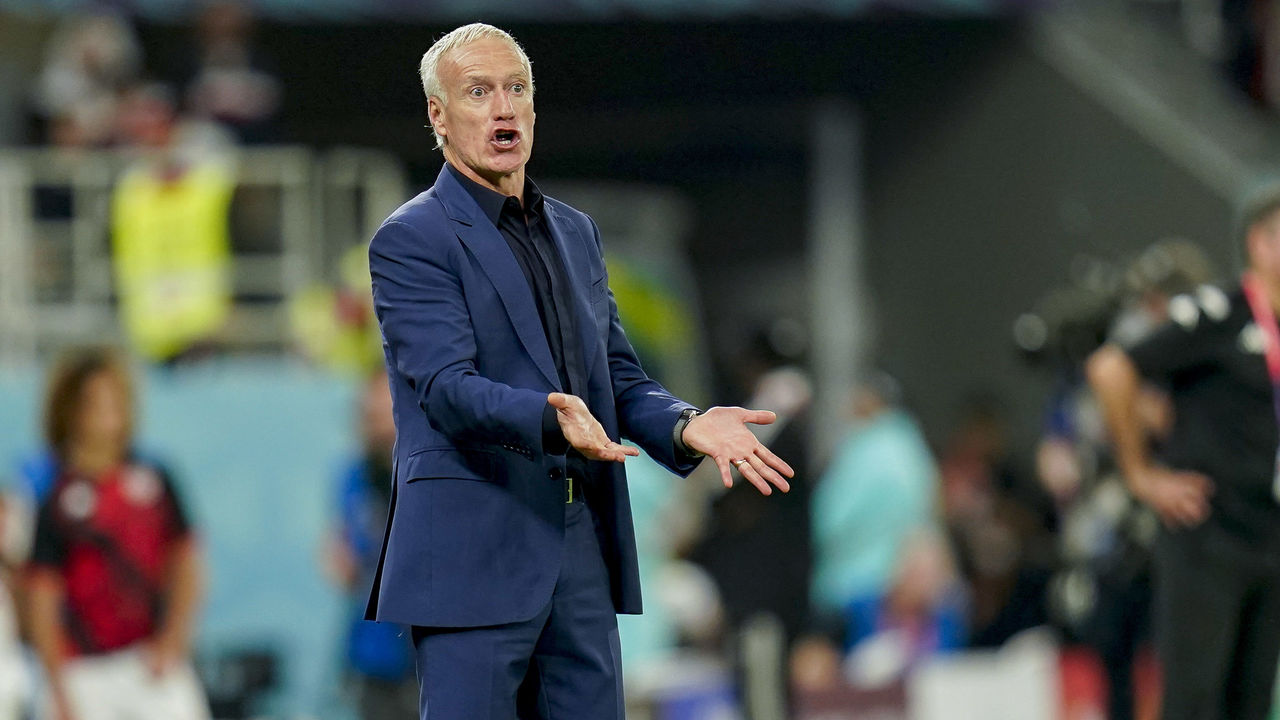 More importantly, his sweeping changes threaten to derail a French squad that was humming along. Reducing injury risk and keeping players fit – especially amid such a congested schedule – is crucial, but there was undoubtedly a less disruptive way to accomplish that.
Then again, Deschamps will point to his track record to dispel concerns: He did the same thing four years ago, making several lineup changes in the group finale against Denmark. Les Bleus, of course, went on to hoist the trophy.
Quick free-kicks
Argentina's enticing path forward
Argentina's defeat to Saudi Arabia, and the subsequent handwringing it inspired, already feels like a long time ago. The Albiceleste dominated Poland on Wednesday, dictating possession, swarming around the ball on the rare occasions it was lost, and crafting openings at will against an opponent that seemingly had no desire to attack. Argentina outshot Poland 24-3, holding Robert Lewandowski and Co. without an effort on target. It was an onslaught, and only Wojciech Szczesny's brilliance kept the score close. That performance level is what everyone expected from a team that came into the tournament on a 36-match unbeaten run. Now confirmed as the Group C winner, Lionel Scaloni's side has a higher chance of reaching the semifinals thanks to a somewhat forgiving bracket. Argentina will meet Australia in the round of 16 and, with a victory, would then take on either the Netherlands or United States for a place in the final four. If you offered Scaloni, Lionel Messi, and the entire country that option at the tournament's start, they would have gladly accepted.
Canelo apologizes to Messi
Turns out Saul "Canelo" Alvarez was a little overzealous. Quick to chastise Messi on social media for what he believed to be an insult against his country, the Mexican boxer walked back his criticism on Wednesday after it was pointed out to him that Messi did nothing wrong with a Mexican jersey in the locker room after the two nations met in Qatar. "I was carried away by the passion and love I feel for my country, and I made comments that were out of place for which I want to apologize to Messi and the people of Argentina," the world champion fighter said on Twitter. "Every day, we learn something new, and this time it was my turn." So ends one of the more entertaining and unexpected off-field storylines of this World Cup.
Adios, Tata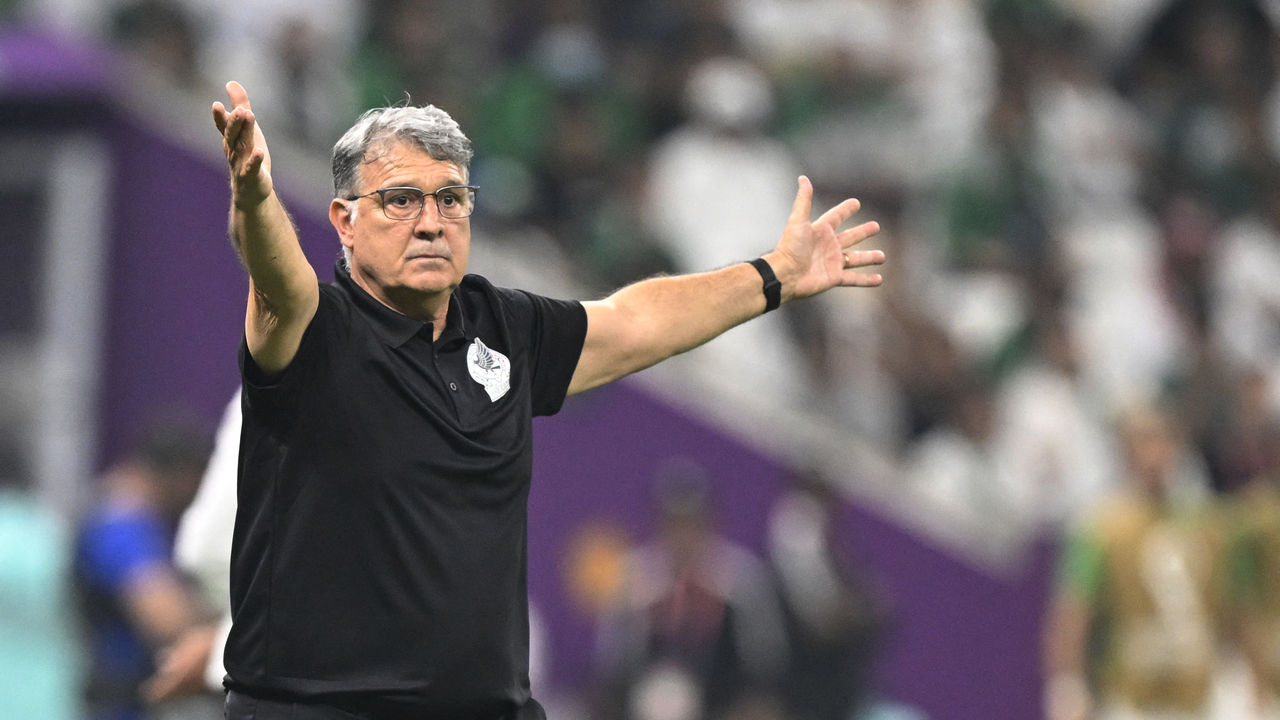 Gerardo "Tata" Martino didn't have many supporters among the Mexican fanbase before this tournament began. He's struggled to regain some popularity since El Tri's three defeats to the United States in 2021 – including in the finals of the Nations League and Gold Cup – and a team that continually wastes scoring chances is never going to endear itself to the public. Mexico belatedly looked dangerous in Wednesday's scuffle with Saudi Arabia, but failing to add a third goal before Al-Dawsari's gut punch deep into injury time should be the final straw. This isn't the finest era for the Mexico men's team, but it's been playing considerably below expectations for some time. This will likely be the end of Tata's tenure.
Herdman won't 'F' off
John Herdman drew plaudits for Canada's performance in its opening defeat to Belgium but then gained infamy in some quarters for declaring that his team would "F" Croatia. Well, Canada lost 4-1 to Croatia. Nevertheless, the Canucks ended a 36-year wait to return to the men's World Cup, and the development of numerous young players in the national team camp meant that Herdman's job was secure regardless of what happened in Qatar. The Englishman was also adamant about his desire to take Les Rouges "to the next level" and lead them at the 2026 World Cup during Wednesday's press conference.
Stat of the day
If not for another incredible performance from Szczesny, Poland would already be heading home. In addition to spectacularly denying Messi's thunderous spot-kick – his second penalty save of the tournament – the Juventus netminder thwarted eight other Argentine efforts on Wednesday.
Tweet of the day
Spotify Wrapped is here, friends. Who is brave enough to share?