The 2022 World Cup is in full swing. At the end of every matchday, we'll review the biggest talking points emanating from Qatar and break down all the action on the pitch. Below, we look back on Day 9 of the tournament.
Neymar's absence zaps Brazil
Neymar, nursing a grotesquely swollen ankle after a series of heavy tackles in the match against Serbia, is confident that he'll be able to return at some point during the World Cup. Brazil better hope he's right.
The tournament favorite has spent this entire World Cup cycle orbiting around the 30-year-old; the team's style of play is designed with Neymar's unique skills in mind. His dribbling, in particular, opens up space for everyone else, and Richarlison's bullish presence up front complements the Paris Saint-Germain superstar because he stays up high and doesn't occupy the same areas of the pitch. With Vinicius Junior and Raphinha on the wings, Brazil is a menacing force. Without him, though, things get bogged down. Despite bringing an abundance of attacking talent to Qatar, Tite doesn't have anyone who can replicate Neymar's unique skill set.
That was apparent on Monday when Brazil labored to a 1-0 win over Switzerland that required a wicked late strike from Casemiro, of all people, to break the deadlock. Tite brought Fred into the starting lineup and asked Lucas Paqueta to take on a more creative midfield role. It didn't really work.
If Neymar is going to miss additional time, which seems likely considering the state of his ankle, Tite will need to make more sweeping changes. Playing a Neymar-centric system is great until the man himself isn't there. Vinicius is explosive enough to carry the attack, but not in the same way; the Real Madrid star does his damage from the left wing, whereas Neymar drifts all across the pitch, finding pockets of space and exploiting them.
Already qualified for the knockout stage, Brazil's group finale against Cameroon could be a chance for Tite to make broader changes and prepare more thoroughly in case Neymar isn't fit in time for the last 16.
Kudus' stock on the rise
Of all the players whose stocks will rise after successful World Cup campaigns, Mohammed Kudus' could soar the highest by the time things wrap up for Ghana in Qatar.
While casual fans may not have heard the name before Monday, one of the biggest stars in the world, Neymar, certainly knew who Kudus was before an eye-opening outing against South Korea. After the pair were involved in a heated exchange during an international friendly in September, the Ghanaian star added fuel to the rivalry with an audacious remark about the Brazilian.
"He's not better than me. He's just a higher profile player, that's all," the supremely confident Kudus said before the World Cup.
The 22-year-old backed up his words days later, introducing himself to the wider world with a brace to take down South Korea in Ghana's 3-2 victory. In a bonkers match full of action and twists, he exhibited the qualities that Ajax supporters have come to love this season.
Kudus, who was sidelined for most of last season with a knee injury, doubled the Black Stars' lead in the second half with a glancing header after getting on the end of Jordan Ayew's exceptional ball into the box. Following South Korea's frantic comeback, Kudus came to Ghana's rescue in the 68th minute with a composed finish under pressure to record his second World Cup goal. The strike proved decisive, delivering a blow to the Asian nation's World Cup hopes and keeping Ghana alive heading into the final group match.
The worldwide exposure is undoubtedly huge for Kudus' career. But Ajax won't appreciate the increased interest in a player big European clubs will have undoubtedly noticed by now. At this rate, it would hardly be a surprise if there's a lucrative transfer offer that leads to his departure from the Dutch giants over the next two transfer windows, especially after a move to Everton was close this past summer.
Thoughtful Adams shows true leadership
Tyler Adams handled a delicate situation with respect and poise. Ahead of the United States' politically charged meeting with Iran on Tuesday, the USMNT captain was pressed on a variety of topics by media members during the pre-match press conference.
In particular, Adams, who is Black, was asked by an Iranian journalist to defend the United States' treatment of Black people and admonished by the same reporter for his improper pronunciation of the upcoming opponent – the 23-year-old referred to the country as "Eye-ran" instead of "E-ran." Others may have failed to find the correct words in response to the pointed question and critique. But Adams offered a considered response.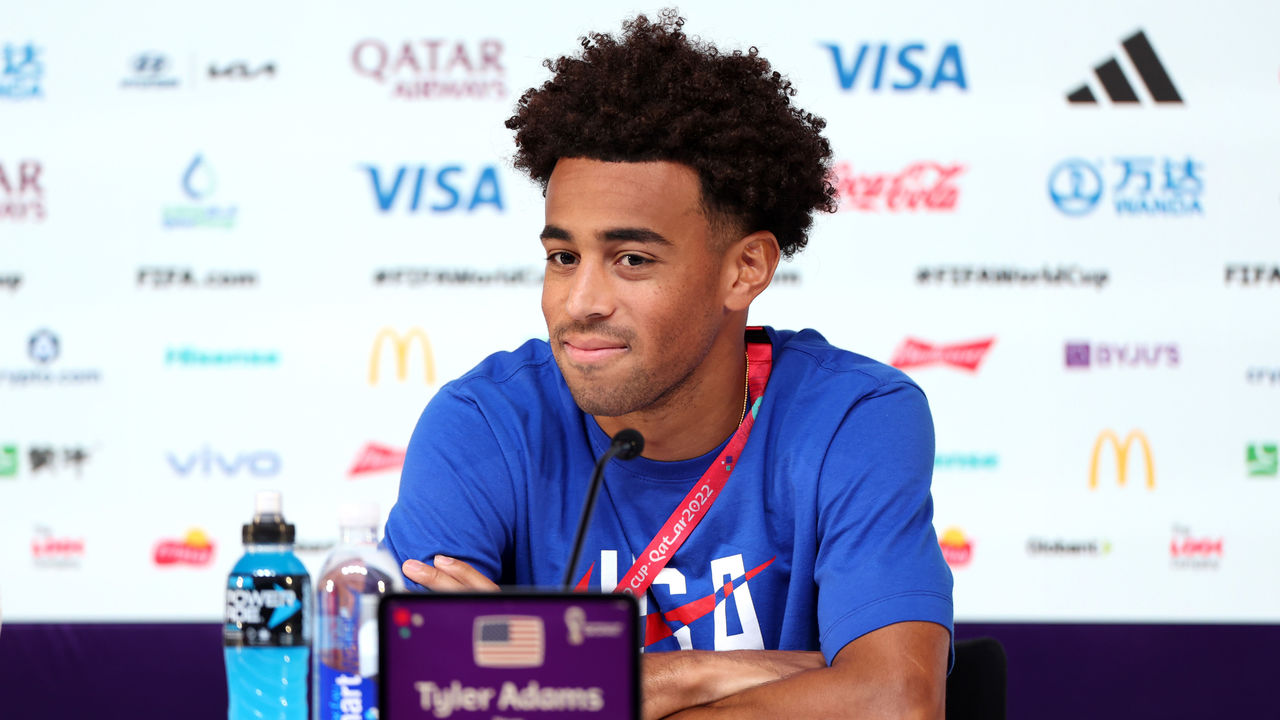 "One thing that I've learned, especially from living abroad in the past years and having to fit in in different cultures and kind of assimilate into different cultures, is that in the U.S., we're continuing to make progress every single day," Adams said, citing the need for continued education in his homeland and across the globe. "Like you just educated me now on the pronunciation of your country. So, yeah, it's a process. I think as long as you see progress, that's the most important thing."
It was an impressive moment from someone tasked with being the face and voice of the American team. That comes with unique challenges, which get amplified considering the history between the United States and Iran. Politics, whether Gianni Infantino likes it or not, are inevitably intertwined with sport. Especially at the World Cup.
Quick free-kicks
Will Ronaldo ever cede free-kick duty?
Ha. Just kidding. We all know the answer to that, right? When Cristiano Ronaldo stood over a free-kick in the first half of Portugal's eventual 2-0 win over Uruguay, precedent suggested there was very little chance the net would be rippled. He went for it anyway. He promptly smacked the ball into the Uruguayan wall, just as many expected. The evidence mounts that he has no business taking free-kicks for his country. Good luck telling him that, though.
Portugal protecting penalty spot
It was only a footnote in the game – Portugal likely would have held on for the win regardless – but after being awarded a stoppage-time penalty to seal the victory over Uruguay, several Portuguese players formed a semi-circle in an apparent effort to thwart any Uruguayan counterparts from sabotaging the penalty spot. It's surprising that this type of calculated effort by multiple players at once doesn't happen more often. Bruno Fernandes, with a hop, skip, and jump, coolly converted the effort from 12 yards out to complete his brace and cap the victory. Ronaldo, who earlier tried to claim a goal that was awarded to Fernandes, could only watch from the bench. The current Manchester United player, and not the former one, is powering Portugal right now, as Fernandes already has two goals and two assists in Qatar.
Onana booted from Cameroon squad
Monday's action started with a big surprise between the sticks for Cameroon: Andre Onana was replaced by backup Devis Epassy. Onana, the undisputed starter for the Indomitable Lions, wasn't even on the bench. What gives? It appears as though a disagreement between the Inter Milan shot-stopper and manager Rigobert Song resulted in Onana's omission from the squad for the hectic 3-3 draw against Serbia. Officially, he was dropped for "disciplinary reasons." Song wants Onana, who's adept with his feet, to take fewer risks playing the ball out from the back. The 26-year-old, a disciple of the Barcelona and Ajax footballing philosophies, disagrees. "For the time being, I've had to wait, and we'll see if he's going to stay with us," Song said of the situation. "It's up to him as well, to a certain extent. So, you're going to have to agree to respect the rules to perhaps come back into the squad."
Subs change games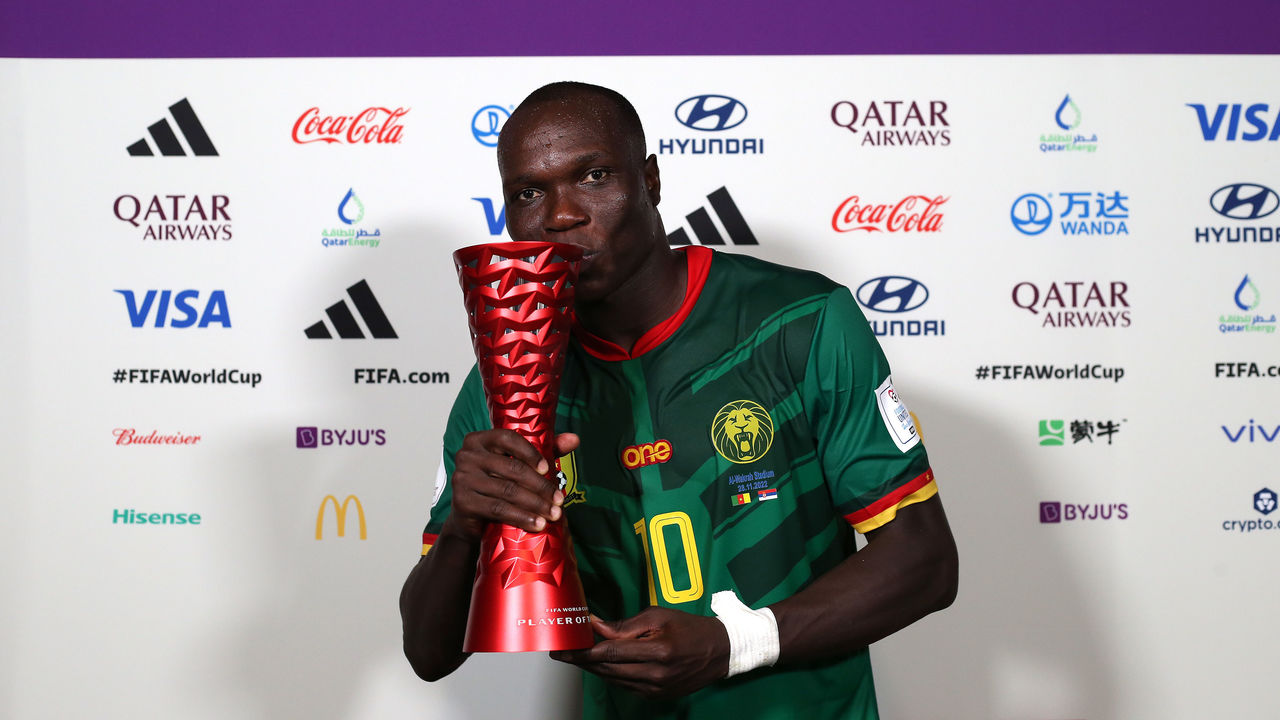 A pair of substitutions – one enforced, one overdue – changed the course of Monday's match between Serbia and Cameroon. With Serbia leading 3-1 and looking in complete control, the African side introduced striker Vincent Aboubakar off the bench in the 55th minute. Roughly 60 seconds later, Serbian defender Strahinja Pavlovic, who had already scored a goal and was putting forth a commanding physical performance, was forced out of the contest with an apparent injury. Just 10 minutes later, the match was knotted at three apiece. Serbia's defense crumbled after Pavlovic, a 21-year-old garnering significant transfer interest, had to come off. Aboubakar, whose absence from the starting XI has been baffling considering his scoring prowess this year for Cameroon, took full advantage, scoring an audacious scoop shot to cut the deficit in half before setting up the equalizer in the manic 3-3 draw. With deeper benches for this tournament and more subs available to coaches, in-game changes have never been more influential.
Canelo vs. Messi, Round 1
Lionel Messi already has to worry about being targeted by defenders every time he steps on the pitch. Now he apparently has a world-champion boxer after him, too. Mexican pugilist Saul "Canelo" Alvarez took aim at Messi on social media, accusing the Argentine superstar of disrespecting his country following the Albiceleste's much-needed 2-0 win over the weekend. While removing his shoe in the dressing room after the match, Messi appeared to inadvertently nudge a Mexican jersey that was on the floor. "He better ask God not to run into me," Canelo tweeted, clearly perceiving the incident to be an insult worthy of fisticuffs. Sergio Aguero and Cesc Fabregas both rushed to Messi's defense, with the latter retorting that Canelo doesn't understand "how a locker room works" after a football match. If you had "Messi versus Canelo" on your World Cup bingo card, collect your winnings.
Stat of the day
After so many drab goalless matches at both this World Cup and previous editions of the tournament, we deserved today's scoring outburst.
Tweet of the day
Gio Reyna and geopolitics are both on Gregg Berhalter's mind right now.