2021 was awash with huge stories in the world of soccer, with Lionel Messi's departure from Barcelona arguably the biggest of them all. But what about the most impressive, heartwarming, or surprising developments of the year? Here, theScore selects 10 stories that provided some much-needed relief over the last 12 months.
10. Leicester City lift FA Cup for 1st time
Chelsea were seemingly unstoppable under Thomas Tuchel as they surged up the Premier League table, beat Manchester City in the FA Cup semifinal, and booked their place in the Champions League final (which they won). They were unsurprisingly heavy favorites heading into May's FA Cup final, the United Kingdom's biggest spectator event for 14 months.
But after Youri Tielemans' long-distance screamer put Wembley at full volume, glory was within reach for underdogs Leicester. Chelsea twice came close to a dramatic late equalizer courtesy of ex-Foxes full-back Ben Chilwell: First, Kasper Schmeichel miraculously clawed away his near-post header. Then, VAR determined a Chilwell-engineered own goal for Wes Morgan was offside.
Leicester held on for the win and lifted the old trophy after losing each of the four previous FA Cup finals in their 137-year history.
9. That day Euro 2020 was drunk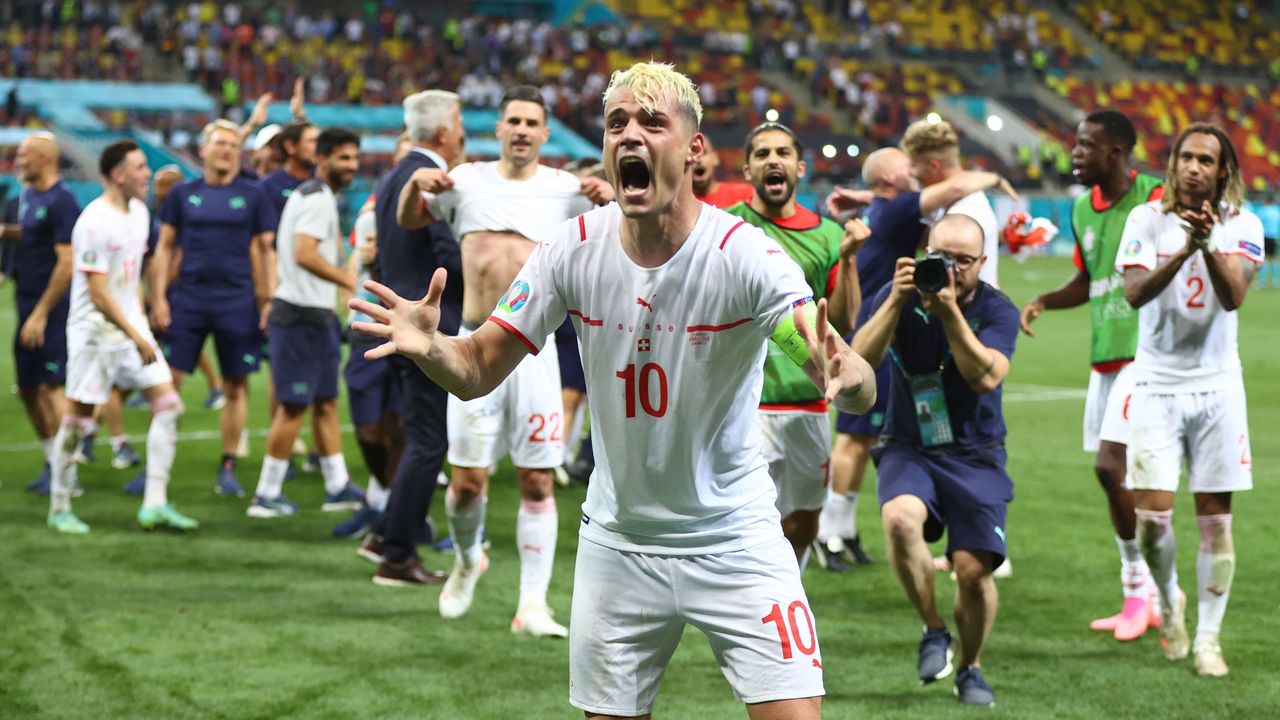 The back pass that skipped over Spain goalkeeper Unai Simon's foot and into the net in the 20th minute set the tone. This wasn't going to be a run-of-the-mill Monday in Euro 2020's round-of-16 clashes.
Spain rallied against Croatia and was cruising when Ferran Torres put La Roja ahead 3-1 in the 77th minute. However, the Croats weren't done. They spirited away Spain's two-goal advantage when they nudged the ball in during a goalmouth scramble and equalized through Mario Pasalic's injury-time header.
But Simon made amends for his first-half error with a marvelous save to thwart Andrej Kramaric early in extra time, and this proved the springboard for Spain to eventually carve out a 5-3 victory.
Somehow, the next match was even crazier. Switzerland swarmed Didier Deschamps' much-changed France side in the opening half but only took a 1-0 lead into the break after spurning a host of chances, including a Ricardo Rodriguez spot-kick that was pushed away by Hugo Lloris. And, of course, Switzerland was punished when Karim Benzema scored twice in under five minutes and Paul Pogba pocketed a sublime effort from distance.
But from nowhere, Switzerland was resuscitated. Haris Seferovic notched his second header of the game and Mario Gavranovic fired in a 90th-minute equalizer. France still could've won, though, but Kingsley Coman hit the bar in the final seconds of normal time and other chances went begging in extra time.
A high-quality penalty shootout followed until Kylian Mbappe stepped up for France's fifth effort. Yann Sommer saved Mbappe's strike, giving Switzerland the win in an all-time classic encounter.
8. Barcelona women take over
Barcelona are on course to dominate the women's game once again in 2022. They've won all 15 of their matches in the 2021-22 La Liga campaign, scoring 86 goals and conceding only four, and have cruised into the Champions League quarterfinals after beating Women's Super League leaders Arsenal 4-1 and 4-0 during the group stage.
Plus, Barcelona were devastating over the 2020-21 term as they secured the Primera Division, Copa de la Reina, and Women's Champions League titles in the same season for the first time.
Alexia Putellas notched 27 goals and 19 assists last season through her intelligent and bewitching play in midfield, but it almost felt wrong to single out just one Barcelona star for praise when she won the 2021 Ballon d'Or. Certain players stand out in different games, of course, but the fluidity and sheer brilliance of this Barcelona generation is a stunning tapestry rather than a series of portraits.
"For me, it's a collective success," Putellas said upon receiving the award.
7. Lille outmuscle PSG to take Ligue 1 crown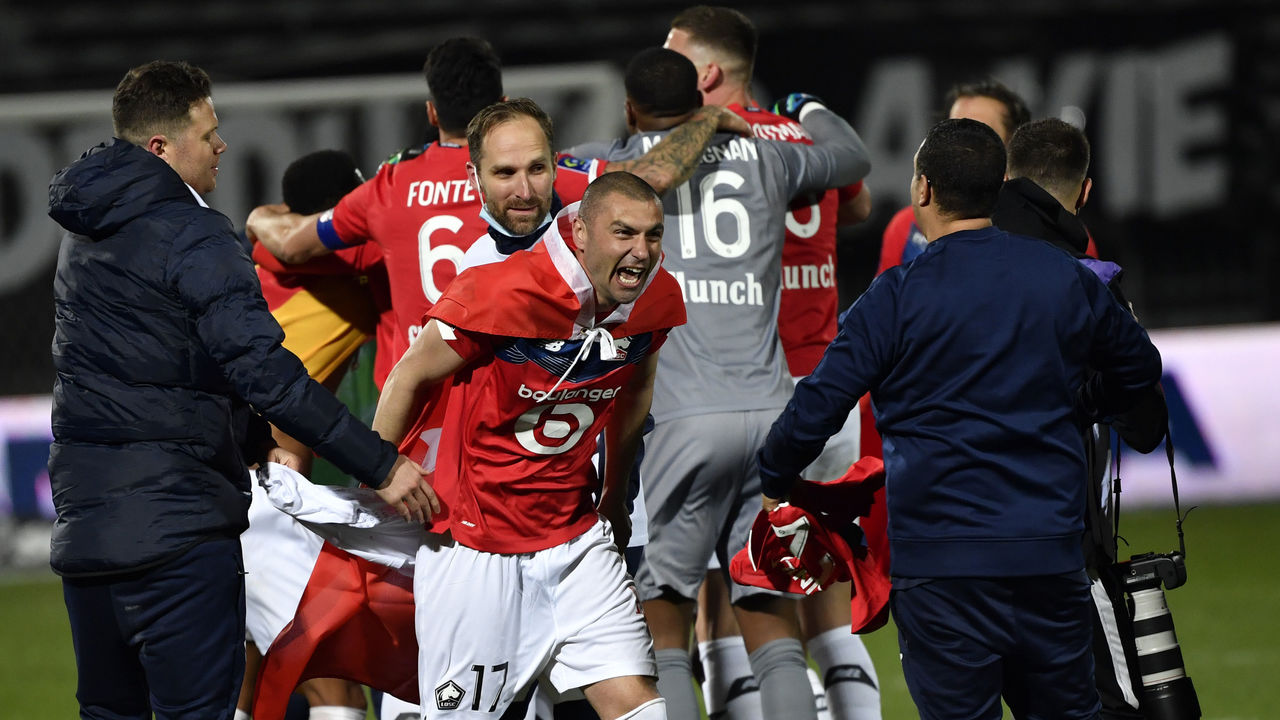 Lille's run to the Ligue 1 title was no Moneyball success story. It was built on youth and experience, and some damn good coaching.
Les Dogues held their own against France's top five teams, going unbeaten against rivals Paris Saint-Germain, AS Monaco, Lyon, and Marseille while boasting the league's best defense. Jose Fonte, then 37, and Sven Botman, then just 20, complemented each other in central defense, and goalkeeper Mike Maignan proved himself as France's next great shot-stopper, keeping a league-high 21 clean sheets.
Galtier shortened his squad, calling on just 21 dedicated players in Ligue 1, the fewest of any team in the top flight, and did an impeccable job shielding his team from the distractions of a messy change in ownership in December 2020.
6. Norway protests human rights abuses in Qatar
As universal as human rights may be, few in the soccer community have taken a significant stand against the ongoing abuses in Qatar, where the 2022 World Cup will kick off in less than a year's time. More than 6,500 migrants have died since the gulf nation won the right to host the World Cup in 2010, and while local authorities link 34 of those deaths to the construction of stadiums, watchdog groups believe the total death toll is significantly higher.
Players for Norway's national team led a rare call for justice in March, revealing T-shirts with a simple but strong message: "Human rights on and off the pitch." Erling Haaland, one of the sport's rising stars, took part in a protest no other player of his stature had dared to front. His presence alone was enough for people to take notice.
Norway also held a vote among delegates in June over a potential boycott. The country's football association opted not to do so – Norway failed to qualify for next year's tournament anyway – but the display back in March prompted an important conversation that few in the game were comfortable having.
5. Canadian women win Olympic gold
Canada's women's team banished the ghosts of its unwanted past by winning the gold medal at the Tokyo Olympics. Having settled for bronze at the 2012 and 2016 Games, the Canadians finally broke through in Japan, beating the United States for the first time in 20 years before defeating Sweden in the final. Goalkeeper Stephanie Labbe saved two of Sweden's last three spot-kicks in a tense penalty shootout, and 21-year-old Julia Grosso buried the decisive kick to make gold medallists out of Canada for the first time.
It was a crowning moment for the team, but mostly for Christine Sinclair, the most prolific scorer in international soccer who, at 38 years old, was playing in the Olympics for the last time. She carried the program for two decades, elevating the profile of women's soccer in a country that hockey long dominated and inspiring the very generation of girls that helped her win gold in Tokyo. Grosso wasn't even born when Sinclair made her senior debut in March 2000.
4. Transfer window madness
Despite the financial effects of the coronavirus pandemic, clubs still managed to spend $3.72 billion on transfers between June and August. That doesn't even include free transfers, such as Lionel Messi's big move to Paris Saint-Germain, David Alaba's switch to Real Madrid, Barcelona's acquisition of Memphis Depay, and PSG's deal for Euro 2020 star Gianluigi Donnarumma. Manchester City made Jack Grealish the most expensive signing in Premier League history, and Cristiano Ronaldo headlined Manchester United's spending spree.
But not all teams had money to spend. Messi left Barcelona after 21 years because the club couldn't afford to keep him, and Juventus sold Ronaldo because they couldn't afford to keep him.
However, PSG trolled everyone with their ridiculous summer spending. On top of Messi and Donnarumma, the Ligue 1 giants rolled out Achraf Hakimi, Sergio Ramos, and Georginio Wijnaldum in a bid to upend the traditional order in European soccer.
3. Messi ends trophy drought with Argentina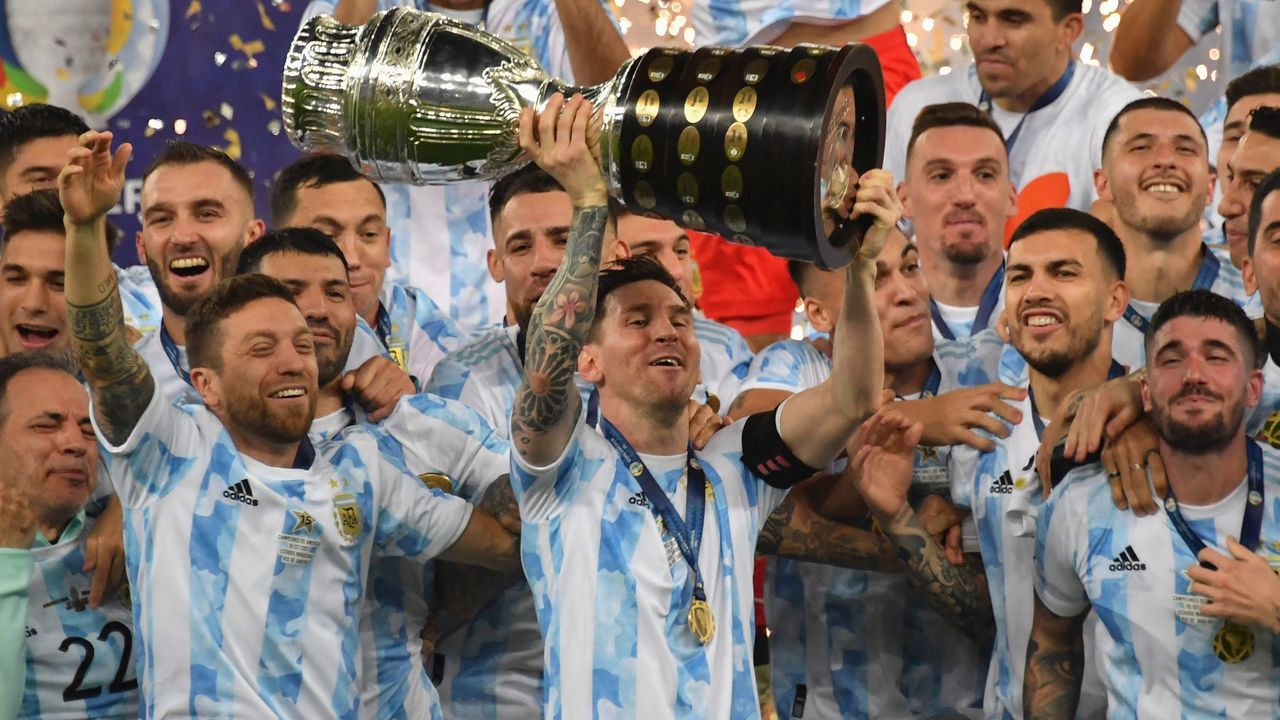 Messi fell to his knees when it dawned on him that he'd finally, for the first time in his career, won a trophy with Argentina's national team. The final whistle blew, signaling a 1-0 win over Brazil at the Maracana, of all places, and prompting Messi to lift the Copa America amidst a flood of tears.
"I needed to remove the thorn of being able to achieve something with the national team," Messi said. "I had been close for other years and I knew it was going to happen. I am grateful to God for giving me this moment, against Brazil and in Brazil. I was saving this moment for myself."
Messi lost in the 2007, 2015, and 2016 Copa America finals and again in the 2014 World Cup final, complicating his already tense relationship with the Argentinian public. He quit on the national team after missing a penalty in the shootout against Chile in 2016 but returned with a mission.
Messi dominated this tournament, leading all players with four goals, five assists, and six big chances created. Many believe he won the Ballon d'Or specifically because of his heroics for Argentina.
2. Fans take down European Super League
The European Super League would've been a terrible spectacle. The 20-club system was only open to five teams on sporting merit, while the other 15 sides were assured of their Super League place regardless of performances in their respective domestic leagues and in the competition itself.
The 15 clubs would've taken the majority of football's riches in their gated community and diluted the importance of matches in both domestic and continental football.
So, the fans fought back. First, protests outside Stamford Bridge forced Chelsea to pull out; then Manchester City followed, and then the rest of England's rebels. The Super League died two days after it was introduced to the world, and most of the executives who signed up to the project were forced to acknowledge their pursuit of more money had overlooked what fuels the sport.
"What you've got is something created over 100 years ago that was fantastic," Barnet owner Tony Kleanthous told theScore after the Super League's collapse on April 20. "And you've got a few rich people today that think it's theirs, that think they own it. They will never own it; the fans own it."
1. Eriksen's life saved after heroic response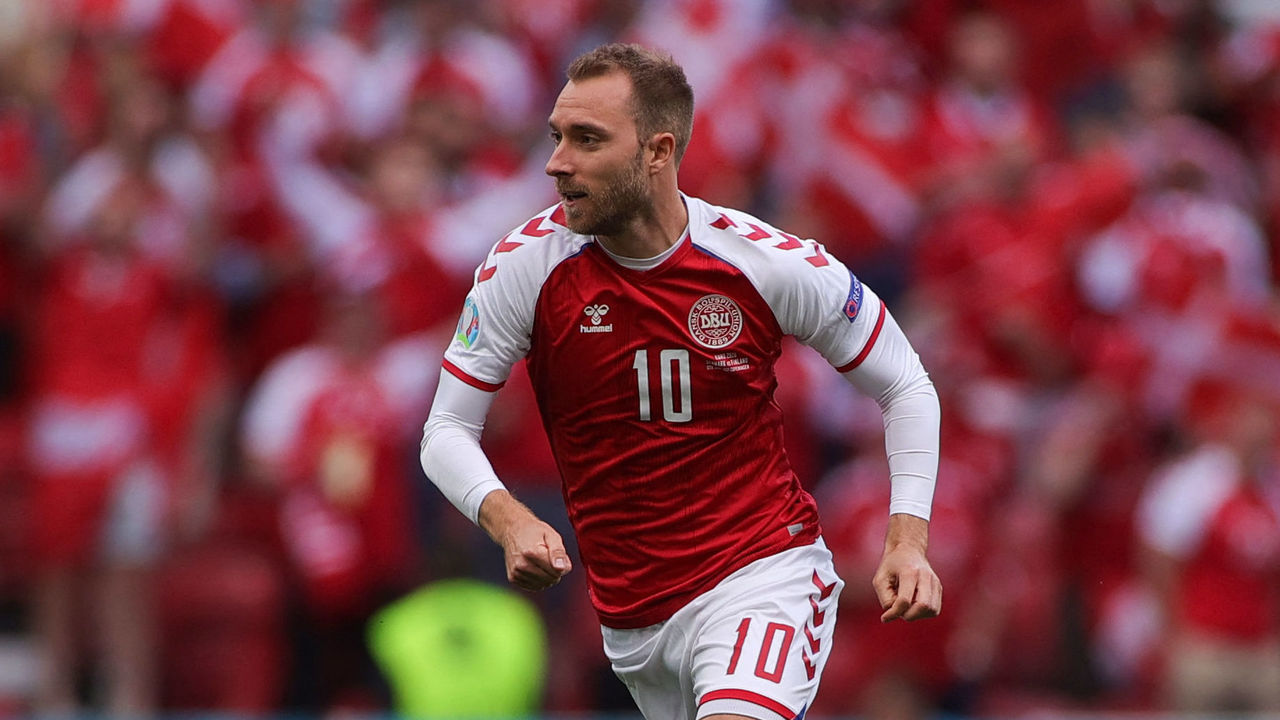 When Denmark's Christian Eriksen collapsed midway through his country's Euro 2020 opener against Finland, referee Anthony Taylor took immediate action, signaling medics onto the pitch.
"I knew straightaway something was wrong because of how his face looked and how he fell to the floor," Taylor told BBC Sport.
Thanks to their quick response, the medics eventually administered life-saving CPR on Eriksen, who suffered cardiac arrest and required a defibrillator to be resuscitated.
"He was gone," team doctor Morten Boesen said at the time.
Simon Kjaer, Denmark's captain and a close friend of Eriksen's, was one of the first people to intervene. Within seconds, Kjaer rolled Eriksen onto his side to clear his airways and begin the process of CPR. Kjaer then stepped aside to console Eriksen's partner on the sideline.
In a further display of unity and strength, Denmark's players formed a human shield around Eriksen while he was receiving treatment, giving their fallen teammate the dignity and privacy he deserved.
As the teams awaited word on whether to resume the match, Finland supporters started chanting, "Christian! Christian!" The Danish fans answered by shouting, "Eriksen! Eriksen!"
What could have been a nightmare ultimately turned into a story of heroism, courage, and togetherness.