The Champions League made its anticipated return as the knockout stage got underway this week. Below, we dissect the biggest talking points from an entertaining batch of last-16 matches in Europe's premier club competition.
Manchester City use energy wisely
The scoreboard read 0-4 in Lisbon when Sporting CP and Manchester City retreated for halftime. With 135 minutes remaining in the teams' last-16 matchup, it was already over.
There was nothing new to Pep Guardiola's initial approach to Tuesday's eventual 5-0 victory. The Spaniard's preferred 4-3-3 formation was distorted by Phil Foden – the false nine – dropping to receive the ball in central areas and the No. 8s pushing forward to help create overloads on either side of Sporting's defense.
Plenty of English teams were undone by a similar approach this winter.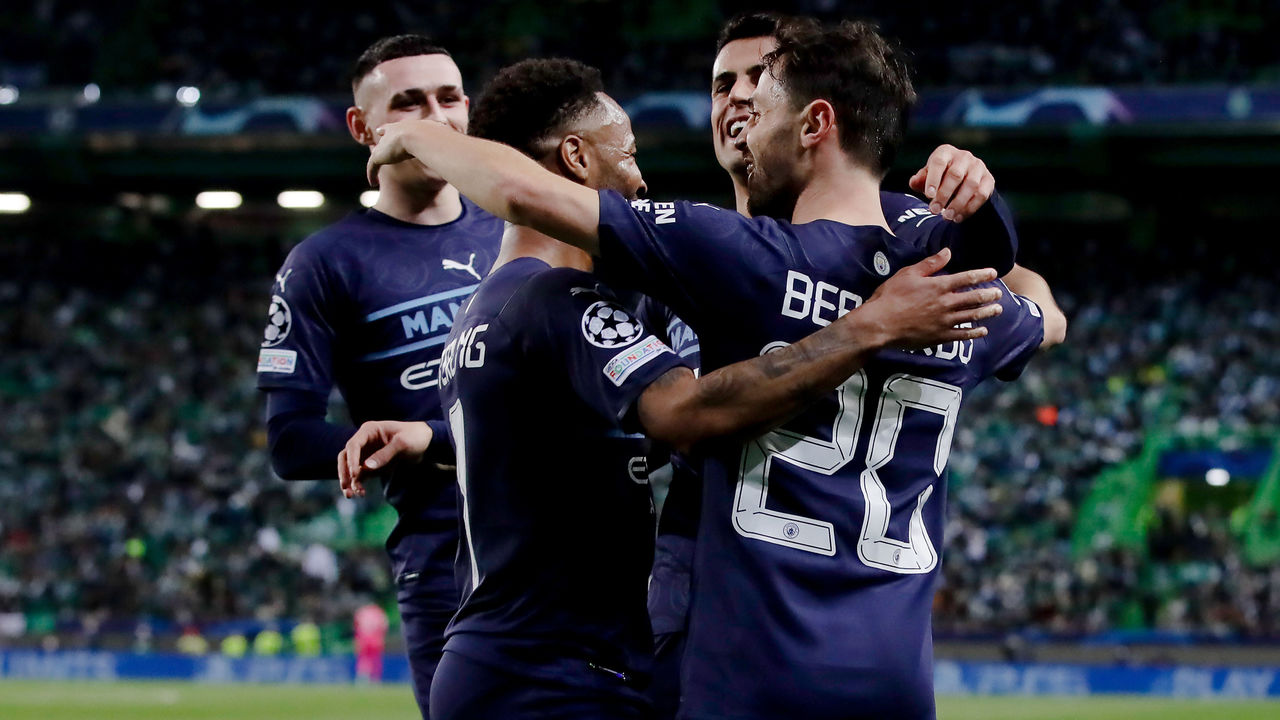 But what sets City apart is their sheer relentlessness. The Premier League leaders' work on the ball is more methodical nowadays as they systematically pick teams apart. The dizzying, pacey interplay – like when Raheem Sterling and Leroy Sane darted down the flanks earlier in Guardiola's tenure – was ditched some time ago.
"When we have the ball, we run less," Guardiola explained midway through last season when the new iteration of City was taking shape.
That reserved energy is instead expended on a more aggressive, immediate press. Five City players set the tone when they swarmed Sporting's right side within seconds of kickoff, and Bernardo Silva and Sterling executed three successful tackles each in the first half alone.
Sporting's three center-backs only completed one tackle between them throughout the whole 90 minutes.
Mbappe is PSG's MVP, and it's not close
Kylian Mbappe proved again Tuesday that he's the brightest star in Paris Saint-Germain's constellation of talent, outshining Lionel Messi on a potentially transformative night in the club's history.
PSG found Mbappe, not Messi, in the most dangerous areas of the pitch against Real Madrid. Messi may have controlled more possession than Mbappe, but the Frenchman localized himself in the final third, producing 18 touches in the penalty area to the Argentine's five and firing three of PSG's four shots in the danger zone. Mbappe's teammates also did their best to put the 23-year-old in one-on-one situations, enabling him to beat defenders with his pace and dribbling ability.
That's how Mbappe earned the penalty kick that Messi botched in the 62nd minute, and it's how he managed to set up the winning goal with virtually the last kick of the game. Mbappe first drew contact from defender Dani Carvajal on one of his trademark runs, and then he skipped past Lucas Vazquez and Eder Militao in the 94th minute to decide the contest.
"The best in Europe today," Madrid manager Carlo Ancelotti said of Mbappe, according to ESPN's Alex Kirkland.
He added: "Unstoppable. We tried to control him, double up on him, but he can always invent something."
Messi drifted through the first half, adopting a deeper playmaking role without providing much in the way of ingenuity. The 34-year-old proceeded to fluff the penalty Mbappe created with his own daring style of play.
If PSG go on to win, they may look back on this tie as the turning point in their painstaking attempts to re-sign Mbappe. If not, Madrid may well pounce on the opportunity to seize the game's next leading light.
Bring back the away goals rule
It's a brave new world out there in the Champions League, but it's not necessarily a better one. The consequences of abolishing the away goals rule were on full display Tuesday when Real Madrid showed no desire to attack in their eventual 1-0 loss to Paris Saint-Germain. Carlo Ancelotti's team sat deep, rarely pressed, and was quite clearly playing for a goalless draw in the French capital.
Without the incentive of seeking a valuable away goal, Real Madrid finished the match with three shot attempts, and none on target; the administrative body will never admit it, but it appears UEFA has made a terrible mistake.
Those in favor of eliminating the away goals rule argued that its existence made home teams less likely to attack in the first leg, thus blunting the action.
"The impact of the rule now runs counter to its original purpose as, in fact, it now dissuades home teams – especially in first legs – from attacking, because they fear conceding a goal that would give their opponents a crucial advantage," UEFA president Aleksander Ceferin said last year when the decision was made to eliminate a practice that had been in place since 1965.
The data has always suggested otherwise, though.
Chaudhuri pulled those numbers in 2019. Then, in the entirety of last season's Champions League – with the rule still in use – not a single first-leg knockout match finished goalless.
And we're not even into the second legs yet, where a single away goal once had the power to inspire chaos and turn losses into wins. That type of tension, with a match on a true knife-edge, has been wiped out. Instead of fostering excitement, UEFA has made its flagship competition more mundane.
Konate keeps Liverpool from breaking
Liverpool can thank center-back Ibrahima Konate for having the chance to win a difficult match at Inter Milan on Wednesday. Konate's last-ditch tackles and impeccable timing kept Inter off the scoresheet when they looked most threatening, and he bought Liverpool enough time to figure things out on the other end of the pitch. Roberto Firmino came off the bench to score the opener in the 75th minute, and Mohamed Salah capitalized on sloppy defending in the 83rd to cement a result that should secure Liverpool's passage to the quarterfinals.
But make no mistake: Konate changed the fate of this tie. A number of his biggest contributions came with Liverpool either backpedaling or completely on the back foot. Konate timed one challenge perfectly, and if he hadn't, the game could've turned right there and then. With Edin Dzeko all alone in the area and Denzel Dumfries preparing to send in a cross, Konate backed off of the Dutchman to defend the zone and cut out the pass before it could reach its intended target.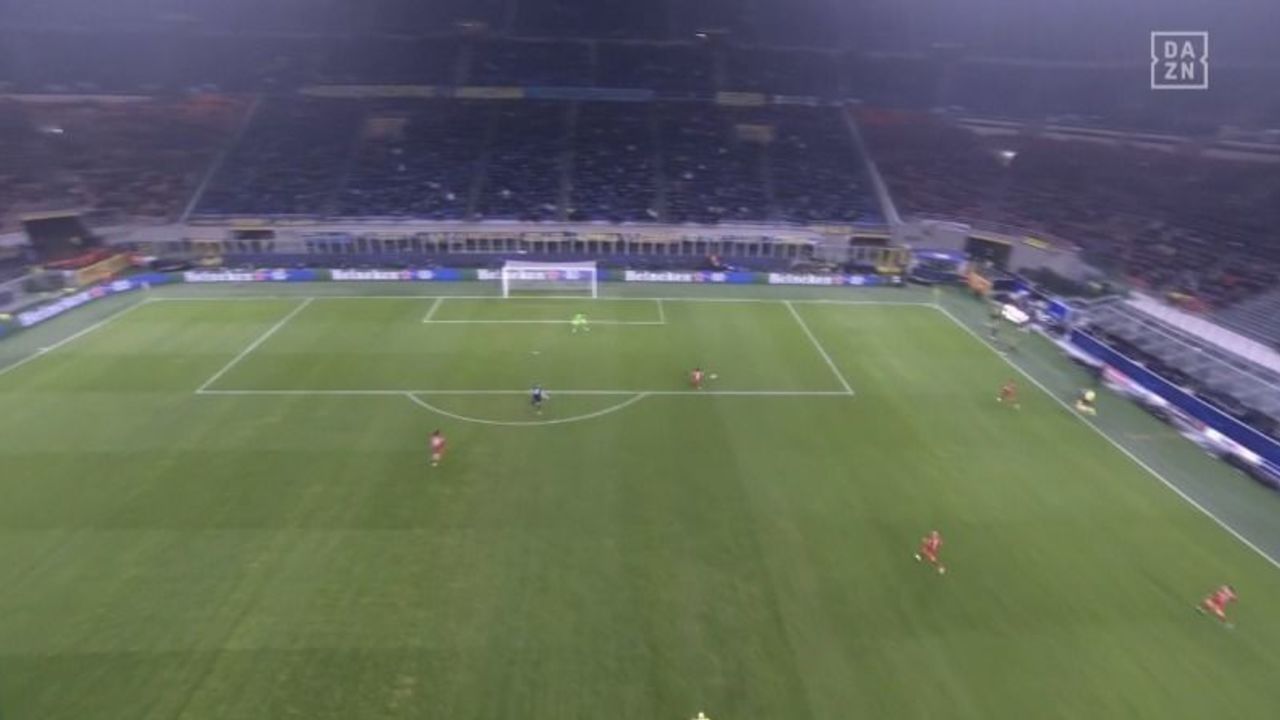 Konate also assisted Trent Alexander-Arnold on an underwhelming night for the English right-back. The 22-year-old slid in to deny Ivan Perisic's dangerous pass into the middle of the 18-yard box after Alexander-Arnold meekly surrendered possession when one-on-one with the Croatian wing-back. Konate blocked two shots and intercepted another attempt during that nerve-wracking seven-minute spell, which could've left Liverpool with a deficit to make up – not a lead to attack – in a second half that will likely define the tie.
Nagelsmann inadvertently stifles Lewy
In theory, Bayern Munich's aggressive approach for Wednesday's contest in Austria made sense. The unorthodox 3-2-4-1 formation was loaded with attacking players in support of Robert Lewandowski; Leroy Sane and Thomas Muller had freedom to roam and swap positions behind the Polish striker, while Kingsley Coman and Serge Gnabry stayed out wide to stretch the Red Bull Salzburg defense.
In practice, though, the setup – a version of which inventive manager Julian Nagelsmann used earlier this month against RB Leipzig – smothered Lewandowski. Salzburg, who took a deserved 21st-minute lead, packed the middle of the pitch and denied entry passes from midfield into the celebrated striker. Bayern's usually slick linkup play was stymied by a sea of legs in front of the penalty area, with Mohamed Camara, in particular, breaking up play in an overly congested area.
"We are not in the right flow at the moment," Joshua Kimmich admitted after the match, referencing the stunning 4-2 loss to Bochum over the weekend.
Bayern's greatest outlet in the match was Coman, who was often isolated in the one-on-one situations in which he thrives. It was fitting that the Frenchman scored Bayern's 90th-minute equalizer in the 1-1 draw, as he looked like the only player capable of getting an uninspired team out of its funk.
It didn't have to be this way, though.
Salzburg, who defended valiantly and were a very credible threat on the counter, simply don't have the talent to match Bayern on a player-for-player basis. But the German side's setup neutralized that big advantage, and created a situation in which only Coman could thrive.
It likely won't matter in the end. Bayern will be heavy favorites to advance going into the second leg in Bavaria. But this type of out-of-sync showing won't be good enough if they reach the latter stages of the competition.