Bayern Munich clinched their eighth straight Bundesliga title with Tuesday's 1-0 win at relegation-threatened Werder Bremen.
Robert Lewandowski sprung the offside trap to score his 31st league goal of the season minutes before halftime. Bayern were the better side in the second half until Alphonso Davies' second yellow card in the 79th minute sparked some life into the hosts.
Manuel Neuer pulled off an acrobatic save near the end to stop Yuya Osako's deft header from reaching the bottom corner. The final whistle was met by cheers from the Bayern staff, temporarily interrupting the quiet of an empty Weserstadion.
Back in November, few would have predicted the ease with which Bayern would wrap up their 30th league title.
The club was without a head coach after parting ways with Niko Kovac in the wake of a 5-1 humiliation by Eintracht Frankfurt, a result that left Bayern in fourth place after 10 matches. German publication Kicker reflected on Kovac's 16-month tenure by writing, "His concept of football was never clear, players lacked detailed tactical guidance." Then-club president Uli Hoeness said Kovac lost the support of some senior squad members.
The natural replacement for a fallen regime shouldn't be the former leader's trusted sidekick, but Bayern handed the reins to Kovac's assistant, Hansi Flick. As an interim manager, Flick was only supposed to keep the seat warm. A much bigger name was expected to be drafted in as the club's full-time boss.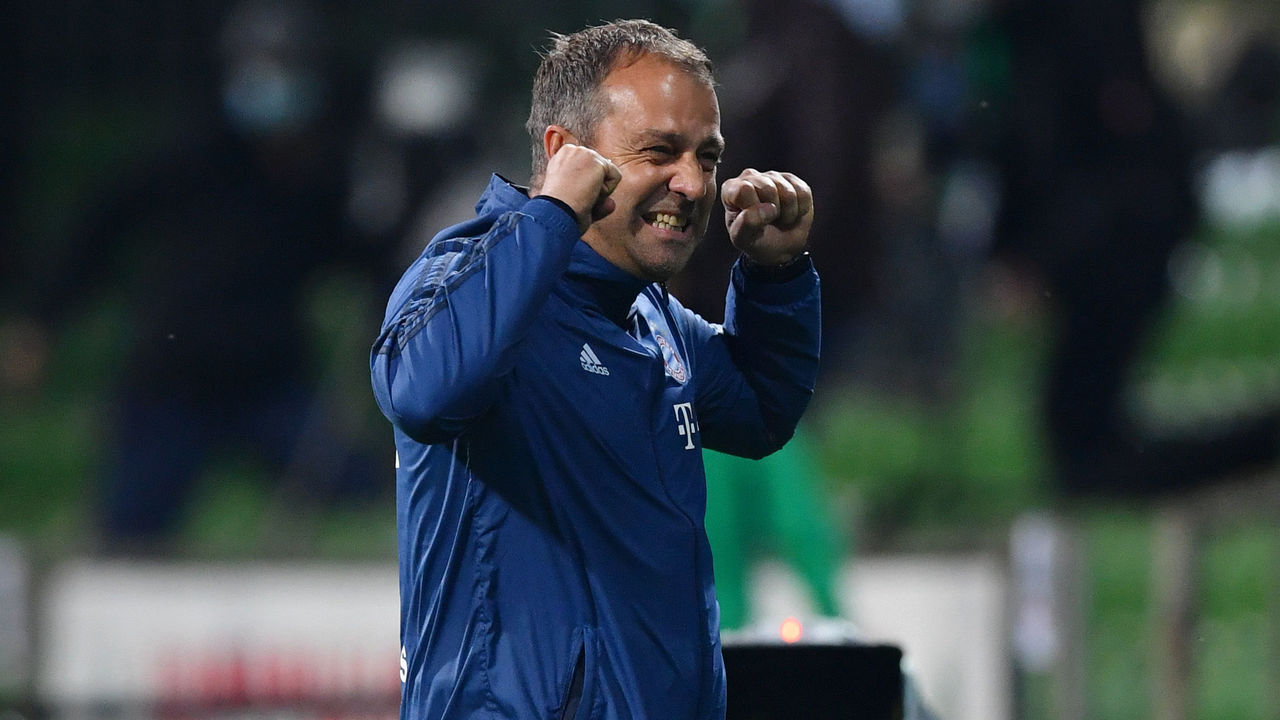 But things clicked under Flick. The possession and pressing principles returned. Thomas Muller was reinstalled to the starting XI and has gone on to directly contribute 27 goals in the Bundesliga campaign, making him Bayern's second-deadliest player after Lewandowski. Davies has become a household name through his exhilarating performances on the left of a back-four. Veteran Jerome Boateng and left-back David Alaba have more than compensated for the injury absences of Niklas Sule and Lucas Hernandez in central defense.
And Lewandowski has never stopped scoring – but he was plundering an obscene amount of goals when Kovac was still at the helm. It's what the Polish striker does.
With the Bundesliga title already collected, Bayern have the luxury of extra time to focus on the rest of their Champions League campaign. Der FCB need to see out a double-header with Chelsea (they lead 3-0 on aggregate after the first leg in London) before they embark on what will reportedly be a whirlwind single-elimination tournament between the last eight teams in Lisbon. The Champions League winner will apparently be determined Aug. 23.
And with Flick's blend of youth and experience, defensive solidity and attacking clout, and the advantage of having his team return to competitive action a month before its continental rivals, it would take a brave person to bet against Bayern Munich hoisting the coveted continental trophy.
Bayern will also face Bayer Leverkusen in the DFB-Pokal final July 4.