The Bundesliga season is back in full swing, and the first major soccer league to resume amid the coronavirus pandemic continued with another five matches on Saturday. Here are the main takeaways from an eventful day of action in Germany's top flight.
Players continue to speak out against injustice
Bundesliga players – and clubs – continued to show solidarity with the Black Lives Matter movement that has swept the globe over the past week, speaking out against racial injustice and discrimination in the wake of George Floyd's death in the United States. Several stars unveiled messages calling for justice last week, and there were more statements and gestures on Saturday.
Mainz midfielder Pierre Kunde took a knee after scoring a goal in his side's 2-0 win over Eintracht Frankfurt, echoing what Borussia Monchengladbach forward Marcus Thuram did last week.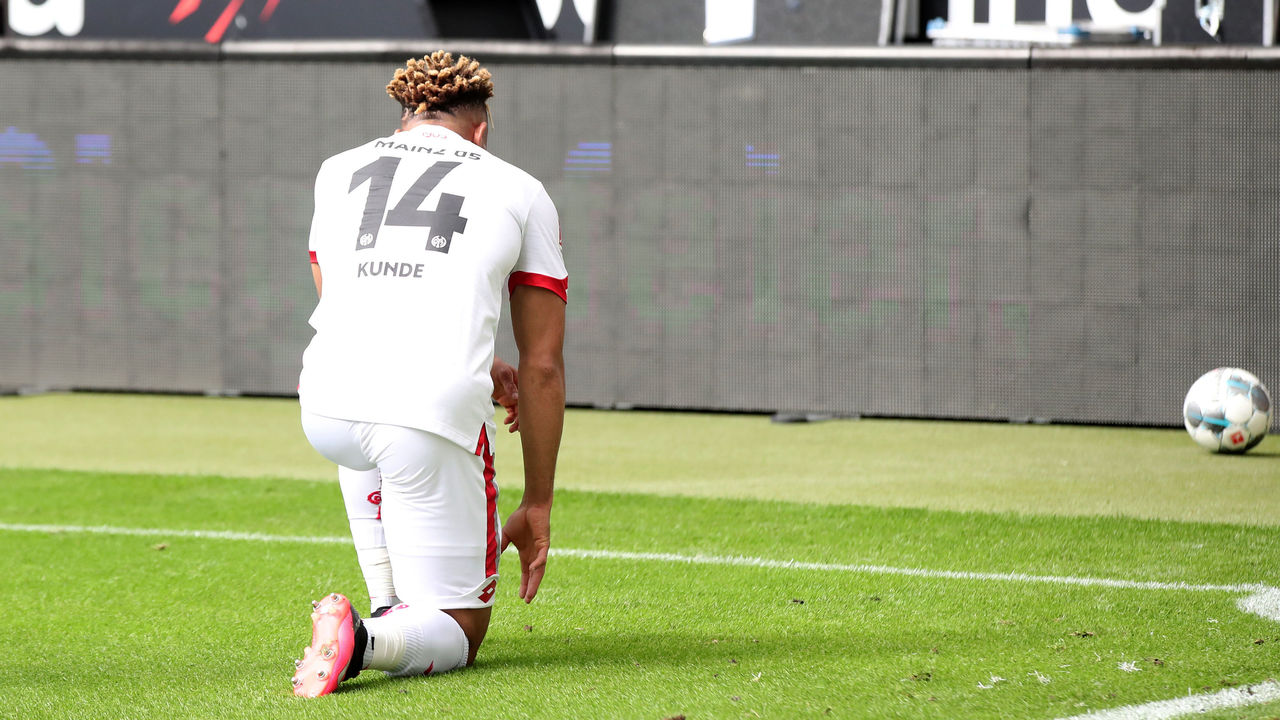 Meanwhile, Bayern Munich players warmed up for their contest against Bayer Leverkusen in shirts with the words "Black Lives Matter" and "Reds Against Racism" written on them. During the match, each Bayern player wore an armband with the former message clearly displayed.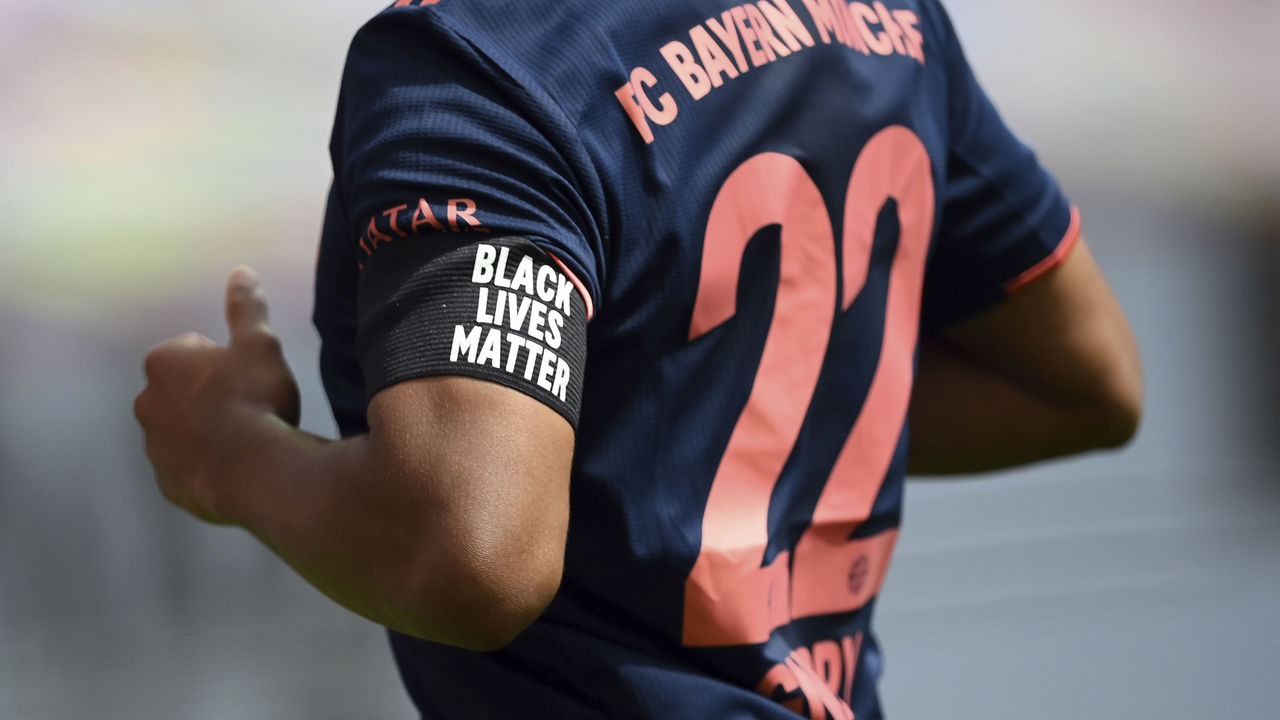 Borussia Dortmund, too, had players prepare for their game against Hertha Berlin with shirts showcasing various messages calling for racial equality.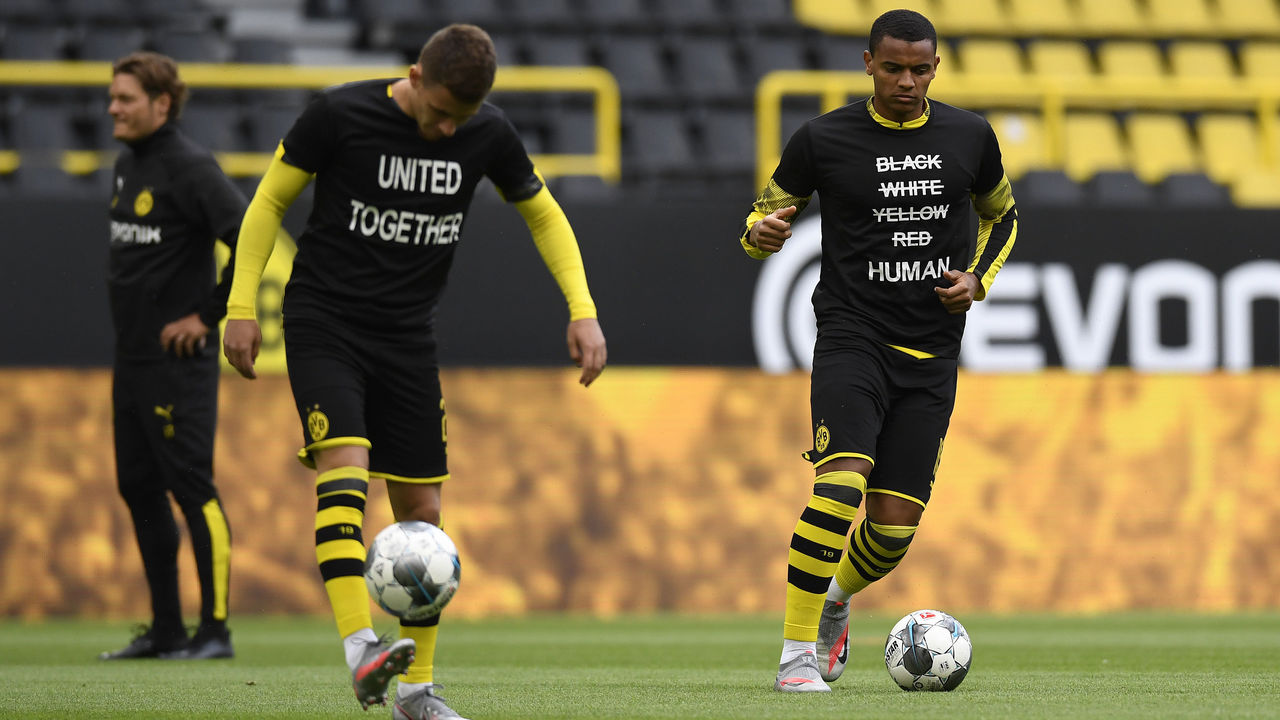 Players and teams in Germany continue to speak out in the fight against discrimination. With the remainder of Europe's top leagues – and sports in general – slowly returning in the coming weeks, expect similar gestures and statements to sweep the sporting world as athletes and teams look to use their massive platforms to help enact change.
Havertz's absence looms large
From a football perspective, the biggest story to emerge Saturday happened before a ball was even kicked. Bayer Leverkusen superstar Kai Havertz, arguably the hottest player in Germany's top flight since the league restarted, was ruled out of his side's marquee match against champions-elect Bayern Munich with a muscle issue.
Though Lucas Alario, his replacement at the head of the Leverkusen attack, scored an early goal in his stead, the loss of the in-demand 20-year-old loomed large for Peter Bosz's team.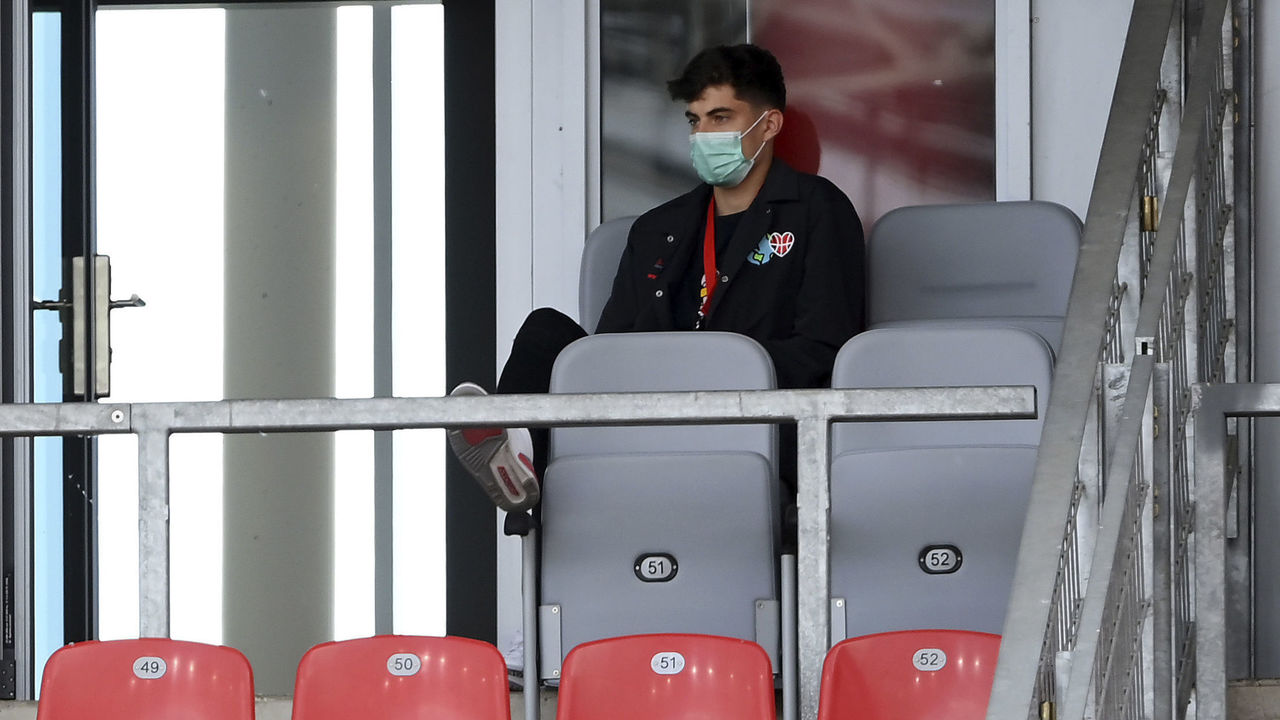 Leverkusen simply had no presence through the middle of the pitch without their talismanic youngster. Naturally an attacking midfielder, Havertz has been used as a No. 9 in recent matches, and his comfort dropping into midfield while acting as a fulcrum has allowed Leverkusen to vary their attacking play. On Saturday, though, they were forced to attack almost exclusively from wide areas. Though they did find some offense, it made them predictable, and that's simply not a recipe for success against Bayern.
It wasn't all doom and gloom in the 4-2 loss, though: German teen Florian Wirtz, 17, came off the bench and became the youngest scorer in Bundesliga history when he beat Manuel Neuer in the waning minutes. Despite the certain departure of Havertz in the near future, the club appears to have another prodigious talent on its hands.
Bayern Munich keep chugging along
What more can you say about Bayern Munich at this point?
They're on the verge of capturing a record eighth consecutive Bundesliga title and have been steamrolling the opposition since the restart; in five matches, Bayern have scored 17 goals. They're up to 90 in 30 games this season.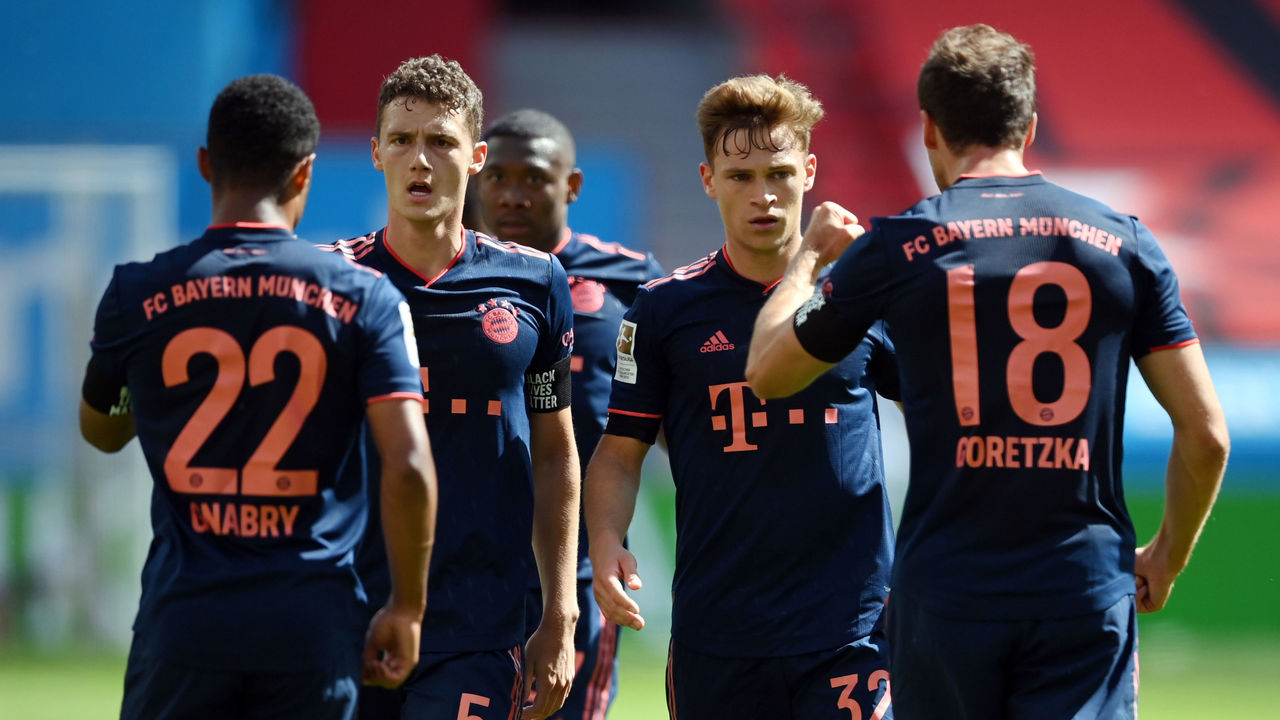 Part of Saturday's 4-2 win was down to Leverkusen's ultra-aggressive approach backfiring; Bayern were able to get behind Leon Bailey and Nadiem Amiri, two attack-minded players who were lined up as wing-backs, at will.
Part of it was a case of Bayern's absurd squad simply being too good to slow down. Playing Leon Goretzka in an ostensibly "defensive" midfield role is unfair, and it becomes even more incredible when you consider he's a backup who's only starting while Thiago Alcantara, arguably the slickest midfielder in the game, works his way back to full fitness. The abundance of riches is incredible.
If the Champions League returns this season, Bayern must be considered the favorites to win the competition.
Lewandowski, Muller can't be stopped
Unsurprisingly, Robert Lewandowski and Thomas Muller played starring roles in Saturday's victory for the league leaders.
The prolific Polish striker racked up his 44th goal of the campaign in all competitions, setting a new single-season personal best. His thunderous header in the second half, from an inch-perfect Muller assist, of course, was his 30th Bundesliga tally of the year. Unless Timo Werner goes on a tear to finish the campaign, there's no catching Lewandowski in the scoring race.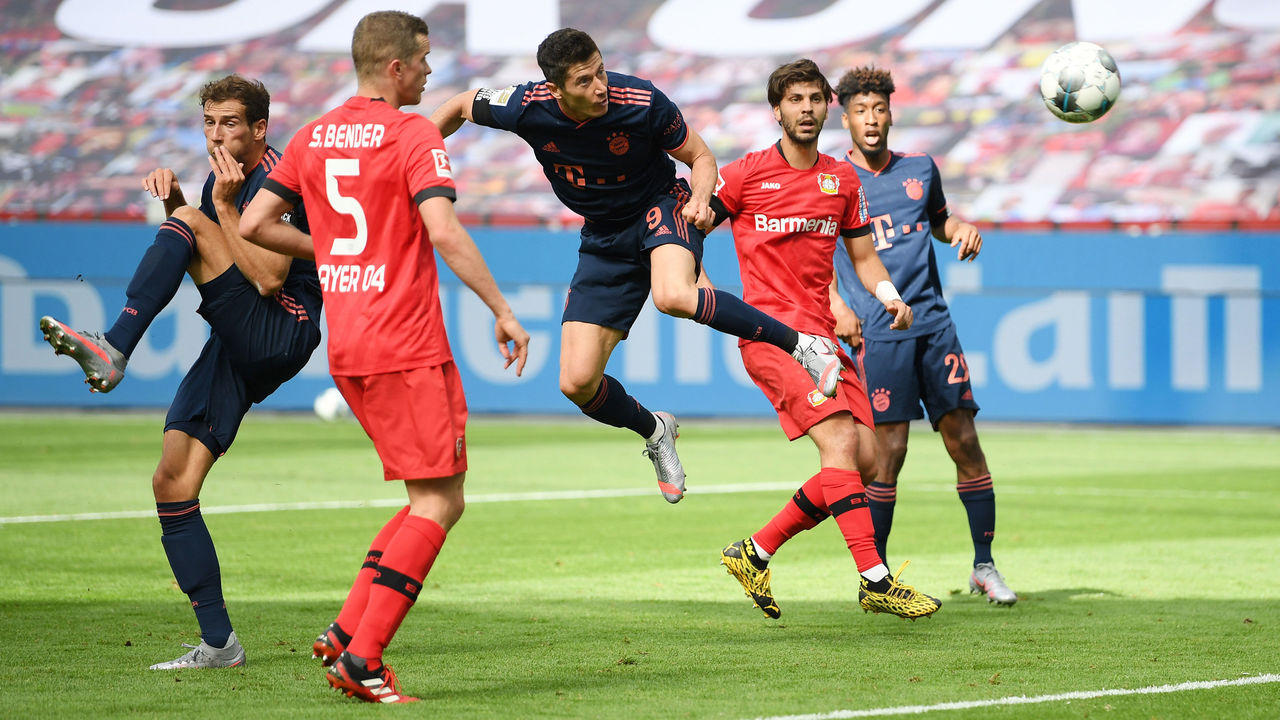 The Pole has been a consistent scoring machine throughout his career, and his spectacular production isn't that surprising, all things considered. The rejuvenation of Muller has been a more unlikely development, though. He looked to be on the decline last season after putting together one of the worst statistical campaigns of his career in 2018-19. But since Hansi Flick took over in November, the veteran German forward has been reborn.
Nominally, he plays behind Lewandowski, but Muller has the freedom to drift around the field and find space, which has allowed him to become the most productive assist man in the league. His pair of helpers on Saturday made him the first player in Europe's top leagues to record 20 assists in a single season since Kevin De Bruyne accomplished the feat for Wolfsburg in 2014-15.
Not bad for someone who, at times, appears to have the grace of Bambi on ice while moving around. Gangly and unorthodox he may be, but Muller is vital to Bayern Munich's success.
Get excited about Werner, Chelsea fans
RB Leipzig's title bid has fallen by the wayside thanks in large part to a series of frustrating – and bewildering – draws, with Saturday's 1-1 stalemate against last-placed Paderborn the latest example. That the latter scored an equalizer in the 93rd minute only made matters worse.
Though his team's bid to dethrone Bayern Munich has fallen apart, Werner can hold his head high. With his unselfish assist for Patrik Schick on Saturday, he's now been directly involved in 33 Bundesliga goals this season, level with Jadon Sancho for most in the league.
Widespread reports this week suggested the 24-year-old had agreed to join Chelsea this summer, which should make fans of the Premier League club very, very excited.
Bonus: Some love for Nils Petersen
Yes, Freiburg's win over Borussia Monchengladbach came on Friday, but in the interest of shedding light on some of the Bundesliga's lesser-known success stories, let's take a moment to applaud the exploits of Nils Petersen.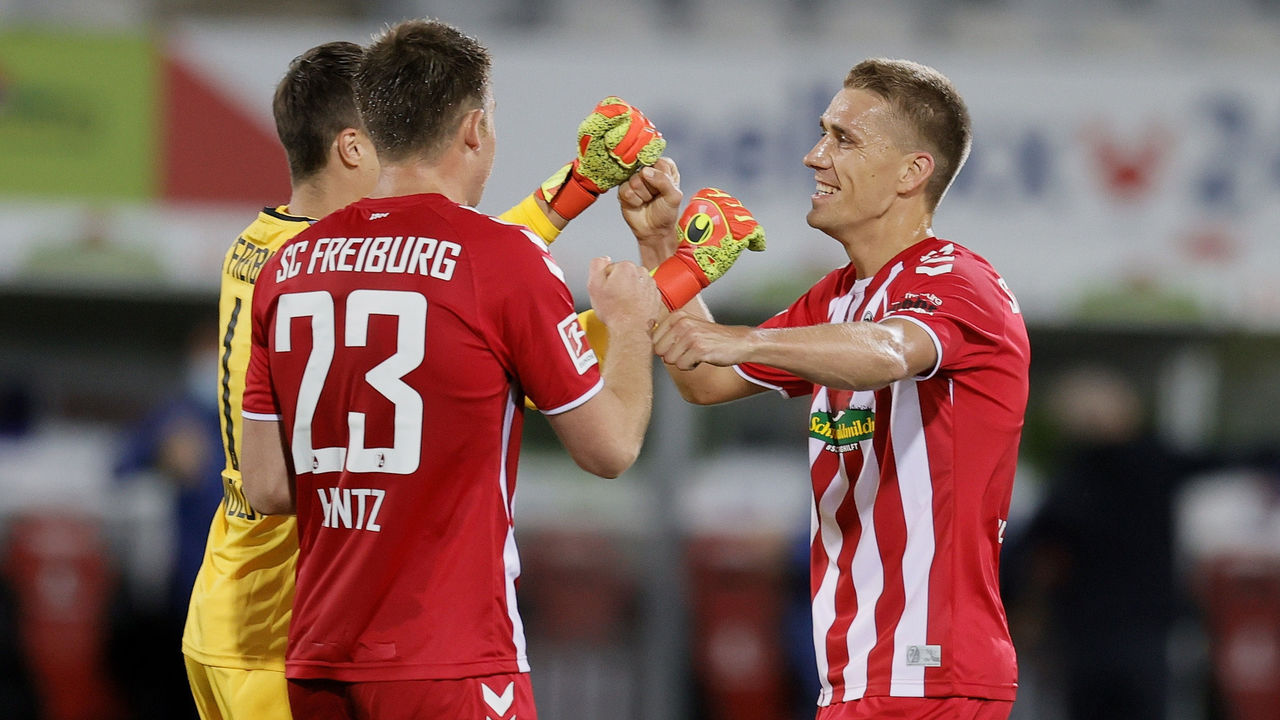 The Freiburg striker scored the lone goal in Friday's 1-0 triumph, delivering a superb header just 67 seconds after he was introduced at the Schwarzwald-Stadion.
The header extended his record for most Bundesliga goals by a substitute (24), and his club-best mark of 86 tallies, which is five better than current Germany national team boss Joachim Low.