Lionel Messi wants out. For real.
After nearly two spectacular decades in Catalonia, 634 goals, 34 trophies, and spellbinding moments aplenty, it all appears to be over.
Barcelona's iconic talisman, arguably the greatest player in world football history, informed the Spanish club on Tuesday he intends to terminate his contract and leave the Camp Nou this summer. Worse yet, the Argentine wizard is seeking to depart for free, aiming to invoke a clause in his deal he believes will allow him to skedaddle immediately.
How, exactly, did it come to this? And what happens next? Well, for one thing, it could get ugly. Below, we try to digest the bombshell, answer all the pressing questions, and predict what Messi's next move could be:
Why does Messi want to leave?
Messi, to put it simply, is fed up.
Years of mismanagement and transfer malpractice have seen Barcelona devolve from an untouchable force to a bumbling mess, both on the pitch and off it. There have been humiliating losses – especially in the Champions League, which Barca haven't come close to winning since 2015 – and bitter public battles between the players and front office, including scorned club president Josep Maria Bartomeu.
After years of watching celebrated teammates depart, and being asked to continually carry the burden and make up for puzzling squad building, Messi's relationship with the club has deteriorated. It's hard to blame him.
Their downfall has been bubbling for some time, and it was punctuated by the 8-2 hammering by Bayern Munich in the Champions League quarterfinals earlier this month.
That seems to have been the last straw.
At 33 years old, time is running out for Messi to win another Champions League title, and with Barca about to engage in a significant – and long overdue – rebuild, he's doesn't have time to sit tight.
What the heck is a burofax?
It's always a good day to learn a new word.
Messi delivered his message to the Barcelona brass via burofax, which, incredibly, had never before entered the New York Times' vocabulary. You weren't alone in discovering this method of communication for the first time.
According to this handy description from SEUR, a leading Spanish delivery service, a burofax is used "when you want to dispatch urgently a document that requires proof to third parties. Usually, it is used when it is necessary to obtain a response to a complaint or claim."
Think certified mail.
It can be sent as a traditional fax, but it doesn't have to be. Those pesky fax machines have caused transfer headaches before, don't forget.
Crucially, a burofax will be recognized in court. As we're about to see, that could play a key role in how this saga unfolds.
What's the deal with his termination clause?
This is where things could get ugly.
When he signed a new contract in 2017, Messi insisted on inserting a clause allowing him to unilaterally terminate his agreement in the summer of 2020, provided he informed the club of his decision before the end of the season. Some say he needed to let them know in May, others suggest various dates in June, but either way, everyone agrees it had to happen before the campaign came to an end.
Barcelona officials are adamant that clause expired earlier this summer, meaning he must now honor his contract's remaining year before he can leave on a free transfer. Messi and his representatives, however, insist it's still valid because the 2019-20 season was prolonged due to the ongoing coronavirus pandemic.
So, yeah, a legal battle could ensue if neither side is willing to budge.
And what about that enormous release clause?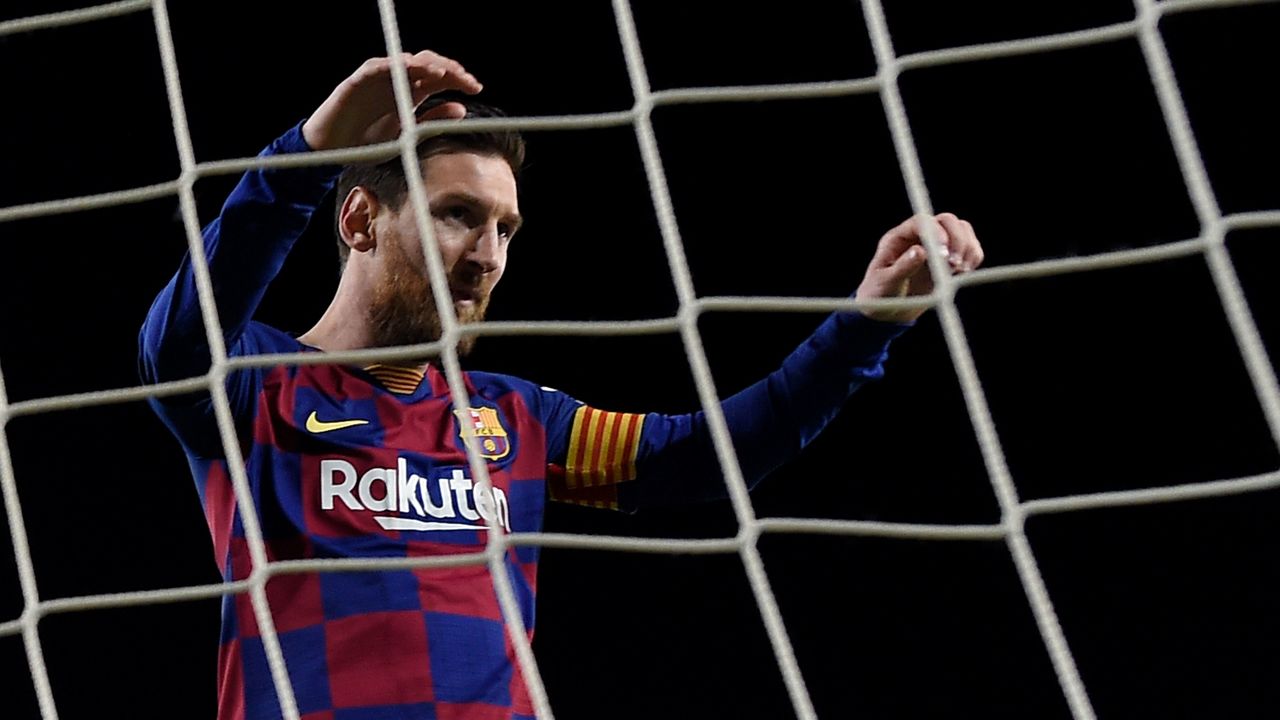 Barcelona's position, at least for the moment, is abundantly clear: if any team wants to sign Messi – something Barca appear open to – all they need to do is satisfy the €700-million release clause in his contract.
No big deal, then.
Now, that fee, purposely astronomical to ward off potential suitors, will almost certainly never be paid. It's fun to consider – to wit, it eclipses the New England Patriots' annual revenue – but in all likelihood, Barcelona won't play hardball here. They can't afford – literally and figuratively – to lose the most dominant force in football history for free. Aside from being a disaster financially, it would be downright embarrassing.
So, assuming Barca's legal team can prove that Messi's termination clause is expired and he can't leave for free, the most likely outcome is a world-record transfer that eclipses the €222 million Barcelona received from Paris Saint-Germain for Neymar. Some of that is optics, of course, but we're also talking about someone who continues to deliver otherworldly production on the pitch. In short, he's still (more than) worth it.
So, can anyone actually afford to sign him?
That depends.
If Barcelona actually insists on enforcing his €700-million release clause, then the simple answer is "no." Not even Manchester City and Paris Saint-Germain, two state-backed clubs with outrageous financial means, could pull off that deal without running amok of Financial Fair Play (FFP).
And that doesn't even take into consideration his gargantuan wages. Messi reportedly earns a base salary of around €70 million per season, which would shatter the wage structure of every team on the planet.
If he fashions an exit on a free transfer, though, that suddenly brings more teams – including the aforementioned duo – into the mix.
What's his most likely destination?
Manchester City appears to be the frontrunners at the moment. The Premier League club has strong ties to Barcelona's golden years, including, most notably, with Pep Guardiola, who managed Messi from 2008 to 2012 while on the touchline at the Camp Nou. That bond is powerful.
Messi reportedly called Guardiola earlier this month, after Barca's humiliating Champions League exit, to explore the possibility of moving to the Etihad Stadium. He's said to be keen on the switch, and City, for their part, have already started "crunching the numbers" to see if a potential deal is financially viable, or if this is just a pipe dream.
PSG, again, have the might to make it happen, while Inter Milan have long been enamored by the Argentine. Italy's favorable tax regime is surely viewed as a benefit, while rumors of Messi's father, Jorge, buying property in Milan have Inter fans salivating at the prospect of a deal.
Fabrizio Romano, The Guardian's transfer guru, said Tuesday that Inter aren't involved in the sweepstakes, citing City and PSG as the clubs to "keep an eye on." Whatever happens, it will be the most fascinating transfer saga in history.
How have the fans reacted?
Naturally, they're pissed off. Messi, after all, is Barcelona; he's been the driving force behind nearly two decades of unprecedented success.
Supporters gathered outside club headquarters in the wake of Tuesday's stunning development, angrily calling for Bartomeu's resignation while pleading with their beloved No. 10 to reverse course and stay put.
Social media, where this frenzy truly played out in real time, went into overdrive.
What's Ronald Koeman's role in all this?
He's either being framed as the scapegoat or exacerbated the issue and pushed Messi over the edge. It depends on your viewpoint.
Koeman, hired a week ago to replace Quique Setien in the wake of the mortifying defeat to Bayern Munich, came in hot. Tasked with rebuilding an aging squad in serious decline, he informed several stalwarts that their services are no longer required. That included Luis Suarez, Messi's best friend at the club.
"Koeman has not convinced him with his declarations. Messi's best friend is Suarez, and they've treated Luis awfully," a club source told The Athletic of the situation.
It's no coincidence that Messi's burofax was delivered just 24 hours after Koeman informed Suarez he's no longer viewed as part of the project.
Reports in both Spain and Argentina suggested that Messi was left fuming after his own meeting with Koeman earlier this month when the pair discussed the Dutchman's vision for the club and plans moving forward.
"Your privileges here are over," Koeman, who stressed the importance of Messi working for the team and not being put on a pedestal, reportedly told him.
Was this all just a ploy to force Bartomeu out?
To hold a prominent position at Barcelona, you have to be a good politician. That's probably true of all gigantic clubs, to be fair, but now more than ever. The internal strife at the Camp Nou is so murky and difficult to navigate it's easy to be chewed up and spit out.
Bartomeu doesn't seem to be a very good politician.
An overwhelming majority of fans desperately wanted him out before this Messi debacle erupted. Senior players at the club who wield serious power spoke out against the floundering president, too. Gerard Pique, for one, said after the loss to Bayern that Barca needs "structural changes" that go beyond the players on the pitch. It was as pointed a remark as you could get without actually naming Bartomeu.
Some have opined that Messi's ultimate goal here is to hold the president's feet to the fire and force him to resign. The Argentine isn't a fan of the current regime, that much has never been in doubt. That he was immediately supported by club legend Carles Puyol shows how deep the dislike for Bartomeu runs in some of the most respected Barca circles.
A whirlwind of confusion, misinformation, and truly astounding claims had spread about Bartomeu's possible resignation Tuesday. Much to the dismay of former president Joan Laporta, who intends to run in the club's upcoming 2021 election, the incumbent remains in office. For now, anyway.
"They have been undermining the morale of Messi to save themselves from the turmoil they have created," Laporta tweeted. "If they resigned, there would still be hope that Messi would stay."
Is he actually going to leave?
Maybe!
It's possible, as outlined above, Bartomeu tendering his resignation is the end game here.
Of course, there have been rumblings of the Argentine megastar's discontent before, but those have always seemed to end with a new, improved contract. This is different.
Messi's never been so forceful in declaring his desire to leave the only club he's ever played for as a professional. It's real. He wants out. Whether he can engineer the move remains to be seen, but the relationship between the magical No. 10 and the Blaugrana certainly appears to be beyond repair.