The Bundesliga made its eagerly awaited return Saturday after a two-month hiatus, becoming the first major soccer league to resume in the wake of the coronavirus pandemic. Below, we review the main takeaways from a surreal day of action in Germany's top flight.
Getting used to the new normal
Refreshing as it was to be watching real, live soccer once again (even if there are enduring concerns about the safety of it all), it's impossible to deny the surreal nature of the matches on Saturday.
We got a look into the post-coronavirus world of professional sports, and it was … interesting. Players came out of the tunnel one-by-one, social distancing was observed, substitutes wore masks on the bench, and there were no handshakes of any kind.
Most prominently for viewers, though, was the eerie nature of the broadcast, as every on-pitch interaction could be heard without screaming fans in the stadium. It's all going to take some getting used to.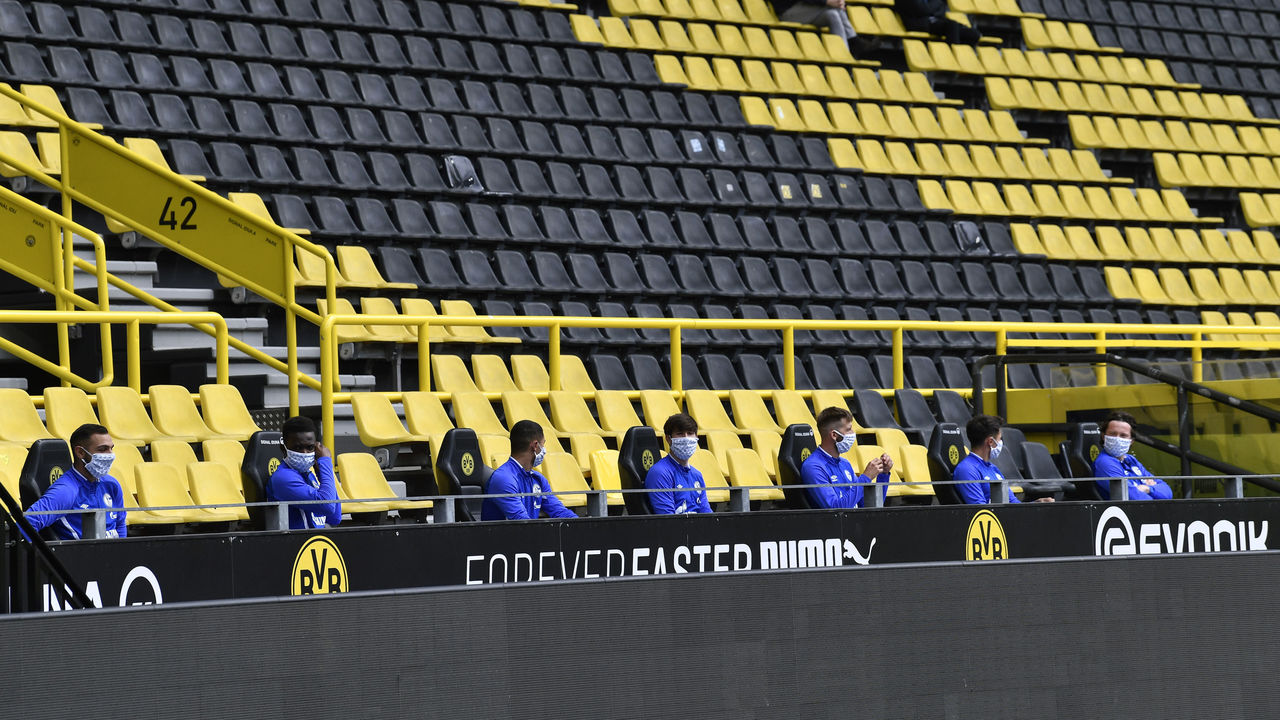 But that's exactly what everybody will do because, well, we don't have much of a choice. For sporting events to return in any capacity, these are the protocols needed to ensure a safe environment is maintained for the foreseeable future.
Haaland picks up where he left off
Many players were clearly short of fitness, which is completely unsurprising given the circumstances – Borussia Dortmund teenager Giovanni Reyna even suffered an injury during warmup ahead of his team's 4-0 win over rivals Schalke, which robbed him of his first senior start for the club.
Erling Haaland had no such issues, though. The 19-year-old Norwegian striker looked like he never stopped playing during the lockdown period. Whatever he did over the past two months, it worked.
This season's biggest breakout star picked up right where he left off, racking up his 10th league goal in just nine appearances when he raced through the Schalke backline and sliced home a left-footed finish to open the scoring at the Westfalenstadion.
He added an assist in the second half for good measure.
For everything that's changed in the sports world, Haaland remains an absolute machine.
The new age of celebrations
In addition to the aforementioned new idiosyncrasies, socially distant goal celebrations are going to be decidedly odd, especially if they all involve the type of weird dancing that Haaland opted for multiple times on Saturday.
To say nothing of what these celebrations actually accomplish (players are in constant, sweaty contact with opponents for 90 minutes, so what is the real benefit here?), it's yet another thing that will take some adjusting to.
Players need time to regain sharpness
Understandably, there were countless examples of players simply lacking sharpness – not Haaland, of course, because he may actually be superhuman, but many of his peers were struggling after engaging in nothing but at-home workouts and training sessions for two months.
Misplaced passes, sloppy first touches, and lapses in concentration were all regular occurrences throughout the day's six matches. In one instance, Dortmund right-back Achraf Hakimi was in disbelief when he allowed a routine cross-field pass to ricochet off his foot and trickle out of play.
These moments illustrate just how finely tuned pro athletes are when in peak form, really.
How long it takes for players to regain confidence and sharpen their skills – both on the ball and off it – will play a massive role in determining relegation, European qualification, and, potentially, who wins the league this season. As title hopefuls RB Leipzig learned with their 1-1 draw with Freiburg, there's no time to settle in.
Do some of these teams really want to play?
Eintracht Frankfurt are the perfect case study when trying to determine just how eager some of these teams actually are to complete their respective seasons.
Adi Hutter's squad went into Saturday's match against Borussia Monchengladbach sitting 13th in the table, well adrift of European qualification but relatively comfortable in knowing it shouldn't get dragged into the relegation battle – for now, anyway.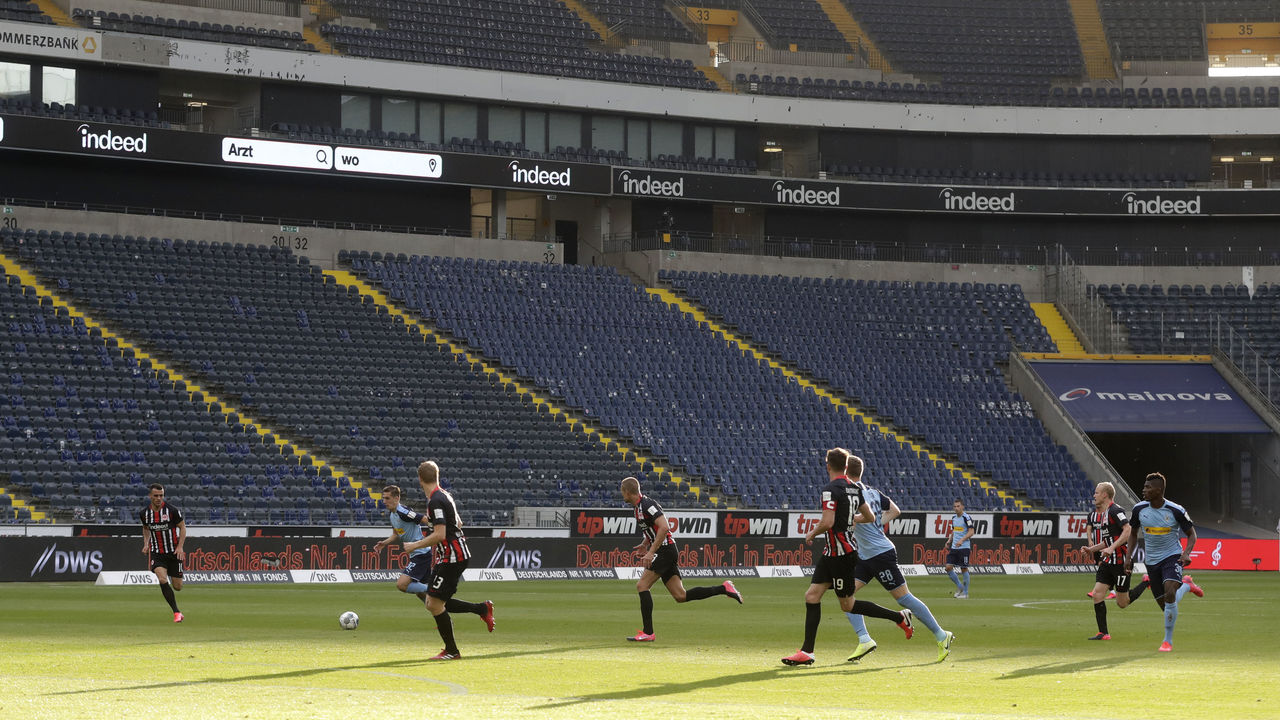 Aside from pride and potential performance-related bonuses in the players' contracts, what, exactly, does Eintracht have to play for? Finishing the campaign is something of a formality for the club, and it showed, as Eintracht looked totally aloof in conceding a goal after just 37 seconds to Gladbach's Alassane Plea. You can perhaps forgive some of that as being general rust after a two-month layoff, but they then gave up another goal six minutes later en route to a 3-1 defeat.
This isn't to take anything away from Gladbach, who are enjoying a brilliant season and mounting a legitimate title challenge, but Eintracht provided a glimpse into what the rest of the campaign might look like for teams with little motivation to continue playing, especially when there are no roaring fans to give you that little extra boost that can so often prove helpful.
Opportunities emerge for skillful risk-takers
Hertha Berlin snatched a vital three points against Hoffenheim courtesy of a 3-0 victory, which guides the capital city side further from the relegation zone. And, once again, January addition Matheus Cunha was a difference-maker.
The 20-year-old Brazilian joined Hertha in January from RB Leipzig as part of a slew of big-money additions that included Krzysztof Piatek and Lucas Tousart, and he scored a delightful solo goal on Saturday after escaping his marker on the touchline with a deft bit of skill. Cunha now has three goals for Hertha in five league matches versus zero in 10 with Leipzig.
With players and teams continuing to adjust to full-speed matches, there may be more opportunities for skillful dribblers like Cunha to exploit spaces that may not have existed when everyone was operating at full tilt.
Managerial gambles already backfiring
When Schalke goalkeeper Alexander Nubel surprisingly penned an agreement with Bayern Munich in January ahead of a summer switch to the reigning champions, manager David Wagner stripped the 'keeper of the club captaincy and handed first-choice duties to Markus Schubert.
In just his seventh Bundesliga match, and with the football world watching, Schubert was disastrous against Borussia Dortmund. His daft distribution gifted the hosts possession before Raphael Guerreiro took advantage of the 21-year-old's poor positioning for Dortmund's second goal. Schubert would again get his angles wrong when Thorgan Hazard made it 3-0, as the Belgian's shot simply went through his flailing arm.
Wagner tried to make a statement, which is commendable, but it backfired miserably on this occasion.