theScore examines the most important Premier League developments by answering the key questions from this weekend's slate of action.
Is Klopp right about the congested fixture list?
Jurgen Klopp's rant on Saturday may have seemed trivial. But the Liverpool manager made valid points during his post-match interview with BT Sport's Des Kelly, highlighting the dangers of playing so many matches in such a short stretch of time.
Without the five-sub rule – which the Premier League can't pass without the support of at least 14 clubs – Klopp and the rest of his colleagues will continue to deal with a raft of injuries.
Sheffield United boss Chris Wilder is among the opposition, but his team isn't exactly looking all that pretty with the standard three subs in place. Sheffield United remain at the bottom with just one point through 10 matches following yet another loss to West Bromwich Albion. How much worse off could they be with an additional two subs in play?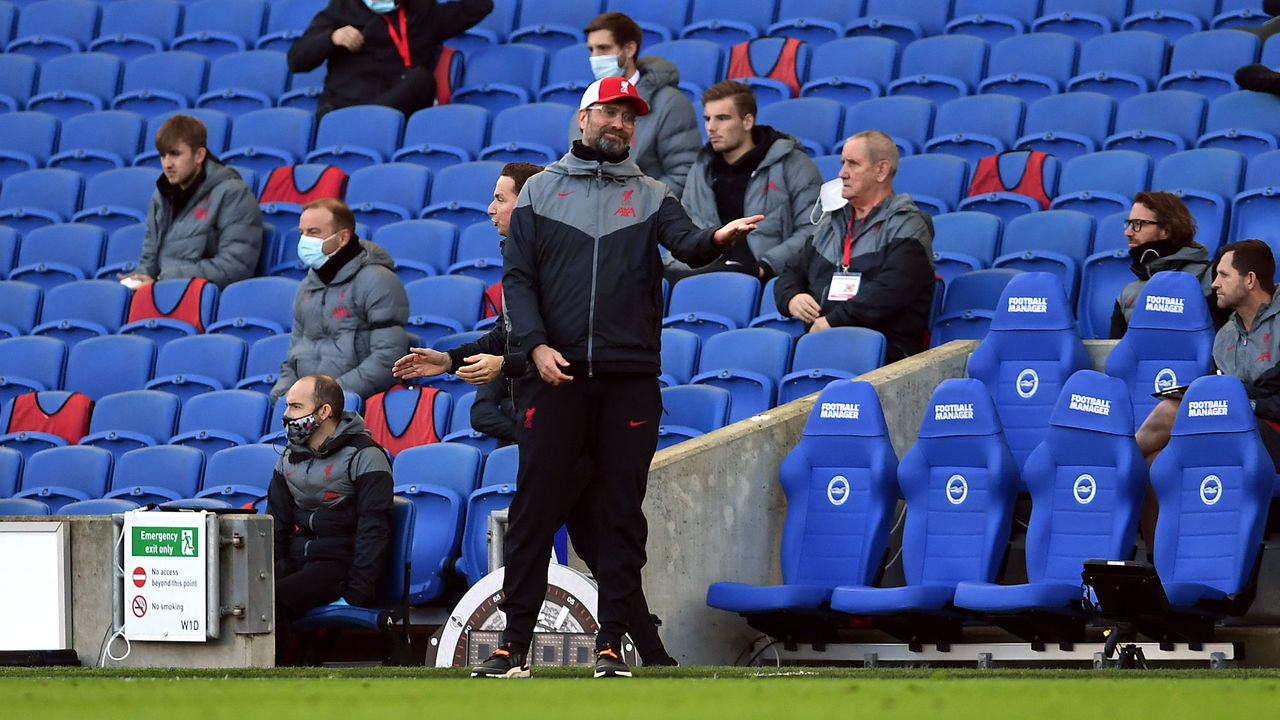 This temporary provision wouldn't simply favor clubs like Liverpool with deeper benches but would also provide necessary relief in a truly extraordinary season threatening to run players into the ground – particularly as Euro 2020 approaches.
"It's not for tactical reasons. For example, today (with) five subs I take off Robbo (Andy Robertson) 100% and bring in Kostas Tsimikas," Klopp said, referring to Liverpool's 1-1 draw with Brighton & Hove Albion. "To save Robbo, not to make our game better. It's not about changing tactics and system and bringing five players in at one time. It's not like this. It's just to save the players. Yes, of course I say my players, but not only my players have this problem."
Do Burnley rely too heavily on Pope?
Burnley keeper Bailey Peacock-Farrell was a weak link for Leeds United. The 24-year-old's poor decision-making and unconvincing claims for the ball led to plenty of errors, so it was no surprise when Marcelo Bielsa dropped him from the starting XI in March 2019. And – to add insult to injury – Leeds went on to forge the Championship's stingiest defense in the 2019-20 campaign.
After that ignominy, Peacock-Farrell probably would have preferred a gentle introduction for his first league outing since his Leeds ousting.
And Saturday's trip to Manchester City certainly wasn't it.
The Northern Ireland native is just the third goalkeeper to concede five goals on his Premier League debut – following Swindon's John Sheffield (1994 vs. Aston Villa) and Wolverhampton Wanderers' Matt Murray (2003 vs. Blackburn Rovers) – after City's 5-0 thrashing. Peacock-Farrell was spared even further embarrassment, having his own goal chalked off since Gabriel Jesus was offside in the buildup.
Burnley were already struggling, but another area of vulnerability has been exposed. Nick Pope is one of the league's standout shot-stoppers but, instead of having the likes of Tom Heaton and Joe Hart battling behind him for minutes, he now has the susceptible Peacock-Farrell as his reserve.
The Clarets need Pope fit as soon as possible.
Should Cavani start for Manchester United?
As far as substitute appearances go, it's hard to picture a more impactful performance than Edinson Cavani's production in the second half of Manchester United's come-from-behind victory on Sunday.
United trailed Southampton 2-0 after a dismal first-half performance filled with missed opportunities and manager Ole Gunnar Solskjaer turned to the veteran Uruguayan sniper, who went on to provide a massive spark off the bench to inspire a comeback victory that would make Sir Alex Ferguson proud.
It was one-way traffic for United in the second half after Cavani – who joined on a free transfer this past summer – replaced the struggling Mason Greenwood at the break. Cavani set up Bruno Fernandes for United's first goal in the 59th minute before getting his name on the score sheet with a glancing header off a deflected shot to bring the visitors level.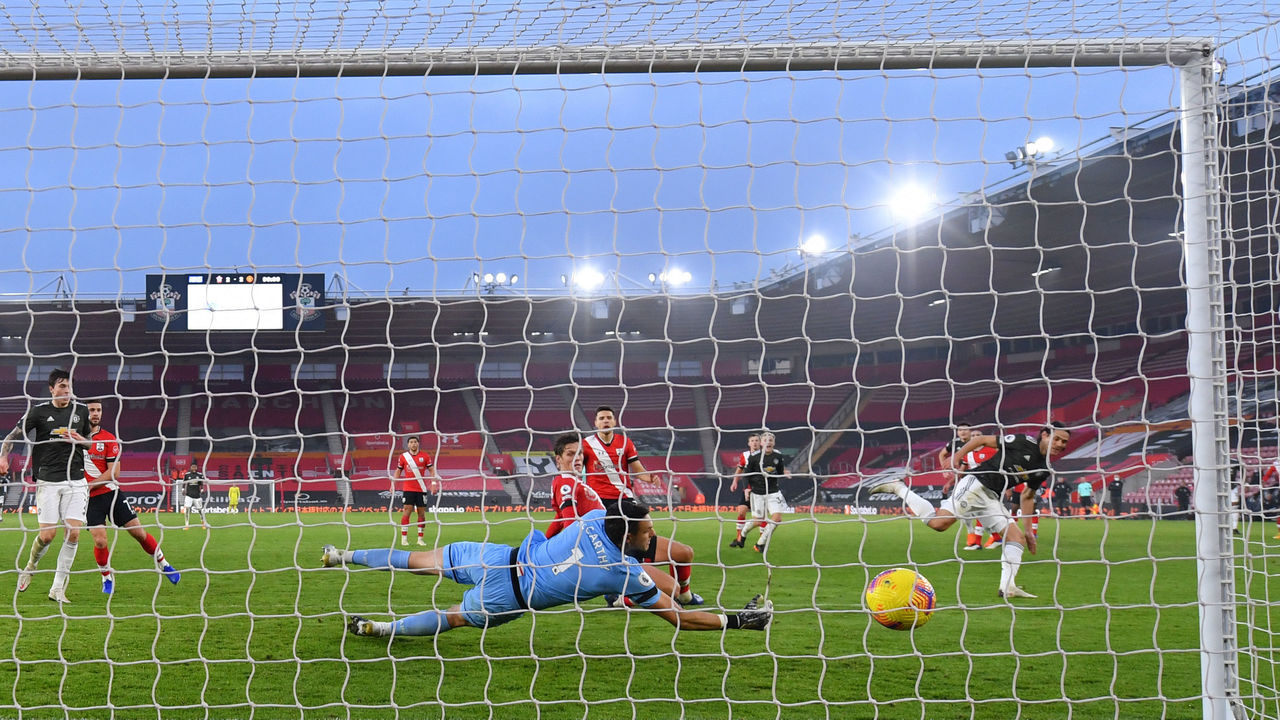 The 33-year-old's movement off the ball caused all sorts of problems for a Southampton side that looked content to end the day with a draw. But the prowling Cavani continued to pop up in the right place at the right time, maneuvering seamlessly past his marker to get on the end of Fernandes' cross and score the goal which extended United's club-record win streak away from home to eight games.
It was the type of display that begs the question of whether Cavani deserves a shot at the starting XI, especially as United prepare for a decisive Champions League encounter against his old club, Paris Saint-Germain.
Cavani now has more goals (three) in the Premier League than stars like Pierre-Emerick Aubameyang, Roberto Firmino, and Sergio Aguero despite playing just 129 minutes as a substitute.
Is Tottenham's title push real?
The most enticing match of the weekend on paper ended up being a dud – which is far too often the case. Tottenham Hotspur and Chelsea, two clubs who fancy themselves as legitimate title contenders, combined for four shots on target in a goalless draw at Stamford Bridge, with Spurs' conservative approach stymying the Blues' collection of high-priced talent.
Just the way Jose Mourinho likes it, then.
The Portuguese manager, to his credit, has struck a good balance between defending deep and then racing out on the counterattack so far this season – Tottenham's spot atop the table speaks to that – but when the counterattacking element of that equation is nowhere to be found, you get Sunday's match at Stamford Bridge.
Mourinho will be happy with the way his team dug in and defended, but even he can't be totally satisfied with such an ineffective attack. Right? Okay, fine, maybe it's exactly what he wants to see – the ends justify the means for Mourinho, who will take points absolutely any way they come. However, whether it's enough to sustain a title push remains to be seen.
Is enough being done to protect players?
We got another stark reminder on Sunday that football still has a long way to go when it comes to player protection. Raul Jimenez and David Luiz were involved in a frightening clash of heads early in Wolverhampton Wanderers' eventual 2-1 win over Arsenal. The former required oxygen on the pitch before he was eventually stretchered off and taken to hospital. The Mexican striker is reportedly conscious and responding to treatment.
Luiz, though, was allowed to play on for the remainder of the opening half after the fifth-minute incident, with a bloody bandage around his head as a clear indication of the unfortunate clash's severity. The Brazilian defender was substituted at halftime, begging the obvious question: Why wasn't he removed from the match immediately?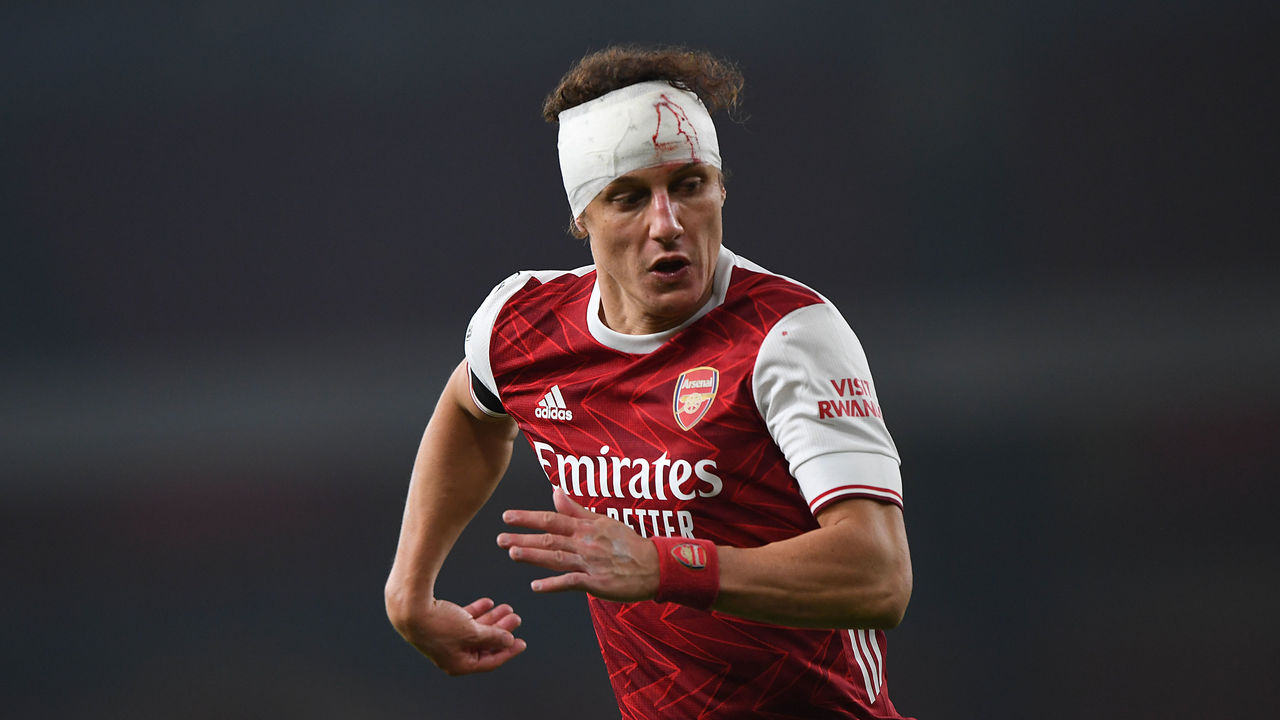 We've seen this a worrying number of times before, be it at the club or international level.
Players will almost always advocate for staying in the game, but it's become increasingly clear the decision should be taken out of their hands entirely. If the team needed to substitute Luiz at the interval, he clearly shouldn't have been on the pitch at all after colliding with Jimenez. This really shouldn't be that difficult, yet the sport as a whole continues to fail this test time after time.
Until things start to significantly change it's hard to argue enough is being done to protect players.