With the 2022 World Cup coming to an end, theScore assembles the competition's best lineup with the tournament's top-performing stars.
Emiliano Martinez ??
Whenever Argentina needed him, he was there. That statement is true of Lionel Messi, of course, but it also applies to Martinez, who rescued his team on multiple occasions en route to winning the World Cup. When Australia had a chance to equalize in the last 16, Martinez stood tall. When the Netherlands threatened to complete an improbable comeback in a shootout, Martinez stepped up. And when France had a golden opportunity to rip the title away in the final with almost the last kick of extra time, Martinez was there, making one of the biggest saves in tournament history.
Honorable mention: Dominik Livakovic (Croatia)
Theo Hernandez ??
Hernandez made his World Cup debut when Lucas, his older brother, tore his ACL. Lucas suffered the injury on the play that led to Australia's shocking opener against France, leaving Theo as the obvious replacement at the left-back position. Theo wasted no time, needing just 14 minutes to set up the equalizer, and spent the rest of that 4-1 win commanding that left flank. Theo consolidated his place in the starting lineup, and after conceding a cheap penalty in the quarterfinals, the AC Milan full-back recovered to score early in the semifinal against Morocco.
Honorable mention: Aziz Behich (Australia)
Josko Gvardiol ??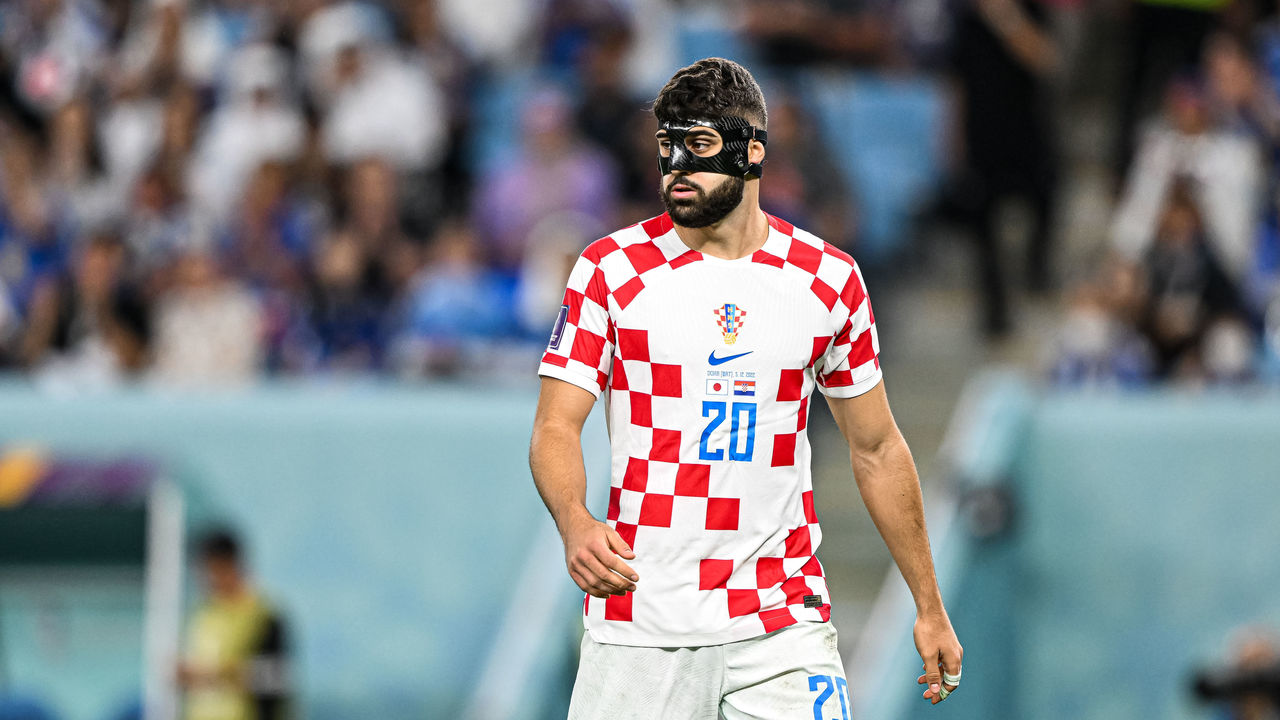 Gvardiol already reads the game like a grizzled veteran at the age of 20, and his intimidating physicality – he's broad-shouldered, 6-foot-1, and a fierce competitor – is paired with supreme ability with the ball at his feet. Only France's Aurelien Tchouameni produced more interceptions at the World Cup than Gvardiol, and the defender ranked third for total passes by a Croatian behind Marcelo Brozovic and Luka Modric. RB Leipzig were already demanding a huge transfer fee for Gvardiol, but his price tag has skyrocketed courtesy of his authoritative showings in Zlatko Dalic's backline.
Honorable mention: Nathan Ake (Netherlands)
Nicolas Otamendi ??
Only two outfield players featured in every single minute of Argentina's victorious World Cup campaign. You can probably guess the first one, but Otamendi likely wouldn't immediately come to mind as the other. The veteran defender, 34, was ever-present for Lionel Scaloni's team, anchoring a rugged backline in what was likely his final World Cup. Once a rash and undisciplined player susceptible to glaring mistakes, Otamendi was the most tranquil of Argentina's defenders in Qatar, trading in wild tackles for well-timed interceptions that helped the Albiceleste get on the front foot.
Honorable mention: Harry Maguire (England)
Achraf Hakimi ??
Hakimi's lung-busting runs down the right usually draw the most attention, but he was a defensive rock in Qatar. He led the tournament with 26 completed tackles and produced the third-most interceptions by a defender (nine). That's not to write off his work as unadventurous: He attempted 15 dribbles and was Morocco's second-most creative player with six key passes. The 24-year-old's confidence was overflowing as one of Morocco's main men, and he cheekily downed Spain – where he was born and raised – with a Panenka penalty to conclude the shootout in the round of 16.
Honorable mention: Josip Juranovic (Croatia)
Sofyan Amrabat ??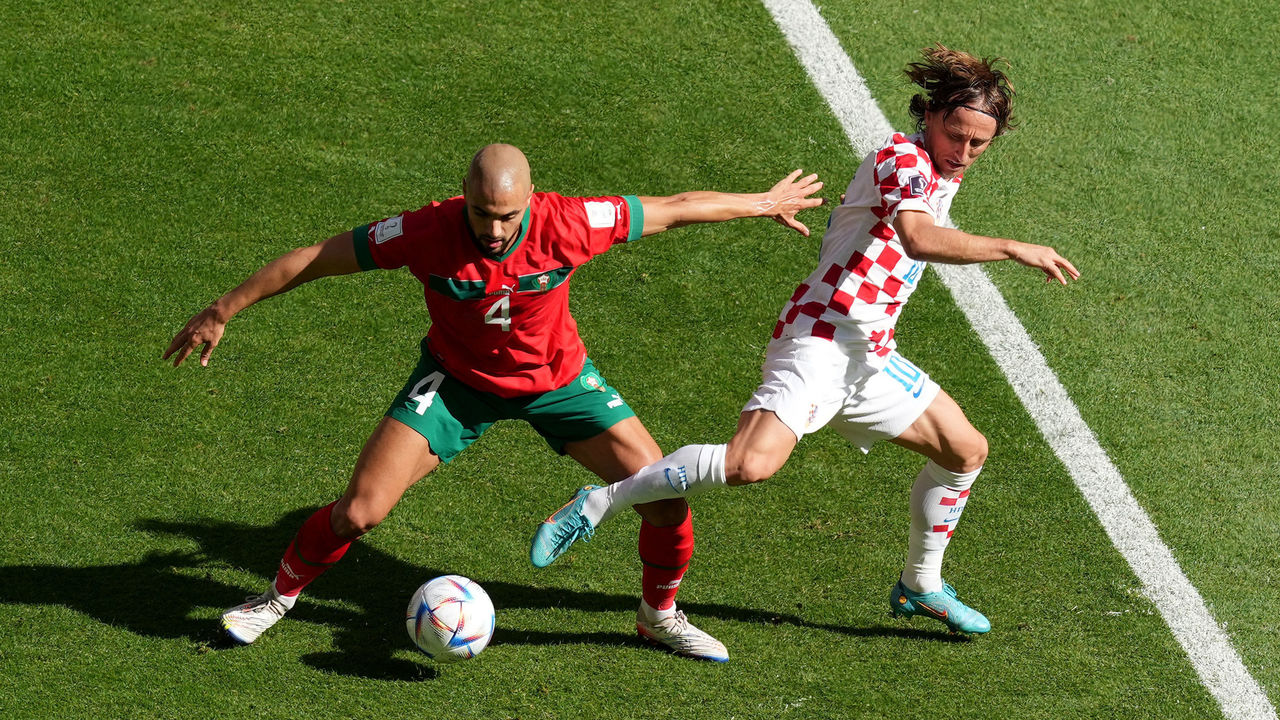 Morocco asked Amrabat to do a bit of everything, and every time, he delivered. The 26-year-old breathed down the necks of his opponents and negotiated ways out of danger without breaking a sweat. His stock rose further as Morocco beat Belgium, Spain, and Portugal, displaying to a wider audience what many in Italy had already gathered. Rarely putting a foot wrong, the Fiorentina midfielder ended the tournament with just one yellow card to his name, a worthwhile achievement for a player who found himself in the trenches for seven matches.
Honorable mention: Enzo Fernandez (Argentina)
Luka Modric ??
Modric seemed human in the round of 16. With 99 minutes gone in Croatia's meeting with Japan, the fleet-footed midfielder was clearly fatigued when he was substituted. At 37, that's to be expected. But from nowhere, Modric found extra energy reserves for the knockout matches against Brazil and Argentina, seeming omnipresent while he swept up defensively and created chances at the other end. In what was likely his last World Cup appearance, the Real Madrid star reminded everybody why he's one of the greatest midfielders of all time while playing 656 out of a possible 690 minutes.
Honorable mention: Jude Bellingham (England)
Antoine Griezmann ??
When France lost N'Golo Kante and Paul Pogba to injury, head coach Didier Deschamps turned to Griezmann. He knew the star center-forward could handle the workload in midfield. Few players have ever been as reliable to a single cause: Griezmann's played in each of France's last 73 matches, and he's filled various roles in the five-and-a-half years since his streak began. France wouldn't have made as deep of a run in Qatar without Griezmann's work rate, off-the-ball movement, and defensive awareness.
Honorable mention: Bruno Fernandes (Portugal)
Kylian Mbappe ??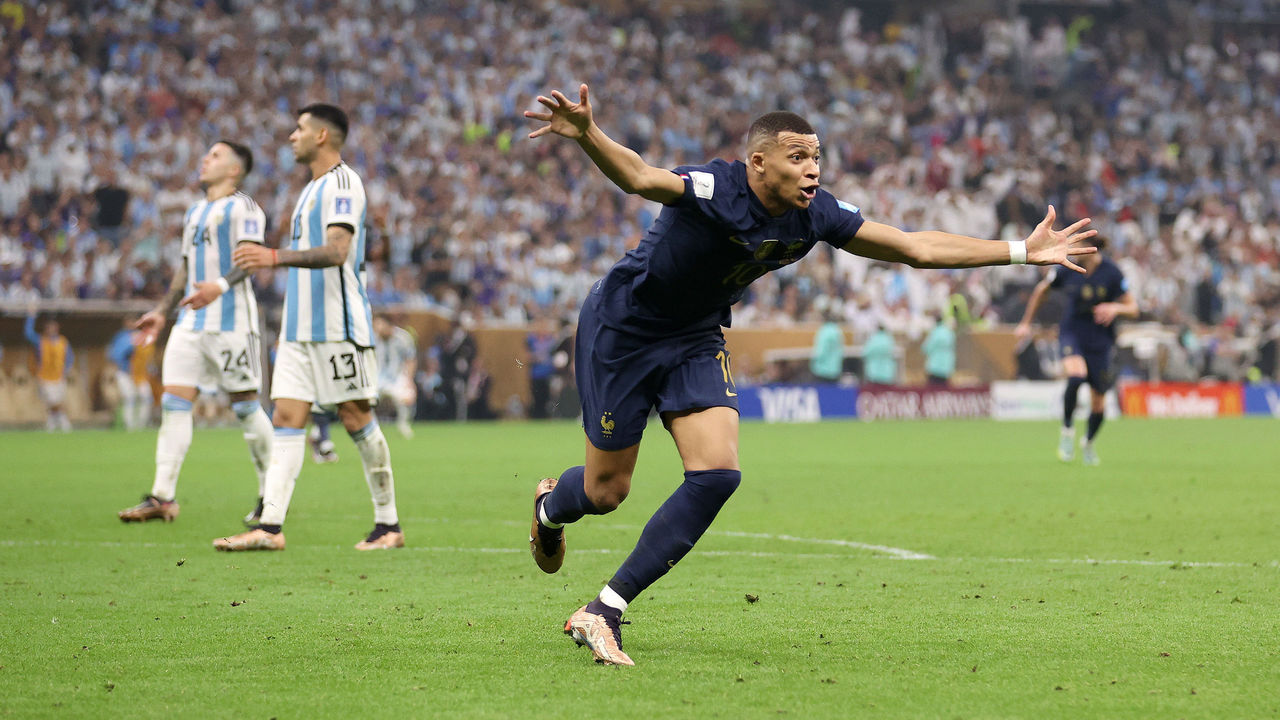 Nobody was more electrifying during the World Cup than Mbappe. France had no business pushing the final against Argentina to extra time, let alone a shootout, but the insatiable forward took it upon himself to will Les Bleus to within a whisker of successive titles. His 97-second brace, even in a losing cause, will live long in the memory. The Golden Boot winner with eight goals, including his remarkable hat-trick in the final, Mbappe has now found the net 12 times in just two tournaments. He turns 24 tomorrow. The men's all-time World Cup scoring record is in serious jeopardy.
Honorable mention: Richarlison (Brazil)
Julian Alvarez ??
Prior to the World Cup, Alvarez was tipped to blossom into a superstar for Argentina. It just wasn't supposed to happen this quickly at this tournament. With Lautaro Martinez struggling, the 22-year-old was thrust into the spotlight. He excelled in the role, scoring four goals in five starts and, crucially, doing huge amounts of work off the ball to both win possession back and free up space for his teammates. His youthful zest was vital to Argentina's success. Messi himself said Alvarez's impact on the team was "absolutely spectacular." Looking back now, it's impossible to picture Argentina without him.
Honorable mention: Olivier Giroud (France)
Lionel Messi ??
Save the best – of the tournament and of all time – for last. Messi dazzled all month long in Qatar, but as the matches grew in significance, his performances followed suit. The Golden Ball winner always rose to the occasion. He got Argentina back on track in the group stage, scored in every knockout round – including twice in the final – and, in the tensest possible moment, his nonchalant penalty helped kick off the shootout against France and calm his team's jangling nerves. His seven goals were second only to Mbappe, and nobody had more assists. A brilliant artist's finest work.
Honorable mention: Cody Gakpo (Netherlands)