And just like that, we're back. The 2020-21 Premier League season is underway, and theScore examines 10 key questions that arose from this weekend's slate of action.
Could Willian be Arsenal's most valuable signing?
Arsenal haven't been afraid to spend this summer – and there may yet be more to come – but their most important addition could turn out to be Willian's arrival on a free transfer from Chelsea.
The Brazilian didn't disappoint Saturday after Mikel Arteta picked him over club-record signing Nicolas Pepe to start the first match of the season against newly promoted Fulham. During an electric debut, Willian set up two goals to help the Gunners cruise to a 3-0 victory at Craven Cottage.
The sample size is obviously minuscule, but the former Chelsea star showed he still has the ability to influence matches, while his vast experience in the Premier League could prove invaluable for an Arsenal side desperate to climb back into the top four.
Has Newcastle's modest window been a hit?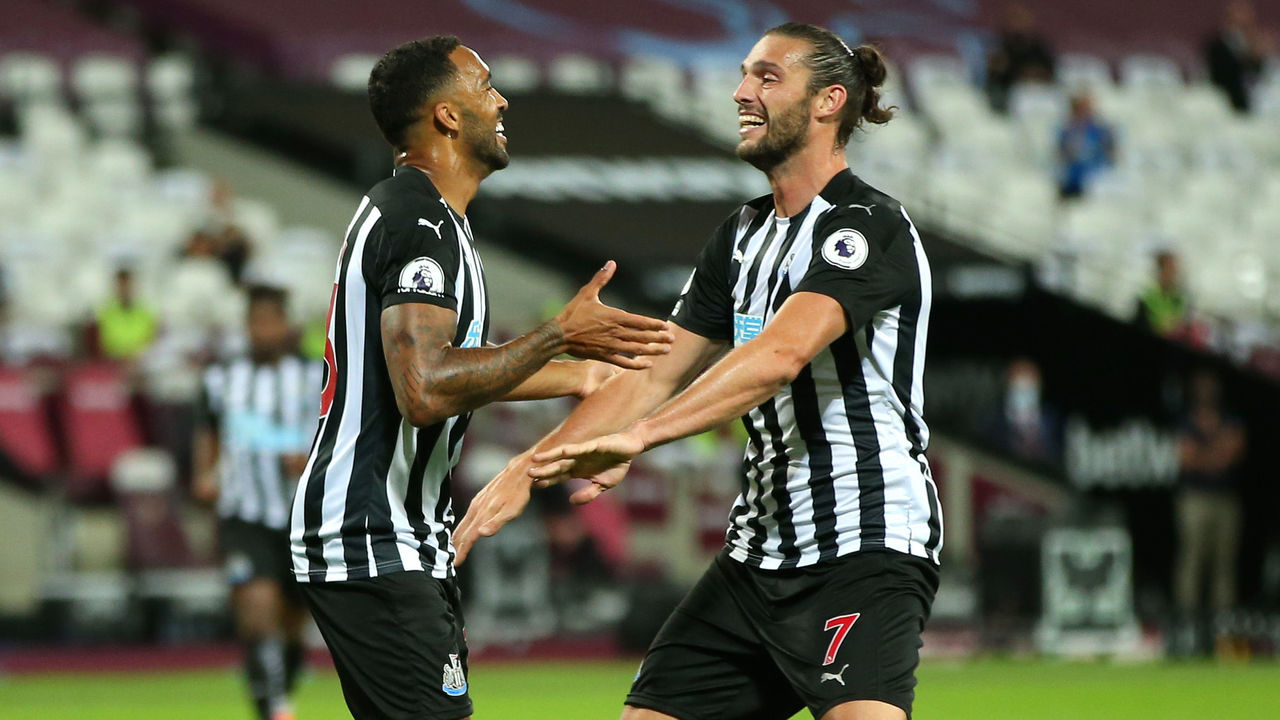 Newcastle United shelled out £33.5 million total for Callum Wilson, Jamal Lewis, Jeff Hendrick, and Ryan Fraser, and all but the latter played a consequential role in Saturday's 2-0 victory over West Ham United.
Lewis, who was lured from Norwich City for a £13.5-million fee, appears to have swiftly solved Newcastle's left-back concerns, while Wilson scored the opener and combined well with Andy Carroll following the England striker's £20-million move from Bournemouth.
Overlooked in Newcastle's summer shopping spree is Republic of Ireland stalwart Hendrick, who made the St. James' pilgrimage on a free transfer from Burnley. Hendrick was stellar against West Ham, first heading Javier Manquillo's deflected cross into Wilson's path for the first goal and then cementing the win with a slick effort that lodged into the top corner.
What will come of Zaha's Palace career?
Three years to the day since Roy Hodgson took the Crystal Palace job, the Eagles claimed a narrow 1-0 win over Southampton on Saturday courtesy of Wilfried Zaha's clinical close-range finish.
The biggest question mark concerning Hodgson's south London tenure remains the future of wantaway star Zaha. "Every window he's made noises that he would perhaps like to play for a club that would offer him a step up," Hodgson told The Guardian after the match.
"He's given us a good proportion of his career and we're grateful for that. But for anything to happen that club has to come along and pay the market price," Hodgson said about the dribbling whiz formerly linked with Everton and Arsenal.
Zaha, who looked entirely nonplussed about his goal versus the Saints, has now been directly involved in 60 Premier League goals for Palace – 37 goals, 23 assists – which is 28 more than any other player on the club.
How badly do Liverpool need Thiago?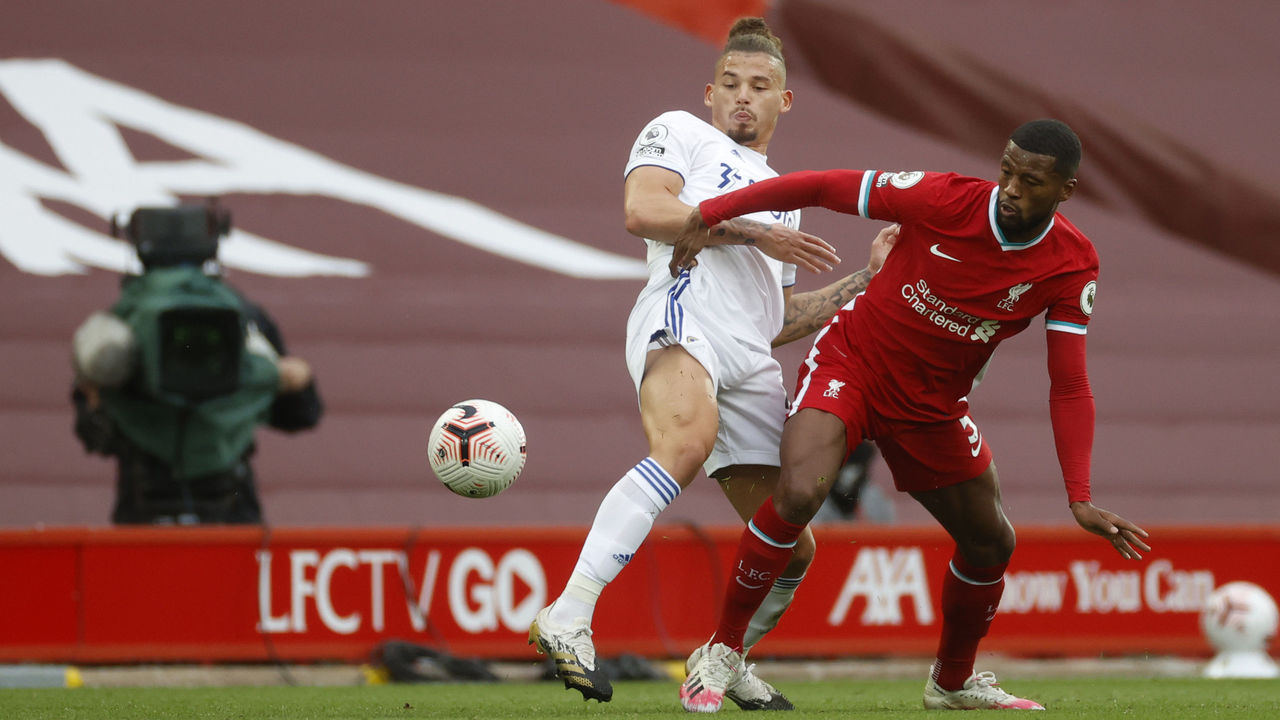 Leeds United midfielder Kalvin Phillips proved two things on Saturday at Anfield. For starters, the 24-year-old showed he merited making his England debut prior to earning his first-ever top-flight appearance. Secondly, his influence against the Reds showed that Liverpool's midfield could use an upgrade.
The reigning champions' reported interest in Bayern Munich's Thiago Alcantara makes sense, especially after Phillips controlled the tempo in the frenetic seven-goal thriller, most notably when opposite PFA Player of the Year nominee Jordan Henderson. Phillips' incisive ball on Leeds' opener was an ideal example of how Liverpool's midfield can be overrun by skilled technicians.
And it's not like the trio of Henderson, Naby Keita, and Georginio Wijnaldum contributed much going forward, with only the latter recording a key pass, and none of Liverpool's four goals came from open play. Early days, but Thiago certainly wouldn't hurt Liverpool's title defense.
A tactical weakness for Liverpool?
Perhaps we're nitpicking here after Liverpool put on a thrilling show to open their title defense, but Jurgen Klopp will surely be monitoring the early developments at the defensive end of the pitch, where the Reds looked shaky in the first half of their exhilarating 4-3 win.
"What a game, what an opponent, what a performance from both teams. A proper spectacle, I loved that," Klopp said after the contest, per ESPN.
"It is pretty rare you see that many goals in a game, we have left space for improvement in our defending but that is not unusual for a first game. Our players have played a few days ago for their countries so it is possible."
In particular, Leeds' forays down the left wing – targeting the space behind Trent Alexander-Arnold and, in turn, Joe Gomez – were very fruitful. The former was typically eager to get forward for Liverpool, which created openings the other way, while Gomez was caught out more than once trying to cover the spaces that subsequently opened up.
The sample size is microscopic, of course, but it's worth keeping an eye out to see if other teams take a similar approach against Liverpool this year.
Will Leicester even miss Chilwell?
Ben Chilwell's big-money move to Chelsea this summer appeared to leave Leicester City bench boss Brendan Rodgers with a significant hole to fill in his starting lineup; the English left-back had grown into one of the Foxes' most crucial contributors in recent seasons.
But on the evidence of Sunday's 3-0 win over West Bromwich Albion, full-back remains a position of strength. James Justin, the 22-year-old signed from Luton Town last year, was a standout performer at the Hawthorns, while debutant Timothy Castagne scored the eventual match-winner in his first Premier League contest since joining from Atalanta this summer.
Castagne, a Belgian international who can play at both right- and left-back – though he's far more comfortable in the former position – is likely just keeping the starting spot warm until Portuguese star Ricardo Pereira returns to full fitness after last season's severe knee injury.
Regardless of who starts, Rodgers has options and flexibility in a position that some expected to be problematic following Chilwell's departure.
Who's winning the Golden Boot?
Mohamed Salah struck the first blow in the race for the Golden Boot, delivering a hat-trick in his first match that was highlighted by an absolute thunderbolt in Liverpool's manic win over Leeds.
Jamie Vardy, the reigning scoring champion, converted a pair of penalties to claw back some ground in a race that should go back and forth until May.
Pierre-Emerick Aubameyang is on the board as well, while we still haven't gotten our first look at the attacking juggernaut that is Manchester City; each of Sergio Aguero, Raheem Sterling, and even sneaky contender Gabriel Jesus will fancy their chances of topping the leaderboard come season's end.
How did Richarlison miss this?
Seriously, how?
The Brazilian did an excellent job getting himself into advantageous one-on-one situations down the left wing against Tottenham on Sunday but lacked the final product all game long. His struggles inside the penalty area were highlighted by the shocking open-net chance he spurned in the first half.
Luckily for the Toffees, they managed to withstand that blown opportunity en route to a 1-0 win.
Is this really the road to success for Spurs?
The fit between Jose Mourinho and Tottenham Hotspur – even if it's delivering entertaining soundbites via the club's new documentary – always seemed incongruous at best and downright terrible at worst.
Under Mauricio Pochettino, Spurs were at their best when they were playing aggressive football, pressing high and taking the initiative. Mourinho has converted the north London side into a passive unit that looks to sit back and hit on the break, primarily through the speed and trickery of Heung-Min Son.
That approach will work at times, no doubt – Mourinho's history is a testament to that – but it's not suited to the players in the squad, with Harry Kane particularly taking a hit. The English striker managed just two shot attempts on Sunday and just one on target.
Kane isn't the explosive presence he was earlier in his career due to a series of injuries, but he's still too good to be wasted like this.
Where will Everton finish this season?
Nestled somewhere between the top four – which feels more cemented than in recent years – and the mid-table scrap, Everton may just be the league's most intriguing team this season.
Carlo Ancelotti's rejuvenated midfield, punctuated by James Rodriguez's sweet left foot and Allan's doggedness, has been significantly upgraded from last year. The improvement was visible from the opening kickoff against Spurs, as the Toffees were able to possess and progress the ball with speed and accuracy through the middle of the pitch.
What a difference one transfer window – and some cash – can make.
James, who is one of the most intriguing additions to the league this season after seeing his career stall dramatically at Real Madrid, was the central figure on Sunday, receiving at least one pass from every outfield teammate in the opening half of the match. Everyone was looking for him, and he was often able to parlay those touches into lovely passes out wide to Richarlison.
If the Colombian rediscovers the magic he showed earlier in his career, Everton will be very confident of securing a Europa League place this season.