The Champions League returned with a bang this week. Below, we dissect the biggest talking points from Matchday 1 in Europe's premier club competition.
Solskjaer's reactive tactics lead to defeat
Aaron Wan-Bissaka's red card certainly left Manchester United with the unenviable task of protecting a 1-0 lead with 10 men in hostile territory for 55 minutes. Even still, the Red Devils' poor game management, coupled with manager Ole Gunnar Solskjaer's reactive tactics, invited Young Boys to secure a famous come-from-behind victory in Bern.
Solskjaer has fumbled many a game during his coaching tenure. He oversaw lethargic losses away to Istanbul Basaksehir and at home to RB Leipzig in the Champions League last season, results that ultimately condemned United to the Europa League and drew widespread criticism from former players.
"It's like under-10s football. Embarrassing. What the defense were doing I have no idea," former United midfielder Paul Scholes said after the 2-1 defeat to Basaksehir.
On Tuesday, the Norwegian played right into Young Boys' hands, opting for a back five at halftime even though the hosts hadn't threatened all that much in the aftermath of Wan Bissaka's dismissal. Removing both Cristiano Ronaldo and Bruno Fernandes with the score tied at 1-1 was another head-scratcher that left United without any presence up front.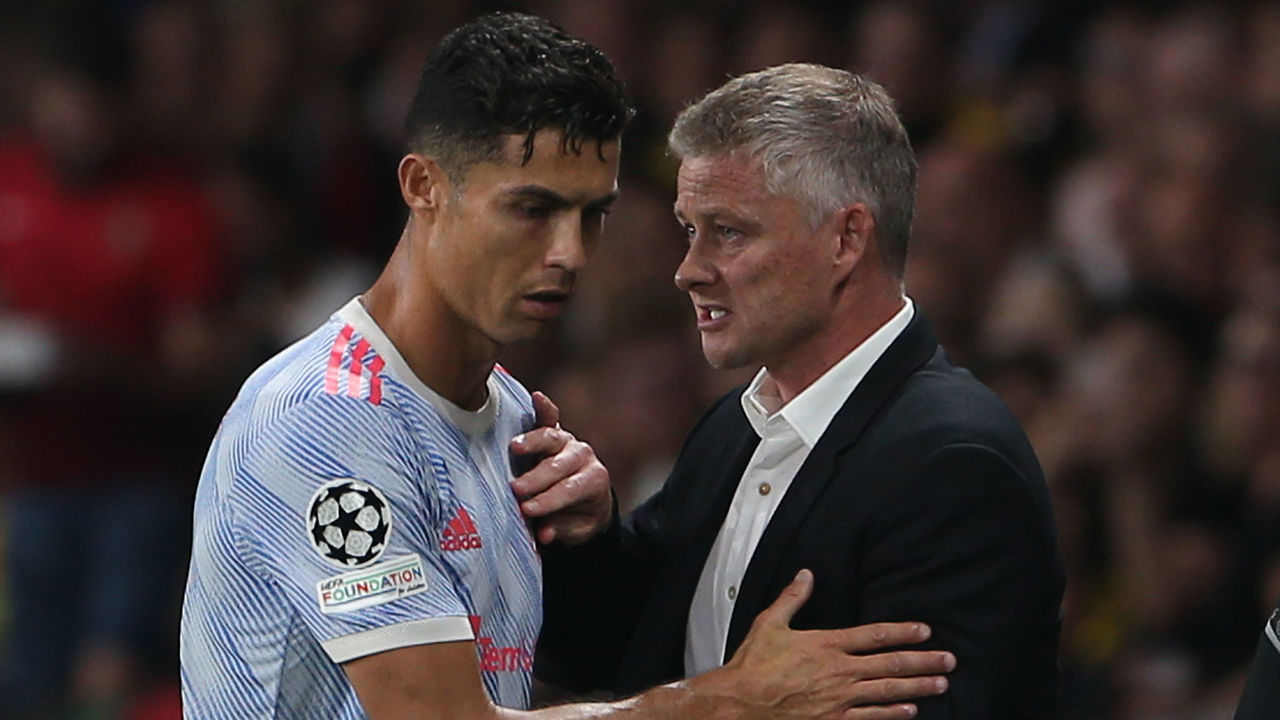 So, what's the verdict? Solskjaer has never had a better team at his disposal in two-and-a-half years in charge, and the stakes have never been higher. If he can't figure out solutions on the go, maybe he's not the man for the job.
By the numbers: Sevilla and Salzburg's wild meeting
While most viewers watched Manchester United unravel in Switzerland, Sevilla and Red Bull Salzburg played out a scrappy yet eventful 1-1 draw in Andalusia.
There were four penalties in the opening period, a red card early in the second half, and a ridiculous 34 fouls across the 90 minutes. Here are more standout stats from the Ramon Sanchez-Pizjuan.
1 – Sevilla became the first team in Champions League history to concede three penalties in one match and not lose. FC Twente, Anderlecht, and Borussia Monchengladbach are the three other sides to give away three spot-kicks in a game, and they lost by scores of 4-1, 3-1, and 3-0, respectively.
3 – Karim Adeyemi, 19, won each of Salzburg's three penalties at Sevilla. Since detailed data was collected from the 2003-04 season, the most penalties drawn by a single player in a full Champions League campaign is four (Bayern Munich's Arjen Robben in 2013-14).
33% – Salzburg's success rate from their three penalties. Teenager Luka Sucic goaded the home crowd when he netted his side's second spot-kick but proceeded to hit the post with Salzburg's third attempt just 16 minutes later.
100 – Ivan Rakitic's converted penalty was Sevilla's 100th goal in Champions League/European Cup matches, including qualifiers.
Hunting for positives at Barcelona
The club's debts total €1.35 billion. Lionel Messi is gone. Luuk de Jong is playing up front.
Given Barcelona's state, losing to Bayern Munich seemed an inevitability before the game even kicked off. So, what many Barcelona fans would've looked for in Tuesday's match is a semblance of hope to cling onto; they would've wanted a hint that someday – not today or next month, but someday – their beloved, bumbling behemoth will be feared on the European stage once more.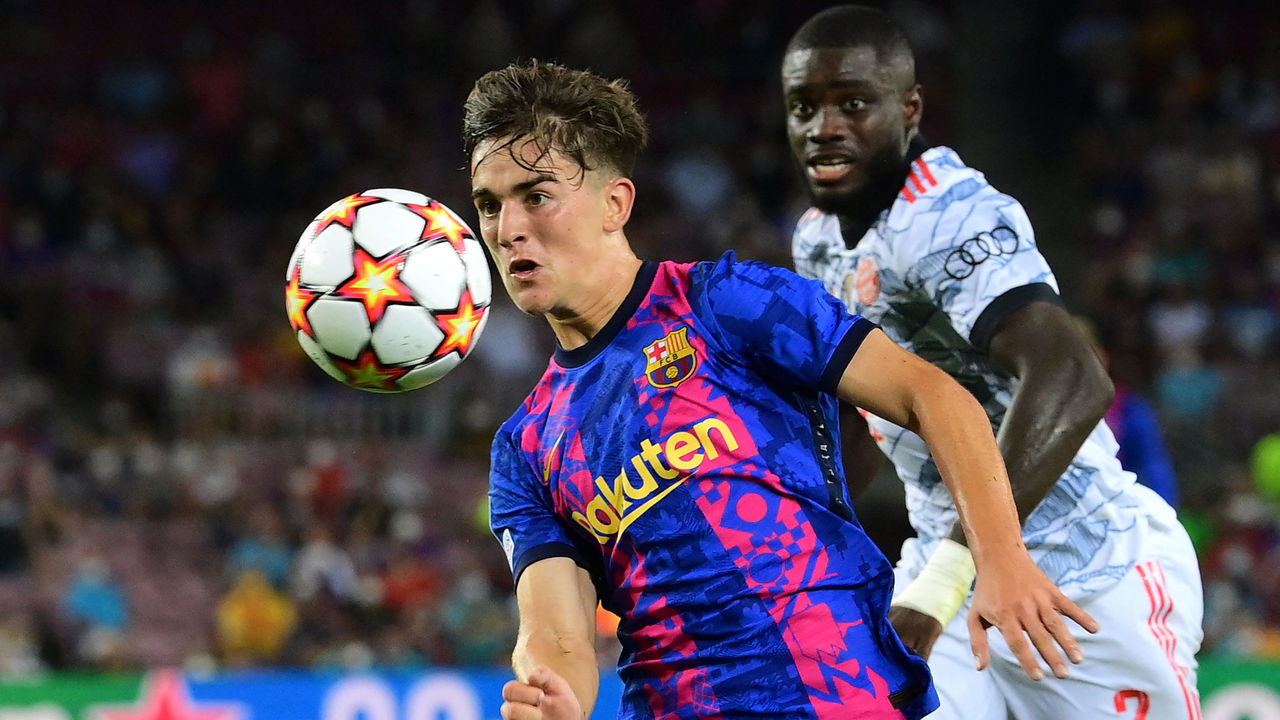 But such evidence was scarce. The 3-0 defeat flattered Barcelona, as they hushed an initially raucous Camp Nou with no shots on target and an inadequate response to Bayern Munich's high press and patient passing. Barcelona's greatest source of urgency came from Gavi, the 17-year-old who came on in the 58th minute and logged his team's second-most completed tackles (three) and was the game's dirtiest individual with four fouls. At least he gave it a go.
Perhaps that's where Barcelona supporters can uncover one positive: their team finished the game with four teenagers on the pitch. Though that's likely down to the shallowness of Ronald Koeman's squad rather the emergence an immense, impossible-to-ignore generation.
Lukaku fills void in Chelsea's attack
Thomas Tuchel's Chelsea didn't bludgeon their way to the Champions League title, with chests out, weapons firing, and all the offensive ammunition in the world. The west London side finessed win after win, defending with supreme quality and concentration. The only thing Chelsea lacked was consistent scoring, and though they managed enough in Europe, it affected their performances in the Premier League.
No such problem exists with Romelu Lukaku in the side.
Lukaku's header delivered a narrow 1-0 victory over Zenit St. Petersburg on Tuesday, a rare glimpse at goal in a match that ran low on chances. Chelsea's expected goals average sat at a lowly 0.82, meaning they didn't create enough chances to realistically expect a single goal. Lukaku did the work with a lot less at his disposal.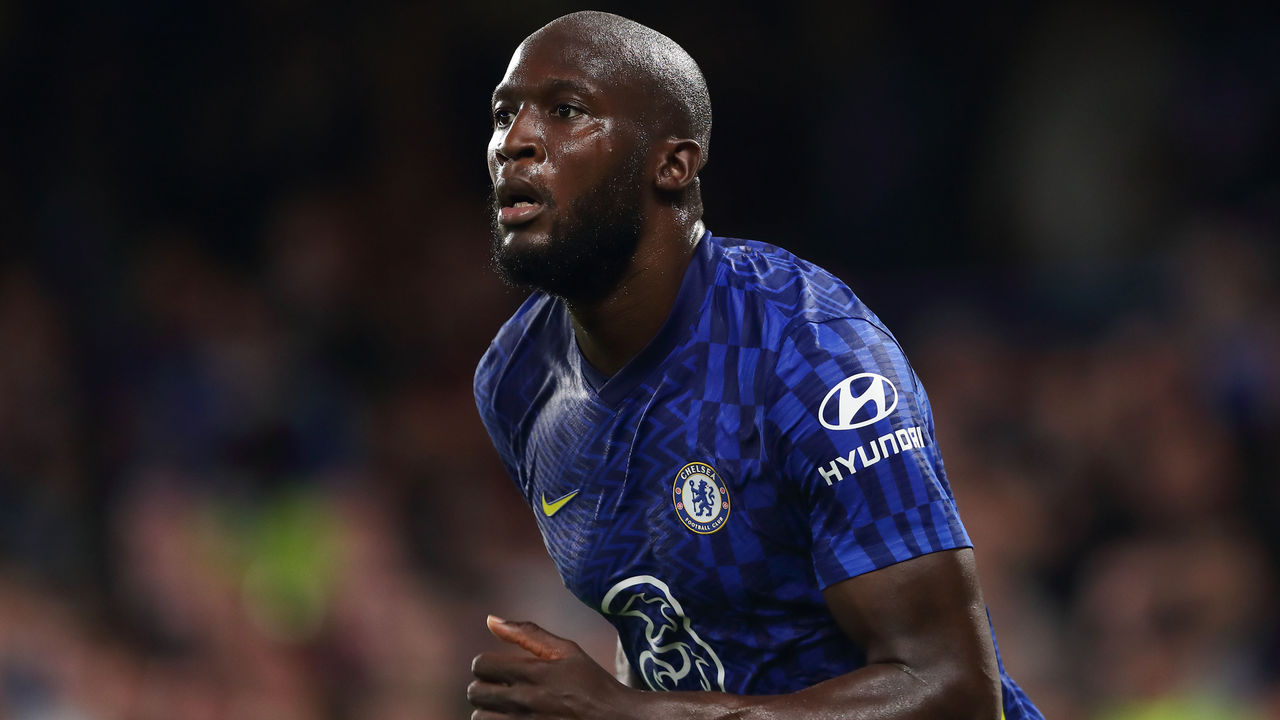 "The performance for Romelu was not easy. We did not create many chances for him, but he does not lose confidence and belief. That's why he's here and why he's a world-class striker," Tuchel said afterward.
Mason Mount and Hakim Ziyech struggled to produce anything going forward, and if Antonio Rudiger hadn't made a decisive block in the second half, Chelsea would've been forced to play catchup. Lukaku restored order shortly after, and the reigning European champions avoided a setback as they began their title defense.
How will Juve replace Ronaldo's goals?
Juventus finally got off the schneid this week, recording their first victory of the season against Malmo. The comfortable 3-0 triumph eased some of the concerns that had supporters ready to hit the panic button after the Bianconeri kicked off the new campaign with three limp performances – and just a single point – in Serie A.
The biggest question facing Massimiliano Allegri is one he probably didn't expect to be dealing with heading into his second stint at Juve: how do you replace Ronaldo's production? The obvious answer involves getting Paulo Dybala back to the scoring form he showed under Maurizio Sarri in 2019-20 when the Argentine was named Serie A MVP. But asking one player to replicate Ronaldo's shot volume and goalscoring isn't practical; it'll take multiple contributors, and some of them may be unconventional.
Tuesday against Malmo offered a prime example.
Left-back Alex Sandro popped up in the center of Malmo's penalty area multiple times, and that aggressiveness helped him open the scoring in the contest. With Ronaldo occupying that space last season, it wasn't necessary for the likes of Sandro to get into those areas. That changes with the Portuguese star back in Manchester. Considering, too, that Dybala likes to drop deep in an effort to facilitate play, it's even more vital for others to take chances getting forward. Allegri needs to find the right balance to make it work. On Tuesday, that meant using Adrien Rabiot in a hybrid wide midfield role to cover for Sandro's forays. Different – and more challenging – opposition will force the tactician to keep innovating as the season goes along.
Have Atalanta peaked?
At some point, Atalanta are going to fall short of the incredible heights they've established in recent seasons. We might be witnessing that right now.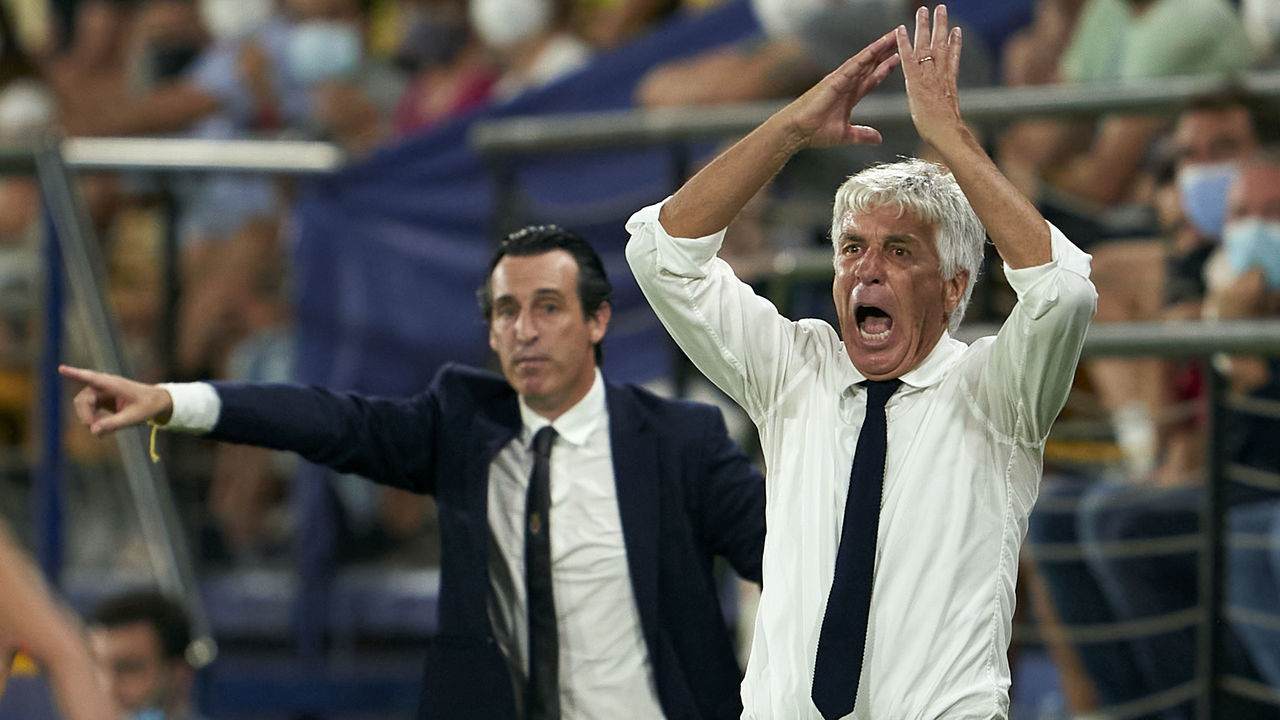 The plucky Italian side, now firmly established as a European darling thanks to its modest budget and swashbuckling brand of football, has looked ragged to start the new season. Gian Piero Gasperini's men have just one win from four matches in all competitions, and even that took an injury-time goal from 20-year-old Roberto Piccoli against Torino. Not exactly inspiring.
Tuesday was yet another tough outing, as Atalanta were lucky to escape with a 2-2 draw against Villarreal; goalkeeper Juan Musso was the hero with a pair of stellar close-range saves on the night at the El Madrigal, while Robin Gosens provided a late leveler.
Have other teams figured out how to combat Gasperini's uber-aggressive, man-marking approach, or is this simply a case of dwindling talent catching up? Atalanta were able to withstand the absence of Papu Gomez immediately after his January move to Sevilla, but that, combined with the waning influence of Josip Ilicic, is starting to look decisive. For all of his attributes, Matteo Pessina can't replicate the inventiveness of the aforementioned playmakers, which then hampers Duvan Zapata and Luis Muriel up front. Perhaps the magic is simply running out.
Poch has plenty of work to do
Lionel Messi, Neymar, and Kylian Mbappe took the pitch together for the first at PSG on Wednesday, and the early returns were feeble. The attacking trio, perhaps unsurprisingly, didn't combine with any great consistency in the 1-1 draw with Club Brugge. There were some bright moments that involved Messi picking out Mbappe and using some trademark one-twos to make progress around the penalty area, but on the whole, Brugge did an excellent job shutting PSG down.
"I didn't really have much work to do. We played very well collectively," Brugge goalkeeper Simon Mignolet correctly pointed out. "I made two, three saves, not very difficult ones at that."
PSG finished the match with four shots on target. If anything, the vivacious Belgian side, spurred on by a roaring crowd, deserved to come away with all three points. Brugge brought an intensity that PSG didn't look interested in matching.
That wasn't entirely the fault of the newly-minted "MNM" triumvirate, of course. In fact, the unit didn't even share the pitch for an hour, as an apparent ankle injury forced Mbappe off in the 50th minute. The larger issue that Mauricio Pochettino needs to sort out is everything that happens behind his attacking trio. PSG's midfield was sluggish and overrun, and the full-backs were left isolated too often. There's plenty of work to do before this super team looks the part.
Milan will grow from loss to Liverpool
AC Milan's first Champions League match in seven years was a lesson in intensity. Liverpool swarmed the Rossoneri in the opening 30 minutes with a high press that forced several turnovers. Milan lost themselves in the sea of red and barely escaped that hellish half-hour with a 1-0 deficit.
But the courage they showed in a cauldron-like Anfield was encouraging. Milan continued to play dangerous vertical passes despite the obvious risk of losing possession to an opponent that can decimate the best teams on the counterattack. Eventually, Milan scored, and then they scored again to take a 2-1 halftime lead.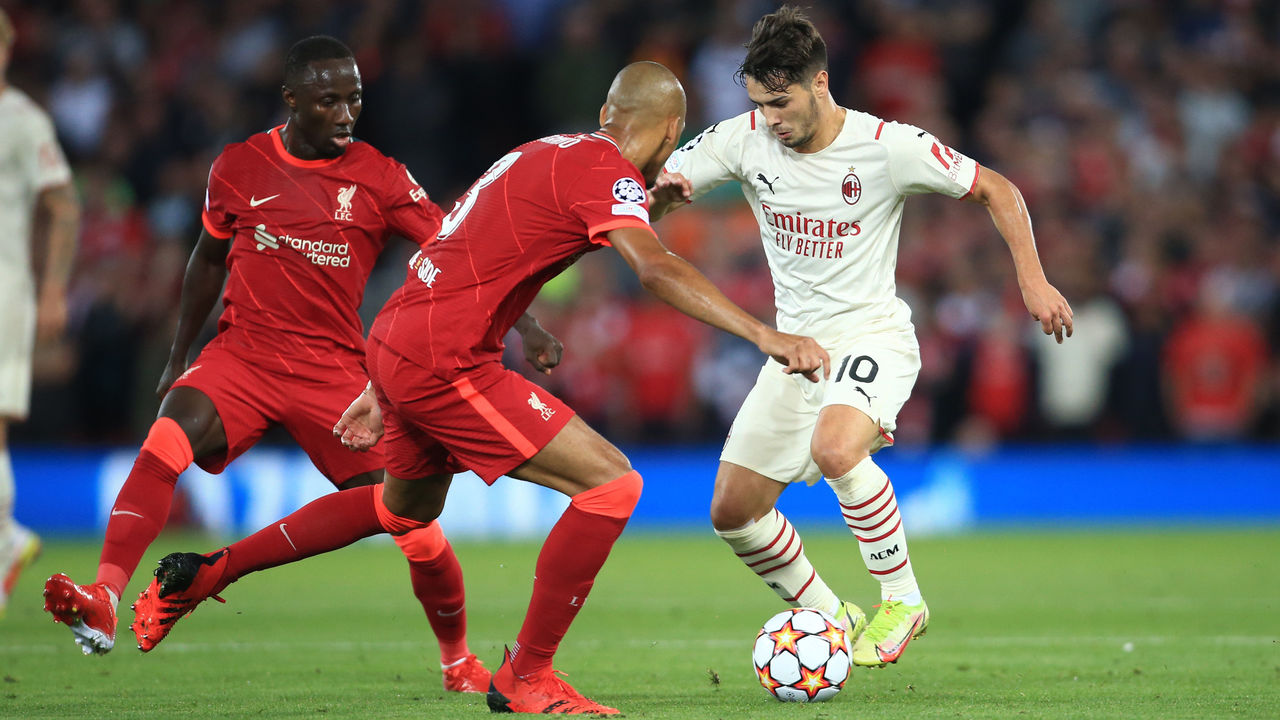 Ultimately losing 3-2 will sting for Milan. Head coach Stefano Pioli will note his players' numerous mistakes under pressure and the gaping hole in midfield that they couldn't fill. But the fact his side competed in such difficult circumstances, with a bunch of Champions League rookies and debutants, should boost confidence. That the players themselves believed they could win – and are disappointed not to – speaks to the team's mentality.
Milan are still a work in progress, but they've already shown they won't simply roll over in the worst of times. Wednesday's trip to Anfield may be their toughest test of the season, and it's best it happened early on when lessons can be learned and applied.
Ake still yet to impress
There's a common factor to the three games Manchester City conceded this season: Nathan Ake started.
Ake was a notable weakness in his first two appearances this campaign. He gave up the decisive penalty in the Community Shield defeat to Leicester City and was overrun in the Premier League loss to Tottenham Hotspur. It should be noted that he suffered the misfortune of playing alongside the hapless left-back Benjamin Mendy in the latter match.
The 26-year-old then seemed to get a much-needed boost when he headed the opener in Wednesday's 6-3 win over RB Leipzig. But then it went wrong. There was little movement under crosses – an issue that hinted at poor communication between the Dutchman and Ruben Dias – while Ake absent-mindedly stepped forward from the defensive line on a few occasions, opening up space for Leipzig's Christopher Nkunku to fill.
Nkunku, who seemed to target Ake at various points in the game, scored a hat-trick.
Ake's unfortunate run of injuries can take some blame for a rather forgettable 2020-21 campaign after his £40-million transfer from Bournemouth, but he's only harming his chances of regular minutes with his performances so far this term.
A surprise in Group D?
Antonio Conte may have left the club, but Inter Milan made sure to honor their former coach by conspiring to somehow lose a Champions League match they thoroughly controlled. Despite crafting several quality chances and limiting Real Madrid to two shots on target, the Nerazzurri were rocked by an 89th-minute goal from Rodrygo, slumping to a disheartening 1-0 defeat.
That wouldn't be too much cause for concern over the course of a league season. But, as Inter proved with their group-stage elimination last campaign, every point counts, and missed opportunities quickly come back to haunt. Wednesday's result at the San Siro has, incredibly, opened the door for Sheriff Tiraspol in Group D. The unfancied minnows from Transnistria, a tiny Moldovan separatist state, sit top of the quartet on goal difference after opening their campaign with a win over Shakhtar Donetsk.
If Sheriff get anything from their games against Inter, this group could be flipped on its head.