The 2022 World Cup is in full swing. At the end of every matchday, we'll review the biggest talking points emanating from Qatar and break down all the action on the pitch. Below, we look back on Day 7 of the tournament.
Argentina stays calm – and reaps rewards
Argentina poked and prodded at Mexico's backline for 40 minutes before finally attempting a shot on goal. Lautaro Martinez's header, though, went well wide, forcing La Albiceleste to break for halftime Saturday with virtually nothing to show for their dominance in possession.
Enter Lionel Messi. A left-footer from range found the bottom corner, Argentina went up 1-0, and a national team that's frequently come up short mitigated further disaster. A draw would've left Argentina in third place in Group C ahead of its final match Wednesday against Poland and in need of a draw between Mexico – one of the most underwhelming sides in Qatar – and surprise package Saudi Arabia just to have a chance of reaching the knockout stage.
Except Argentina didn't play with the urgency many teams in its position would have. It didn't gun for goal. Messi's only touch in the penalty area was an unsuccessful dribble in the 76th minute, and Angel Di Maria toiled on the wings without breaking through Mexico's force field. But the methodical play eventually paid off. The deeper Messi dropped, the more space he found, and he manipulated that space to his advantage, lulling Mexico into a false sense of security before firing a snap shot past goalkeeper Guillermo Ochoa in the 64th minute. Di Maria's dribbling took attention away from Messi, allowing him breathing room and, ultimately, the time to score.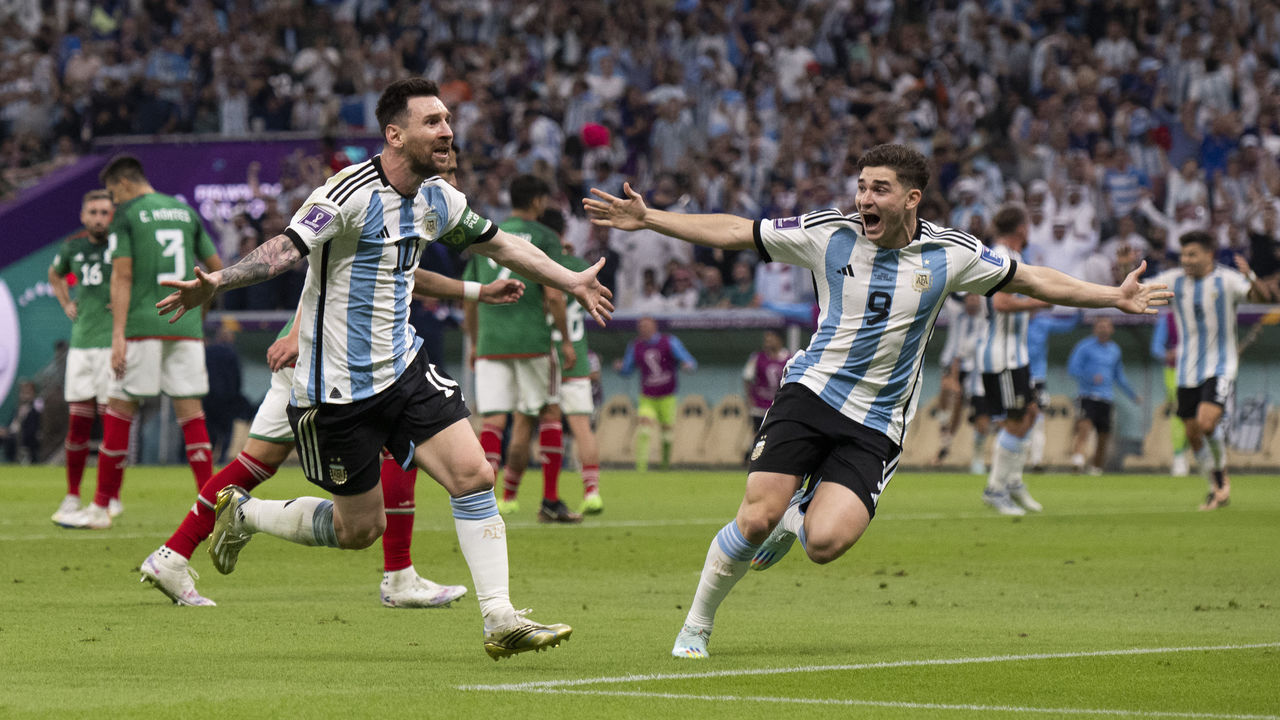 That goal, followed by Enzo Fernandez's wonderful insurance marker, signaled Argentina's belated arrival to a tournament many expected it to win. It also showed that these players won't panic. They didn't launch cross after cross in the hopes that one of their diminutive forwards would get to them. You could hardly tell they were in survival mode.
Argentina's self-belief has been evident since it won the Copa America in July 2021.
"The reality is that the team plays with more calmness now, because the external pressure of not winning isn't there anymore," Messi said before Argentina's World Cup campaign kicked off with a 2-1 loss to Saudi Arabia. "I always tell them that, or I used to say that before we won, that tomorrow is a new day, and we have to be calm. That was the only way we could play and develop our game. We achieved that, and we're going onto the pitch calmer than ever.
"That's crucial in order to play in such a big tournament like a World Cup. Go out there calm."
That patience is Argentina's biggest strength, and it's slowly showing its merits.
Griezmann is France's unsung hero
Kylian Mbappe's performance against Denmark on Saturday didn't tell us anything we didn't already know. He's a match-winner and a generational player who's on his way to breaking every scoring record imaginable. Of course he'd score the goals that booked France's place in the knockout stage.
But he's not the only reason for his country's success in Qatar. Antoine Griezmann has carved out an equally influential role in France's squad, providing both cover in defense and inspiration in attack.
It's refreshing to see Griezmann in this kind of form. Coming off a horrible year at Barcelona, the 31-year-old returned to Atletico Madrid a broken player. He even found himself on the bench at the start of the season, playing only 30 minutes at a time.
Now released from virtual purgatory, Griezmann is back to his usual self, making plays all over the pitch to help his squad while his teammates take the spotlight.
Griezmann set up Mbappe's game-winning goal in the 86th minute but also led the team with two interceptions and four successful tackles. He made more touches in France's own end than he did in the final third, and he quarterbacked play from deep-lying positions.
(Courtesy: WhoScored)
One particular defense-splitting pass nearly forced Denmark's Andreas Christensen into a red card. His all-action play gave France the momentum it needed to score a victory against a Danish side that had beaten it twice before in 2022.
Szczesny's penalty prowess
Most players, teams, and fans celebrate the awarding of a penalty kick with gusto. It's understandable. The majority of them are converted, after all. But, when Wojciech Szczesny is between the posts, you can't exhale until the job is done. Saudi Arabia learned that lesson the hard way Saturday.
The Polish netminder rescued his team, and kept the Saudis at bay, with an immaculate double save in first-half stoppage time of Poland's eventual 2-0 win. Szczesny sprung to his right to thwart Salem Al-Dawsari's low penalty before immediately vaulting back to his feet and making a second, vastly more impressive fingertip save from Mohammed Al-Burayk on the rebound.
He was swarmed by his teammates, who pumped their fists and roared their approval for the outstanding sequence of stops. It was a familiar sight for the 32-year-old; Szczesny turned aside three spot-kicks last season for Juventus.
Saudi Arabia was the better and brighter team for large portions of Saturday's contest, creating some excellent chances, but it couldn't solve Szczesny, who delivered the best performance from a netminder in the tournament with five saves. He's now nullified more shots (nine) than any goalkeeper at the World Cup thus far.
Once derided during his time at Arsenal, Poland's No. 1 was showered with praise after getting his team within touching distance of a first appearance in the World Cup knockout stage since 1986.
Don't forget the Duke
Much of the pre-tournament attention surrounding Australia was elsewhere. Aaron Mooy is the team's undisputed superstar, the eccentric Jason Cummings earned a call-up despite previously representing Scotland, and 18-year-old Garang Kuol – who's yet to start a senior game for club or country – is heavily hyped.
Not many column inches were dedicated to Mitchell Duke. The third-oldest outfield player in coach Graham Arnold's squad, he's played for modest clubs in Australia, Saudi Arabia, and Japan.
Now, Mitchell's name has been etched into Socceroos folklore after his flicked header proved enough to secure an emotional 1-0 victory over Tunisia – the Aussies' first at the World Cup in over 12 years.
The result left Arnold wiping away tears and prompted a celebratory team rendition of Men at Work's 1981 hit single "Down Under." Even Martin Boyle, who was ruled out of the tournament due to injury, joined the lively huddle on crutches.
But the day undoubtedly belonged to Mitchell, who scored his first competitive goal for his country in over a year. He celebrated by forming a "J" with his fingers as a tribute to his son Jaxson.
"I haven't seen it yet, but apparently he did it back to me from the stadium, which was a really special moment that I'm going to treasure for the rest of my life," Duke said.
Quick free-kicks
De Bruyne: 'No chance' of Belgian glory
Many World Cup viewers wrote off Belgium's chances of winning the tournament after the Red Devils' fortuitous opening win over Canada. But Kevin De Bruyne wasn't convinced of his national team's credentials weeks earlier. "No chance, we're too old," the midfielder said during an excellent interview with The Guardian's Simon Hattenstone published on Saturday, adding, "I think our chance was 2018. We have a good team, but it is aging. We lost some key players." Belgium faces Morocco on Sunday.
Serbia charged for Kosovo banner
Serbia is awaiting its punishment after FIFA found the team breached its disciplinary rules regarding "demonstrations of a non-sporting nature." A banner displaying a map of its country with Kosovo – a neighboring state that declared independence from Serbia in 2008 – within its borders hung over the lockers of Milos Veljkovic and Andrija Zivkovic before Thursday's 2-0 defeat to Brazil. The slogan "No Surrender" was daubed over the image. The message comes in a year when tensions have risen between Kosovo, its minority Serbian population, and the nation of Serbia.
FIFA representative defends CR7 penalty call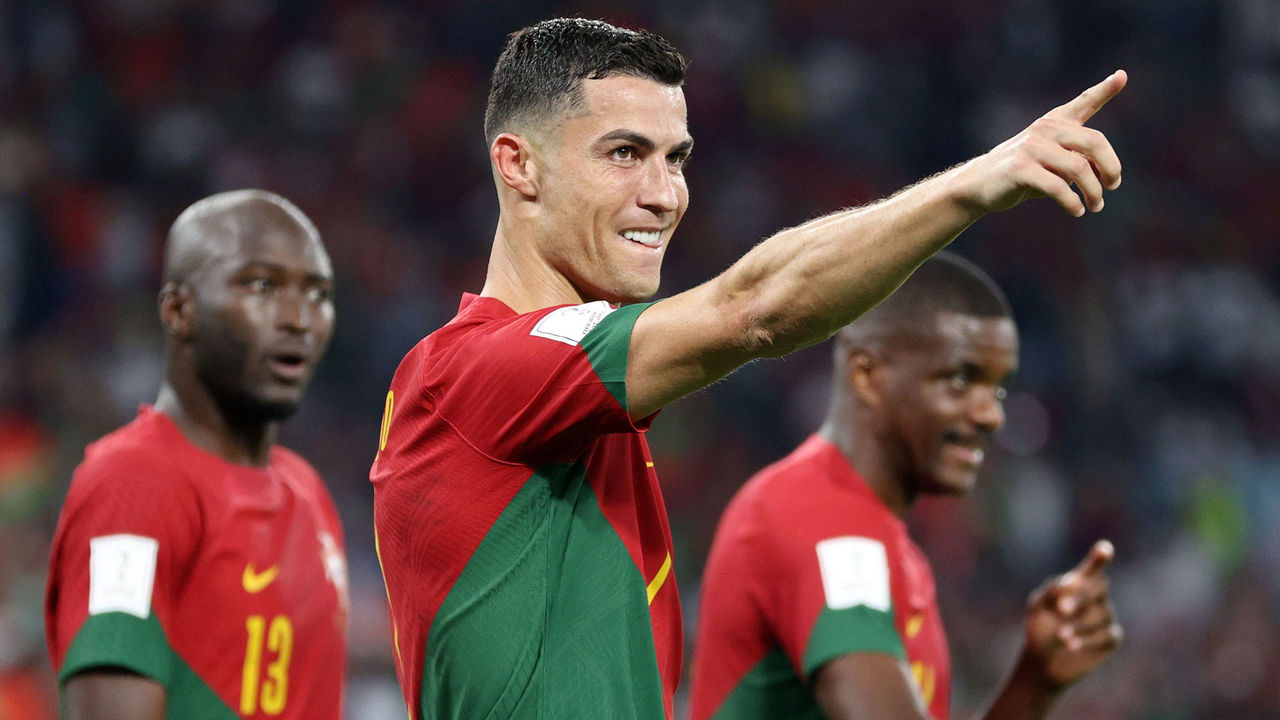 Cristiano Ronaldo's record of scoring in five separate World Cups overshadowed the decision that led to his goal. Ghana coach Otto Addo described the penalty call as a "gift." Onlookers wondered why the referee wasn't asked to consult his pitchside monitor. But now, the awarding of Ronaldo's dubious spot-kick has been defended by a member of FIFA's technical study group. Rather than express sympathy for the Ghanaian team, Sunday Oliseh – who represented Nigeria at two World Cups – praised the Portuguese frontman for his "total genius" to draw a foul from Mohammed Salisu. "Maybe the strikers are getting smarter," he added on the high number of penalties in Qatar.
Comeback or collapse for Germany?
A key sponsor has withdrawn its support of the men's team. The World Cup viewing figures for the Japan defeat were the lowest in Germany for over 30 years. With dwindling support back home, Germany's seaside base must feel like a lonely place right now. Hansi Flick knows what's at stake: He's dubbed Sunday's showdown with Spain "our first final" as Germany attempts to avoid two World Cup group-stage exits in a row. The must-watch clash between the European giants concludes this weekend's slate.
Special moment for Enzo Fernandez
What a way to score your first senior international goal. Fernandez, the ascendant 21-year-old midfielder, helped turn the tide against Mexico after being introduced off the bench in the second half. Mexico had largely nullified a jittery Argentina throughout a tense affair in Lusail. It was always going to take something special to break the deadlock. Messi delivered that with his eighth World Cup goal – the same number Diego Maradona scored. But Fernandez's sumptuous curling effort to cap the win was even better. The Benfica youngster, destined for a big transfer in the very near future, gave Argentina more control in midfield with his energy and passing range. Lionel Scaloni's decision not to start him in the first two matches wasn't entirely surprising, considering the groove Argentina found en route to Qatar, but Saturday's showing, both from the team and the midfielder himself, made it abundantly clear: Fernandez needs to start every game from here on out.
Stat of the day
Two tie Zizou.
Tweet of the day
Messi really is a father figure for this Argentina side.