Over the last 12 unprecedented months, soccer leagues across the globe shut down, opened back up, and played on despite numerous health and logistical challenges. The sport never looked – or sounded – so different. But it wasn't only the coronavirus pandemic that made headlines. Here, theScore chronicles the year's biggest soccer stories.
10. Watford end Liverpool's record run
An embarrassing defeat in late February to Watford denied Liverpool a shot at immortality, ending their unbeaten run in the Premier League at 44 matches. The loss, a 3-0 humbling at Vicarage Road, left the Reds several games short of tying Arsenal's 49-match record, set by the Invincibles from 2003-04, and marked the end of an 18-match winning streak in league play.
Though Liverpool still had a commanding 22-point lead and eventually won the Premier League, the result cost them real estate in the record books. Jurgen Klopp's side failed to break the 100-point threshold, which it had been projected to do, and lost to Atletico Madrid in the Champions League round of 16.
Few, if anyone, would have imagined Watford, then in 17th place, as Liverpool's Achilles' heel. The Hornets were battling issues of their own. Star winger Gerard Deulofeu was out injured, and manager Quique Sanchez Flores had just been replaced. Watford ended up being relegated, but earned themselves a footnote as the David to Liverpool's Goliath.
9. Players walk out over ref's racist remark
In an extraordinary show of solidarity, players for both Paris Saint-Germain and Istanbul Basaksehir walked off the pitch and abandoned a Champions League match in December after learning an official used a racial slur.
Basaksehir assistant Pierre Webo, a former Cameroonian international, accused fourth official Sebastian Coltescu, who is Romanian, of racism after he was shown a red card. "Why do you say negro?" he was heard saying on the television broadcast.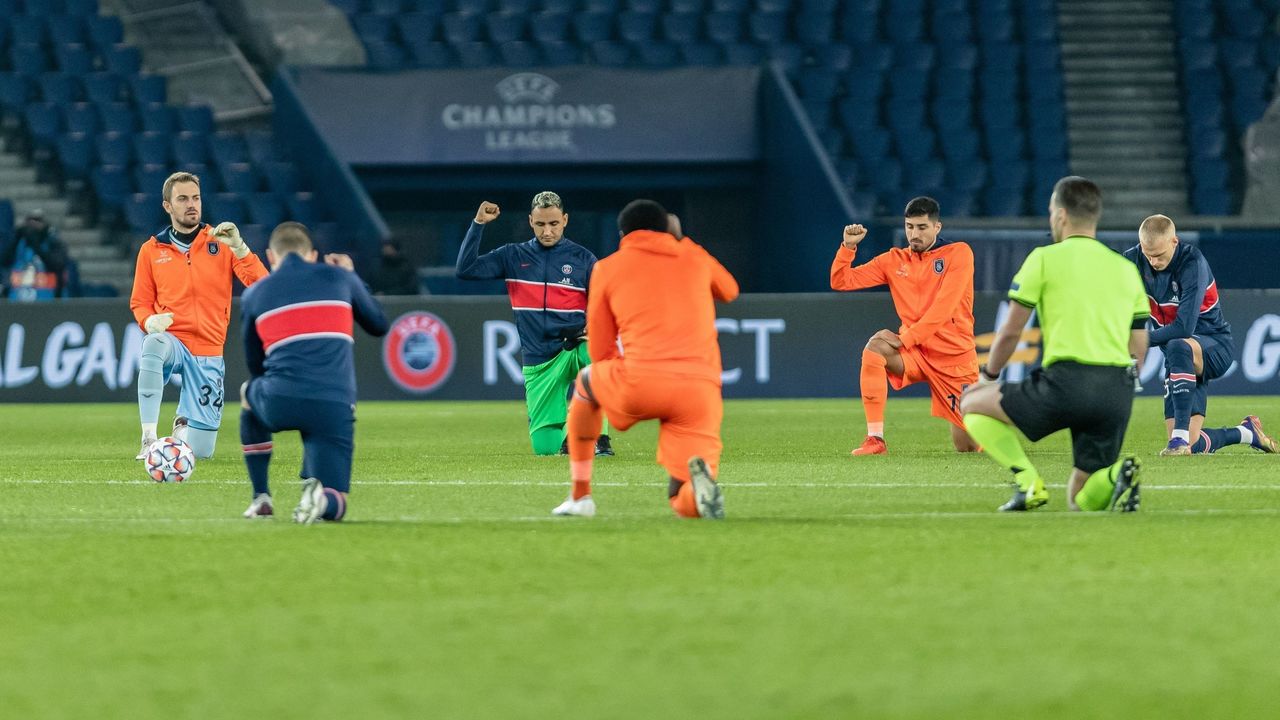 The Romanian word for Black is "negru."
UEFA agreed to postpone the match until the next day and replaced the officiating crew. The president of Basaksehir, meanwhile, demanded a lifetime ban for Coltescu.
It was the first time players staged a walkout during a Champions League match. An investigation is ongoing.
8. Manchester City banned, temporarily, from Europe
UEFA made the bold decision to kick Manchester City out of European competition in February, imposing a two-year ban and a €30-million fine for "serious" breaches of Financial Fair Play. The ruling threatened to destroy the multi-billion-pound investment by Abu Dhabi's royal family and break up one of the most expensive sports teams ever assembled.
A few months later, City won an equally historic appeal in the Court of Arbitration for Sport and avoided the ban altogether. City's lawyers successfully argued that UEFA had failed to act within an appropriate time period, dealing an embarrassing blow to European soccer's governing body. The appeal made a mockery of FFP, rules UEFA enacted in 2011 to keep clubs from spending beyond their means, and threatened its future as a safeguard against overspending.
Afterward, it was business as usual. Pep Guardiola committed his future to City by signing a new contract, and the club went on to spend more than £120 million on defenders Nathan Ake and Ruben Dias, and winger Ferran Torres.
7. Rashford gets action on child hunger
When Manchester United's Marcus Rashford started a charity drive to keep millions of vulnerable children fed through the summer months, the young forward began a movement that would result in action at the highest level of government and recognition from the Queen of England.
Rashford's partnership with FanShare, a food distribution charity, raised an initial £20 million for children in need in June and encouraged the 23-year-old, who relied on free school meals during his childhood, to request direct intervention from UK Prime Minister Boris Johnson. After initially balking at Rashford's plea, Johnson caved to public outcry and granted nearly £300 million in food vouchers.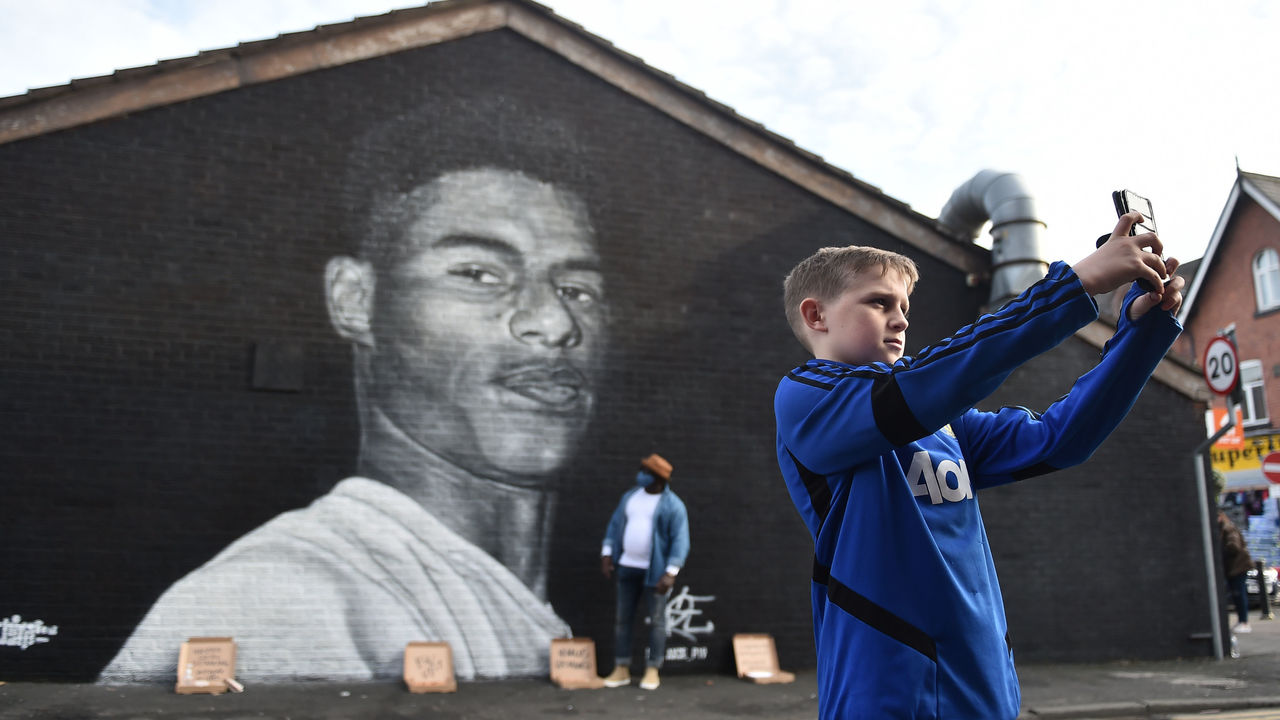 The Queen added Rashford to her birthday honors list and made him an MBE, one of the highest distinctions in England.
"Let's stand together in saying that no children in the UK should be going to bed hungry," Rashford said in October. "As I have said many times before, no matter your feeling or opinion, not having access to food is NEVER the child's fault."
6. Bayern complete unlikely treble
Bayern Munich fell as low as seventh in the Bundesliga standings when Hansi Flick took over in November. They were reeling from a 5-1 loss to Eintracht Frankfurt – their heaviest defeat in a decade – and approaching what seemed to be the end of an era.
But Flick, known as a motivator and clear communicator in German soccer circles, reinvigorated the players. After replacing Niko Kovac as manager, Flick led Bayern to a second treble in club history, winning the Bundesliga, German Cup, and Champions League in an extraordinary turn of fortune.
Bayern's greatest feat came in the Champions League final, where they dispatched PSG to win a sixth European title. With the 1-0 victory, the German juggernauts became the first side to win every match in a single Champions League campaign. Their devastating run included an 8-2 demolition of Barcelona in the semifinals that was eerily reminiscent of Germany's 7-1 thrashing of Brazil in the 2014 World Cup.